420 The Calzones - The Pizza Gang Brawl Battle Report

What is up Splinterlands!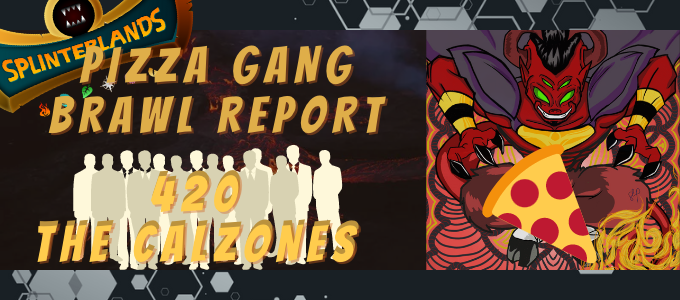 This is my first Splinterlands Brawl #shareyourbattle Report! Joing the the PIZZA 420 The Calzones Guild aka SPL Guild 4. Who are we? For anyone who are playing Splinterlands and still do not have a guild, The #HivePizza world have the awesome people in Hive and in here we have awesome guild offering you help and guidance which is LEGENDARY!✨

Battle 1 - MEPHIKO VS LUCIMORNINGSTAR
| | |
| --- | --- |
| | Kron vs. Three Magic Water Magic damage. My best combo so far Llama + Kron the Undying. |
At Round 4 Djinn Oshannus is done, that means the rest will follow! The Power of Kron the Undying is Unreal! Unfortunately the condition for this battle is No Heal. So this is a Win for another time.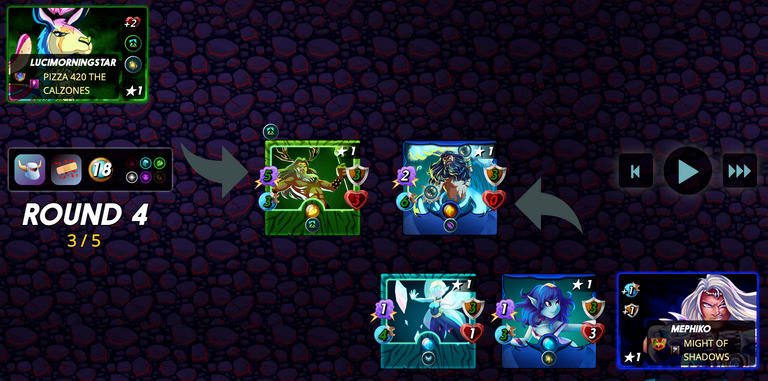 LOSE!
---

Battle 2 - FLYINGK VS LUCIMORNINGSTAR
| | |
| --- | --- |
| | 1 vs 4 Battle with FLYINGK, On this situation, combo of Llama and Kron the undying proves that this is still one of the single battle card combo! |
Last stand + Heal with a High Magic damage, At Round 8 Only Kron the Undying with Full Life still stands!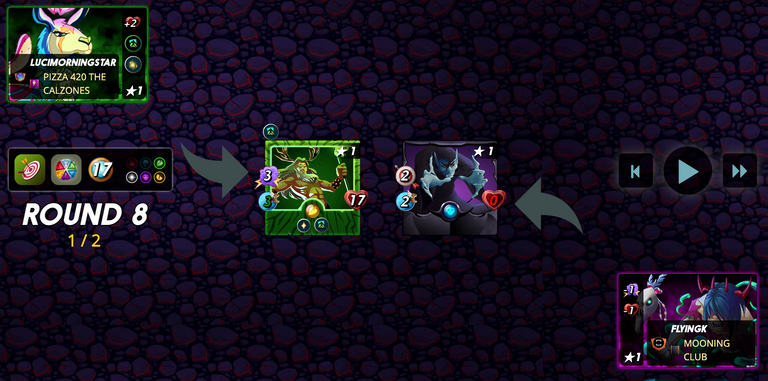 WIN!
---

BATTLE 3 - LUCIMORNINGTAR VS. HOLDFOR3
| | |
| --- | --- |
| | My goal here was to increase the Physical damage and make sure the tanks are heal provided while high volume damage attacks come from the back |
Unfortunately at Round 3 HOLDFOR3 had higher SPEED and got the upper hand and I lost the battle.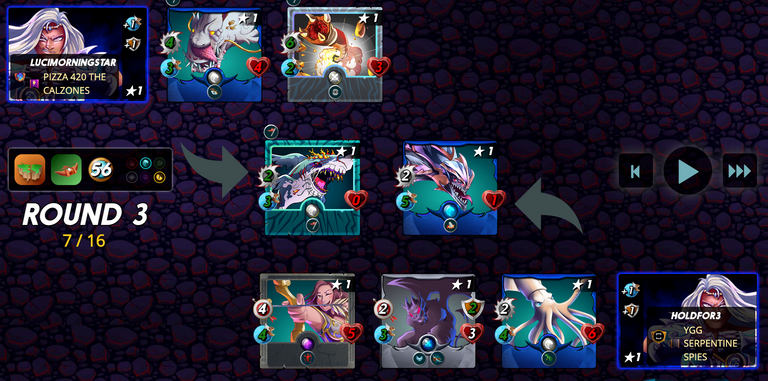 LOSE!
---

BATTLE 4 - NIRVE08 VS. LUCIMORNINGTAR
| | |
| --- | --- |
| | On this battle there is a Blast condition so I had to make sure the second stringer has heal, combo it with Kron and Llama making sure I'm full stack with heal. |
At Round 4, Opponent healer was taken down with blast, and it was a 1 on 1 battle, with Llamas last dance, hitting 5 Magic damage and high level of Heal, Kron the Undying Finished this off easily.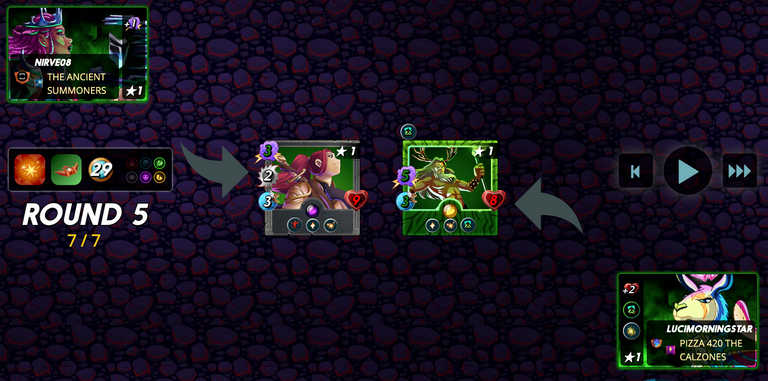 WIN!
---

BATTLE - 5 LUCIMORNINGSTAR VS. LAUKU976
| | |
| --- | --- |
| | On this battle we both had Llama as our summoner and from my other battle Quora Towerhead has been my problem so far and getting more loss at the same time mistakenly putting Kron on the 2nd end of the battle cards living Goblin Psychic on the last string. |
By Round 7, All remain is my Goblin Psychic, and not realizing the opponent would have 3 healers on deck in total. so this battle is a loss.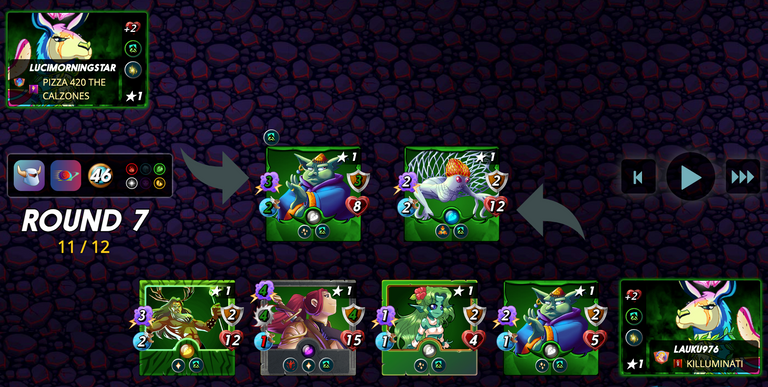 LOSE!
---

BATTLE 6 - LUCIMORNINGSTAR VS. P2EARN
| | |
| --- | --- |
| | On this battle I purposely put Mycelic Slipspawn as my 2nd stringer testing out, and put Flesh golem in front to see if it would work out well, |
I could take down the opponents Unicorn Mustang and he has a lot more fire power than I do, even with last stand, Kron can't go on further so this is another loss cost.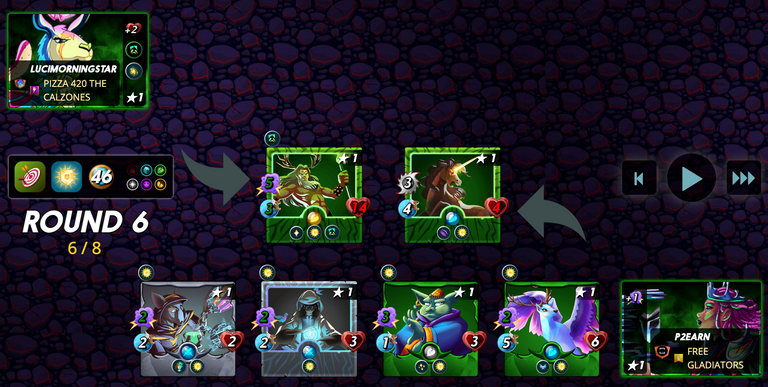 LOSE!
---

BATTLE 7 - LUCIMORNINGSTAR VS. BALL092N31
| | |
| --- | --- |
| | This battle is a chance I thought I could win, Restriction to Fire Deck, and since I'm just renting out cards I only rented out mostly Earth Elements Cards |
At Round 3 It was an EZGG for me and my Fire cards couldn't fight back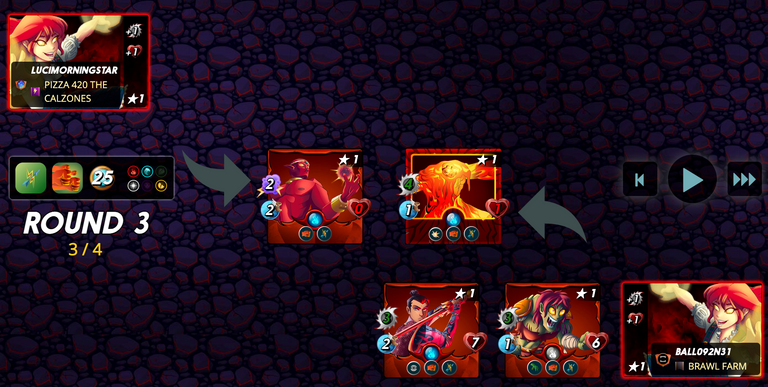 ---

BATTLE 8 - LUCIMORNINGSTAR VS. TENIKUS

Since the opponent probably wasn't able to set his deck, and marked as "FLED". and for that It's a FREE Win!
WIN!
---

---
BRAWL REPORT

So for this battle, my WIN RATE is only about 33% from my last brawl it increased, and will continue this to track my own record and my goal is to reach 80% - 100% win rate! hopefully! 😬
May this Brawl report for my guild with @hive.pizza feel free to join the !PIZZA Community and enjoy the awesome people within! And this ends my #splinterlands report, if you're not familiar yet, Splinterlands is a #Play2earn card-battle game under #Hive blockchain, where you can enjoy and earn, $SPS, DEC (Dark Energy Crystal), NFT Cards either use them on battles, have them rented out, sell them. You can also earn buy Staking DEC and SPS!
Awesome! see on the next one!
---
"We are the Devils and Angels, We are all The Beginning and End, the Gods and the Non-gods"
- | - | - | - | - | -
The Bright Morning Star
- | - | - | - | - | -
---

What is Up HIVE!
---
---