Splinterlands Share Your Battle: Brawl Report #02 Pizza Gang

---
What's Good Splinterlands!
This is my second brawl report for my guild Pizza 420 The Calzones!
From my initial report I had a very very bad Win rate ratio, and I goal that I would increase it by 80-100%!
And so for this brawl I increased my winning to 62% which is freaking awesome!
Game Highlights
Game 1

Earth Element vs. Earth Element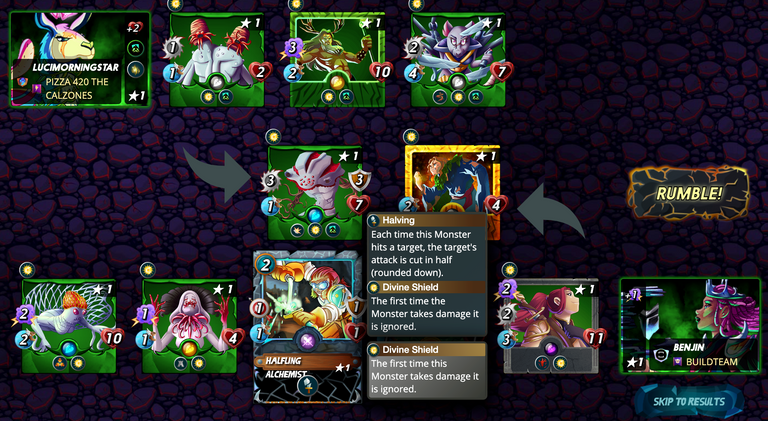 This is a battle between two similar element, but different Summoner, and the highlight of this game would be Halfling Alchemist, having to lower my Monster Attack power denifinetly made more advantage against me even if I used up Llama + Kron Card. - LOST



Game 2

Water Element vs. Earth Element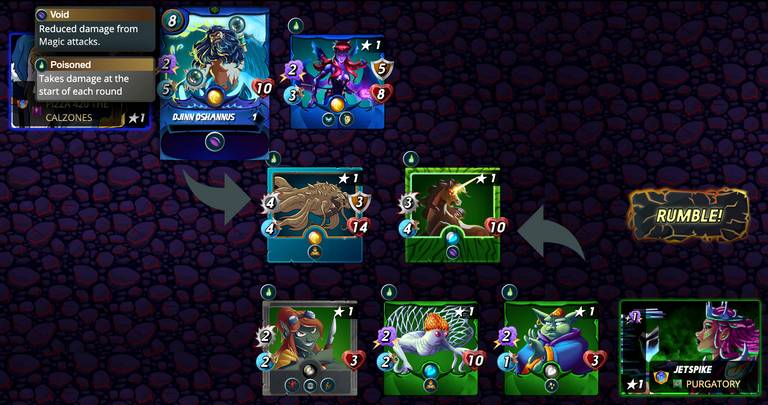 This games is Magic damage battle between two different Magic Team (Water and Earth). Having Djinn Oshannus with Void skill gave me the upper hand to have this battle - WIN



Game 3

Water Element vs. Light Element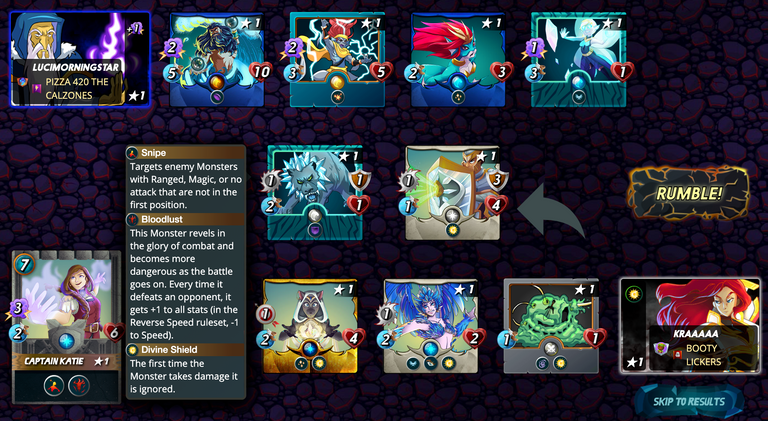 On this battle I tried to mix the cards,thinking Ruler of The Seas can make me won this round, unfortunately Captain Katie is around and definitely did a lot of damage. - LOST

Game 4

White Element vs. White Element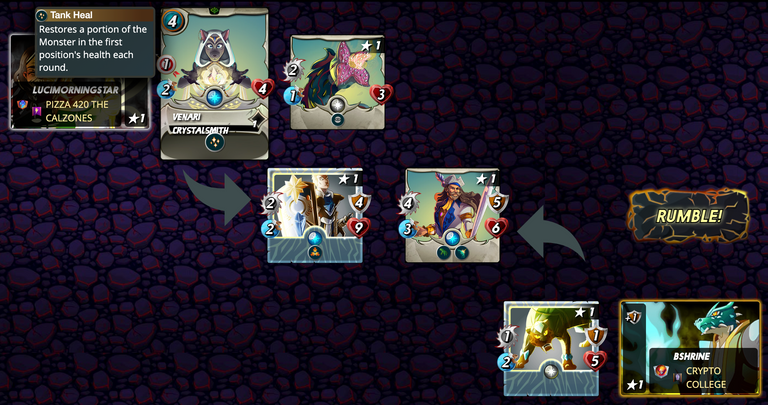 This battle is Light vs. Light, but the opponent used Drake of Arnak (Dragon) as his Summoner, On every battle it is always best to have a healer and good thing for me I had Venari Crystalsmith in it, if not I would probably wouldn't win here, with the healer, I were able to prolong my Shield Bearer's Health point. - WIN

Game 5

Earth Element vs. Light Element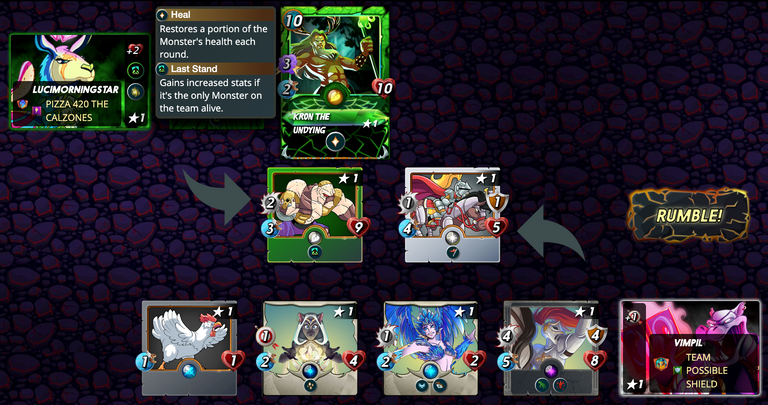 This battle as always, my go-to still Llama and Kron the Undying, still the perfect combination. versus the Light, I thought I would lose on this. Once I were able to take down Marisol Cortuma, it was all over for my opponent! - WIN

Game 6
Enemyy Too scared to battle! He was so scared he just fled away like a little b---Just kidding! 🤣 He probably wasn't able to make a team for the time being. so that's good for me this was a bonus! - WIN

Game 7

Water Element versus Water Element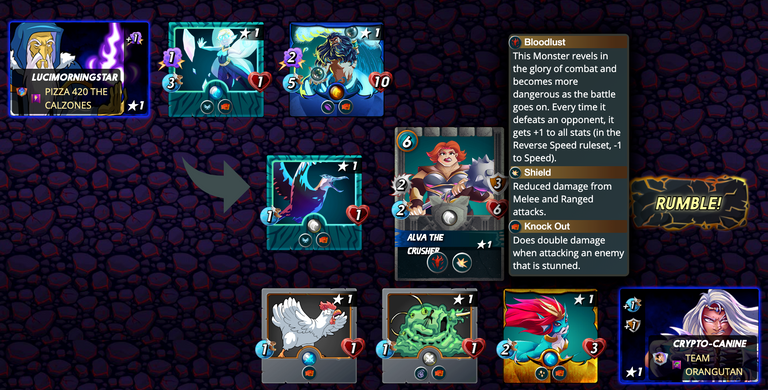 On this battle, I could have used a healer of my own instead I chose to have Ice pixie (for extra damage) and Albatross (as meat shield), I thought I was gonna lose this battle since Alva the Crusher was the opponent frontliner, but as soon as were able to put it down. It was all a clean up! - WIN



Game 8

Water Element vs. Dragon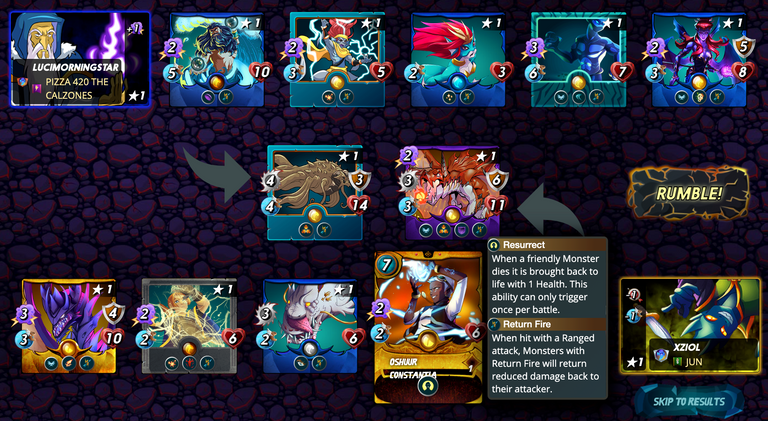 This was probably the hardest battle to win for me, I were able to take down the opponent's Frontliner, but with Oshuur Constrantia, it just made it hard for me, after one resurrect, he just wipe out all my cards, finishing the battle with four cards still on his deck. - LOST

All in all I got 5 WINS out of 8 BATTLES! The guild has won spoils of 8 Crowns in the latest brawl! Also, each fully participating member was awarded 369 Merits and 6.508 staked SPS.
Join PIZZA Discord, We are always having awesome fun with Weekend Games! You may also join our Pizza Guild, we have about 5 Splinterlands guild right now, and we are looking for more awesome people!


---
"We are the Devils and Angels, We are all The Beginning and End, the Gods and the Non-gods"
- | - | - | - | - | -
The Bright Morning Star
- | - | - | - | - | -
---

---
Disclaimer: Photos used on this post are all screenshot from my gameplay, divider are from PIZZA Discord community art and asset made by @slothlydoesit, I do not own the music and was playing during my recording Spotify, Credits and All rights reserved to owners.
▶️ 3Speak All rights
---
---