Newly Acquired Reward Cards from Season end Chest, Daily, and Gladius Pack Rewards!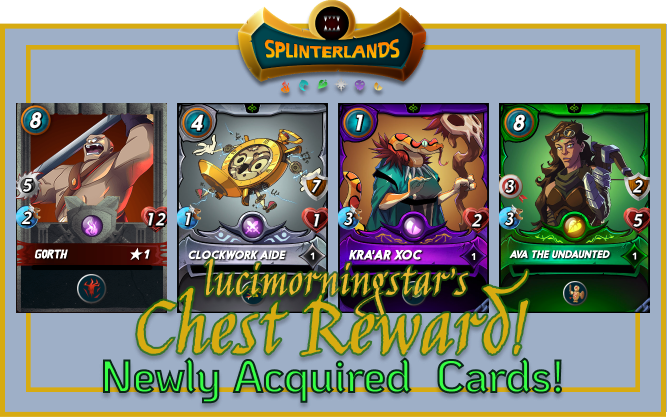 Art cover made via figma © 2023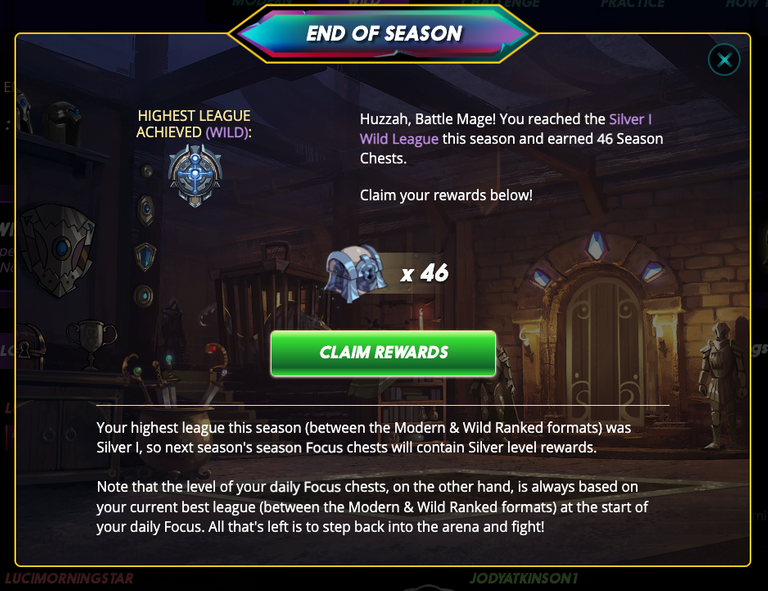 Chest Day!
Last night was another Splinterlands season ender and I finished the season at
Silver I League
, and collected total of 46 Silver Chest! Decided to share all the chests I collected. I also added the 12 Chest reward from the Daily Rank battle and the last Gladius pack I opened. I hope you enjoy them!

Season End Reward

First 5 chest, I got (2) Common Cards and (1) Normal Foil Epic Card, and some SPS.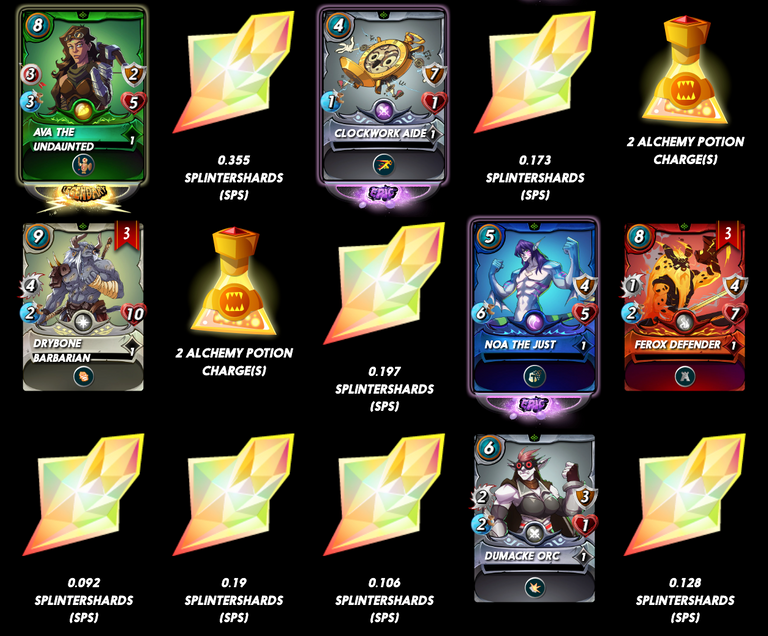 Next 15 Chest, I was clicking to randomly, I got some potion, some SPS until I started opening Reward Cards, (3) Common Cards, (2) Epic, I was hyped when I got clockwork aide, I don't know but probably because of the new artwork, and then when I pointed the cursor to the chest and it started shaking, it really got me excited! And then BOOM! A Legendary Card! Well, it's not a Goil Foil, Range card is not really what I normally use but a legendary is legendary!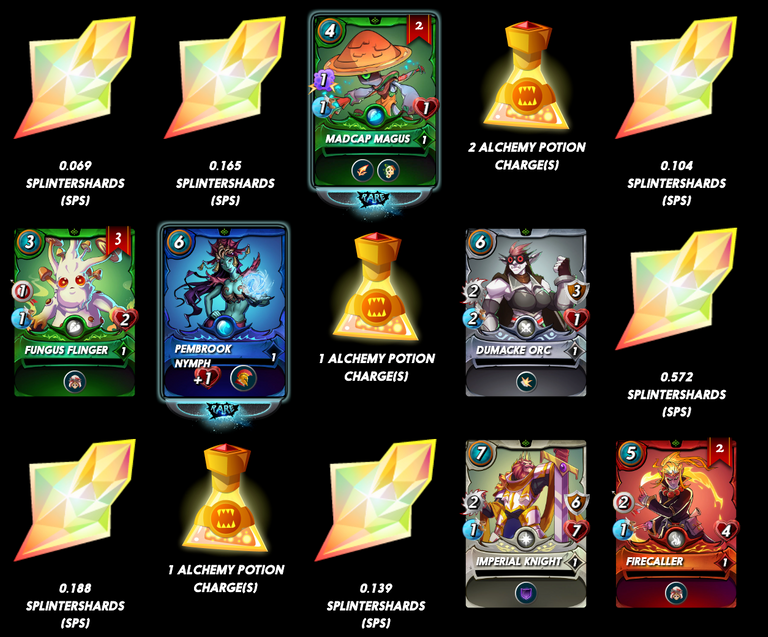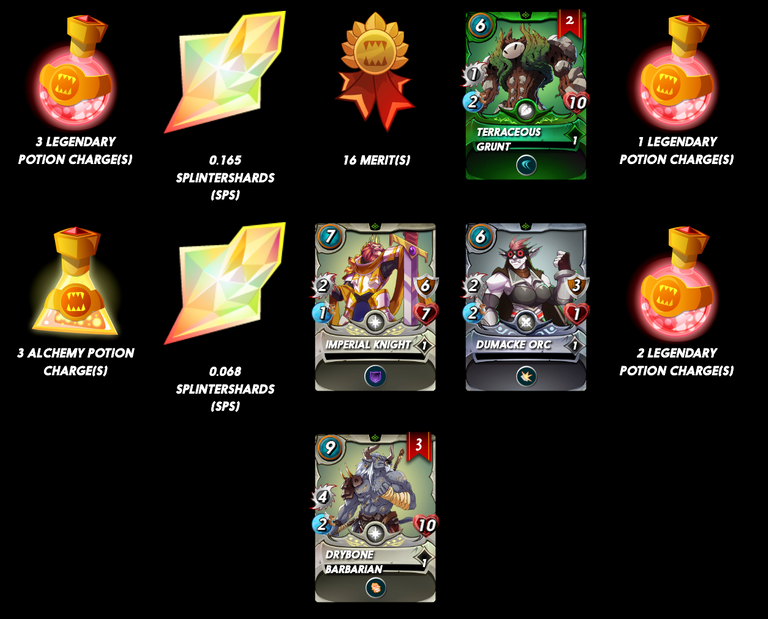 Summing it all up I got:
12x Common Cards,
2x Rare Cards,
3x Epic Cards,
1x Legendary Cards,
3.561 Splintershards (SPS)
6x Legendary Potion(s)
11x Alchemy Potion(s)
16 Merits
How do I feel about it?
I think for a time I was kind of busy and I wasn't able to play some rank for a few days before the season end, so I think you can get better cards even if you're on Silver League besides I wouldn't complain I'm happy enough to build my Splinterlands account and have enough power and road-to-no-longer-renting! LOL, I'm content as is, and this is more than enough! 😁
---
Daily Chest Reward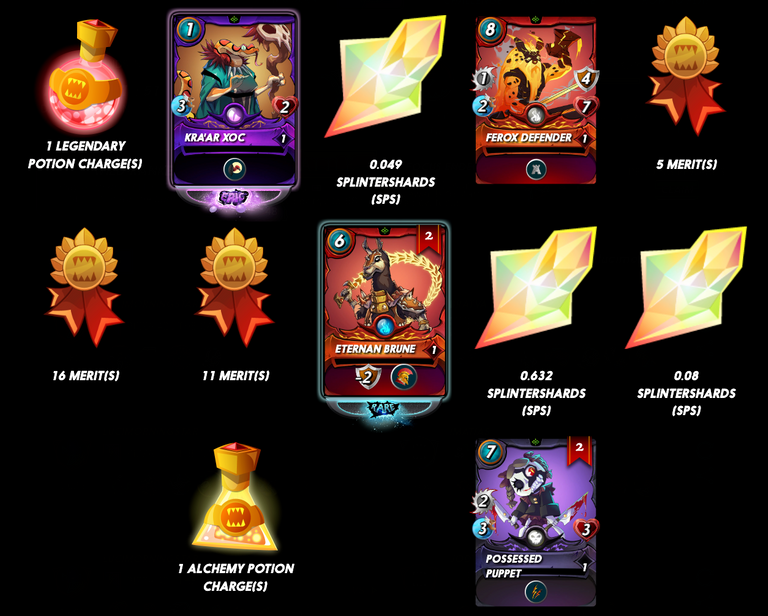 So after few hours from the Season End, My daily Quest chest was ready to claim, and these are what I got!
2x Common Cards,
1x Rare Cards,
1x Epic Cards,
0.761Splintershards (SPS)
1x Legendary Potion(s)
27x Merits
Gladius Pack Reward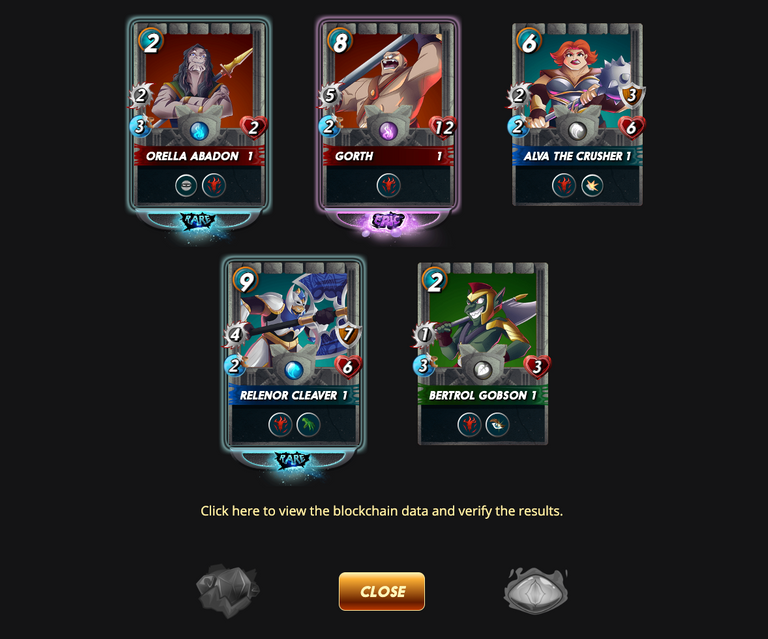 After our guild battle with
Hive Pizza 420 The Calzones
finished, I purchased my self a gladius pack and here's what I collected!
2x Common Cards,
2x Rare Cards,
1x Epic Cards,
---
All in all I felt happy of what I got from Splinterlands Reward! I still have to keep up with the SPS, since there is gonna be a new update with regards of the Ranking based on the number of SPS Staking, so that is one goal that I need to accomplish and need to stack them up!

How about you? Did you acquire something good for this season?
---
Join Splinterlands Commmunity Discord | Community | Instagram | Twitter

---
Play and Earn!
Splinterlands

CryptoBrewMaster

Dcity

HK

Risingstar

Q25.VIP

Card game battle
Brew your own beer
Create your City
Farm your Weed
Become a musician
Play Casino with real money
(Philippines only)

---
---
---