Splinterlands Art Contest Week 216: Elder Efreet!

Today I will feature one of the most awesome looking card battle in Splinterlands: Elder Efreet. I am really a fan of wizard and Magic attack card, they look so powerful so below are my process.

First Process, I drew a small stick man and then enlarge it.
| STICK MAN POST | ENLARGED POSITION |
| --- | --- |
| | |

Second Process, I'm mapped out where the robe would be, and mark of it flaring up so as his hair.
| MAPPING THE WIZARD ROBE | FLARING IT UP |
| --- | --- |
| | |

Thirdly, I trace the hand position and how the ends of the robe would curl and flares up.
| SOLIDIFY ROBE | GETTING MORE DETAILS |
| --- | --- |
| | |

Fourth Process, I traced out the face of Efreet Fire
| MAPPING THE FACE | SOLIDIFYING FACIAL DETAILS |
| --- | --- |
| | |

Fifth Process, No that I got the trace on black pen, It's time for some coloring.
| BLACK TRACE | COLORING |
| --- | --- |
| | |

Sixth Process, I started off with the base color and once I'm done with it make the eyes glow and then put in some shading and lines on the hair to make out a 3D effect on it.
| BASE COLOR | SHADING |
| --- | --- |
| | |

And Voala! Here is the Final piece.
FINAL PIECE: ELDER EFREET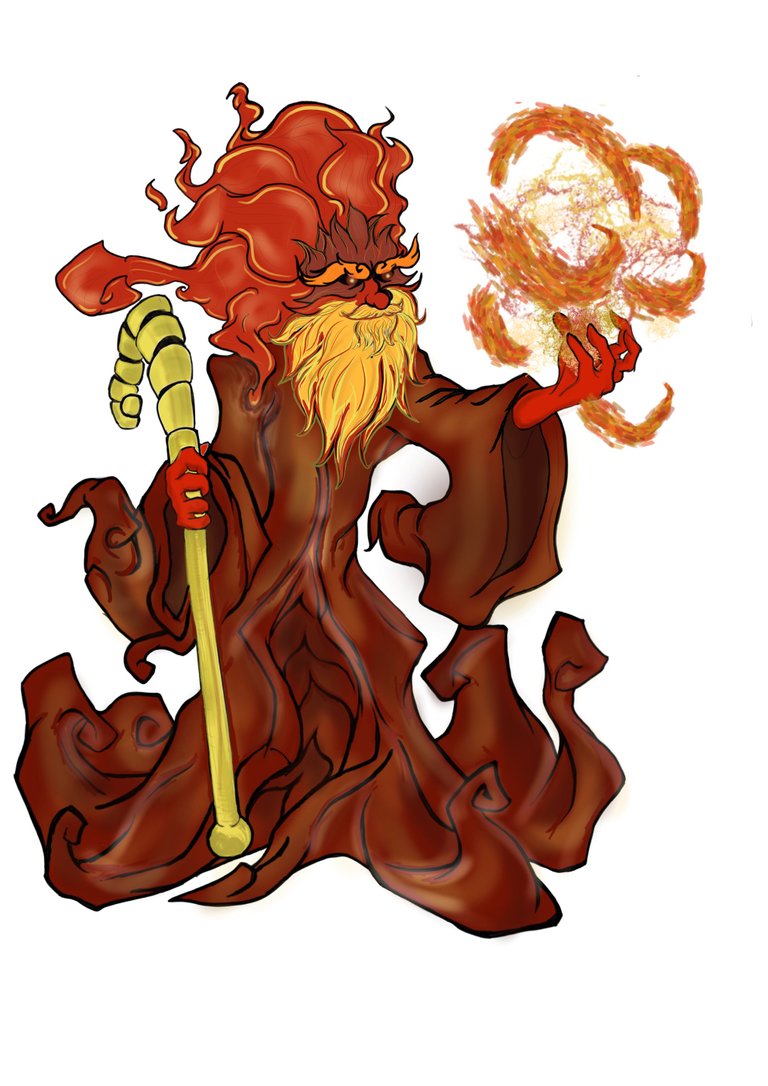 Magic always amaze me, hopefully soon I can animate all my works with splinterlands.
If you dont know yet. #splinterlands is a #play2earn card battle game under #Hive blockchain, where you can earn DEC (Dark Energy Crystals) token, $SPS (Splintershards), NFT Cards, In which you can earn more by staking tokens, renting or selling you NFT cards and if you dont have an account yet you can use my referral link to get reward when you purchase your Spellbook

---
"We are the Devils and Angels, We are all The Beginning and End, the Gods and the Non-gods"
- | - | - | - | - | -
The Bright Morning Star
- | - | - | - | - | -
---

---
---