Crypt0Knights is Recruiting


Hello all, Crypt0Knights is Recruiting. We are an active guild looking for new members. Most of us have been in this guild since shortly after its creation and now we are looking for new people join us.
Last season was the first time that DEC donations were required. This was to allow us to grow as a guild. We have 3 open slots as 13 of our 16 members remembered to donate on time and the remainder did not.
What We are Looking For in New Members
That you join our Discord

This allows for good communication between members of the guild.
A 500 DEC donation per season

This is what will allow us to grow as a guild.
That you actively play the game

This is also needed for us to grow as a guild and for you to improve.
A minimum of Silver League

This shows you have an understanding of the game and some level of dedication.
What We Can Offer You
An active community

We participate in each brawl and have been improving over time.
A useful discord server

We have, among other things, a general chat, a channel for help and strategy guides, and a channel that details official update notes.
A strong growing guild

We are slowly getting better as a guild and have been improving over time, with members consistently improving each season.
Access to Merits and the ability to buy Gladius cases

We are currently focused on improving our barracks to play Galdius cards.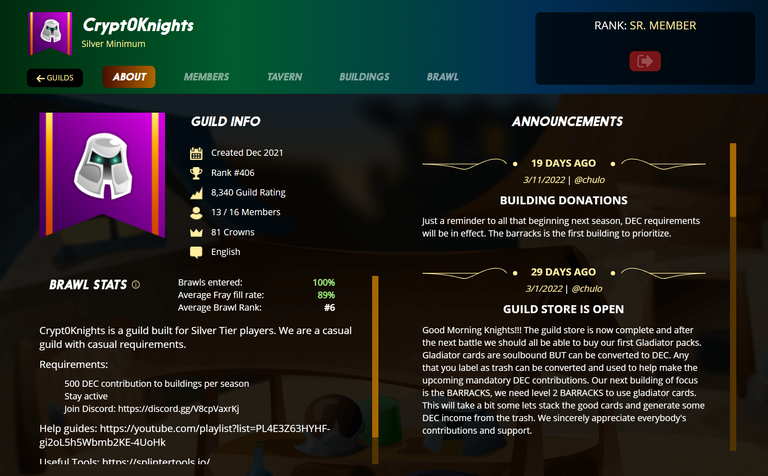 Copyright Stuff
The Image of the guild and guild logo was taken from the Splinterlands game. It is they who own the rights to the game.
---
---