How to Attract Players from Magic the Gathering to Splinterlands?
How to Attract Players from Magic the Gathering to Splinterlands?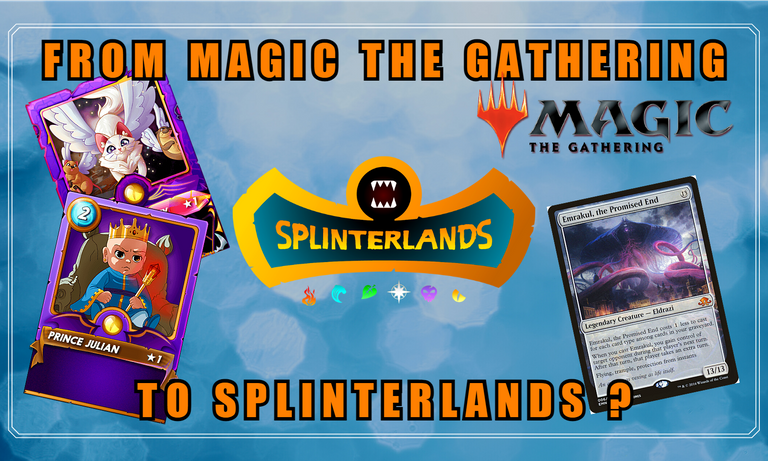 Magic the Gathering
If you're into card games, you probably already know what Magic the Gathering is. Magic the Gathering (usually known as "Magic" or "MtG") is the most popular collectible card game in existance. The publisher of the game is the "Wizards of the Coast", the company that's also behind the famous RPG Dungeons & Dragons.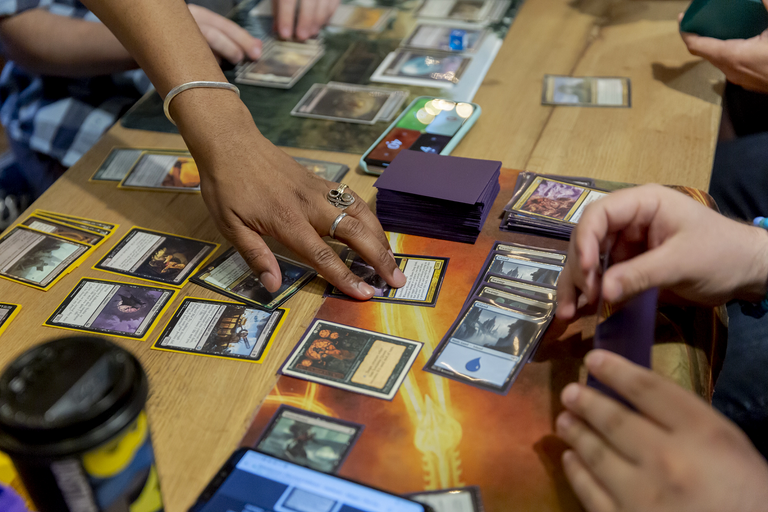 Source: TechCrunch
Magic is basically the "standard card game". All other card games invariably end up drawing inspiration from the mechanics of Magic, for the simple fact that every card game developer has played (or still plays) Magic. You can't be interested in card games and not know Magic. A similar phenomenon occurs with Dungeons & Dragons itself: because it is the most famous role-playing game, invariably every other role-playing game (whether it's a virtual one or a tabletop one) also ends up being inspired by D&D.
Anyway, the most relevant part for this article is that Magic has the largest number of players who are interested in card games. As Magic is the most famous game in this theme, it ends up being the "default" card game that everyone ends up playing. If you walk into any local board game store, you are sure to see people playing Magic and various Magic products being sold (pack boosters, trading cards, merchandising, etc.), while it's way more difficult to find people playing other games like Yu-Gi-Oh, Pokémon, Android Netrunner and Legend of the Five Rings.
But the point is: how can we attract Magic the Gathering players to Splinterlands?

1) Making Money
OK, let's talk about the obvious elephant in the room right at the start of this post.
Magic the Gathering players can earn money by playing. The most common way, and what almost all players end up doing, is "playing the market": buying and selling cards and making a profit from this activity. If the player is aware of the game news and understand the game's mechanics, it is possible that he can also predict some market movements (new expansions being released, interactions with old cards, etc.) and, therefore, buy and sell cards at a profit.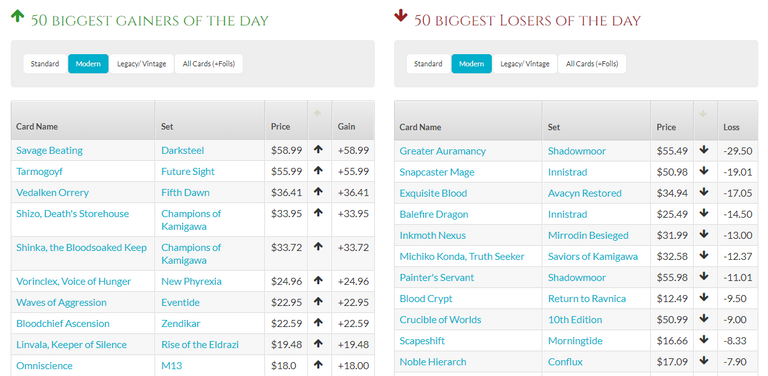 Source: MtGPrice
There are also other ways to make money which are restricted to a small minority of professional players, like participating in tournaments with prizes, or creating content like streaming or managing an Youtube channel.
But Splinterlands, through Daily Quests and Seasonal Rewards, allows all active players to earn money by opening new cards that can be resold instantly on the secondary market.

This possibility of making money without relying on speculating in buying and selling cards (which has intrinsic and unavoidable risks) is in itself a great argument to attract Magic players to Splinterlands.
However, this cannot be the only interesting point of Splinterlands. After all, games should be fun and interesting for those who play them: if the main selling point is the possibility of making money, it is no longer a game, but a job.

2) Easier and Faster to Play
Splinterlands is a bullshit-free game. You open the game in your mobile app or in your internet browser, you click to find a match, and in 2-3 minutes you've already finished playing that match.
In the other hand, Magic the Gathering is a very slow game. Not only a single match can take up to 30-60 minutes (not even considering slower formats like Two-Headed Commander, that can easily take hours), but you have to physically go to a store to play, schedule with other players, etc. And, unfortunately, there's a lot of people that would like to play a card game, but can't dedicate a whole afternoon to go to the local boardgame store to play Magic.
Even Wizard of the Coasts already realized this and is trying to tackle the problem by offering a digital version of the game (Magic Online) that's faster to play due automatization (deck shuffling, etc.) They even released a few "simplified", faster Magic versions (like Magic Duels and Magic Arena).
Similarly, this can bring MtG Players to Splinterlands: it's a faster, more accessible alternative to Magic, in which you can play a match in just a few minutes while you drink coffee or while you're killing time on your smartphone while waiting on a queue.

3) Affordability
Magic is a hell of an expensive game.
The most common formats of Magic is Standard and Modern. In Standard, a single "metagame", competitive deck usually cost around 300-400 USD, while a competitive Modern deck can cost up to 2,000 USD.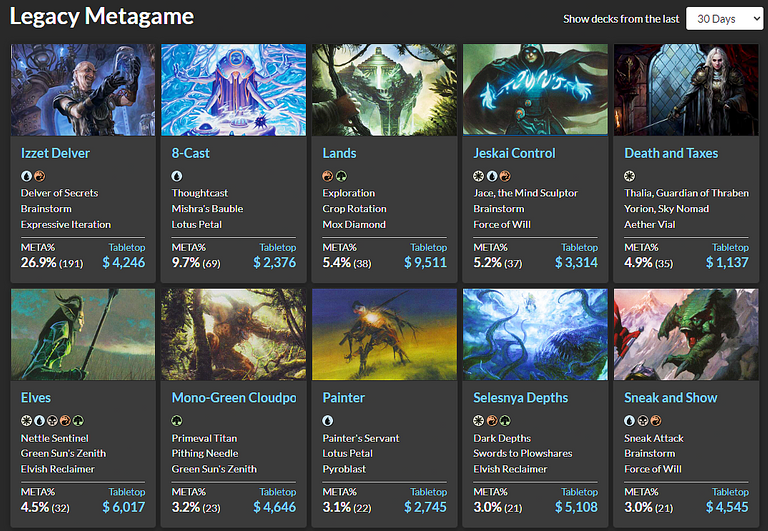 Source: MtG Goldfish
Other popular format is Commander, in which competitive decks also cost around 1,000 USD. And let's not even talk about Legacy, the format in which all cards printed are allowed, in which you can't find a competitive deck under 5,000 USD.
With the price of a single Modern deck, one can buy enough Collection Power to reach the Champion III League on Splinterlands. But let's be parsimonious and presume that, for the sake of the argument, one can buy a reasonably strong card collection that allows a player to play regularly on the Diamond League.
And that's just for the price of ONE Magic the Gathering Deck. Magic Players usually have several decks, as it's boring playing the same 60 cards over and over again, forever.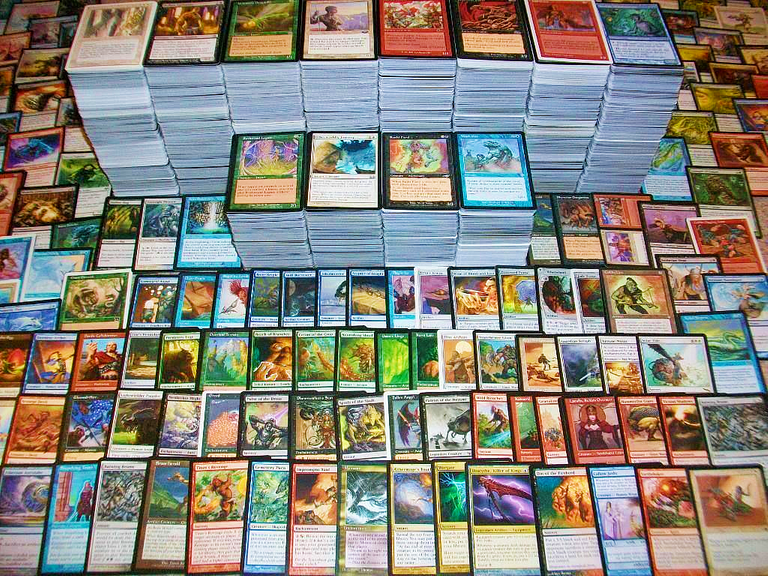 Source: TiendaMia
The truth is that lots of Magic players stop playing the game because it is extremely expensive to do so. Even in your local card store, in a non-professional setting, it is common to find players with collections that's worth a fortune, and those unwilling (or unable) to invest that kind of money in the hobby end up giving up or simply playing less.
And this is a great audience to attract to Splinterlands: they're already interested in card games, and they can find in Splinterlands a more affordable game to play.

New Player Bonus Offer
If you're a new Splinterlands player that still haven't bought the 10$ Summoner's Spellbook, you can help both you and me by creating a new account using my Referral Link HERE. If you create an account using my link and then buy the Summoner's Spellbook, leave a comment here and let me know.
I'll send you some cards for free to use on your first weeks in the game to help you progress faster through the Bronze League! Using my Referral link doesn't cost you anything extra and will make both of us stronger 💪!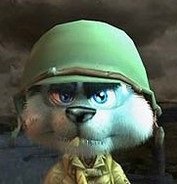 Thanks for reading this post, and until next time!
If you enjoyed the post, feel free to follow me as I'm routinely writing about Gaming, Investment, Fitness and Writing, and posting about other random fun subjects like Travel, Photography and Metal Detecting!
I'm also a Gaming Curator, both for NFT and regular Games, with experience on 1UP.zone and Ecency. If you want to vote on superb content, just Follow my Trail!

If you want to play fun NFT Games, I do strongly recommend Splinterlands, RisingStar, Rabona and dCrops. Send me a message if you need help starting out!

Unless stated otherwise, all images are created and owned by me, or from the game depicted on this post.
This is definitely NOT financial, legal or investment advice. You wouldn't get your financial advice from a squirrel, would you? Cryptocurrencies are very volatile, so don't invest what you can't afford to lose.
Also, believe it or not, I'm not actually a squirrel! This handsome rodent in my profile picture is a character from 'Conker: Live & Reloaded'. Here's Real Life me!
---
---