The Cheap $50 SILVER LEAGUE Deck! [Fire Splinter Budget Guide]
Read this Guide NOW if you want to know how to build a budget deck that cost less than $50 and that's able to bring you to the Silver League!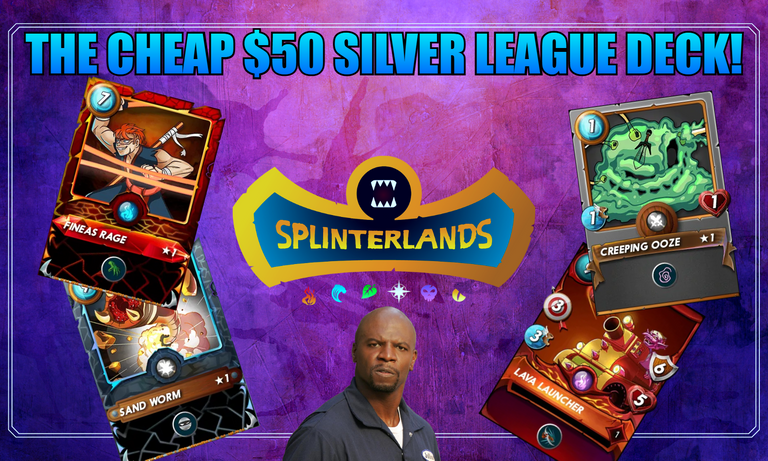 INTRODUCTION
If you're a new Splinterlands player, you're probably in the Bronze League, trying your best to climb to Silver in order to get more & better Reward Chests.
You may be thinking that you need to spend fortunes in order to have the best cards available in order to climb your way through the ranks. While having a pocket full of money indeed can help, I'll show in this Guide how you can build a budget Fire Splinter deck that's strong enough to put you in the Silver League!
Without further ado, I'll now show you the table with the recommended cards, followed by a short explanation on why each card was chosen and how to use it correctly in order to bring you more wins!

BUDGET $50 FIRE SPLINTER DECK FOR SILVER LEAGUE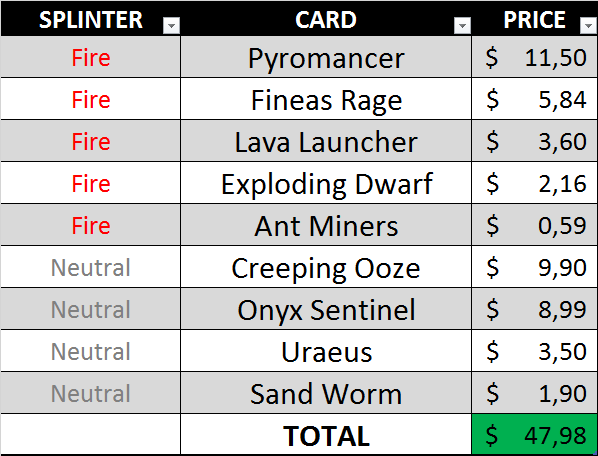 All the prices were taken from www.MonsterMarket.io, created by the majestic guys at @monstermarket. Also, if you're going to buy these cards, I recommend using their market as you'll receive a 3% cashback on all your purchases. Literally F R E E Money!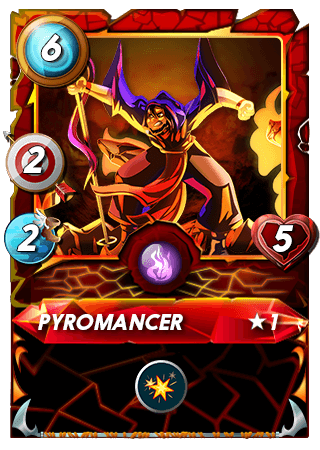 Pyromancer
The most expensive card in this deck; Pyromancer is a VERY strong ranged card: it deals directly 2 damage/turn, plus an extra 1 damage/turn due its Blast ability, and it also has 5 Health, enough to put him on the last place in your team to absorb damage from enemy monsters with Sneak ability.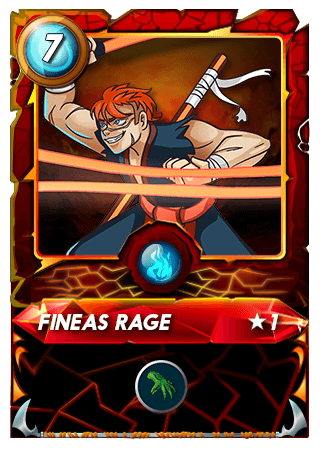 Fineas Rage
You'll always put him in the 2nd place: due his Reach ability, he'll hit every turn; he has 5 Speed, so he'll usually be the first in the game to attack; and also has 8 Health, enough to tank a lot of damage when your main tank (usually the Living Lava) dies.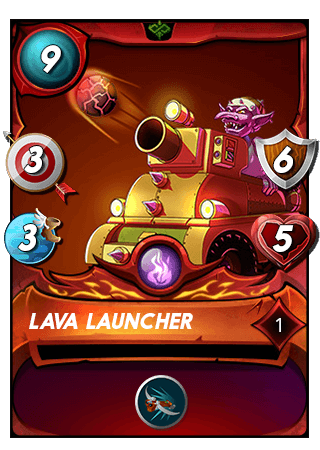 Lava Launcher
I love this card <3 In High Mana matches, Lava Launcher can almost guarantee you a kill due its high stats: high attack, high Armor, high Health. And, because of the Close Range ability, he can also keep attacking while on the first place. I like to put him on the 3rd place of the team, due his tankiness.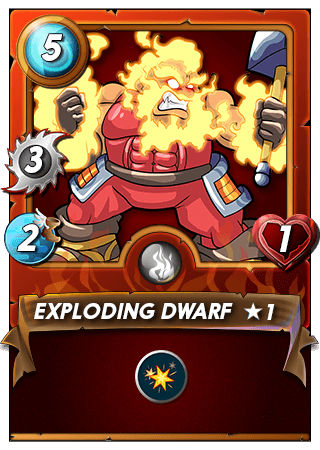 Exploding Dwarf
You'll only play this game on matches with the Equalizer Ruleset (the one in which all monsters have the same Health). But, in these games, the Exploding Dwarf is a BEAST: high attack AND Blast abilty for even more damage.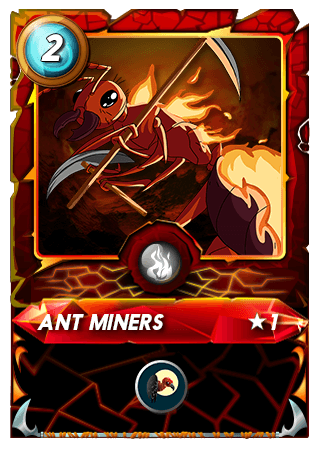 Ant Miners
Low-mana card that you'll play in matches with restricted monsters (like No Ranged or No Neutrals). As you won't have better cards to play anyway, just put him on the last place of your team, and when he reach the frontline he'll have 5-8 Health due the Scavenger ability. 2 Mana for a 8 Health monster? Yes, please!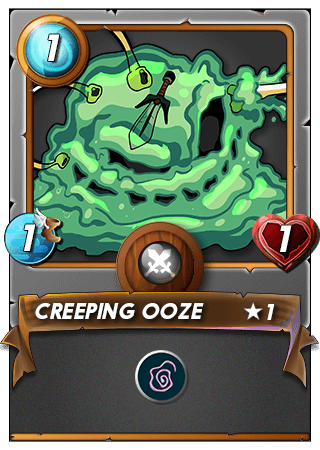 Creeping Ooze
The infamous 1-mana Neutral card! This bad boy allows you to use that odd mana that is left after you building your team, debuffing the enemy team Speed.
Due being Neutral, it's also very versatile, as you can use it on all your Splinters.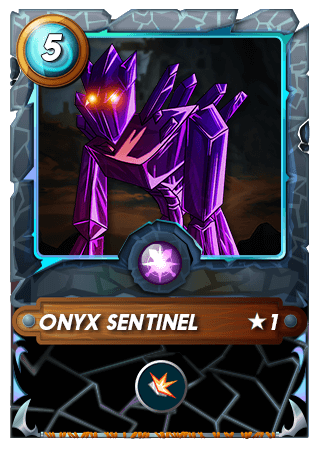 Onyx Sentinel
This Monster will become your to-go Tank when you can't play Melee Monsters. Trust the purple boy, and he'll bring you many victories
Uraeus
Uraeus is a very efficient card, costing only 3 Mana but having 2 Health, 1 Armor, and Sneak. I like to play him together with the Kobold Miner, as both of them have Sneak and will hit hard the enemy backline.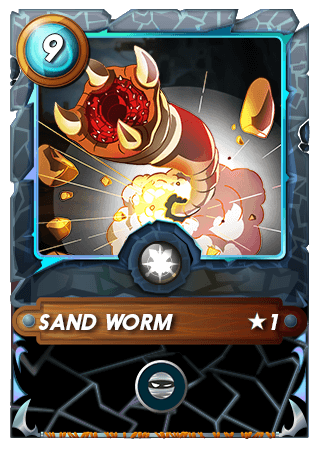 Sand Worm
In High-Mana Matches, you'll use him almost every single time. Put him in the middle of your team (4-5th position) and let him wreck the enemy backline.

HOW TO USE THE DECK
Mainly, you'll be playing Malric Inferno as your Summoner: his +1 Melee Attack is too strong to not use. Almost all the cards here are Melee, so they'll all benefit from his bonus.
Besides that, you'll use the common, popular Fire Splinter cards that are available for free.
In Mana Cost order, those are the free cards that you will end up using the most: Kobold Miner, Goblin Shaman, Serpentine Spy, Cerberus, Spark Pixies, Parasitic Growth, Mantoid, Living Lava.

KNOWN WEAKNESSES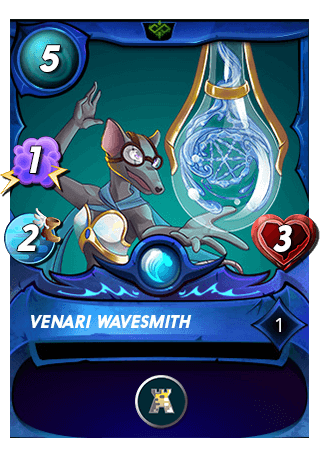 The main weakness of this budget deck is the "Venari Wavesmith Combo", in which the enemy plays, as the Water Splinter, Alric Stormbringer as Summoner, Venari Wavesmith to give +2 Armor to all monsters, and any other random Magic Monsters. Due the +2 Armor, you'll have a really hard time killing the enemy monsters, and will probably lose the game.
If you feel that your opponent will use this cheesy combo to win the game, do NOT play as the Fire Splinter! Just play as the Water Splinter, with Bortus as your Summoner, and then several other high-health Monsters to absorb the magic damage. It's your best strategy to counter the combo.
Besides that, you're now with a great deck, enough to beat the majority of the Bronze players and bring yourself to the Silver League!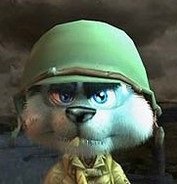 Thanks for reading this post, and until next time!
If you enjoyed the post, feel free to follow me as I'm routinely writing about Gaming, Investment, Fitness and Writing, and other random fun subjects like Travel and Metal Detecting!

Unless stated otherwise, all images are created and owned by me, or from the game depicted on this post.
This is definitely NOT financial, legal or investment advice. You wouldn't get your financial advice from a squirrel, would you? Cryptocurrencies are very volatile, so don't invest what you can't afford to lose.
Also, believe it or not, I'm not actually a squirrel! This handsome rodent in my profile picture is a character from 'Conker: Live & Reloaded'. Here's Real Life me!
---
---