[PT-BR] Análise: Arkemis the Bear, a Nova Carta Promocional
---

[ENG] Review: Arkemis the Bear, the new Promo Card!
Hello everyone!
This is a video in Portuguese in which I talk about Arkemis the Bear, the new Promo/Airdrop card that was announced just a few days ago!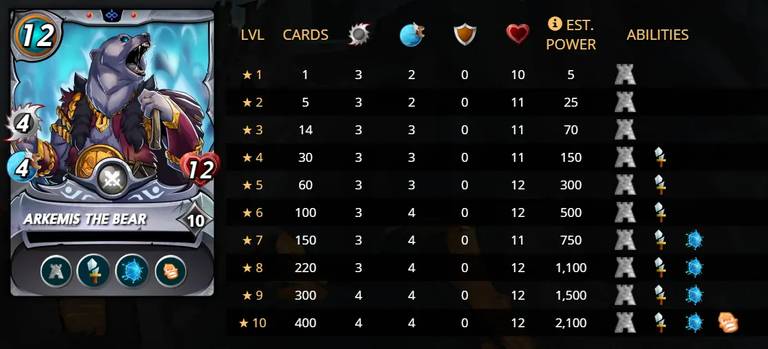 I love cards like this one, which are easy to use and fit into almost any strategy. As early as level 1, Arkemis brings the Protect ability, which provides +2 Armor to your entire team. This is one of the strongest abilities in the game, ideal for matches with rules that favor Melees monsters or against Summoners that focus on Melees cards. Due this single ability, this card will surely be able to sneak his way into the meta.
At level 4, Arkemis receive one of the rarest abilities in the game: Halving. With each attack he makes, the target monster has its own attack halved. Again, Arkemis shows his strength as a defensive monster that protects the rest of the team.
At levels 7 and 10, he finally gets the Forcefield ability (which I am not a big fan of) and the Enrage ability, which turns him into a monster with a 6 Melee attack and 6 Speed!
Thanks for watching and reading, and until the next video!

[PT-BR] Análise: Arkemis the Bear, a nova Carta Promocional!
Fala galera, beleza?
Nesse vídeo, eu vou falar sobre o Arkemis the Bear, a nova Carta Promocional que foi anunciada há poucos dias!.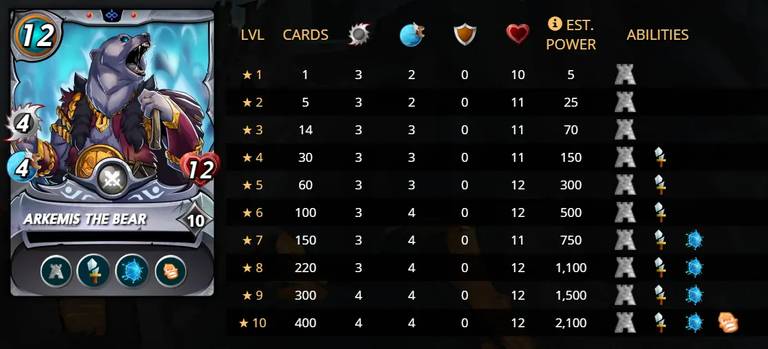 Eu gosto de cartas como essa aqui, que são fáceis de usar e encaixam em quase todas as estratégias. Logo no nível 1, o Arkemis traz a habilidade Protect, que fornece +2 de Armadura para todo o seu time. Trata-se de uma das habilidades mais fortes do jogo, ideal para partidas com regras que favorecem monstros Melees ou contra Summoners que focam em cartas desse tipo.
No nível 4, o Arkemis recebe uma das habilidades mais raras do jogo: Halving. A cada ataque que ele realiza, o monstro alvo tem seu ataque dividido pela metade. Novamente, o Arkemis mostra sua força como um monstro defensivo e que proteje o restante do time.
Nos níveis 7 e 10, finalmente, ele recebe a habilidade Forcefield (que eu não sou muito fã) e a habilidade Enrage, que transforma ele num monstrão com 6 de ataque Melee e com 6 de velocidade!
Valeu galera, e até o proximo vídeo!

If you enjoyed the post, feel free to follow me as I'm routinely writing about Gaming, Investment, Fitness and Writing, and posting about other random fun subjects like Travel, Photography and Metal Detecting!
If you want to play fun NFT Games, I do strongly recommend Splinterlands, RisingStar, Rabona and dCrops. Send me a message if you need help starting out!
And, if you're feeling lucky, go to HiveSlotGames and win money by playing on the 🍀Roulette🍀, 🃏BlackJack🃏, 🎲Dices🎲 and 🎰Slots🎰!

Unless stated otherwise, all images are created and owned by me, or from the game depicted on this post.
This is definitely NOT financial, legal or investment advice. You wouldn't get your financial advice from a squirrel, would you? Cryptocurrencies are very volatile, so don't invest what you can't afford to lose.
Also, believe it or not, I'm not actually a squirrel! This handsome rodent in my profile picture is a character from 'Conker: Live & Reloaded'. Here's Real Life me!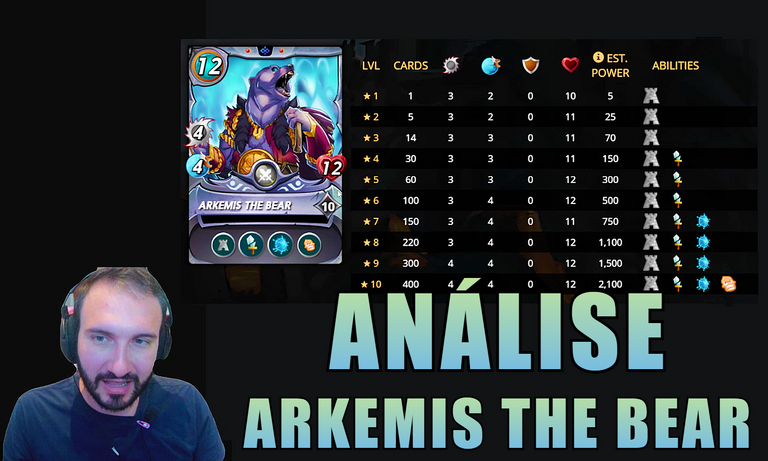 ---
▶️ 3Speak
---
---