Splinterlands Weekly Battle Challenge! Kulu Swimhunter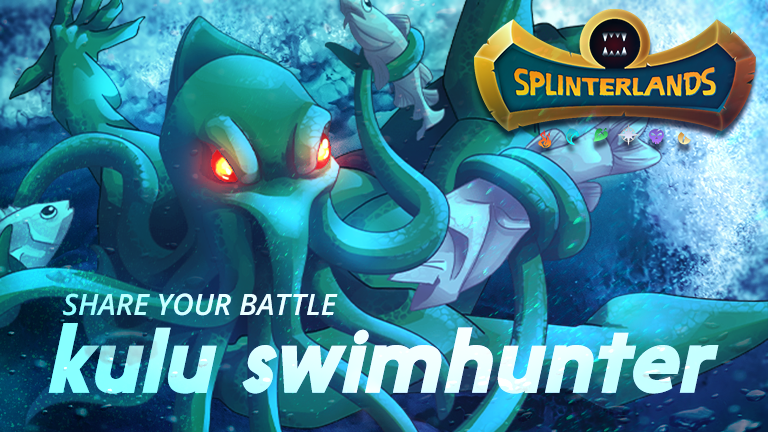 Hello everybody!! Its been a minute since I have last blogged, I've been on a hiatus. Grinding for Champ every season has taken up so much of my time! But here I am, blogging about the Kulu Swimhunter, and sharing a battle! Here is the link.
https://splinterlands.com?p=battle&id=sl_32378463bf30ac7ede65bb7bcb0b0905&ref=luthien12
I really like Kulu Swimhunter because he has relatively high attack for such low mana. 4 range attack at only 4 mana is really good! Plus, he is quick. That means he gets his attacks off quickly, and is more likely to dodge attacks. I use him a lot in low mana rulesets because he gets so much attack in for such low mana. Typically, I put him in the back. In this battle however, I had plenty of mana to work with. I used Kelya as the summoner, which gave our dear Kulu some extra speed and some armor. I put him in the second-to-last position, with a taunt monster in the back to absorb a lot of damage so that the other monsters can get as many attacks off as possible.

Here is my lineup: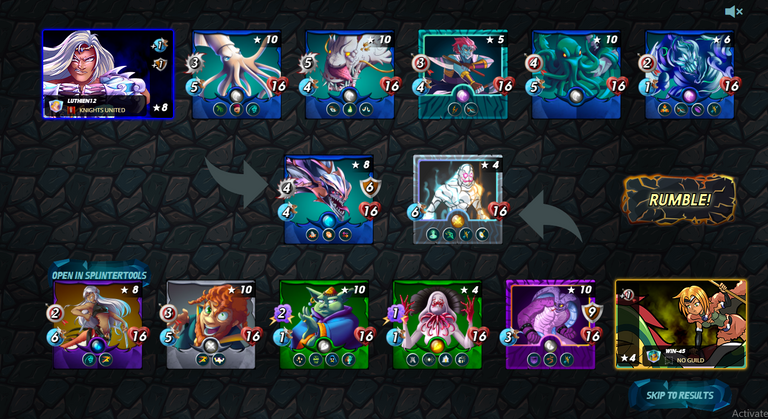 As you might have guessed, the ruleset for this battle was equalizer, which made Kulu even better! Lucky for me, the other team chose to bring a very high health monster to the battle. Even though their two front-line monsters had return fire, I was still able to break through their lineup and pull out a win! I wish that I had put more healing into the lineup because I was a bit worried that their tank heal and triage would keep their monsters alive long enough to take mine out, but it worked out in the end. Kulu definitely put some work in with that 4 range damage!

Overall, I think that Kulu Swimhunter is a great card to use, especially for low mana rulesets. I use him frequently, and he was one of the first Chaos cards that I maxed out! I hope that you all enjoyed this post, and that you will go forth and battle with your Kulu Swimhunter.
---
---