#1 Data Challenge - See your idea become real and earn with that!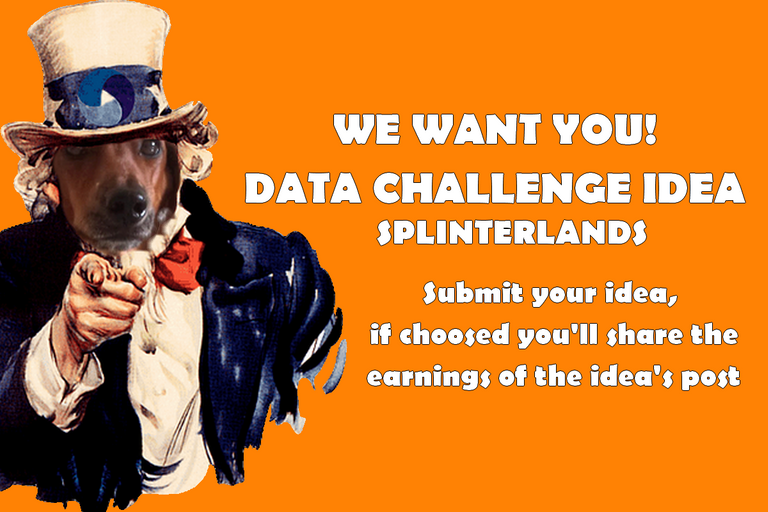 Hello everyone, I'm launching this project today!
For those who dont know me yet, you could check some of my projects:
Weekly Best Cards
How much Dec you win at each League
Splinternews
Average power for each Chaos Legion card
SplinterGG
---
Introduction
So, what is this project about? Every week (posted at sundays), a post like this is going on air at my blog, along the week I will be choosing some ideas posted on it and I'll be developing posts about these ideas throughout the week. The chosen idea will earn a post and the idea's author will earn part of the post's earnings. Throughout the week, we may see more than one idea being chosen, however, for democratization purposes, only one idea will be possible for each user per week.
So, basically this will work like this:
Post goes online on my blog
Users may post ONE idea per week (on the current post)
I will be, throughout the week, choosing some ideas and creating posts (the idea's owner will be added as beneficiarie)
---
How much will be the ratio?
I am currently still analyzing how much the split will be, but I believe we will have a range (depending on the idea) between 10-30%.
---
Rules
Plagiarized ideas will be disqualified
Only one idea per week (post)
You are free to comment on others idea's too
Currently ONLY ideas about @splinterlands is allowed
This post will be locked to new comments on (11/21/2021) and a new post will be made
I have the right to change (or add) any of the rules or suspend the challenge at any time
---
How to participate
Share this post on any social media
Comment on this post your data analysis idea and a link to your shared post.
Youll be tagget on the new post if your idea was choosed
---
Weeklys Best Idea
I (or maybe community?) will choose the best idea through the week and will reward this user with something (Trying to think about it currently), maybe some DEC prize, SPS prize or CARD prize. As I'm still a small player and I don't have as many conditions, the prizes will be light. (If you liked the idea and want to contribute with something to the winner of the week, feel free!)
For the first weeks, as Ill be testing this project, prizes maybe will be very simple.
---
Some examples
(all the examples listed below may not be selected, because they already exist or are on my list to be posted)
"You should analyse best cards per league!"
"Maybe you could analyse houw much dec each league can win?"
"Could you analyse best team of the week?"
"Could you see how to beat the perfect combo Llama + Kron?" (You can choose others team freely)
---
---