Tournments Analysis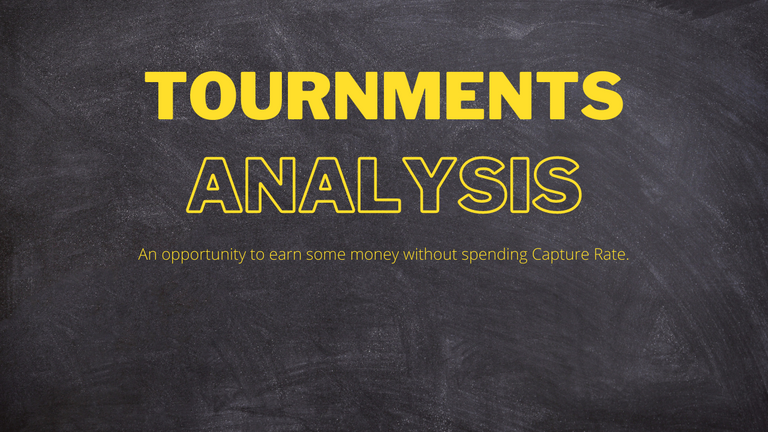 ---
Hi! Today we are going to learn about and analyze Splinterlands tournaments.
If you don't have an account yet and would like to know this wonderful game: Create your account.
If you want some help, you can contact me on discord: Felype#6028.
---
What is a tournament?
Tournaments are played with rules pre-established by the organizer (sponsor), having entry values ​​for the participation and a predefined reward for the winners.
As I write this article, some of the next tournaments are: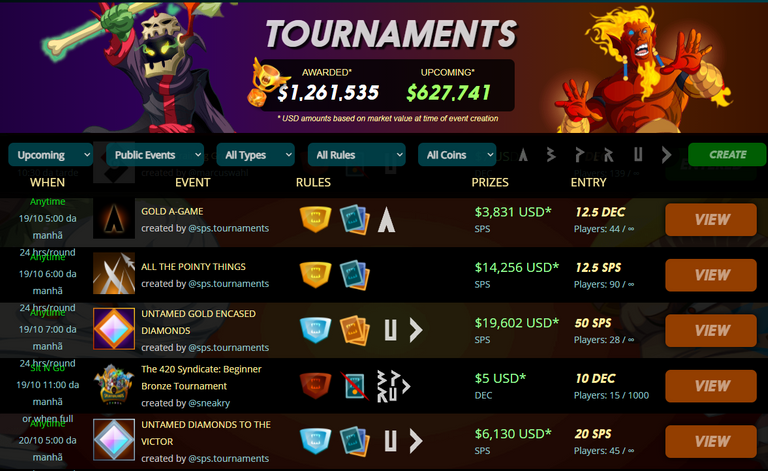 We can specifically see a tournament by clicking on view: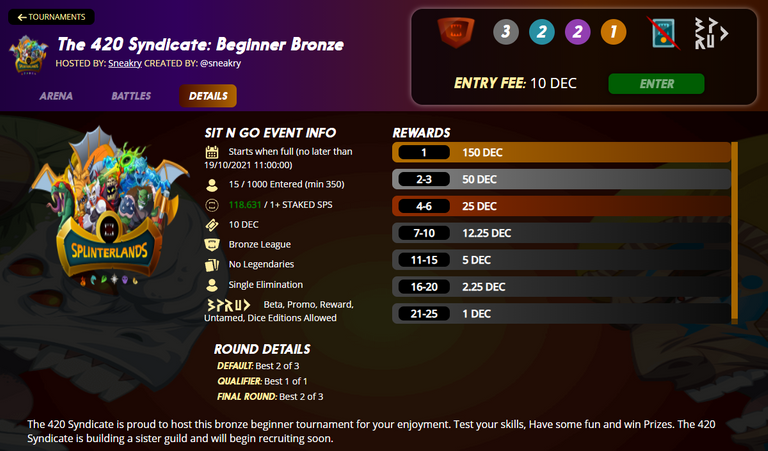 This specific tournament has an entry fee of 10 dec and awards 105 dec for the first place. Its main rules are the bronze cap (3,2,2,1) and legendary cards cannot be used. In addition, each contest will be decided in a best of 3.
Now let's go to the analyses.
---
Being more transparent with my readers, my data is organized as follows: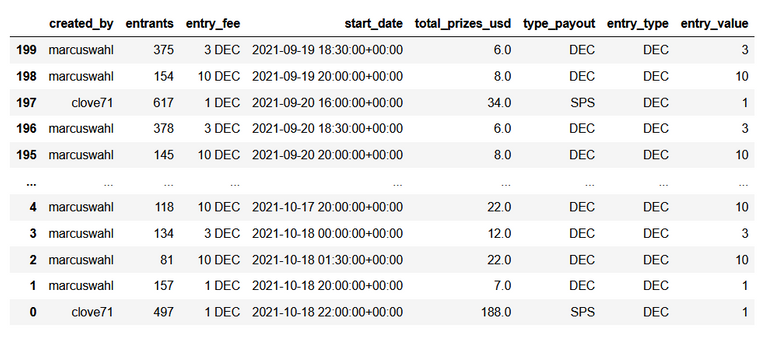 In total, 200 most recent tournaments were analyzed.
---
Largest organizers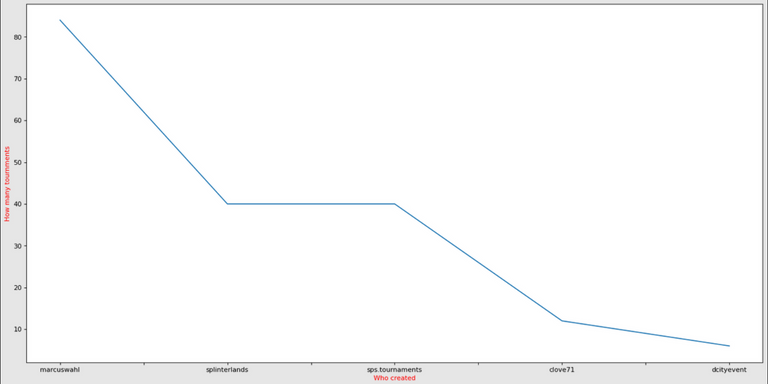 Here we can see the top 5 recent tournament creators, with marcuswahl being the top 1, with over 80 (out of 200) recent tournaments created! Splinterlands organized around 40.
---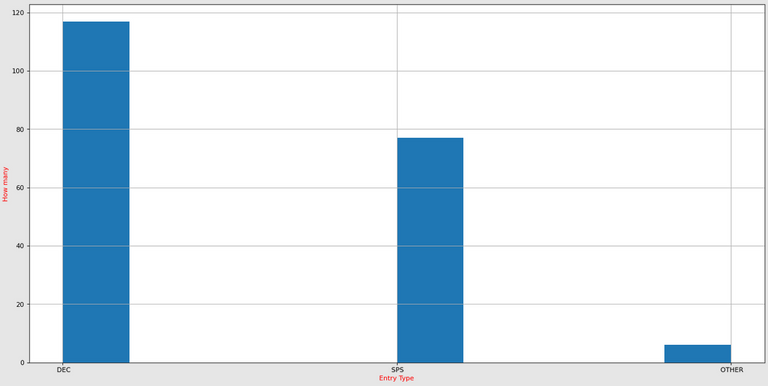 Here we can see the type of token used to enter each tournament, currently there is still a majority of entry fee tournaments with DEC, but I believe this will change.
---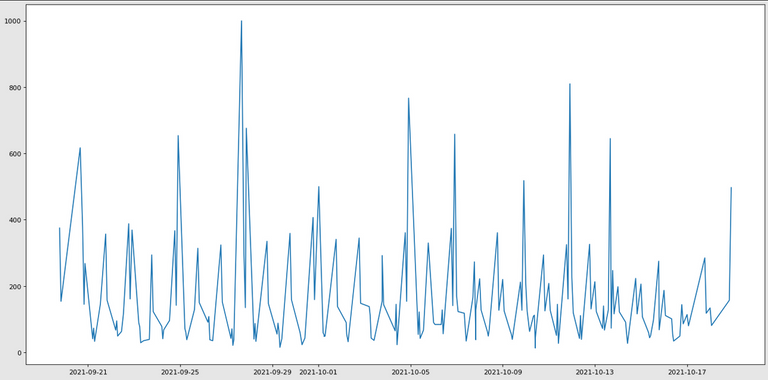 Here we can analyze a graph relating the date with the number of participants that day, there were tournaments with more than 600 people participating!
---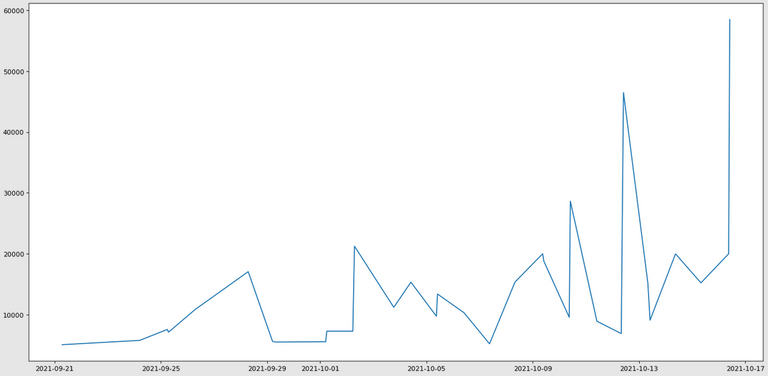 Here we can see a chart relating the dates with the prize distributed in US$ to the participants, only values ​​above 5k usd were considered. (Detail on premiums above 40k USD!)
---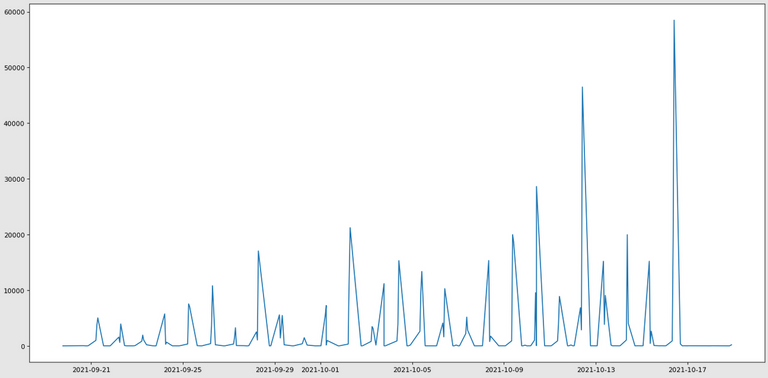 Here we can see again the prize distributed among the winners in the tournaments (this time with no minimum limit), we can see a strong upward trend, indicating the great success that the tournaments are having in the lands of the splinterlands!
---
---
---
To complete, I did an analysis of the average payout for SPS and DEC tournaments:
Average US$5989.65 (SPS)
Average US$24.64 (DEC)
Here are the average values ​​to participate in tournaments in SPC and DEC:
Average SPS 165.45 (SPS)
Average DEC 20.69 (DEC)
---
What are you waiting for? Sign up right now for the next tournment!
Thats all! Thanks for reading.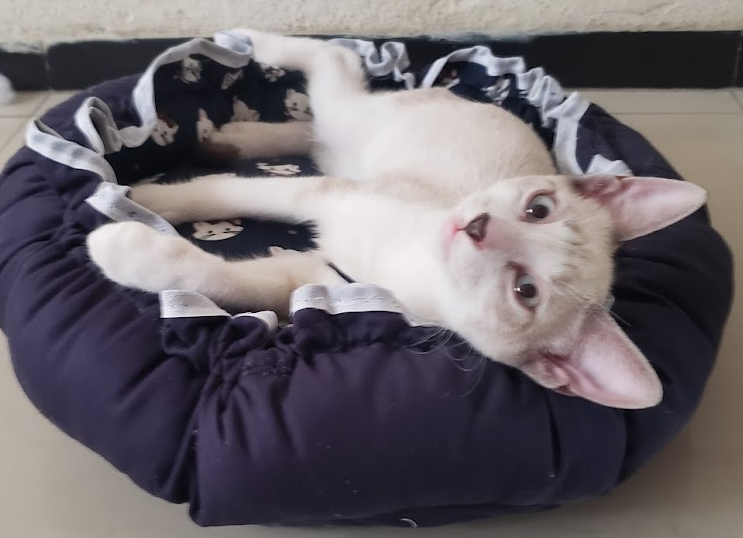 ---
---