HUGE NEWS! SPLINTERLANDS teams with WACA FLOKA and IMAGINE DRAGONS
Just a few days ago we got some huge news in the Splinterlands Weekly Town Hall when it was announced that Splinterlands is going to be teaming with multiple musical acts for promotion! Let's take a closer look at the Town Hall notes.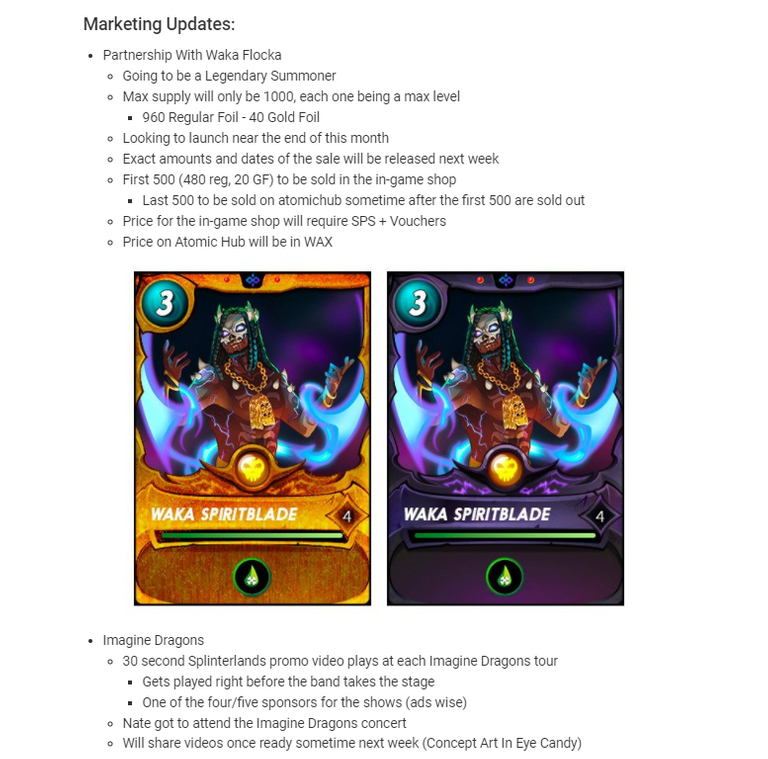 Well if there is one thing we know for sure it's that Splinterlands is going to be going even Harder In the Paint than it has been. Sorry, I had to!
All of a sudden it's seeming like maybe Snoop Dogg isn't the only rapper who's deeply interested in NFT tech and, really how surprising is that?
The talk about this announcement has mostly been people demanding to know how much WAKA will cost and folks who dont understand how Poison works calling this card OP. Personally I don't think the card is a problem at all but at the same time would love to nab one and experiment with it.
Imagine Dragons is not a band I know much about but Splinterlands being advertised for any group of people who might be predisposed to like nerdy thing sounds good to me! It seems to me to be a really good time to have an investment in Splinterlands and I've still not sold any of my SPS.
The future is bright friends!
Are you looking to hang out with other Crypto-Gamers? Join us over at the The Crypto-Gaming Guild discord. We are looking for game captains and folks who can help organize. If you are interested, please step up!
The games we are currently focusing on are:
Rising Star
Splinterlands
RollerCoin
dCrops
UpLand
Neon District
Alien Worlds
Lost Relics
Dr. Who Worlds Apart
---
---