Scorecard #4: Are you going to PANIC or PERSIST?

With each passing week I'm more and more sure that getting back into cryptogaming all those months ago was one of the best decisions I've made in years. This isn't because of massive profits or cryptogaming being the perfect place to gain a deeper understanding of the evolving NFT ecosystem, I'm simply having more fun gaming than I have in years. I seem to have found a sweet spot in the number of games I'm playing, the number of articles I'm writing, and the amount of time I'm spending on documentation. This system is soon going to be tested as I return to working full time, something I've been looking forward to for quite a while.
Let's take a look at some of the most important metrics out there.

These is a set of info to be working from but it clearly might be an oversimplification. As more and more weeks pass this section of the scorecard will grow and before more robust and useful. As I've started tracking these metrics for a coming update I thought it would be worth mentioning.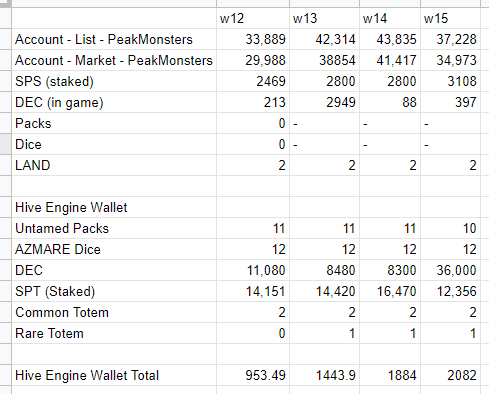 For the first time in a long time, ladies and gentlemen, Splinterlands has stopped it's multi-month spike. This moment had to come and I'm honestly shocked it hasn't happened yet. Constant unrestrained growth is not healthy for the overall live of a project like this. I think it's very honest to say that some days or weeks of price retracement are likely the best thing that could happen to Splinterlands right now. I think the developers know this too which is why the quoted timeline for Chaos Legions release has been stated as 2-6 weeks.
The numbers tell the story here. I'm starting to collect SPS to stake into the Chaos legion prerelease and collect a bank of DEC for various projects. Land and totems feel pretty well covered for the moment. I'd love to get a second rare totem but I think I just didn't act fast enough on that one. I could sell a lot of SPS right now and buy pretty much whatever I want but there is no way I'm selling SPS this low. I'm honestly tempted to sell down to 10 dice and put all that into SPS before it's price spikes in reaction to the coming ability to use it to earn CL pack access and to sponsor players.
I'm currently also really bothered that I dont own more of the Splintertalk NFTs. Have you guys taken a look at these?

The 'team' series are all so beautiful, I really really need them. That means I need to stack SPT, so ... LET'S GOOOOO!!
You can't do it all at once though and I'm very happy with how my Splinterlandsproject is progressing as the weeks go on.

I wanted to show the full chart here because getting to finally be a Starbits Millionaire over the past week is proof that long-term planning and patience pays out. I now have to ability to bet an daily payout of 10,000 Starbits from a single short Starbits Millionaire mission. When I spoke to Jux this week he told me there are only a "few hundred" Starbits Millionaires so that gave me a bit of a boost on my achievement.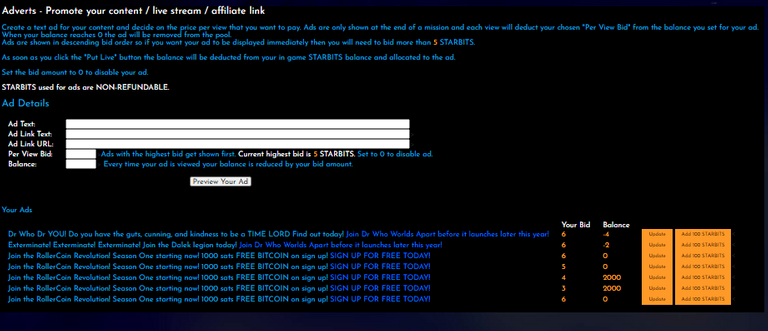 Like anyone who just got a huge new source of income my eyes are going all over the place looking at the cool stuff I could spend it on! I've been running RollerCoin ads in Rising Star and when that convinces someone to try that awesome game it can really pay well but I'm not trying to go 'all in' on this cross game promotion here. I wanna be investing more in Rising Star but I just can decide how! Should I be buying as many cards as I can, the best boosts, earning starbits by investing in record staking, or even releasing my own NFT records?
I could have ten times the income I currently have in Rising Star and still not be able to do all the cool stuff I want to try. What an amazing game yall. Rising Star has a massive future.

My miner room is really starting to fill up now! RollerCoin was always a favorite of mine for it's steady background earning potential but when they announced the introduction of seasons, quests, passes, and collection rewards I knew it was going to be a gamechanger be even I didn't see this coming. My 150 RLT investment in the first event pass has paid for itself over and over and over again and, just like that, I'm flooded with miners and mining power!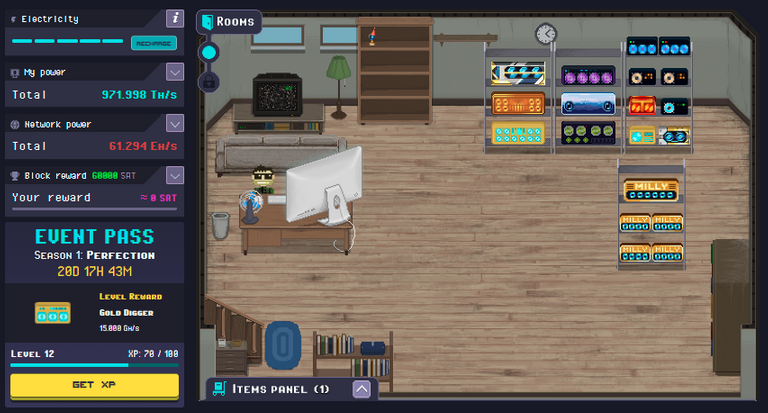 It really all comes down to this: If you own even a single miner RollerCoin pays you a small amount of crypto every 10 minutes. Forever If you do the quests and missions you earn more energy and more crypto. If you but the season pass early and complete all the quests you get +700% your value worth in items. It's a disgusting amount of value.
Any amount of crypto every 10 minutes for the rest of your life is a game-changer. How anyone could ignore this opportunity is beyond me.

Seven years later this one still feels like my dirty little secret. All this time has changed the game, FreeBitco.in is now the only Bitcoin faucet and, if you check them out, you'll see how they fund it. Games of chance, betting, lottery, reward pools, wheels of fortune ... they got it all. This is pretty much the sketchy casino of your dreams or, if you have an ounce of self control, it's just a raging torrent of profit.
FUN is becoming a more useful version of itself and it's about time. I feel like we se so many crazy numbers out there that's it's easy for an opportunity like this to offer itself and have no one even notice what an incredible opportunity it is.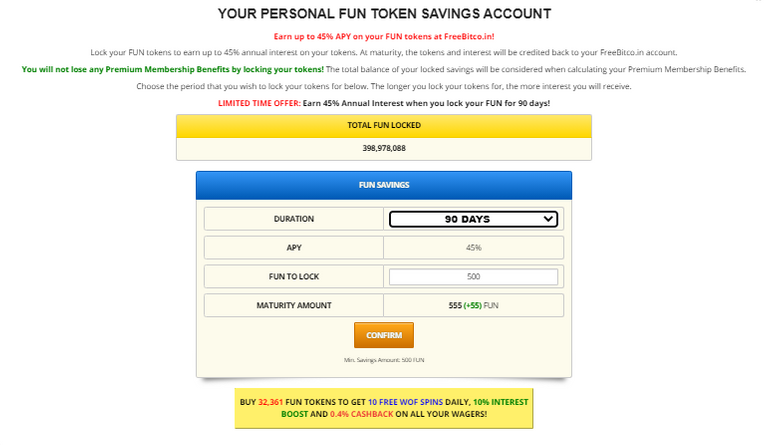 My only problem at the moment is that I don't have enough FUN to stake into this most recent 45% offering at the moment. That said, due to the amount of FUN I have staked in the Premium Membership Program I'm earning 7 Wheel of Fortune spins a day and some massive daily return percentages. This one is a sleeping giant a never want to see wake up. Please FreeBitco.in, never change.
THE REST




As you can see all of these projects are going alone about as expected. I took about a week off of Alien Worlds as I was away from my desktop and it sometimes doesn't play well with mobile. These projects aren't shining right now but I believe in them enough to still be checking in with them daily. I think that's the main skill here. It's not so much about snatching at the shiny thing as quickly as possible as it is about showing up every day to complete your daily quests and keep your overall numbers going up. If you can do that multiples times a week with 7-8 games like this it's just a matter of time before you have your Splinterlands Moment and hit it huge.
Do you have what it takes to play a video games each day for like 10 minutes? If not, why do you think you deserve to be earning money in the Play2Earn scene? If you are looking for things to work out for you here I suggest you all take the amazing opportunities before us seriously and hit them as you are able.
Are you looking to hang out with other Crypto-Gamers? Join us over at the The Crypto-Gaming Guild discord. We are looking for game captains and folks who can help organize. If you are interested, please step up!
The games we are currently focusing on are:
Rising Star
Splinterlands
RollerCoin
UpLand
Neon District
Alien Worlds
Lost Relics
eXode
---
---