SPLINTERFAIL - The New "Bonus Packs" System is terrible for Vouchers, Players, and Splinterlands

I cant really think of a nicer way to say this so I'm just going to say it: The idea of spending Vouchers to be able to get "Bonus Packs" is absolutely terrible design and one of the worst pieces of news to come to Splinterlands since Chaos Legion was announced. It's confusing to see Splinterlands arrange Vouchers and "Bonus Packs" this way because this honestly makes both much much worse.
Vouchers go from being an item you use to get access to new Splinterlands assets first to something the game will automatically spend to overpay for packs when you CAN assess them. "Bonus Packs" go from a wonderful 'thank you' to players looking to make large bulk purchases to ... the absolute worst way to buy packs?
Let's be extremely blunt: Who wants to spend the price of a Voucher ($19) on a Chaos Legion packs ($4 in store or $9 on market)?

Why would anyone choose to do this? They wouldn't. That being traded for the free "Bonus Packs" we've seen in every other product at what feels like the eleventh hour honestly feels like a punch in the gut.
SPS Discount remove? No problem.
Chaos Legion Delayer further? All good.
Before todays news I had made plans with multiple friends to place a large bulk buy so we could buy 2000 packs and get the 400 bonus packs as a team. Now not only does that plan no longer work we have absolutely no reason to even pool our resources at all. Why even aim when purchasing 2000 packs when the results are you being given more of a bad thing?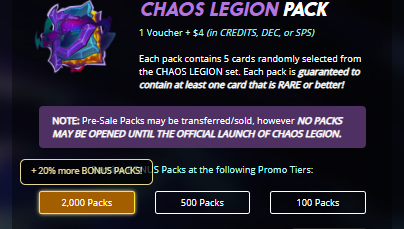 At this point I'm honestly just confused at how to move forward in a way that feels good for me as a player. I'm sure as shit not going to spend all my SPS on packs for no discount AND no free 'bonus packs'. Even if I did have the 400 vouchers to claim all my bonus packs that would be extremely foolish considering I could literally just sell the vouchers to just purchase four times as many packs.
None of this makes any sense at all to the point that I cant help but expect Splinterlands to make some sort of announcement in coming days taking another shot at this system. Right now what was pitched today is a shit sandwich and it's hard to imagine a team with so few misses will let this stand for long.
Considering right now you'd be much better off to sell all your Vouchers before making a purchase I'm having a hard time seeing what the 'bonus' in 'bonus packs' could possible be talking about other than the price.
Are you looking to hang out with other Crypto-Gamers? Join us over at the The Crypto-Gaming Guild discord. We are looking for game captains and folks who can help organize. If you are interested, please step up!
The games we are currently focusing on are:
Rising Star
Splinterlands
RollerCoin
dCrops
UpLand
Neon District
Alien Worlds
Lost Relics
eXode
Dr. Who Worlds Apart
---
---