Take a Break #2: Breath before you start Farming again
My first Take a Break post was really fun to do, so I did another one, hoping you will like it, a special thanks to @shortshots and @theclasser1 for helping me find 2 new Look-alike characters, great job :)
So let's start before we lose too much time and you lose your opportunity to rent some legendary for 0.5 DEC less than the average on the market (even if, using auto bid on PeakMonsters you should have time to read with no renting anxiety...but this is not a post about renting so let's go!)
New 5 characters for my clickbait gallery:
1 ) The Kraken is an imponent, legendary, water tank, a card I would like to own, maybe one day, in the future. It reminds me of a less imponent and powerful creature, a sneaky little infamous creature, my worst enemy (I am tragically allergic to it), the Dust Mite.
Grade of Similarity: 6/10 too much difference in size (and I hate Mites).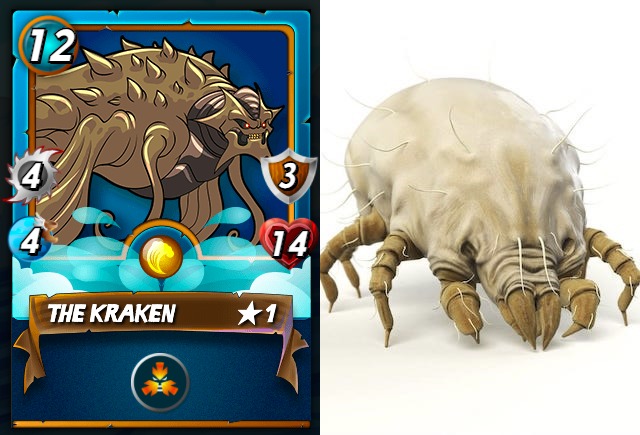 2 )The Djinn Oshannus is another amazing legendary water card that obviously I would like to own in the future... the moment I saw him I immediately thought of Aquaman, in particular the DC Aquaman character played by Jason Momoa, the gigantic Hawaiian actor. He is perfect for fantasy references, which card will be the Khal Drogo look-alike?
Grade of Similarity: 7.5/10 The Djinn Oshannus is not massive enough to impersonate Jason Momoa.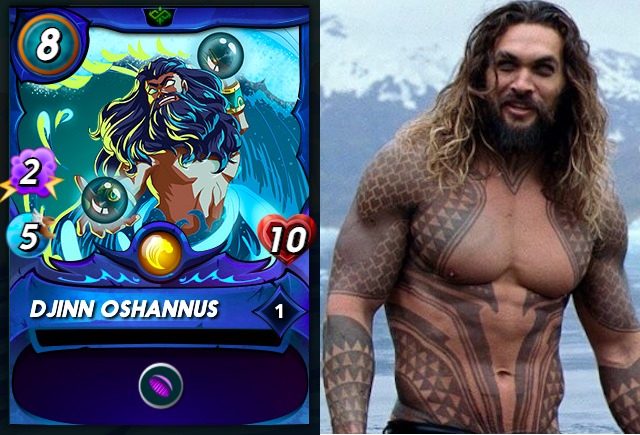 3 ) The Pirate Captain, a common water card, is a look-alike character recommended by @theclasser1 . Obviously if we talk about a captain who is also a pirate and didn't eat any devil fruits, we immediately think of Captain Jack Sparrow the charismatic character played by Johnny Depp in the "Pirates of the Caribbean" saga.
Grade of Similarity: 7.5/10 as I already answered in the comment section, Captain Jack is a "bit" more charismatic and has better skin.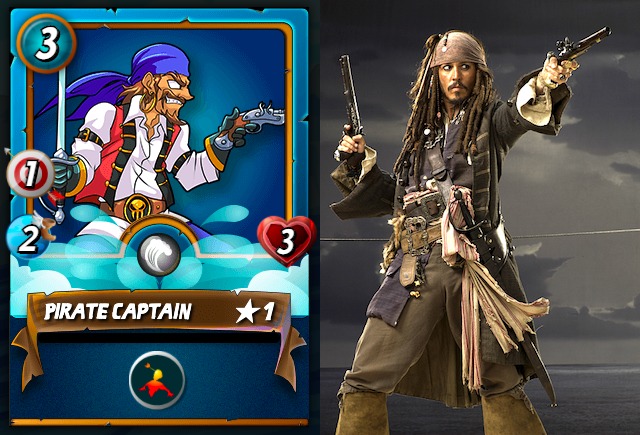 4 )The Harklaw is a legendary death tank and he is a look-alike character recommended by @Shortshots, as he said "The Harklaw" gives Thanos vibes, the Marvel villain played by Josh Brolin, who looks devious and calculatively brute. Luckily for the greedy players who just play2earn (cause you can't enjoy the community AND play to earn, that would be too much), he has long claws, and probably The Infinity Gauntlet wouldn't fit him, so no finger snap and no half of your cards vanishing.
Grade of Similarity: 8.5/10 they even have the same skin color, love it.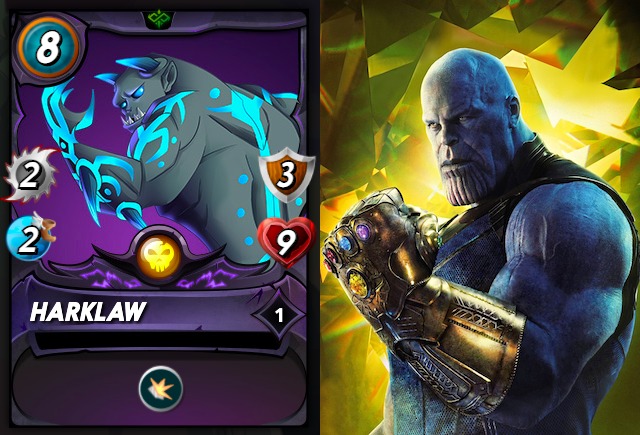 5 )Sarius is a rare fire card purchasable only through the guild shop, a female warrior from a female warrior society, unfortunately, she is not a princess (according to the lore) but I don't mind cause I thought about Xena "The Princess Warrior" my first television crush, played by the amazing Lucy Lawless who kept me company during my mornings as a child in the 90s.
Grade of Similarity: 7/10 Sarius doesn't have the Chakram (the rotating disk) so I can't give her more than this.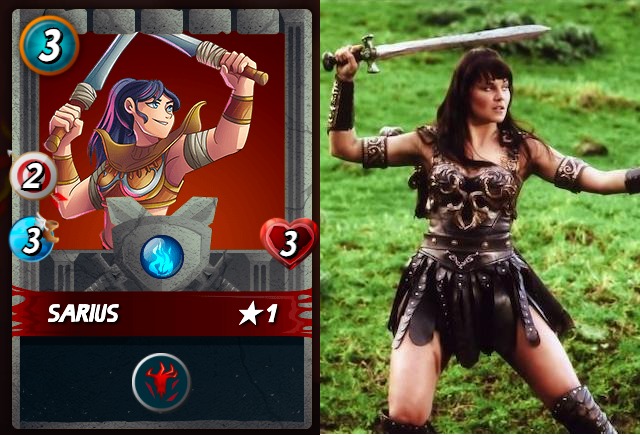 So I finished another look-alike gallery, hope you enjoyed it and comment to help me find more look-alike characters.
I know Resource Credits are precious but enjoying your time is more precious (if you like these types of galleries).
Have a nice day.
Best regards,
Mr.Magalli
P.S. This is my referral: https://splinterlands.com?ref=magalli
---
---