Take a Break #5: Christmas holidays look-alike, waste your free time with me
It's been 17 days since my last look-alike post, so today, the 26th of December it's time to make up for it and find five new characters to compare. As always I ask for your help and suggestions for the next episodes, I would like to make it a community.
So, I'll stop wasting your time, I just hope you have spent a nice Christmas with your family and dear people in your life.
Let's start this new gallery:
1 ) The Radiated Brute is one of the new "ghost cards" from the Chaos Legion expansion, she looks like a crazy lady from a post-apocalyptic world, the moment I saw her I thought about Summer from "Rick and Morty", especially the Brute Summer from dimension C-137.
Grade of Similarity: 7,5/10 Different hair color and grade of craziness, but same forearm bandage.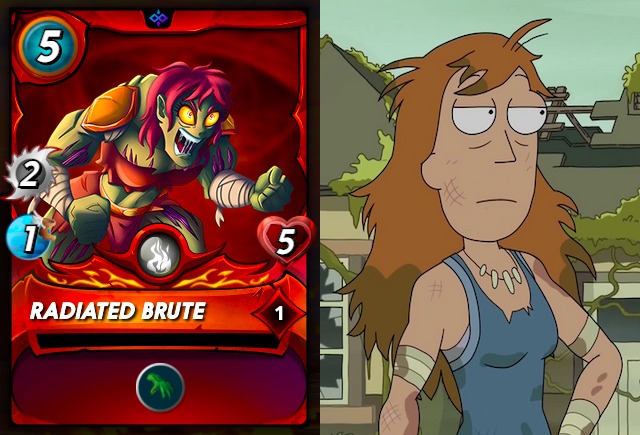 Summer is a bit more relaxed, maybe.
2 ) The Doctor Blight is the first airdropped card, probably at this moment the most iconic "Chaos Legion" card, with a wonderful design and interesting abilities, a card that everybody would like to own (in fact I didn't have the luck to find him, because I didn't get to 50 pre-sale packs purchased). I think the design is inspired by the Plague Doctor dress, sadly famous in the past centuries, becoming a Carnival of Venice mask after the 19th century and in my opinion, one of the most iconic masks ever made.
Grade of Similarity:8,5/10 The mask is practically the same, and the walking stick is the perfect accessory.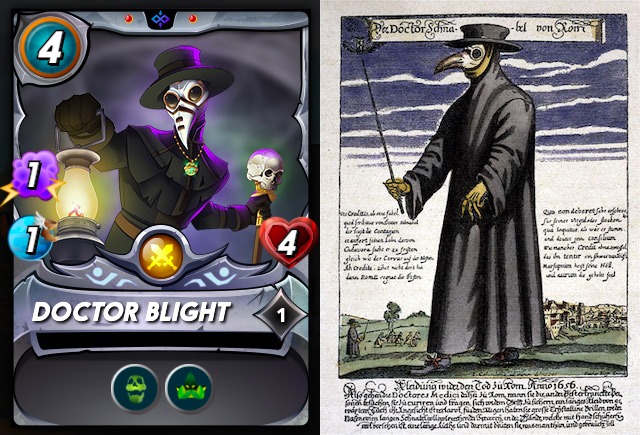 If someone has too many Docs and wants to send me one as a Christmas gift, I will not complain, I swear.
3 )Tusk the Wide is a Red element tank with Void ability, personally, I really like the artwork and I think it could be a really useful card to counter magic opponents, plus he has a fierce red beard that makes him resemble a Viking, in fact, he reminded me of Stoick the Vast a character from the Dragon Trainer movie.
Grade of Similarity:9,5/10 Both are fierce, both are enormous and both are amazing Vikings.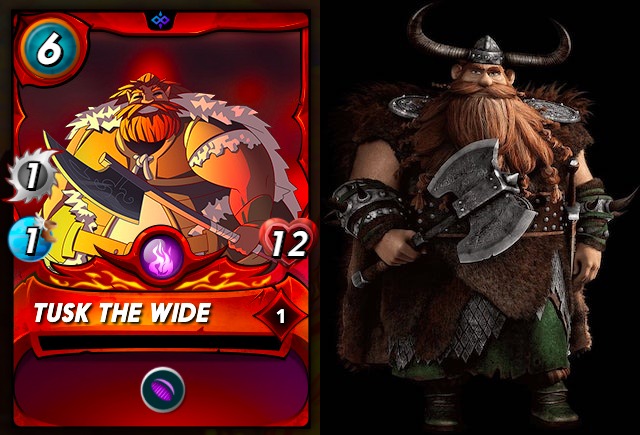 And both have an ax.
4 ) The Djinn Muirat is an amazing legendary Death card with Void Armor ability, in the artwork he appears so powerful and dangerous and he looks like a mix between a Shaman from New Orleans and the famous Yu-Gi-Oh! card Summoned Skull.
Grade of Similarity:6,5/10 The Summoned Skull has some wings in excess, and too much skeleton.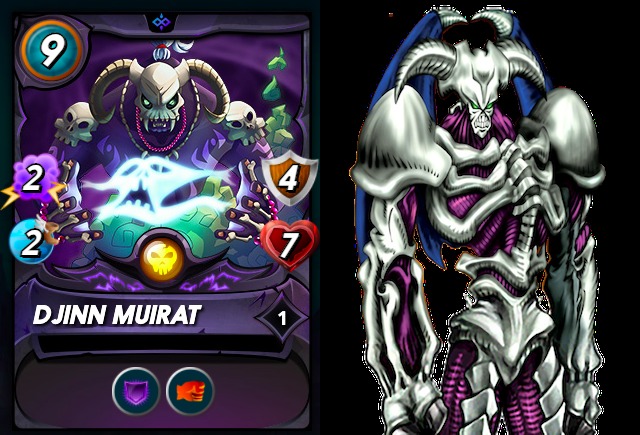 Impossible to find a mix between a Shaman and the Summoned Skull.
5 )The Queen Mycelia is another legendary card I would like to own (how silly am I?), she has the amazing Protect ability and she definitely should be a must-have in every collection, with her red hands and pale skin she reminded me of the Monster from the movie "Pan's Labyrinth" by Guillermo Del Toro.
Grade of Similarity:6/10 Luckily for her, her eyes are in the right position.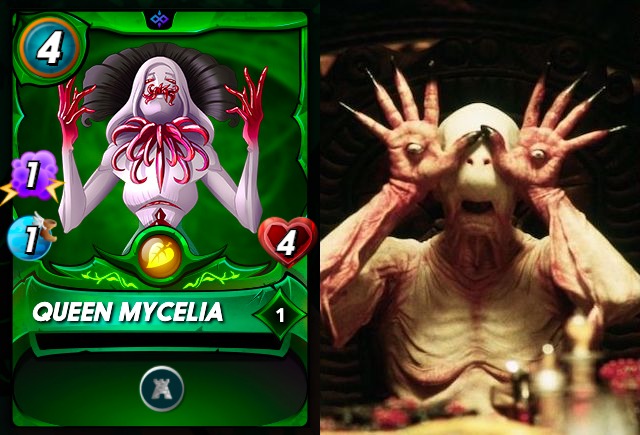 Peekaboo my queen.
I finished my fifth gallery, and I really enjoyed doing it, I really hope someone will "waste" some of their precious RC to help me find new look-alike characters because it's funnier with more people involved.
Best Regards,
Mr.Magalli
P.S. my referral link: https://splinterlands.com?ref=magalli
P.P.S. A special thanks to @monstercrusher for whitelisting me.
I don't own any rights on the featured images, all rights go to the respective owners.
Images sources:
https://rickandmorty.fandom.com/it/wiki/Summer_Smith_(C-137)?file=Summer_Smith_%2528C-137%2529 (.png)
https://upload.wikimedia.org/wikipedia/commons/3/3a/Paul_F%C3%BCrst%2C_Der_Doctor_Schnabel_von_Rom_%28coloured_version%29_2 (.jpg)
https://www.reddit.com/r/respectthreads/comments/dorr69/respect_stoick_the_vast_dreamworks_how_to_train/
https://www.deviantart.com/yugiohoricabr/art/Summoned-Skull-718315836
https://screenrant.com/pans-labyrinth-pale-man-other-most-horrific-monsters-ranked/
Some tag:
@splinterlands @steemmonsters @hive @monster-curator @jim-crypto @ultm8x #Splinterlands #oneup #leofinance #splintertalk #peakd #p2e #play2earn #playtoearn #sps #spt #gaming #crypto #splintertalk #THGaming
---
---