Splinterlands Has a Season?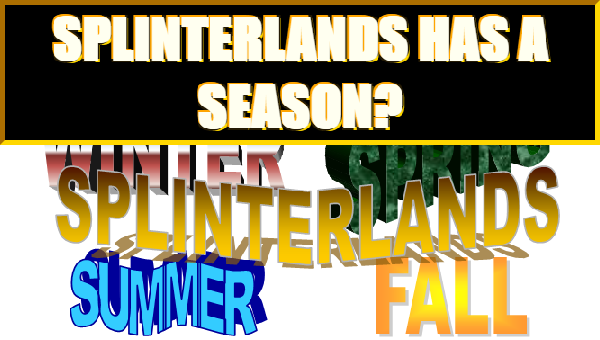 Over at LeoFinance at its Daily Crypto Markets Live Blog, Splinterlands has been a major topic of discussion. Many of the comments have been about the massive numbers and metrics put up by the game, the ways to invest in the game (among them, delegation and card rentals), and upcoming features and updates. Since a number of commenters are also players (or became players), some comments have been about in-game performance and how to get better at playing. When I read the comments I run into talk of the "Splinterlands Season" and I have no idea what that means. Splinterlands has a season?
---
Cover Image made using Excel 2003. Banner made using HTML and CSS. Edits made using MS Paint.
---
My Guess
I'm guessing that the Splinterlands season is more like the NCAA Basketball tournament where players are organized by bracket or division and fight battles until there is an overall winner.
My Questions
I could be very wrong, which is why I'm asking about the Splinterlands season:
What is considered a Splinterlands season?
How long does it last?
What happens when the season is over?
How long is the off-season?
What's the best way to prepare for Splinterlands season?
My Role
I don't play the game, so I have no idea what happens. I read the discussions, but there are times I see question marks in the air. I figured what better place to ask questions about Splinterlands than SplinterTalk? That's why I'm here.
Thanks in Advance
Even so, I'm grateful for the role Splinterlands has played in recent weeks in bringing attention to Hive and what it can offer new Hivers and players.
There are ways I can support Splinterlands and contribute to it without playing. One of them is to support the players by engaging with them wherever I find them (especially over at D.Buzz, but also the tribes where I normally post and engage).
As I find myself with more questions, I'll come back here to ask them. I want to at least know what I'm talking about when I explain the game to people.
Good luck to everyone here in their quests, battles, and earnings. Any comments would be greatly appreciated. Thanks a lot!
---
---