Splinterlands Is Live Ohh My Goodness Play W/Sneak Daily Quest Battling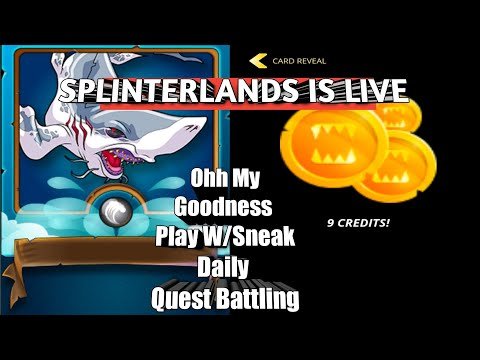 ---
Hello splinter lovers
How are you all? Of course everyone is very good. There is a more beautiful one among you today. I came with Splinterlands gaming video, I hope you like it a little bit. As always, I share with you my daily quest battling through videos.
So today I want to present you a beautiful video that will be liked by those who like the game. Today I had five fights to win w / sneak ablity card using my battle ....
So I arranged my cards accordingly and presented a beautiful battle with you today. I hope you like it. You all know that whenever I publish my splinter video I like to play water splinter most of the time because I like these splinter cards a lot and a lot. Strong which makes me more likely to win most matches ...
Friends, I hope you all like watching the video and you can join this gaming platform if you want. I will share my referral link through which you can easily create your account and yes, if you want to open your account in the first place, you must do something. Need to pay crypto.
And by doing this you can earn a good amount of earnings every day from the rural platform ..
So if you are interested you can join and I will share with my country how many battle link share with you ...
My referral.....
https://splinterlands.com?ref=mamun123456
some battling link....
https://m.splinterlands.io/#/battle/game/process/sl_7976c4fe85abba36570a6d7371b20582
https://m.splinterlands.io/#/battle/game/process/sl_5dafba9fe22cfd5c91247d041ef63725
https://m.splinterlands.io/#/battle/game/process/sl_01236b8fb35660928da1d92543e55c63
you can watch directly open this link....
My daily rewards....
9 credits....
thank you for spending time on my video
Hey folks! Watch me play Splinterlands!
Thank you for watching my Splinterlands stream. And for all the support you are showing! 🔥
If you liked my stream, please like and subscribe. It motivates me a lot. :)
And share my channel with your game friends. 🙂 See you on my next stream!!!
Become a star streamer - https://get.turnip.gg/become-star-streamer
🎮 Streaming via Turnip
❤️ Follow me
Facebook: facebook.com/LIKE & SUBSCRIBE
💰 Donate:
GPay/Paytm/PhonePe: 0142649730
UPI Id: https://www.youtube.com/channel/UCZasG3S9FVZiT-9G1sSNSKg
#splinterlands #livestream #turnip #gaming #turnip_live #games #gamingvideos #livetipsandtricks #mobilegames #splinterlandslive #splinterlandsvideos #splinterlandstipsandtricks #splinterlandshighlights #youtuber
Today I am streaming splinterlands. Other popular games:
PUBG Mobile
Garena Free Fire
Among Us
Call of Duty Mobile
Fall Guys
Call of Duty: Warzone
Grand Theft Auto V
Fortnite
Roblox
Minecraft
---
▶️ DTube
---
---