Splinterlands : live on YouTube just some random battling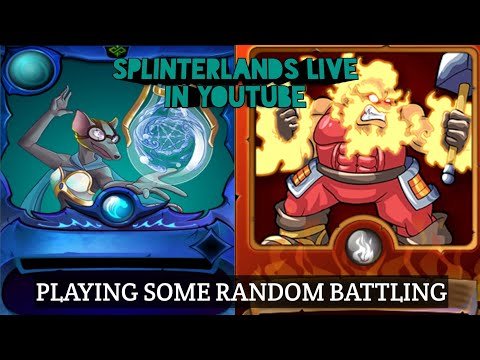 ---
Hello my all splinter lovers
How are you all? I hope everyone is well and healthy. I am also very well with your blessings. I came to you with another new live stream video and today I am going to present a very beautiful video to you. Today I am sharing a lot of fun games in front of you. Where maybe I couldn't have benefited too much because today's fate seems to have been too bad.
Suddenly I thought nicely that I should spend some time with all my #splinter friends so I went to play some battalions at random.
Today I played a total of five battles and the first three battles out of five patels I think I lost because of my mistake because I misunderstood the rules for which I lost the battles.
https://m.splinterlands.io/#/battle/game/process/sl_63057a62e49cf48a96be7d1a78ce1440
The room I was in at first I was actually told to use some attacking cards but I lost the first battle because I didn't use it and used the normal way I play because I didn't understand exactly what the problem was.
In fact, most of the time I start with the first card I select, even if I use an auto healing card, then I use a magic card.
But I lost the first three matches due to some understanding but the next two matches were good but if you want, I am sharing the link below. You can easily see the two battles I have recognized directly.
https://m.splinterlands.io/#/battle/game/process/sl_b12a0257fcf471fa39e36b55e204886f
Actually I am not a good player or I don't understand it very well because I play on mobile for which I can't understand what card to use because if I was on PC I would be able to see how to use the cards but how. You have to face a lot of problems because it is shown on mobile.
Still, I have tried to share with you as much as I can. If you like it, you must like the video and if you have any information, you must comment in the comment box. Thank you all.
Hey folks! Watch me play Splinterlands!
Thank you for watching my Splinterlands stream. And for all the support you are showing! 3
If you liked my stream, please like and subscribe. It motivates me a lot. :)
And share my channel with your game friends. See you on my next stream !!!
Become a star streamer - https://get.turnip.gg/become-star-streamer
Streaming via Turnip
Follow me
Facebook: facebook.com/LIKE & SUBSCRIBE
Donate:
GPay / Paytm / PhonePe: 0142649730
UPI Id: https://www.youtube.com/channel/UCZasG3S9FVZiT-9G1sSNSKg
#splinterlands #livestream #turnip #gaming #turnip_live #games #gamingvideos #livetipsandtricks #mobilegames #splinterlandslive #splinterlandsvideos #splinterlandstipsandtricks #splinterlandshighlights #youtuber
Today I am streaming splinterlands. Other popular games:
PUBG Mobile
Garena Free Fire
Among Us
Call of Duty Mobile
Fall Guys
Call of Duty: Warzone
Grand Theft Auto V.
Fortnite
Roblox
Minecraft
---
▶️ DTube
---
---