call Naga Assassin to do your dirty work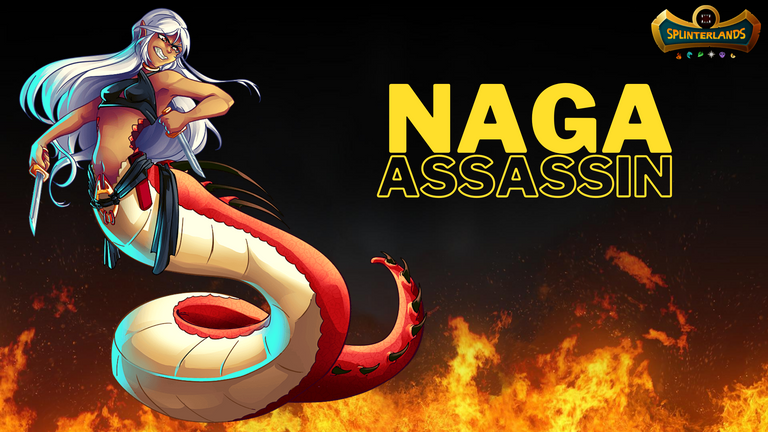 What's up Splinter lovers!
Well, another day passed by and it's only 10 days left for this current season to end. It feels like I just finished the last season yesterday but time is running fast and I have to move myself uo to that leaderbaord war again. The ECR of both the account that I am playing are back to normal now and I have already drained my own while completing the quest and will play with the alt account after posting.
Sadly, I still haven't get a good reward card since the season rewards. Even in the season loot, I only got an epic reward as and it was the best item I got from my season loot. Today, as well, I finished my quest on mango-juice at Diamond II and among those 8 loot chests, I only got commons and no rares, epic and let's just forget about legs and gold foils. But I won't lose hope, let me just play and complete quests everyday and hope for the best.
Talking about reward cards, I have already eyes on certain cards and I am craving to buy and make maxx level some among these new reward edition card. I have already started working on a card from Dragon splinter. It is a 2 mana range card Naga Assassin. The card looks killer and I also needed a small mana cost archer in dragon splinter to choose it in low mana ruleset match so it seems that empty space will get filled with this awesome looking new monster. I have already bought a level 4 (25 bcx) from market yesterday for 24$ and have 2 single bcx from season and quest rewards.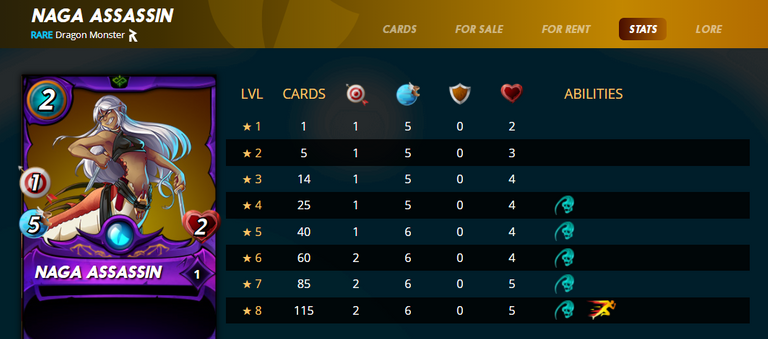 Naga Assassin is an archer at only 2 mana cost and I am getting a feeling that it will become a great companion with SELENIA summoner in gold leagues. SO much stat for just a 2 mana cost in battle really makes it an important card to have in.
It possesses high speed from the beginning, 5 speed from level 1 and 6 speed from level 8 which is the max speed of this monster.

Thou it has only 1 range power at initial level, from level 6 it gets 2 range attack. So, it will be very useful in Gold tier ranked matches and tournaments.

The health of Naga starts with only 2 at level 1 but gradually increases over upper levels. It possesses 2 health at level 1, 3 health at level 2, 4 health from level 3 6 and 5 health in last 2 levels 7 and 8. It's decent health stat at gold and diamond level along with Backfire ability makes it a beneficial choice for sniper or rear position.

It also brings a new ability Backfire with her which gets unlocked from level 4 (details below). It also gets Swift ability at max level. As it is a rare card, a total of 115 BCX cards will be needed in order to make a max level.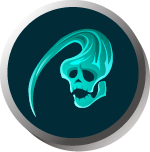 BACKFIRE
When an enemy attacker missed it's attack on this monster, that enemy attacker get 2 damage.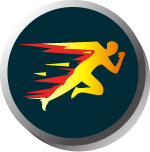 SWIFT
All friendly monsters will get increased health stat.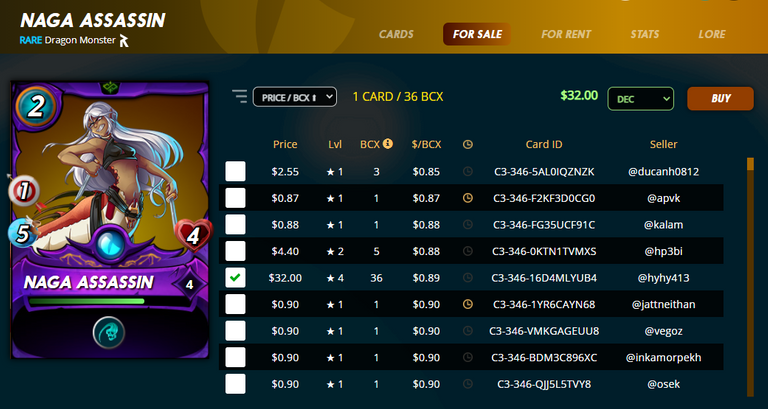 As this is a newly launched card, there is less supply and more demand which reflects at the market list prices of this card. The lowest listed Naga is a 3 bcx card that costs 2.55$ (429.944 DEC). The single BCX cards are starting from 0.87$ (146.843 DEC) and above.
This card is already in hype and I have decided to make this card at least level 8. I have already bought a level 4 which I have rented for cheap as is it of no use of me currently. However, I will be saving nagas from my loot chests and will also keep an eye in the market if any lucrative deal comes up.
It was my favorite card from those reward editions cards so far and my taste may soon divert to others as i discover more ad more about them. Now it's your turn, What is your best monster from these new reward edition? Be sure to tell me in the comments below.
Wish you all good luck on all of your future SL matches.
---
Thanks for visiting my post.
Stay well and keep playing Splinterlands.
Want to start playing splinterlands? Click here
---
---