Crypto market Watch | Splinterlands next Update | Rising Star Progress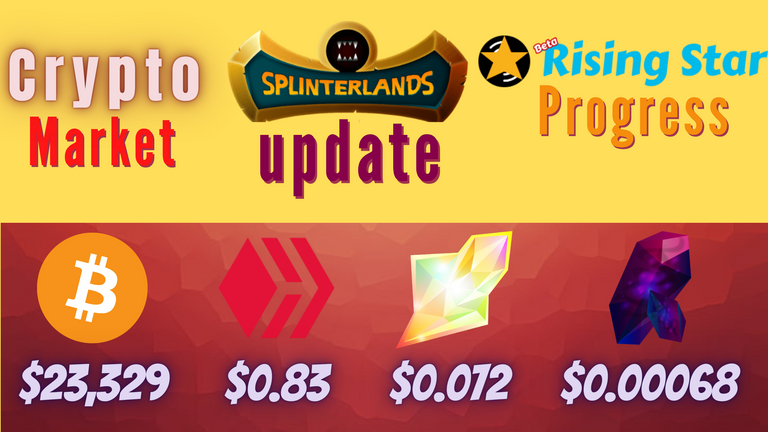 What's up hivers!
I hope all you are having a fantastic day with your family and loved ones. If you are a splinterlands player, then I would like to update you that the last Splinterlands season has just ended and the lucrative Season Wards are now available to collect. So, if you haven't collected yet, please rush to the official game website and collect yours! The Splinterlands team has also introduced merits into the reward chests, so be ready to collect them from the season opening and then buy and open gladius packs with them!
---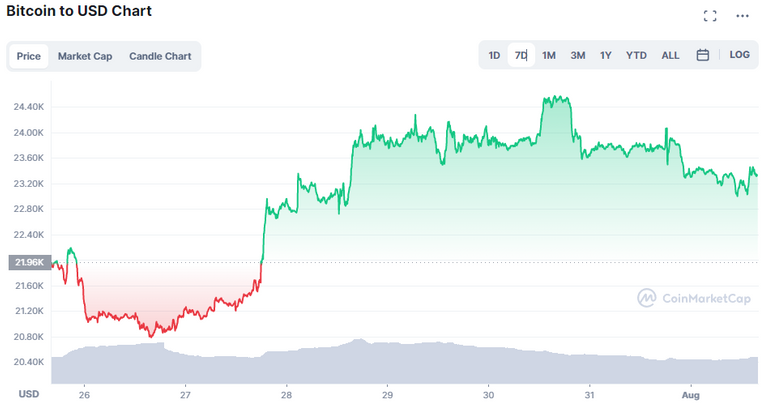 ---
Now, let us travel into the crypto market alley to get ourselves updated with the latest market prices. The King BTC is currently experiencing a good uptrend as it is selling for 23,329$ current price per unit with a +3.1% price rise in last 7 days. The other big dominator ETH is also following the pump with a current price of 1,675$ per unit with a +4.6% growth within past week. The while market is green currently with majority of top crypto tokens having positive graph and I guess the thanks goes to the performance of these 2.
---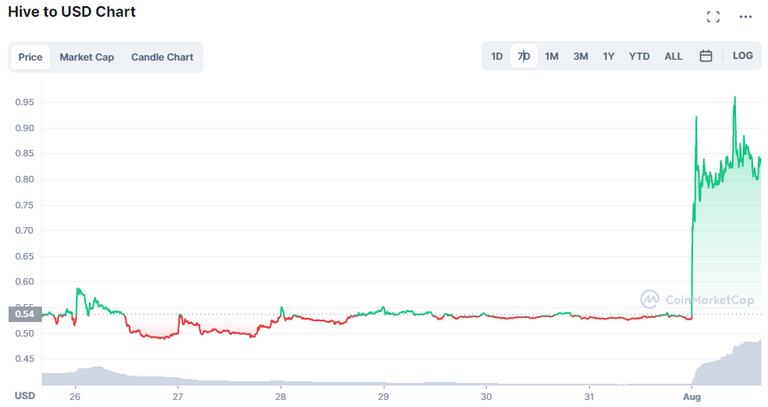 ---
Now, the happy time is going on among our beloved Hive community as the hive just recently took a huge pump and touched the 0.93$ price mark and currently selling for 0.83$ per unit with a massive 70+% price rise in last 7 days. I was saving liquid hive since last week and when I wake up today and saw the market, I immediately convert all my liquid hive for HBD. I hope those who were holding liquid hive and booked their profit. I am thinking to buy back hive again if the price falls back below 0.5-0.6$.
---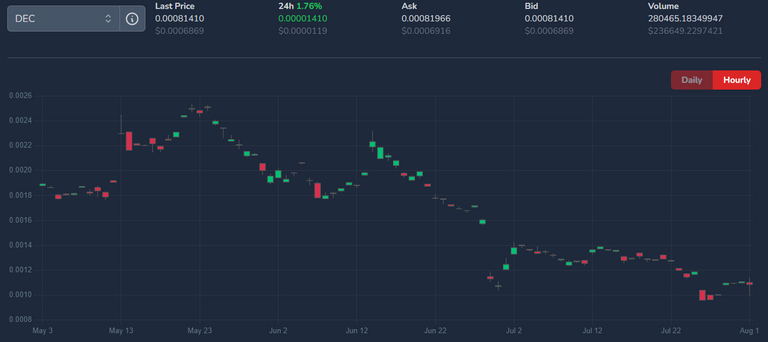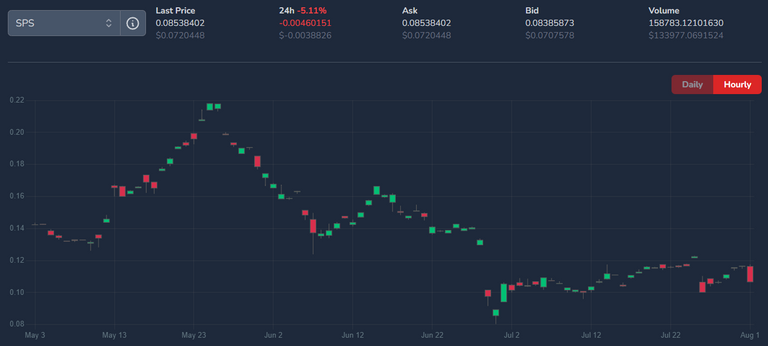 ---
Now, taking a look at the price of splinterlands tokens, the main in-game token DEC is currently being sold for 0.00068$ per unit with a +1.76% price change in last 24 hours and it has also got pumped a bit just like others due to this sudden uptrend of hive. The governance token SPS aka splintershards is currently being sold for 0.072$ on the other hand with a good pump since the daily airdrop got ended. While talking about SPS, I have another good news that SPS will be listed on HUOBI on August 3! Now, Vouchers are currently being trade for 0.575$ which is pretty stable while Chaos packs price in HE has increased to 2.01$ as per current view.
Town Hall Summary:
According to the last Splinterlands town hall summery which got published on late 27th July, they have announced the next big update to splinterlands by incentivising Brawls! Yes, the brawl players will finally get paid with a massive amount of 2.5 Million SPS per month. The amount will be reduced by 1% every month and will run for next 65 months! They have also clarified that there will be a fixed amount of SPS per brawl tier to distribute it fairly among players from different tiers. But higher tiers will be having a much larger pool compared to lower tiers. So, the better your collection, the more rewards you will be getting from Brawls! This update is to be released with August to early September as per the official data.
---


---
Now, let me share my growth in Rising Star. I have been enjoying this game for nearly 2 months now and right now and playing almost daily. Just yesterday, I completed my 1000th mission in this game and got rewarded with a l Rising Star card pack! I couldn't wait anymore so I opened it right away and here is the outcome. I got 2 x Native American Drums which give 1 luck 🍀 point each and a Singer named Rick which hives 125 fans, 75 skills, 3 luck and 2 Multiplier points.
---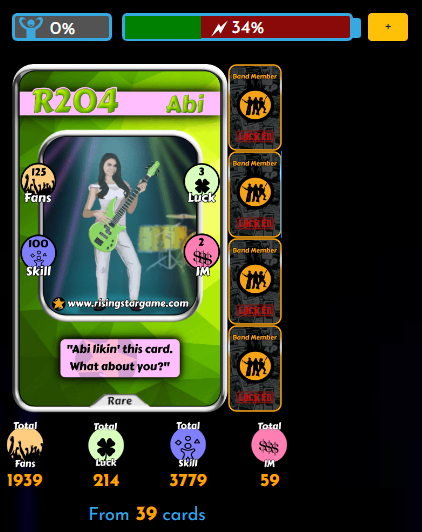 ---
As per my current status, I am only a handful of fans away from touching the 2k total fan mark along with 214 luck and 3779 skill and 59 Millionaire points. I am constantly using the Starbits that I generate from playing the missions to buy NFT cards, mostly the Singer ones to increase my fan and skill points. No doubt, the earning has increased by a good margin considering the fact that I am only reinvesting my Startbits earning back into the game. I am currently at level 45 and after reaching level 50, I am thinking to invest into it and see how that goes.
---
---
Wish you all good luck on your crypto journey.
Thanks for visiting my post. Please do visit again!
Stay well and keep playing Splinterlands.
Want to start playing splinterlands? Click here
Posted Using LeoFinance Beta
---
---