Delegating 100k SPT token to @monster-curator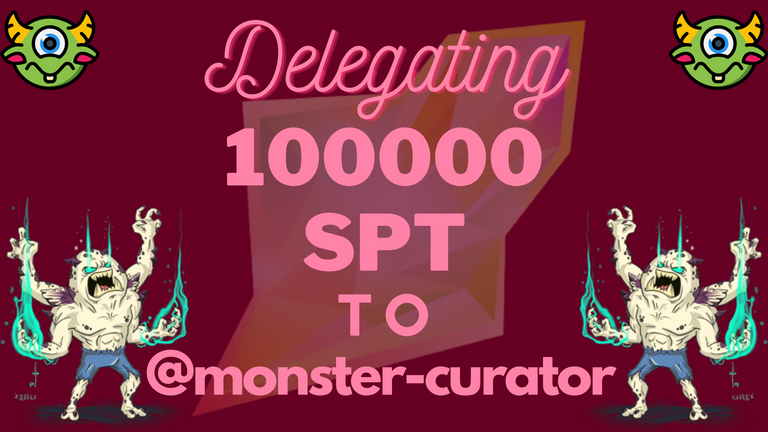 Hello my fellow splinter warriors!
It's your favorite mango-juice with another awesome splinterlands content. I hope you all are doing just fine and getting yourself busy with the pre-sale FOMO! Yes, we are experiencing a huge demand for the pre-sale as to buy a 4$ chaos legion pack, people are literally throwing 22-25$ per vouchers which enables them to buy packs (1 voucher = permission to buy 1 chaos legion pack). For those who already staked a huge amount of SPS already into their in-game wallet are enjoying the daily voucher drops while the late comers are hustling to get their hand on them. For me, thou I have already staked a pretty decent amount of SPS, I am only getting 4 vouchers a day so I can only go for 120 packs in the pre-sale if I dot buy any more vouchers from the market. But vouchers are over expensive since their launch and currently being trade in HE for 18$ after seeing a bit of dumping. But still, the crazy FOMO will continue and vouchers will not lose it's value anytime soon it seems. I was planning to buy at least 500 packs in the pre-sale and in current market stat, it will cost me (18+4)$ = 22$ per pack thus 11000$ in order to buy 500 packs and that's too big of an amount for me.

Today is the 85th day of the SPS airdrop and I have already collected my airdrop. I am getting around 175+ SPS per day and since the airdrop launch, I was staking all my SPS but from last couple of days i am keeping them as liquid. if and only if vouchers come down t 5$ or below, I will go for the pre-sale and may buy 500 packs myself but if it doesn't, I would rather stake my SPS away. SPS will play the major role in splinterlands so the more I hold the better and smooth my journey will become :)
I also took an important decision today, which is by fact the main topic of my today's post. As I am a full time crypto entrepreneur now, I got myself pretty busy with different projects within crypto. I have a Ethereum mining rig now which is producing 0.00331 ETH daily and I have to keep an eye on the rig time to time to check if it's running perfectly. I also play 2 splinterlands accounts and one axie account which really take several hours of my day. I am also learning trading and I am active in a handful crypto communities, both hive and beyond and I also write splinterlands blogs on hive. As I am getting more and more into crypto, I am skipping one or more work almost everyday. Since last week, i have only written 2 posts so far and also skipped playing axie for several days. Not to mention, I have a decent amount of NEOXAG and SPT tokens staked in my account but most of the time I forget to curate in time and the energy gets wasted for hours or even days sometimes. I have 234k + neoxag and 100k + SPT staked at the moment of writing and mourning one more time on how more I could have gained from the stack if they were rightfully used to curate.
So, today I decide to delegate my full SPT stake amount to @monster-curator, a SPT focused curation account that votes splinterlands related posts those are having the #spt tag. I already knew about them from log ago and I think it's the right time to get connected with them.
Why I chose monster-curator ?
Well, monster-curator was there since 2019 when it got launched by @flauwy and @abrockman. So, definitely it's a long run and serious project to put your trust into.

In Sept 2020, they partnered up with @zaku and @reazuliqbal from monstermarket.io, both of them are also the moderators of BDCOMMUNITY, one of the largest and ever growing community in Hive. The same Monstermarket.io I posted a blogs some days ago which you can find in my hive wall.

Monster-curator also has their custom built bot to curate hive posts and to share SPT dividends to delegators. So you will get your dividends on time everyday without any hassle.

Monster curator has a team of experienced curators @marianaemilia and @r1s2g3 and I know both them for long time. They really work hard after searching marvelous splinterlands posts and curating them. I also got their support a couple of times and got a big chuck of SPT from my blogs. They have been doing a great work so why not join them :)
How to delegate SPT to monster-curator and start Earning ?
This portion is only for new users of hive who don't know how to delegate. Well, it's pretty easy and nothing to be afraid of. Just follow my 3 steps below.

Go to https://hive-engine.com and log in with hive keychain. You will be seeing your token page, locate SPT from them and see how much you jave currently staked. For me, I have 100652 SPT tokens staked at the moment.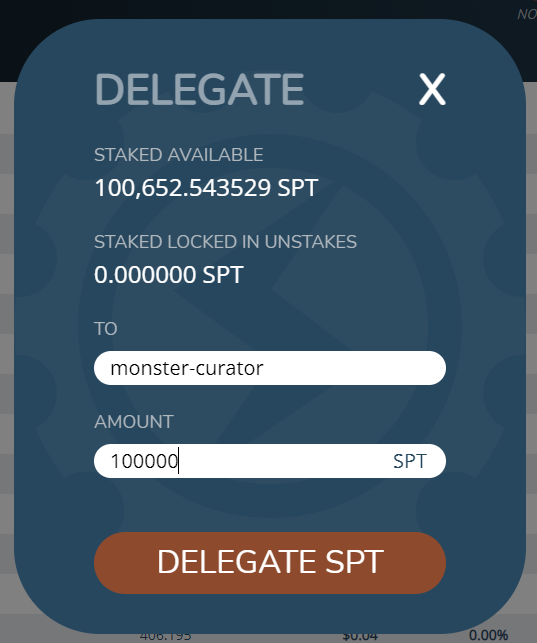 At the end of the SPT token line, you can see an 2 headed arrow, hover your mouse on it and it will say display delegate option. Click that Arrow and the delegation window will pop up in front of your screen.

Enter the amount of SPT you want to delegate (for me, I will delegate 100000 SPT) and write 'monster-curator' in the TO colum. Then click 'DELEGATE SPT' button, a pop up from the hive keychain will appear, confirm that.
Ad it's done my friends! Isn't that easy peasy? ANd now, according to them, I will start getting my SPT dividends with next 24-48 hours! So, let's see how much I get daily from them and I will share it in my next post.

You can also watch your delegation status of every token more clearly on https://leodex.io. As you can see from the screenshot above, for me it is showing the transaction information which includes the delegation amount, time of the execution and other details.
---
Thanks for visiting my post.
Stay well and keep playing Splinterlands.
Want to start playing splinterlands? Click here
---
---