Finally Bought this precious Rift card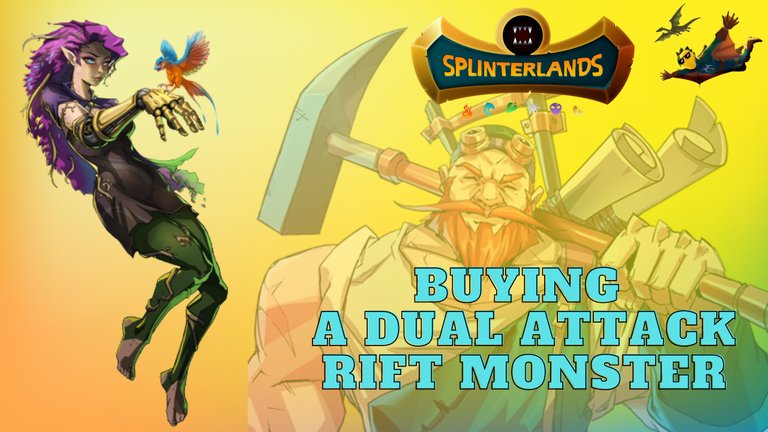 What's up my fellow Hivers!
I hope all of you are doing awesome in your life and also enjoying your favourite crypto game in meantime. Well, there is a very good news for us splinter lovers as our game has been chosen as the top Dapp in crypto space by the official dapp radar. I really feel honour that I am a Splinterlands fan and very glad to see us at snatching the tops in this #play2earn genre.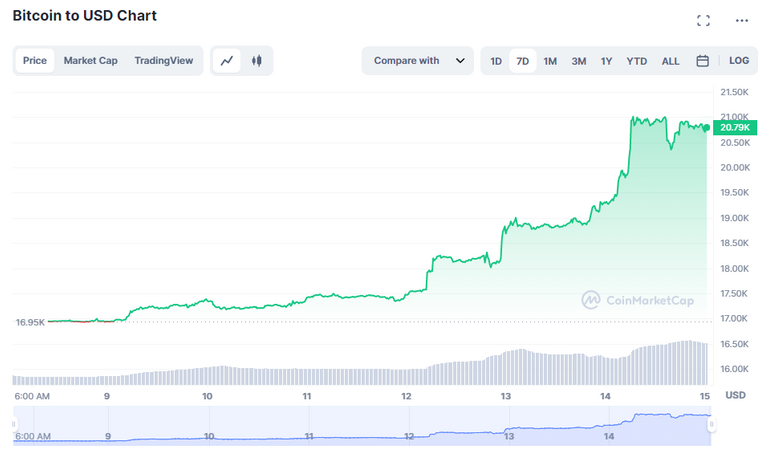 On the other hand, the good news doesn't stop here cause the crypto market seems to having a reversal with almost all the coins growing up and also the BTC has touched 21k already and currently selling for 20,793$ per unit. Our hive and splinterlands token prices are also rising and it's really heartwarming to see only green candles out there. The main token of this game aka SPS has also got a good pump and from it's long position around 0.023$ it has moved up and trading for around 0.027$ right now. Hive has also gone from below 0.3$ to 0.34$ right now while HBD is trading slightly over it's pegged 1$ price. So everything is looking healthy and shinning right now and I hope the uptrend continues.
Splinter Shopping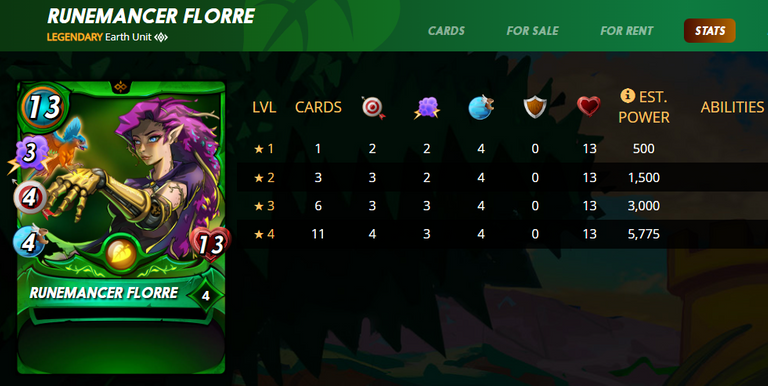 Now, I wont be fighting empty hands this season cause I have added one more very important Rift card into my collection. Yes, it's none other than the legendary Runemancer Florre. Apart from the dragon legendary monster Agor Longtail, this Runemancer florre card is the only card to have 2 different types of attacks in it. Also, there's only a handful pf cards in whole sl that have this type of property. Thus, this card is clearly making itself a heavy choice for those big mana limit, especially in 99 mana limit matches. Glad thing is thou there's a lot of riftwatchers card left in my collection, I managed to buy of these 2 cards already in this down market.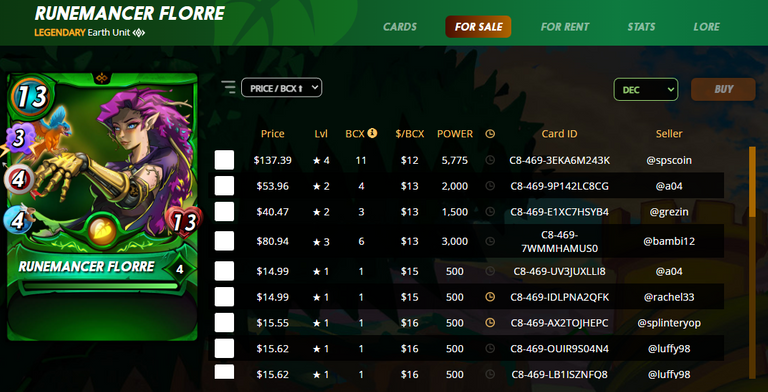 Now, I have bought it directly at max level 4 and at this level, this monster possesses 3 magic and 4 range attacks at 4 speed and 13 health. Clearly the dual form of attack together will bring immense harm to enemy monsters. I also like dual attack Monsters or monsters with Double Strike ability cause they don't get trapped by Force Field ability and gets the job done well even against the biggest monsters. Anyways, I bought this precious max level monster for 137.39$ and it costed me 224127 dec . As usual I used the monstermarket.io to make the purchase and this time I got 6723.81 dec as my cash back reward.
Season Progress

Now, looking at the current season, we have come near the end of another ranked season and only 1 days and 18 hours left for it to end. I have already reached into the Champ league as I shared in my previous post, but due to having a weak ECR rate, while I played the first focus mission and got a fat 11 reward chests but for the last one, I have only played and collected 2 reward chests and decided it to be recharged back again.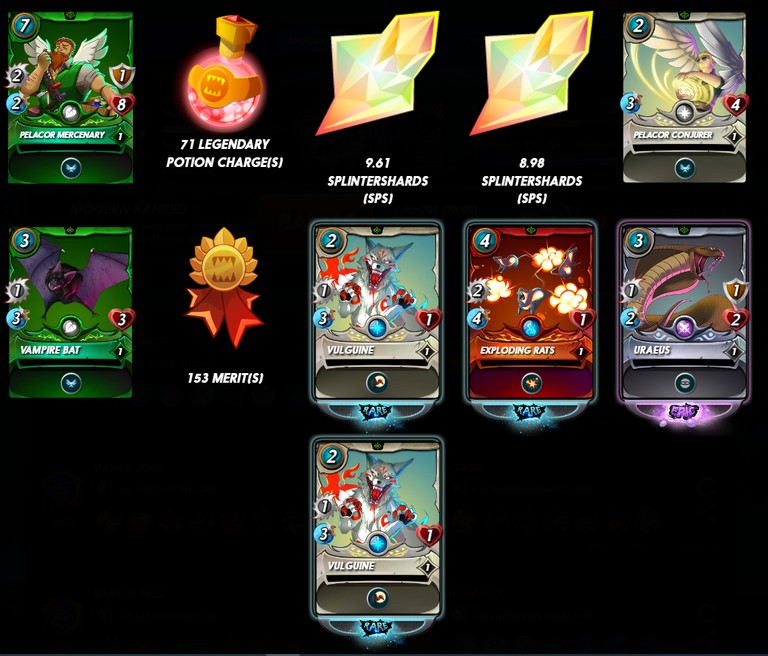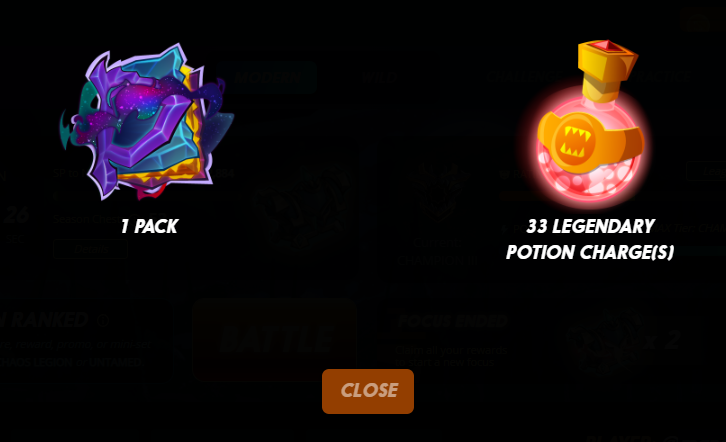 At the screenshots above, I am sharing the outcomes of both of these focus chests pull and no doubt it's better than average as I got an epic, 3 Rares & 3 Commons and around 18.6 SPS while a Chaos pack from the other one. As I am playing in champ league now, every ranked win is bringing me more RP or reward points but the daily focus chest RP requirement has also gone increased far more than that of Diamond league, so it's only helping me to get season chests at better rate. So far, I have collected 56 season chests for this current season and with several more days in hand before it ends, I will try with my best to get another 4 trophies easily and may take it to 60, but obviously if I don't lose too much from now on, which is inevitable at champ.
I hope you liked watching my daily focus outcomes and the mesmerising monster that I bought and shared above. Let me know your thoughts in the comment below and I will be seeing you all in my next post.

Wish you all good luck on all of your future Splinterlands matches.
Thanks for visiting my post. Please come again!
Stay well and keep playing Splinterlands.
Want to start playing splinterlands? Click here
---
---
Posted Using LeoFinance Beta
---
---