GARGOYA DEVIL - this stone made monster came straight from hell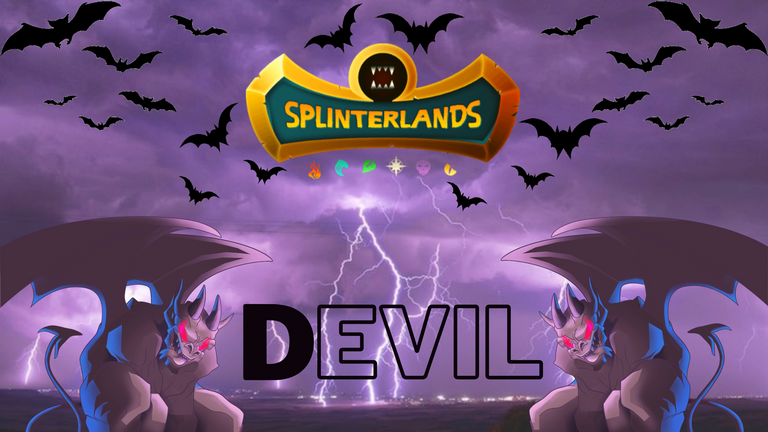 What's up splinter lovers!
It's been 2 days since the last season has finished ad only 13 days left for this current one to end. Last season, gladly I reached the Diamond Leaderboard with both the accounts that i am playing and won 20k dec from each of them. I also received 60 loot chests as season rewards. Among all of them I only found 2 epic ad a few rare cards thou and no legendary or gold foil cards as my luck didn't shine this time. Anyways, I will try to make maxx level of these new reward cards over time. I already bought some of them from market and have an eye on the legendary water card DJINN OSHANNUS but even for a moment it is not coming under 40$ (currently 48$).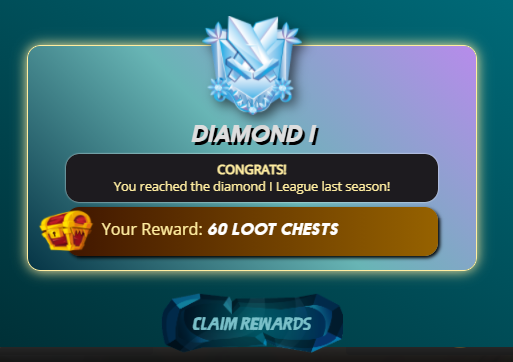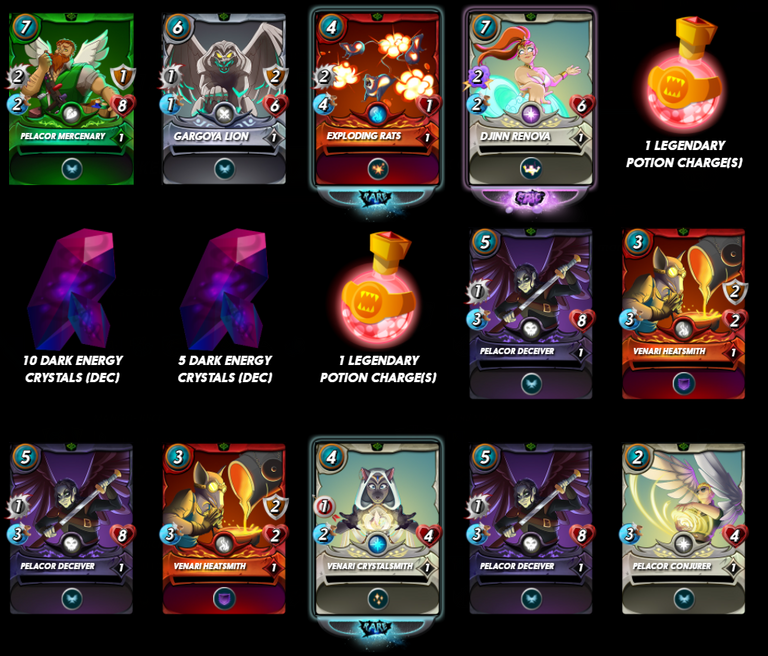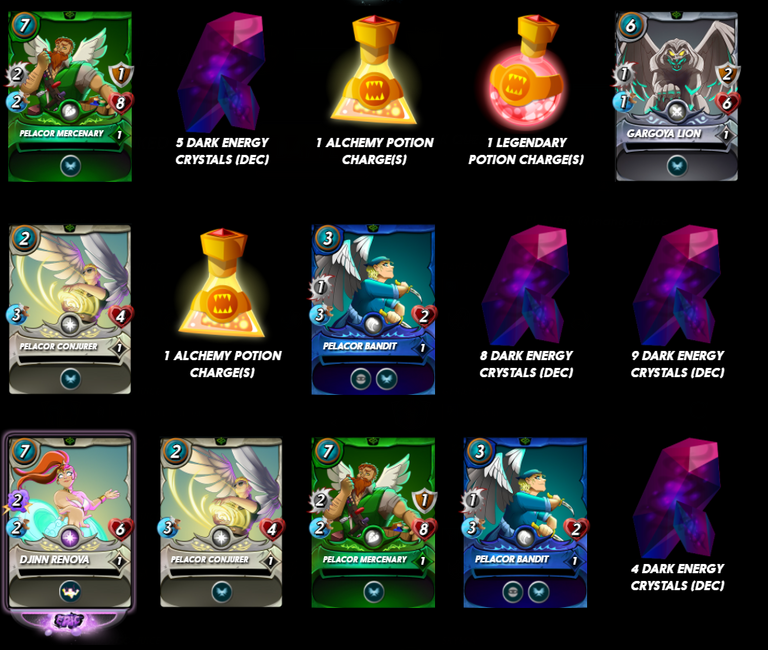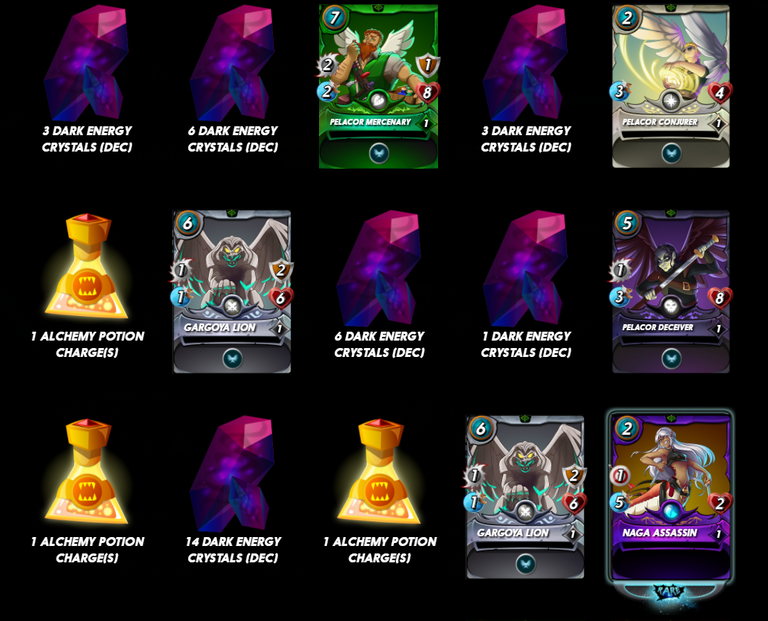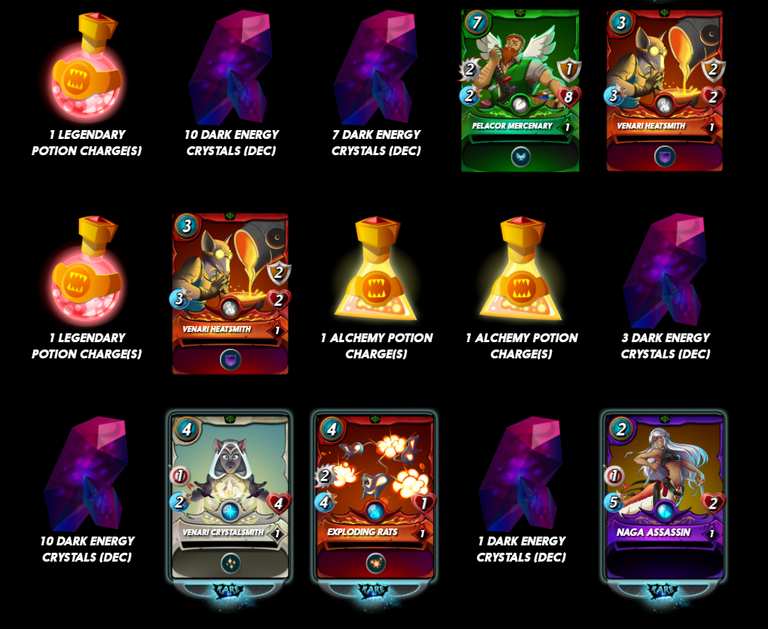 On the other hand, this time as well, we, the guild warriors of Neoxian won another Brawl and secured the first place. Peakmonsters guild got the second place and the third place was secured by Immortal Army. This time the guild won 85 crows and every participant of this brawl got rewarded with 4781 merits each. As usual, I used those merits ad bought 2 Gladius packs and got 1 epic, 3 rare and rest common glad cards as shown below. I am a bit sad as from last couple of brawls, I didn't get any gold foil Brawl cards. I am crossing my fingers to get at least one i the upcoming brawl, let's see if i get any ;)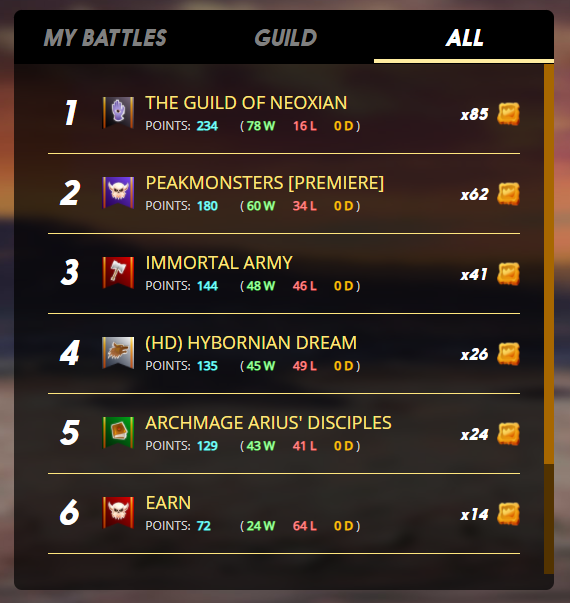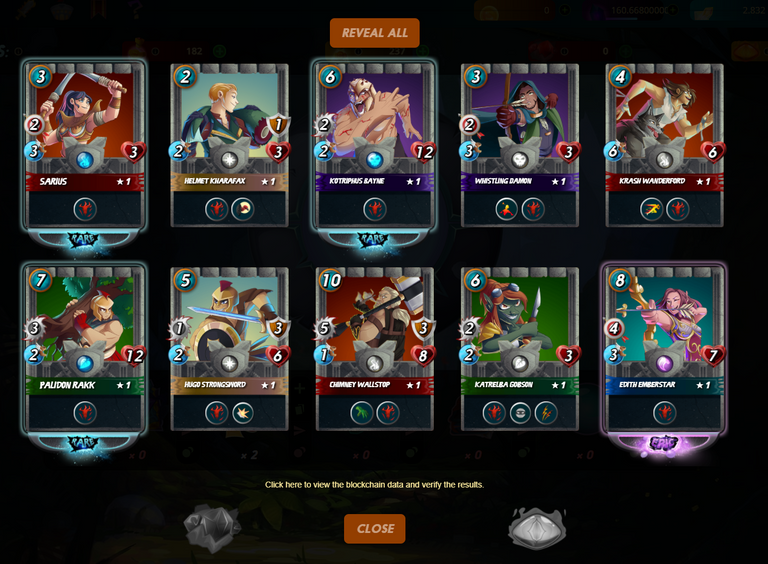 Now, let us take a U-turn and take a look my favorite monster of this week, As I told above, I was really into those new reward cards as they are pretty cheap right ow if you compare their price with old rewards. The latest maxx reward card that I bought is the GARGOYA DEVIL from the neutral section and today, we will take deep dive into this devil ad experience it's importance in the real battleground, so hop in!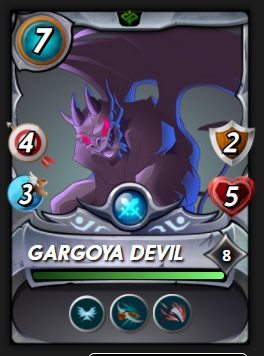 What's so special about GARGOYA DEVIL ?
The first thing that makes it importance is it's origin. It comes from the neutral section so it will be available for use with all the splinters unless it gets blocked by any ruleset.

The second thing that makes it more important is it's flying ability. If you are already a well known splinter person, there is no need to tell how important flying monsters are. It also carries Armour at upper levels so that's an extra layer of protection upon him.

GARGOYA DEVIL carries the Close Range ability from it's initial level so it can fight from the first position in spite of him being a range monster.

From level 4, it possesses the Deathblow ability. It's a new ability which damage double if the enemy has only one monster left. This ability can be super useful in low mana matches if you think the opponent will use 1 big monster.

lastly, it's cost will block you from using it in low or medium mana matches. But if you can use it's Close Range and Deathblow ability perfectly, it can become unbeatable in 1v1 monster fights. In big matches however, you can also place this monster in middle or rear for advantages.
Abilities

Flying
Monsters with flying ability will have more chances to evade melee and range attacks from non flying monsters.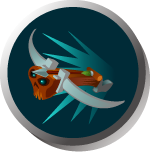 Close Range
With this ability, monsters Can perform range attacks from first place.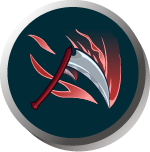 Deathblow
It does 2x damage if the opponent is having only 1 monster alive.
Market Stat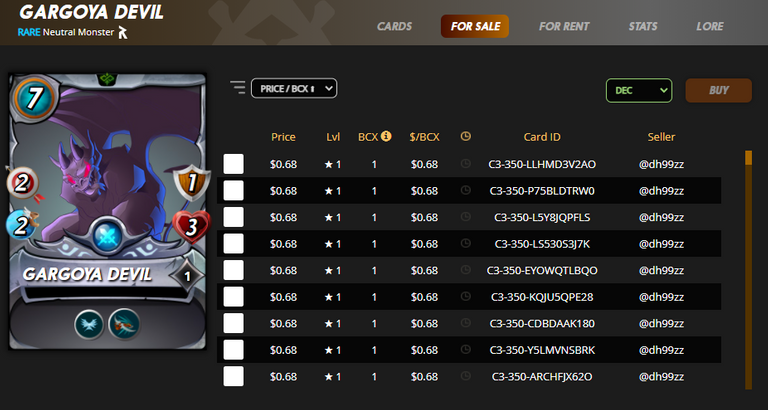 As you can see from the screenshot above, The G Devil is is pretty cheap right now and the single BCX cards are listed starting from 0.68$. however, there is no max level Devil currently listed. I bought a max level directly from market for about 70$ which I think is an awesome deal.
Battle Line-up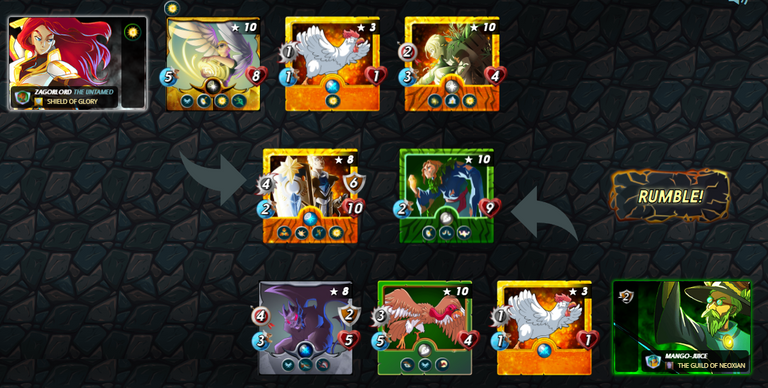 mana Cap: 15
Splinters allowed: Fire, Earth, Life, Death, Dragon and neutral.
Ruleset:
Earthquake - All non flying monsters will get 2 damage every round.
Lost Magic - No magic monsters can be used in this match.
After searching a while, I finally found a suitable match where I can use this Devil to test out it's worth in battlefield. It was a 15 mana match with Earthquake ruleset so definitely I have to choose flyers here so that they stay untouched from the earthquake damage. Below I am sharing my lineup and why I chose them.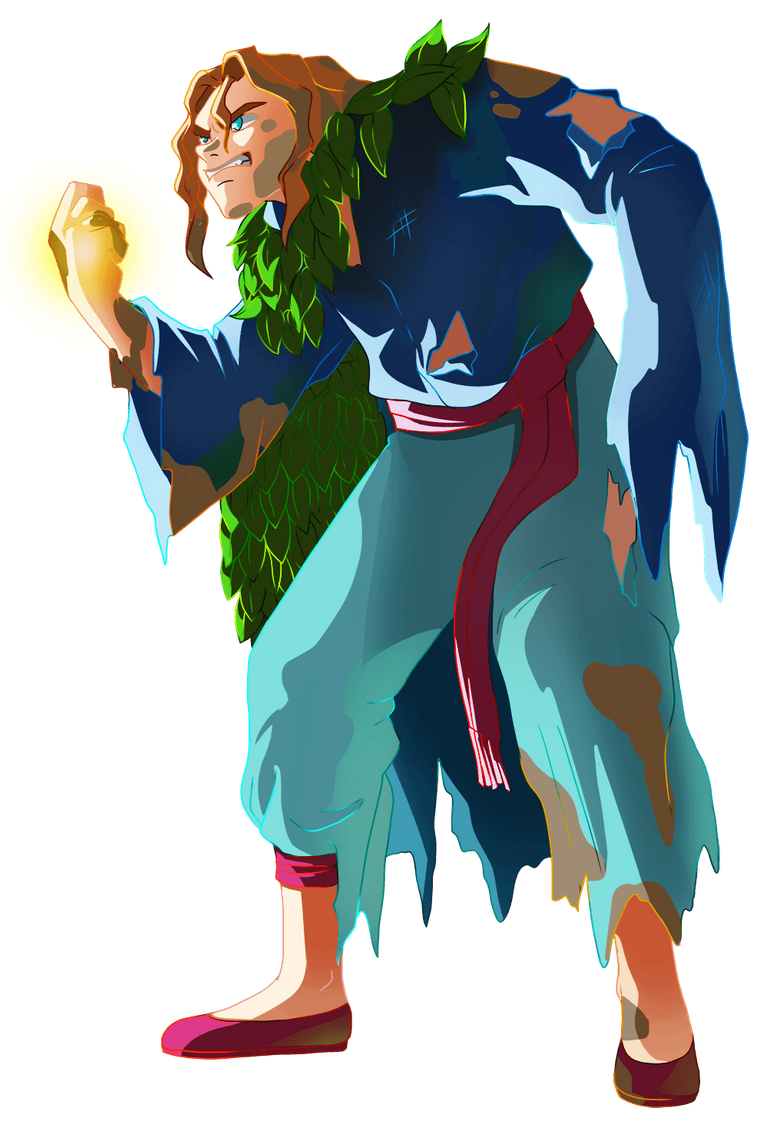 FAILED SUMMONER
At first place, I chose the failed summoner as my front stronghold. I am using a level 8 here and for 2 mana cost it's providing me great defense. It possesses 2 speed and 9 health with no attack and it also holds 3 abilities - Magic Reflect, Demoralize and Strengthen.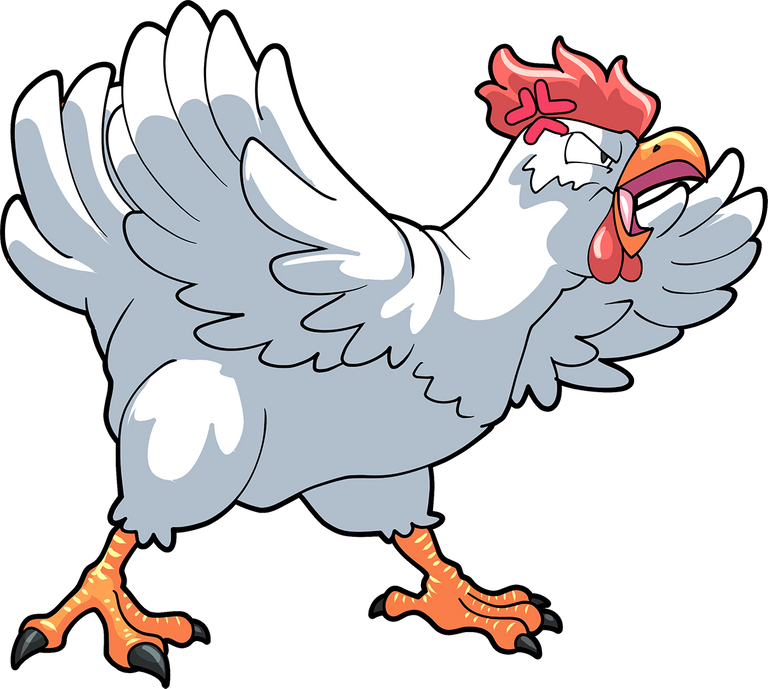 FURIOUS CHICKEN
I chose the Furious chicken at the second position so that it soak 1 attack from the enemy before going down and save my rear monsters for some time. I am suing a level 3 and it has 1 attack at 1 speed and 1 health.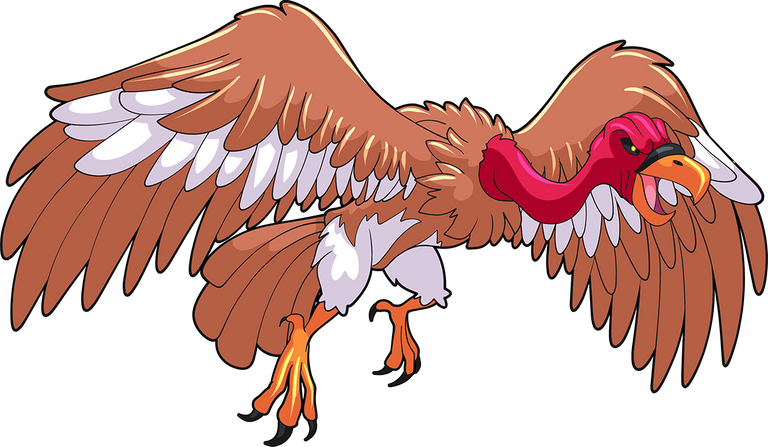 SCREECHING VULTURE
I chose the vulture at the third position because of it's flying ability. I am using a level 10 here and it has 3 melee attack at 5 speed and 4 health with 3 abilities - Opportunity, flying and Scavenger. As it's an earthquake ruleset match, we may see more death than usual in this battle but that's good with my vulture as it will gain health over every hard.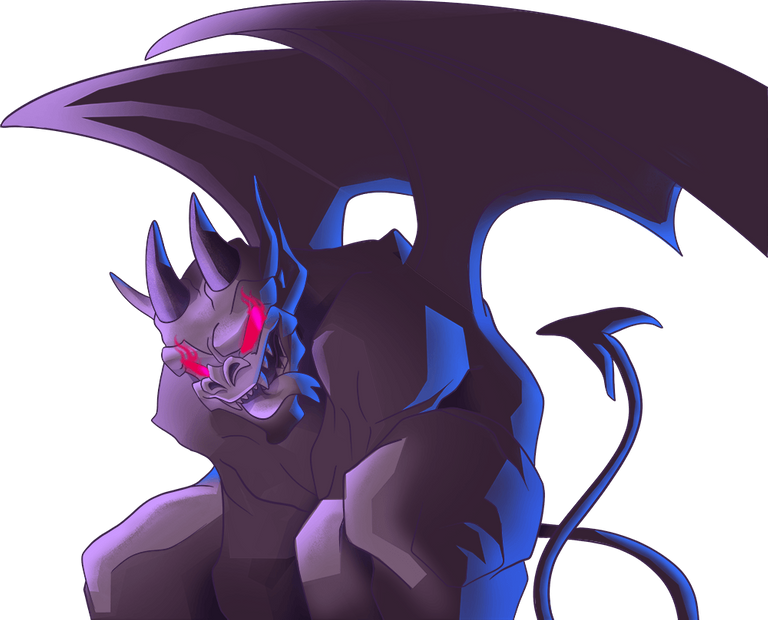 GARGOYA DEVIL
I chose the devil at the last position of my lineup. If my monsters before it dies, it will be my last hope here. It ca stand alone and attack thanks to it's close rage ability and also, if enemy has fewer monsters, it can kill the last one easily with the Deathblow ability. I am using a level 8 here and it has 4 range attack at 3 speed, 2 Armour and 5 health.
Match result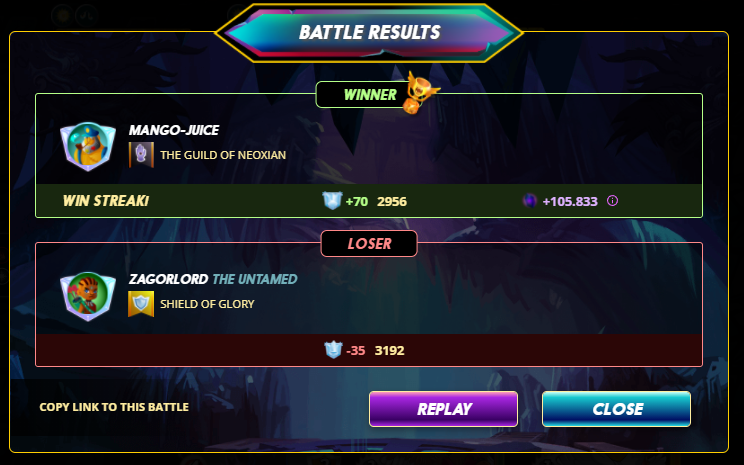 In this match, my opponent zagorlord used a shiny gold foil lineup against me and no doubt his all golden lineup looks stunning. He used a maxx level Life summoner Lorna Shine against me along with max level gold foil cards, only that chicken was level 3. At from, he used a max level Shieldbearer at front, followed by a max level Pelacor Conjurer, the chicken and the Herbalist the last. Now, as the Shieldbearer has the Return fire ability, my Devil will get damage every time he attacks him. Now, let's see how the match goes and what the Devil actually do.
I had only 2 attackers in this match, the vulture and the devil. The vulture attacked first and took down the divine shield upon the shieldbearer. The Devil attacked afterwards and reduced 2 Armour from it but got damaged in return as well and lost it's own 2 Armour.

At second round, the vulture took down the shield with it's melee attack. The devil attacked afterwards and reduced 2 health but also lost 2 health because of the same return fire ability of that shieldbearer.

At the third level, both of my attackers hit their target again and almost beat down the shieldbearer with only 3 health left but this time as well my devil took damage and had only 2 health remaining.

at fourth round, the vulture took down the damaged shieldbearer with his bare beak. The devil attacked later and took down the divine shield from the conjurer. After some time I finally was able to put down that second defense as well and only the herbalist remained tn the enemy lineup. But, it was helpless and my devil took it down. As it was the only monster alive, my devil brought 8 damage on it! Just think if it was the Kron there :) I should definitely try Devil against Kron to find out who wins. What do you think who will win?
After this battle, I am pretty confident about this Devil. I wont use him every now and then thou as it really costs a big mana to use it but whenever I found good opportunity for him, I will surely select him in my team,
Wish you all good luck on all of your future SplinterLands matches.
---
Thanks for visiting my post.
Stay well and keep playing Splinterlands.
Want to start playing splinterlands? Click here
---
---