I bought the Astral Entity max level | Season progress and Focus chests opening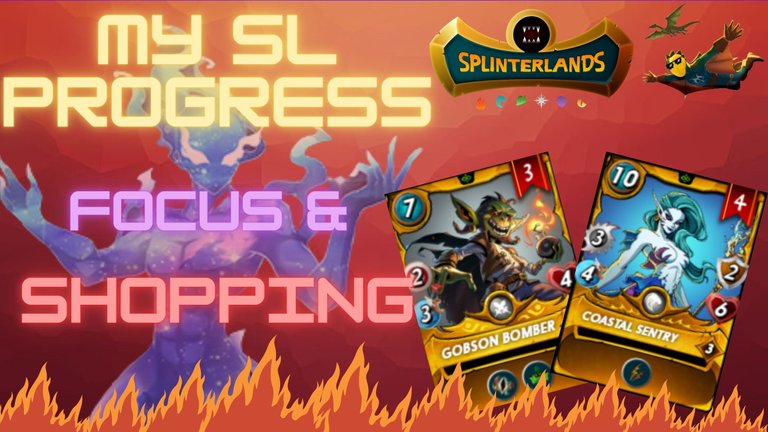 What's up my fellow splinterlands players!
I hope all of you are enjoying the day with your loved ones and eagerly waiting for the upcoming weekend to come. However, for me I have spent almost a month without working and being busy my marriage and honeymoon tour but now I am all recharged and ready to be back to work. Due to the lockdown and for my accident, I spent a really long time living in my room and needed a long vacation to clear my mind and soul. Now that I am done with the ceremony and the long awaited trip, I will now focus fully upon my career in hive and splinterlands and will also look for other earning opportunities.
My latest activities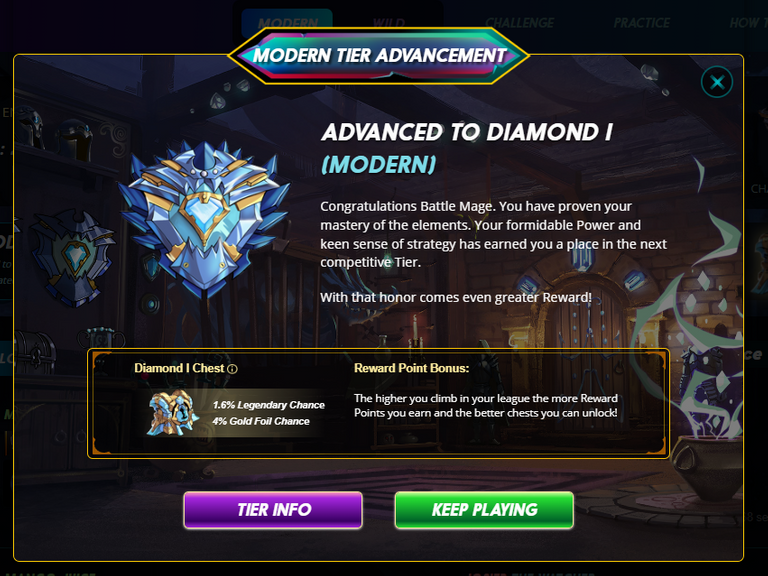 ---
On the other hand, the last splinterlands season has ended just recently and another one started which has 11 more days left be be ended currently. Thou I was busy with my life events, I didn't forgot to play this awesome game whenever I got free time and collected 54 season chests in the previous ones and also pulled one gold foil legendary and one gold foil epic from those reward chests. For this season however, I am playing seriously since the beginning and today I even reached Diamond I tier way earlier than usual. Today when I stopped playing for today, I had collected a whooping 16 focus chests and 14 season chests so far. I have already played and collected rewards from 2 focus mission including today's one and from the previous one, I managed to get 5 reward chests. If you are a regular player, you already know that the splinterlands has stopped printing and providing anymore reward cards from the last edition and already started giving out the newest edition soul bounded reward cards. Soul bounded means these reward cards cannot be sold, transferred or burned for dec tokens until the next edition reward cards get released, which I think would take time for another 1 year or even more.
Focus Reward Outcome
---
As you can see from the screenshots above in where I shared the outcome of my last 2 focus mission rewards, the new soul bounded reward cards are appearing well and while from the first focus I received 8 rare RAVENWOOD WARDEN cards and 3 common DUMACKE ORC cards along with around 3.075 SPS and a large amount of 4300 merits, from today's latest one in where I collected 16 focus reward chests, I received a good amount of gold foil reward cards which contains 3 gold foil common GOBSON BOMBER cards, 4 gold foil common COSTAL SENTRY cards, 4 regular foil TERRACEOUS GRUNT cards, 2 regular foil POSSESSED PUPPET cards and 5 regular foil FIRECALLER cards along with 78.711 SPS, 38 Alchemy potions, 729 merits and one chaos legion pack!
I really like the new update from team splinterlands where they decided to provide multiple cards in single reward chests and not just one anymore. As I finished the last season while in champ league and thus playing in Diamond tier since the beginning of this season, I am getting multiple reward cards every time whenever the chest outcome is cards. At first, when I got to know about this soul bounded reward card-set update, I got a little bit confused on how I can make them new reward cards into max level. But with this new update, I am pretty sure that over time, it is possible for me to collect them over time and upgrade into max levels.
Splinter Shopping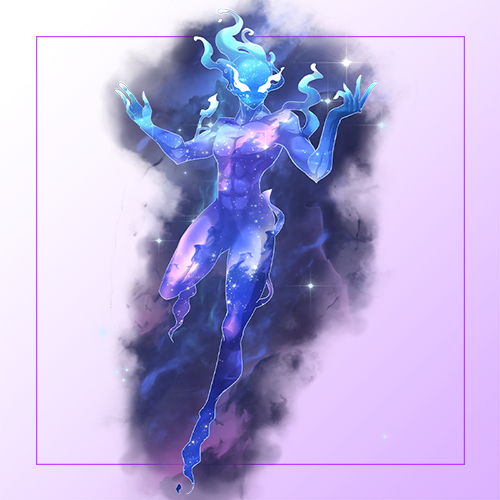 ---
Well, it's a well known fact that in order to stay in competition, one need to keep upgrading their cards in this game and I am also following it for long now. As for my shopping goal, currently I am after those shiny chaos legendary airdrop summoners because without them, you cant really compete in diamond / champ league matches. Till now I had bought 3 of them but after the daily 25k chaos pack burn proposal gets passed and activated, the rest ones are being unlocked with faster rate and within a month or 2, another 2 summoners got unlocked and now available on market, the earth summoner Immortalis and the recently launched death summoner Astral Entity.
---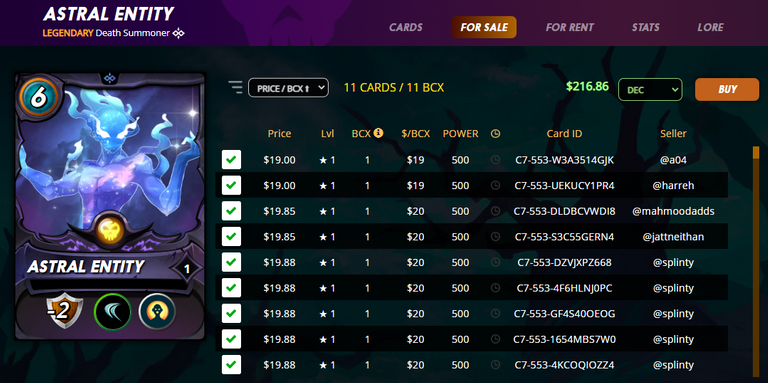 ---
When I came back yesterday and started warming up in the playground, my friend and splinterlands mentor @burlarj suggested me to buy the death one first, as it's stats are really unmatchable at this point. So I shake my wallets and gathered some liquid from here and there, bought the required 11 BCX of Astral Entity and added it into my playing collection.
The Astral Entity is a legendary type summoner that belongs to the Death splinter and it costs 6 mana to be used in battles. This summoner has a mixture of both offence and defence in it which makes it a very good choice for medium to high mana limit matches.
It decreases 2 armour from every enemy monster when being used in battles.
It provides the Evade ability to all friendly monsters, giving them extra chance to dodge enemy melee and ranged attacks.
Lastly, it has the resurrection ability with which it can resurrect one friendly monster after it dies.
As you can see, this summoner can be very useful against melee or ranged matches and if applied rightfully, it will also help you largely in many matches by resurrecting one of your important monster. Definitely this one is going to have a must have summoner if anyone wants to compete well in ranked battles, tournaments or brawls.
---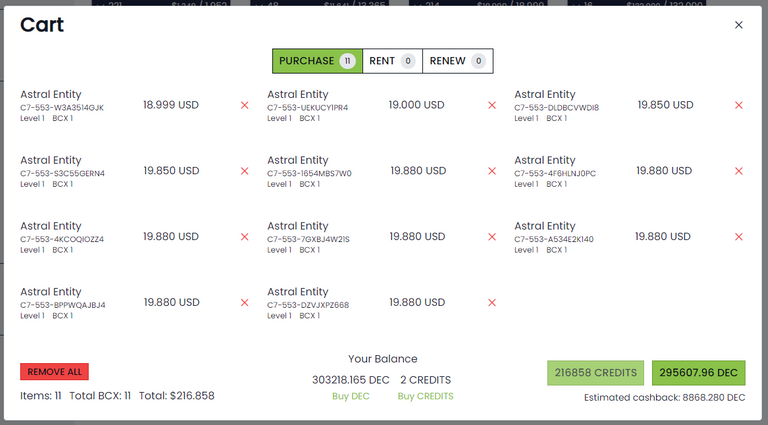 ---
As usual, I used the monstermarket.io website to buy these 11 cards to receive the awesome 3% instant cashback. At the time of buying, the first 2 Astral cards were priced at 19$ and for the rest 9 required, I had to pay 19.88$ for each. In total, I spent 216.858$ in order to make this summoner to max level (11 BCX) which costed me 295607.96 DEC total and for using the monstermarket website, I received 8868.28 DEC instant cashback into my hive engine account soon after the the transaction.
I hope you enjoyed reading my latest activities and shopping and also liked this special legendary summoner that I bought. Please let me know your thoughts about this summoner in the comments below and I will be seeing you all in my next post!

Wish you all good luck on all of your future Splinterlands matches.
Thanks for visiting my post. Please come again!
Stay well and keep playing Splinterlands.
Want to start playing splinterlands? Click here
Posted Using LeoFinance Beta
---
---