Let's meet with my Splinterlands Brawl Stars!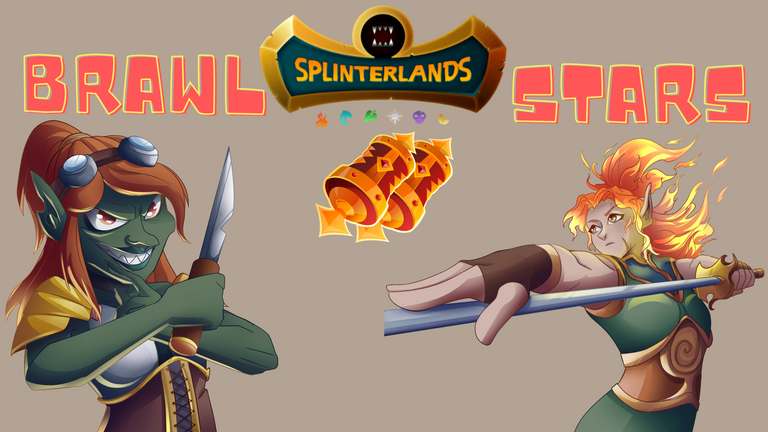 What's up splinterlands lovers!
I hope you all have already opened your season loot chests by now. For me, this season I didn't get any eye catchy rewards, just one epic card and a few rare and common cards from Diamond I tier. But my real pain is something else. This season I couldn't play well in last 2 days. I actually started just 8 hours before the season end and it was a bloodbath in there with so many brave players with their jaw dropping card collections. And as expected, I didn't reach my favorite place with both the accounts this time. This season, instead of getting 30k dec from red-dog, i only got 20k and 10k from my own mango-juice instead of 20k. That's a fat loss as the season rewards are the main earning for me now. The cause behind this mess was so common and ca be seen in any third world country - Power cuts. As it is going monsoon season here in West Bengal, India, we are experiencing heavy rain and flood along with power cuts for hours. Just Before the season end, it was raining cats and dogs with lightnings and mild storm and in here, we are still on those old process of Lamp posts to transfer current. As usual, during these natural calamity days, the Electricity board turns off the whole power supply until the situation gets back in track. Only this time, it costed me my season earning with a 19 hour long power cut. But anyways... I have future plans to make my whole house solar powered so that I get saved from this periodic hazards.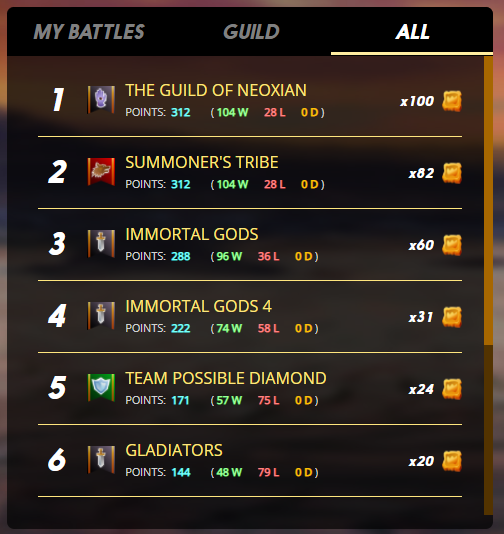 On the other hand, We, the proud members of The Neoxian Guild have secured the first place again in this brawl! OMG! we are literally walking on champion spree with the guilds, we are just unbeatable! This time as well, the challenge was harder than ever to reach the top place as all our opponent guild were super powerful as well. But our folks again outsmarted their opponent and scored another victory! Both our guild and Summoner's tribe scored same points (312) in this brawl but our guild somehow reached the top place and won 100 crowns this time! All of our brawl players who successfully submitted all their frays also got rewarded with 5625 merits! Just some mins before as I am writing this, I bought 2 brawl packs with the merits I had and pulled another Gold Foil Rare card from it! Holy molly!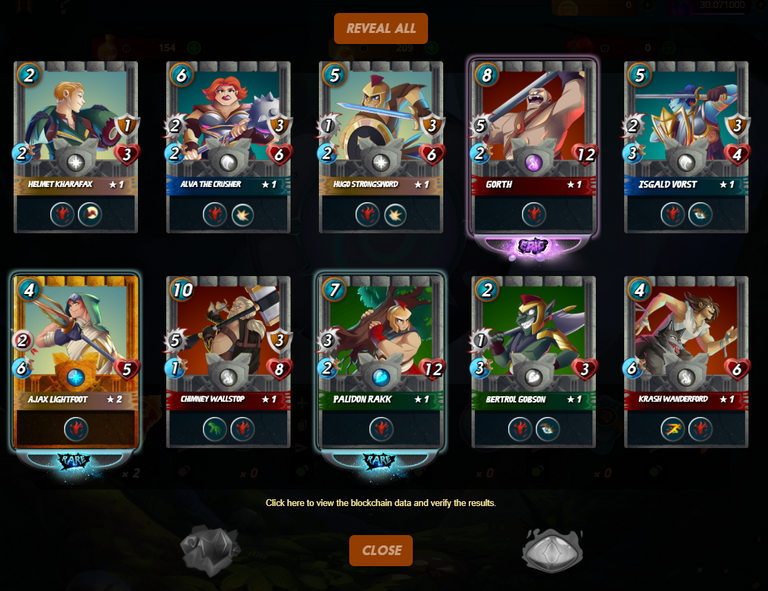 For those who are a guild member and playing brawls routinely, I would suggest them to play as much brawl as they can and collect those merits to buy Gladius packs. Brawl 2.0 is only the tip of the iceberg as I have a strong feeling that in near future, brawls will become so much more fun and it will also introduce an earning mechanism within it. Thou I would never suggest to do it, you can get dec by burning glad cards so after making a max level galdius card (or upto your requirements) you can burn the later ones for dec. But until splinterlands announce their their next brawl update, I would suggest you to play as much brawl as you can and earn and upgrade those glad cards.
As I am still talking about brawl, let's jump a bit deeper and let me introduce 3 of them gladius cards to you all and show you how important they are in brawl matches.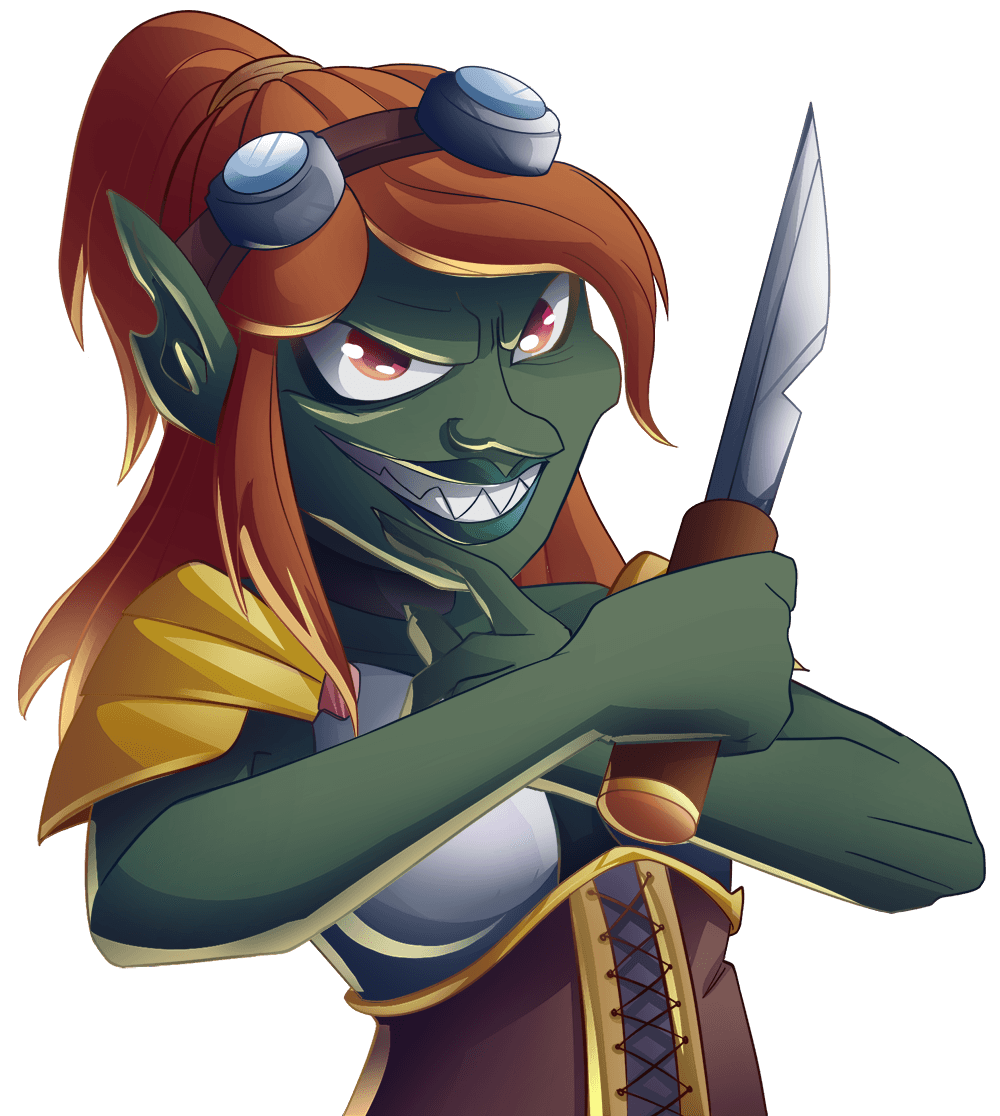 KATRELBA GOBSON
KATRELBA GOBSON is a common card from Earth Splinter and it costs 6 mana. It is a melee attack card with bloodlust, sneak and Double Strike at it's initial level and at level which I am using, it possesses 2 attack at 3 speed and 4 health with these 3 abilities. I have a level 3 currently and I used it in the latest brawl to score a sweet victory thanks to it's double strike. My Gold foil luck has been blooming lately as I got a total of 7 Gold foil glad cards including 1 legendary, 1 epic, 1 rare and rest commons. However, as this match was restricting epic and legendary cards, I could not use my favorite Gladius card Quora so instead I chose this one. And Thank God I chose her as she gifted me this victory so easily with it's sneak + double strike ability! Look the match below to see her fighting in the battlefield.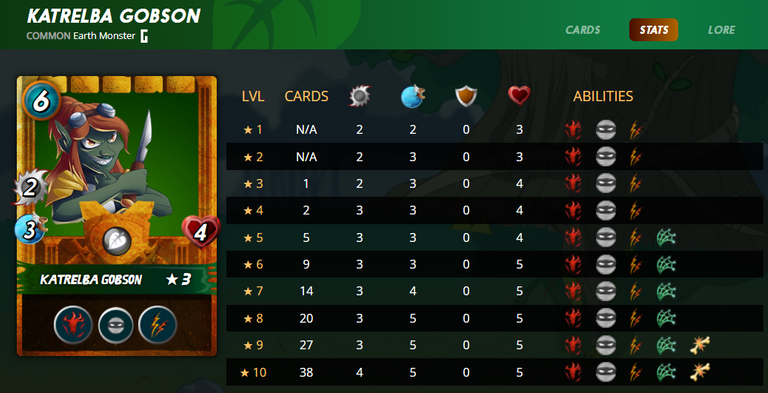 In this match, my opponent Mickvir from Earn Guild put his faith into Life Summoner and for me i went with the Xander Foxwood, the 2 mana epic buffless summoner from earth splinter. When the battle started, it literally started taking down the rear monsters one by one and each time it killed down a monster it gains extra stat! First it killed down the peacebringer then it went for the Enchanted Pixie and killed it as well. Soon after it takes no break and again killed the Feral Spirit. Just look at the battle and experience how she performs like a star in this particular battle.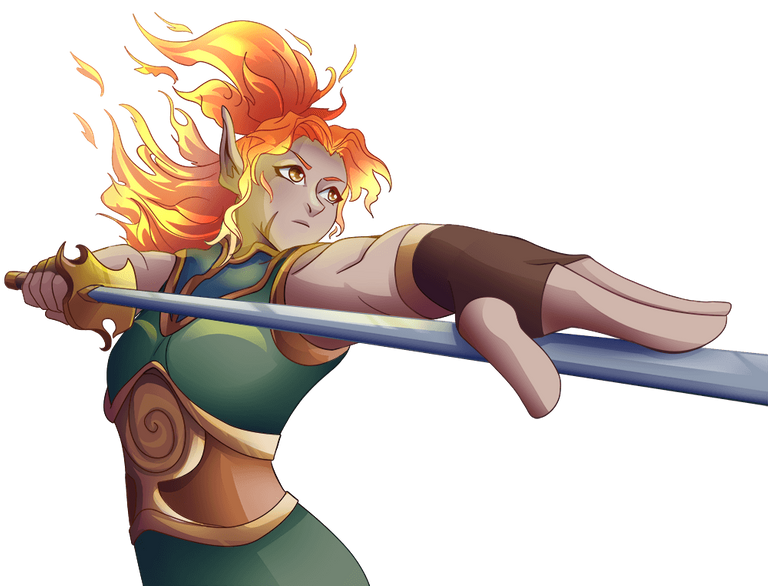 FINA VOXOM
FINA VOXOM is a legendary card from the fire region. It costs 5 mana to use and it's attack type is melee with opportunity. At initial level, it carries 3 melee attack with opportunity and bloodlust ability. Just think, it's attacking the monster with lowest health so there is a high chance that it will get increased stats every time it attacks. In Below I am sharing a brawl battle with Fina Voxom. I was playing in Beta/alpha only fray at bronze level so I used this monster as level 1 but it turned out it really took the work into her shoulder and killed multiple enemy with its unavoidable deadly attacks.
It was a magic vs melee match basically as I went for Malric Inferno and my opponent, masterthematrix from Immortal God went for water summoner Valnamore. My Voxom alone took down 3 enemy monsters and also bring extra damage to others. No doubt it's overpowered and will rule the brawl grounds real soon.
Wish you all good luck on all of your future SL matches.
---
Thanks for visiting my post.
Stay well and keep playing Splinterlands.
Want to start playing splinterlands? Click here
---
---