SL is rising | CRYPTO and Splinterlands Market Watch on 13th Sept, 2022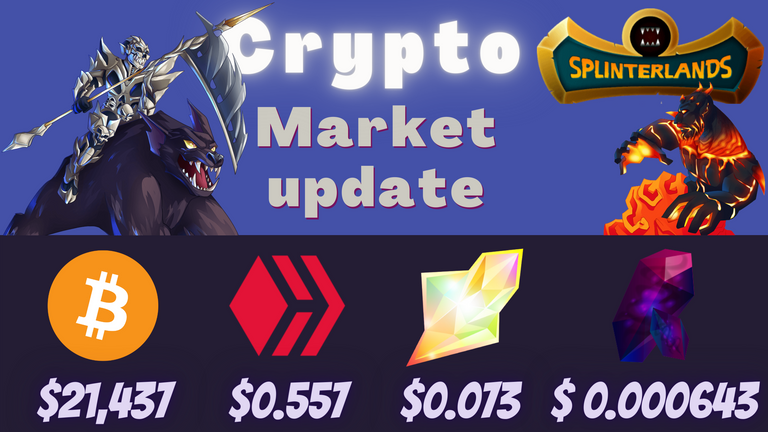 What's up splinterlands players!
I believe all of you had a pleasant weekend the last week and by now you all got back into your busy work schedule. But don't forget to play and complete your daily missions in Splinterlands cause we have very little time left now as only 2 days left for this current season to end. Recently, a screenshot of daily focus chests openings in splinterlands has gone viral in the splinter space and even bulldog and aggy shared it in their twitter. Yes, someone just won over 3000$ worth of SPS just from a single focus chest! I believe It would a dream reward for most of us to get such amount from just playing a game and that's the power of splinterlands! So don't waste time, just give your best and collect as many chests as you can before the time counter hits zero.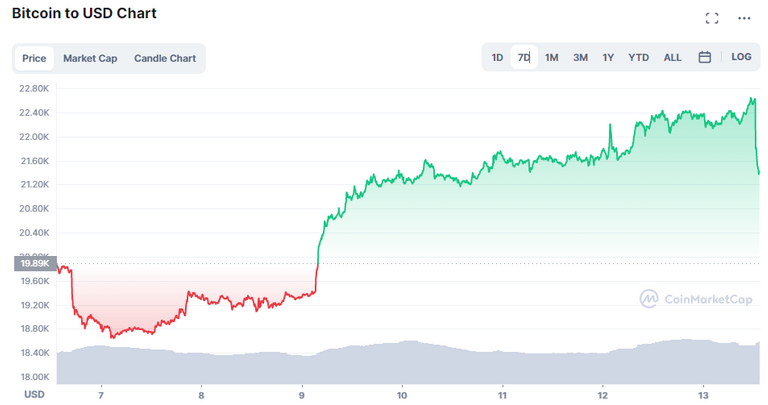 Now, let us first take a quick peak into the crypto market to experience the current scenario in there. The main dominator BTC has been rising gradually since last week -> 7th September and from it's recent low of 18.8k$ per unit, it has moved up smoothly to 22.6k$ until now, but a sharp downtrend since the last couple of hours has costed it to move down again near 21k$ with a current price of 21,437$ per unit with a -3.98% price decrease within last day.

On the other way, the other giant ETH has also performed well within the last week with it's week high point at 1,784$ per unit in the last hours, it has also being dumped heavily and currently being traded for 1,605$ per unit with a -8.29% price change within last day. Only 1 day and 17 hours left for the ETH merge to take place and I am expecting high volatility during this time.

Our beloved hive is also doing pretty well with a stable graph this last week but the current downtrend is affecting it too and with a -4.53% price decrease within last 24 hours, it is currently being traded for 0.557$ per unit.
Now, let us take a look into the various splinterlands tokens prices in market to see how they are performing. With the back to back announcement of Riftwatchers packs and the upcoming brand new Tower Defence game, splinterlands has started buzzing in the crypto gaming space very well and it can be visibly experienced by seeing the growth in SPS and Voucher prices.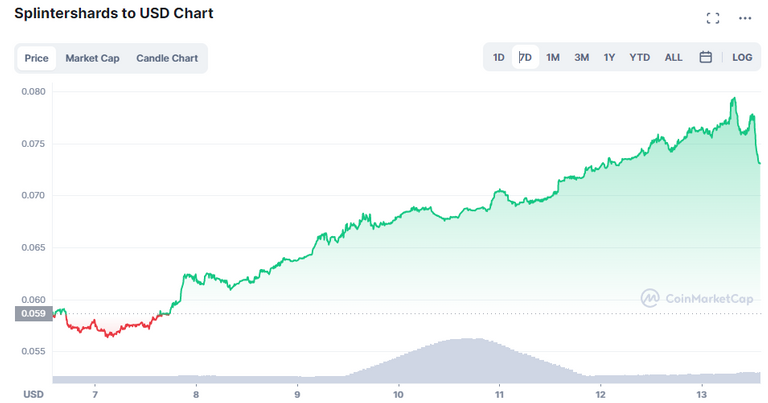 First of all, SPS aka Splintershards has now become the most powerful token of splinterlands because of it's governance property and as a reward token distributed to players. As the SPS airdrop has ended and with the upcoming Riftwatchers sale, a large portion of the SPS that will be used to buy those packs will be out of the circulation and will be used in DAO for the better future of this game. So, over time and especially during the next bull run, I believe SPS will perform exceptionally well than others. Currently it is being sold for 0.0731$ per unit with a -2.75% price decrease within last day. As you can see from the graph above, it's being rising gradually since last week and from it's low of 0.057$ per unit, it has come almost near 0.08$ but this recent downtrend seems to have affected the growth, which will soon be rectified I think.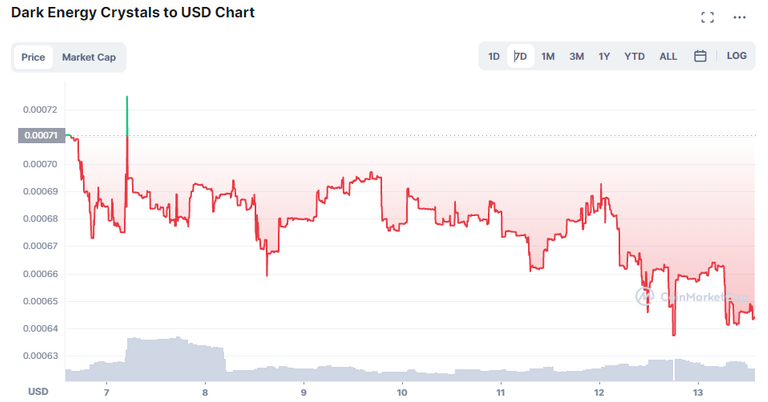 On the other hand, DEC is being replaced as the reward token in the game and the DEC supply has also being crunched heavily since. Right now the inly way to gather DEC is to rent out your splinterlands cards. Moreover, DEC will be the token to purchase the most awaited upcoming Tower Defence game packs at a pegged rate of 1000 dec = 1$ so I expect a bug amount of currently circulating DEC supply to be reduced when the SPLTD sale kicks in. DEC is currently being sold in the Hive-Engine market for 0.000643$ per unit with a -2.66% decrease in price within the last 24 hours. I assume that DEC will be soon be back to it's pegged price of 0.001$ per unit but let's see when that happens.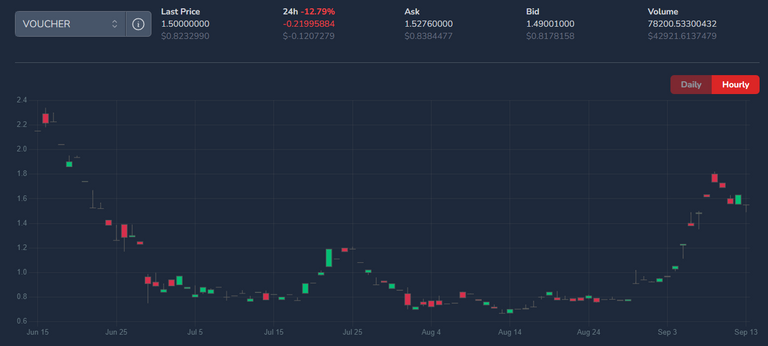 Now, taking a look at other tokens, voucher has also experienced a huge pump in it's price since the Riftwatchers sale news kicked in and from below 0.5$ price, it has moved upwards and crossed 0.9$ this week and currently being sold for 0.813$ per unit with a -10.87% price decrease within last day. The SPT aka splintertalk token on the other way is surprisingly moving upwards even in this downtrend and with a +5.17% growth in last day, it is currently being traded for 0.00077$ per unit. Lands plots however has lost some value and right now selling for only 150$ in HE market while Licence Nodes have upped it's value by a couple of hundred dollars and and came up from 1600$ to the current price of 1,975$ per node. Overall, it's a great time among splinterlands lovers to experience a good growth even in this dip market and that's another fact why ai love this game so much. 😇
I hope you enjoyed my chart post and also interested and eagerly waiting for the upcoming events in splinterlands. Let me know your feelings in the comments below and I will be seeing you all in my next post!
---
---
Wish all of you good luck on all of your future Splinterlands matches.
Thanks for visiting my post. Please do visit again!
Stay well and keep playing Splinterlands.
Want to start playing splinterlands? Click here
Posted Using LeoFinance Beta
---
---