Splinterlands | Will SPS reach a new all time low price?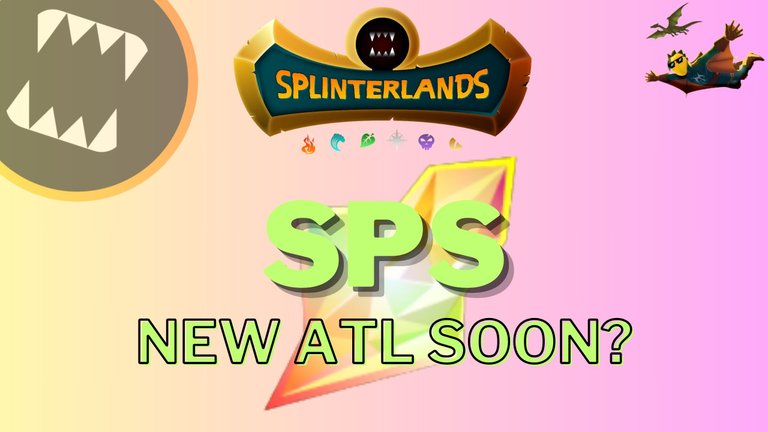 What's up my fellow splinterlands lovers!
I hope all of you are having an amazing day with your family and friends and also waiting for the weekend to come. Well, for us splinterlands players, the crucial time is coming soon because right now, we are in the middle of this ongoing ranked season, and only around 8 days left for this season to end. So, I guess those of you who are dedicated players and play daily are trying their best to reach their goals, be it a certain league or tier or for a sweet place in the leaderboard. I used to play in the Diamond League and try to secure a place in the Fiamknd top leaderboard every season, but for this season, I have gathered enough courage to fight against the top OGs in this game and decided to move up in the champion league which is above Diamond league and the too most league in this game. However, to my surprise, I am winning with a decent rate in Champion and after quite a long war with the top players, I have finally reached the top tier I in this league today. Hopefully, I will also win and collect focus reward chests daily and also increase my season chest stack as time goes on. Right now I am playing with a Current trophy count of 4,301 and till now, I have accumulated a total of 68 reward chests in this season but as I played last season while in Diamond league, the season chests are Diamond level instead of me playing in Champion league, but as I will be staying at Champion league this season and choose again to play in Champion in next season as well which depends on how I perform in this season, my season chests will be of Champion level next time and hopefully bring me better rewards than Diamond level ones.
---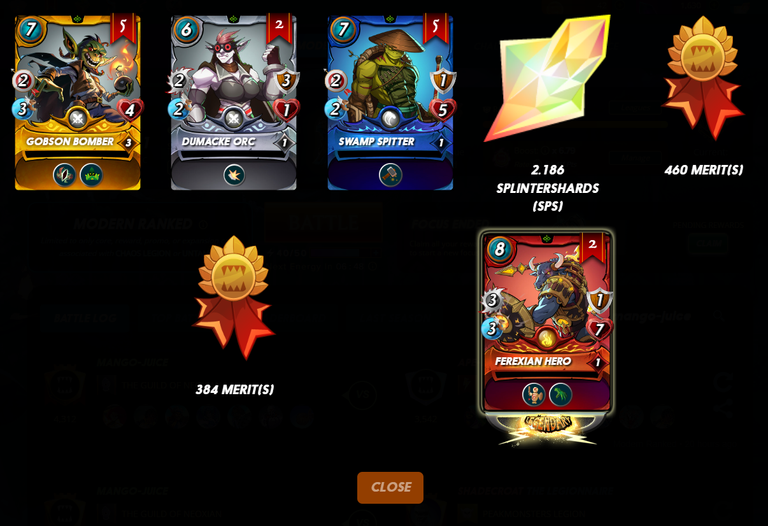 ---
Now for daily focus chests, I am gladly having them as Champion level and they are also bringing me better rewards than the average that I used to get while playing in Diamond league. Though I haven't received a big chunk of SPS yet this season, in terms of cards, they are appearing at a far better level than that of Diamond League. For example, I have shared my latest focus chests opening above which I opened today morning as you can see from the screenshot above, I had only collected a total of 7 reward chests in my last focus mission but among those 7, I received some cool reward cards including 2 legendary souls bound Ferexian Hero and 5 gold foil common Gobson Bomber along with 2 regular common Dumacke Orc and 5 regular common Swamp Spitter cards and as for other rewards, I received 2.186 SPS and total 844 merits from the remaining 3 focus chests. I am really happy with today's rewards cause both those legendary and gold coil cards are so rare to get from reward chests in this game while playing in Diamond, I hardly used to find legendary cards and till now, most of my leg cards are still at level 1 or 2.
---

---
Now, moving on let's talk about SPS and I am really sad at the moment to see the continuous downtrend of SPS which started during the last BTC dip. Now while BTC has been stable and moving near 26k$, SPS is still slowing moving down, and if it goes the same, pretty soon it will again touch its time-low price once again at 0.016$ per unit. For those who are unaware, the total circulating supply of SPS is 1,116,633,284 and among that amount, a total of 671,891,385 SPS is already being staked by players and investors in this game which proves how many people believe in this game, and the token. However, the remaining 444,741,898 SPS are in liquid form and circulating in the market, and upon that, the daily dumping of SPS from a portion of players and investors while fewer buyers buy them is causing it to go down gradually I think.
---
---
If you look at the last 7 days' chart of SPS price action that AI took from coinmarketcap, you can see the price gradually moving downwards but with a slow speed which indicates that thou there is no sudden dumping of the high amount of SPS, there probably daily dumping of small quantity from various players and investors who are booing returns on their investments is the main reason behind such price action. Are they probably making a mistake by selling it while the SPS price is almost near its all-time low or the price may dip down further and go even below 0.015 per unit as some are predicting in their official discord? Well, as a long veteran in crypto and a player of this game, since it launched back in 2018, I certainly know that there is a large die-hard user base behind this game who won't even sell their assets even if it goes 0 because they love and believe in this project.
---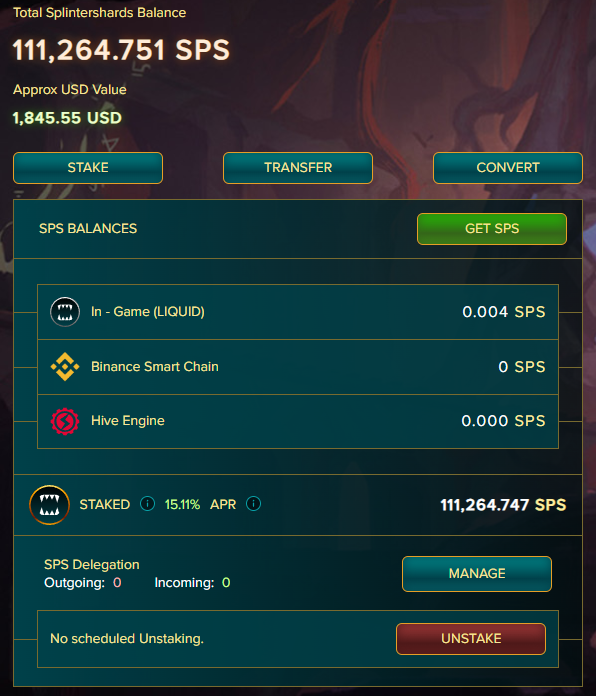 ---
As for my stance in SPS, I have accumulating this token since the airdrop started which is more than one year now, and though I wasn't able to invest any money from outside to buy SPS, my steady diamond hands helped to to accumulate a total of 110k + SPS as of today. I have stuck to the same old plan since the beginning and have been staking all the rewards that I earn from okaying the game and also restake all my staking SPS rewards back into the staking wallet and though at first, it looks like nothing, the total amount gradually increased into a big mount today and just from staking rewards, I am earning a handsome amount of SPS every day as they are still giving out a sweet 15.11% APR reward on staked SPS. My current goal is to reach a total of 200k SPS so that ai can earn a handsome amount of SPS from the ranked wins but that will take a long time from here as I have only reached 55% of my goal till now.
---
I hope you loved and motivated a little but at least by reading my post and seeing my rewards and achievements. Have you sold your daily earnings or been accumulating like me? Let me know your strategy with SPS in the comments below and I will be seeing you all in my next post!
---
---

Wish you all good luck on all of your future Splinterlands matches.
Thanks for visiting my post, Please come again!
Stay well and keep playing Splinterlands!
Want to start playing Splinterlands? Click here
Posted Using LeoFinance Alpha
---
---