The poisonous Monsters of Chaos Legion - My top 3 picks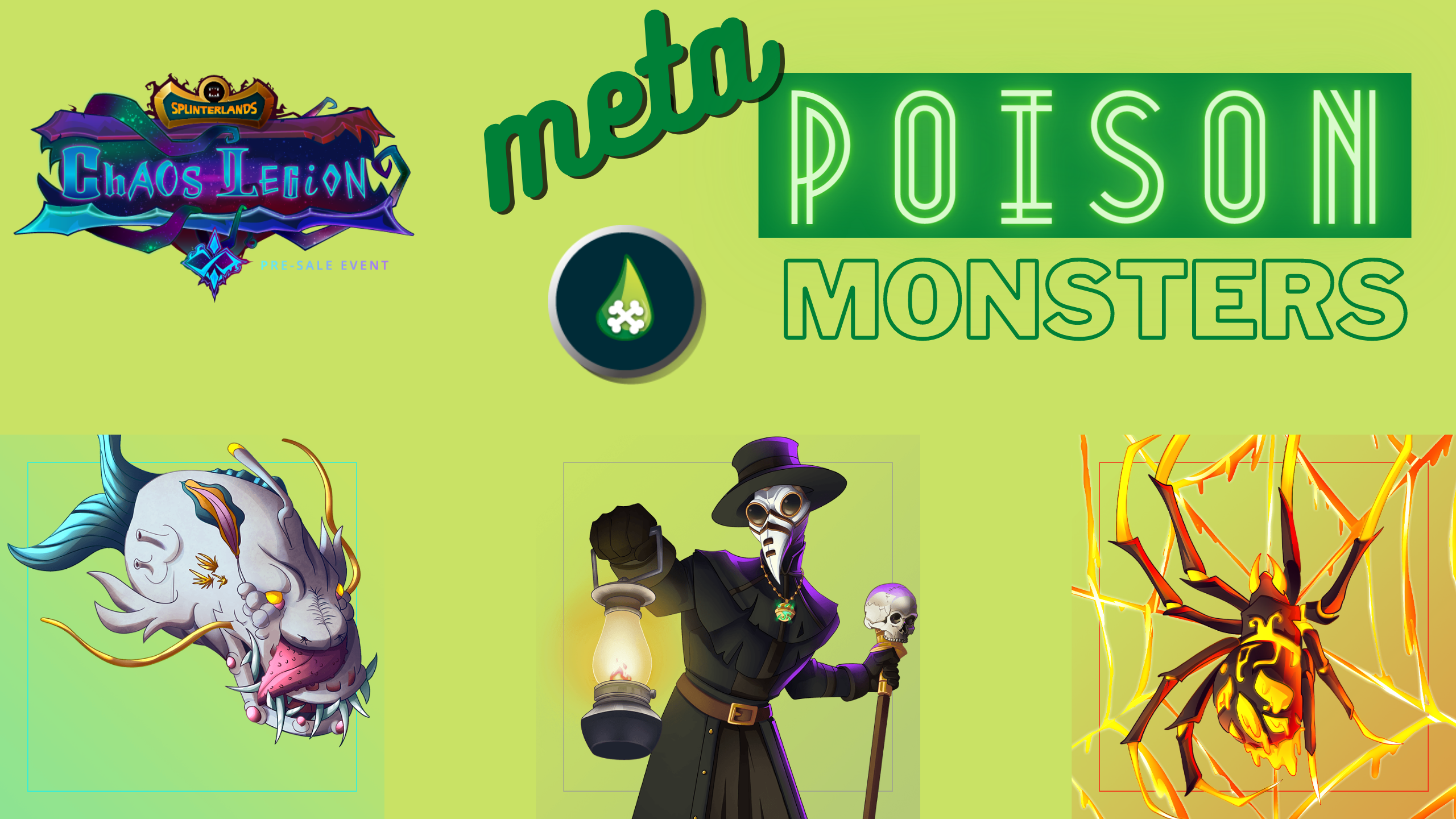 What's up Splinterlands warriors!
First of all, happy weekend to all of you and I hope you enjoy this weekend with a full blast. I assume you all are doing very well with the game and as the season has already ended, I hope all of you have reached your desired place in the last season and also opened all of your seasonal reward loot chests. This season, I reached champion III with the red-dog account and with mango-juice account, I was only successful to stay in diamond I so far. But exceptionally, this time I got better reward cards than usual With both the accounts.
The chaos Legion phase 2 pre sale has also ended recently and only one day and 9 hours left for the general sale to kick in where you will no longer be required to have vouchers in order to buy chaos packs. However, vouchers will still be required for the bonus packs if you are purchasing in bulk amount And for each Bonus Chaos packs, you will need one voucher. After the launch of general sale, the Splinterlands team's next main focus is going to be the modern/wild ranked formats And that's what I am eagerly waiting with my max chaos legion collection.
---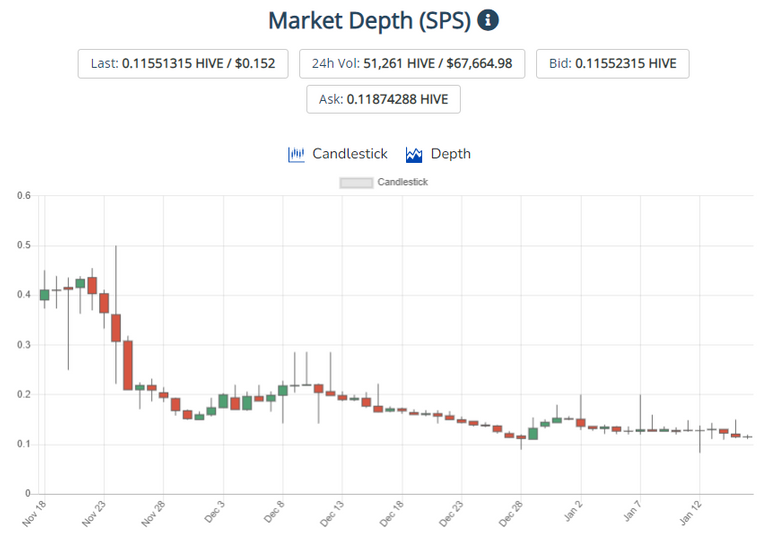 ---
The market Situation of the Splinterlands tokens however is facing downtrend and since last night, the SPS token experienced a huge dip and came down to $0.152 per unit. Hope the release the SPS validator node update gets released soon so that the price can get recovered and reach back at least above $0.25.
Now, let us move towards my top three chaos series and today I will be showcasing you some of the most Venomous creatures in splinterlands Who kill their enemies With poiso.. There are several monsters in the new chaos Legion set with poison ability and I have picked my top three Monsters among them along with their in-depth review in this post.
LAVA SPIDER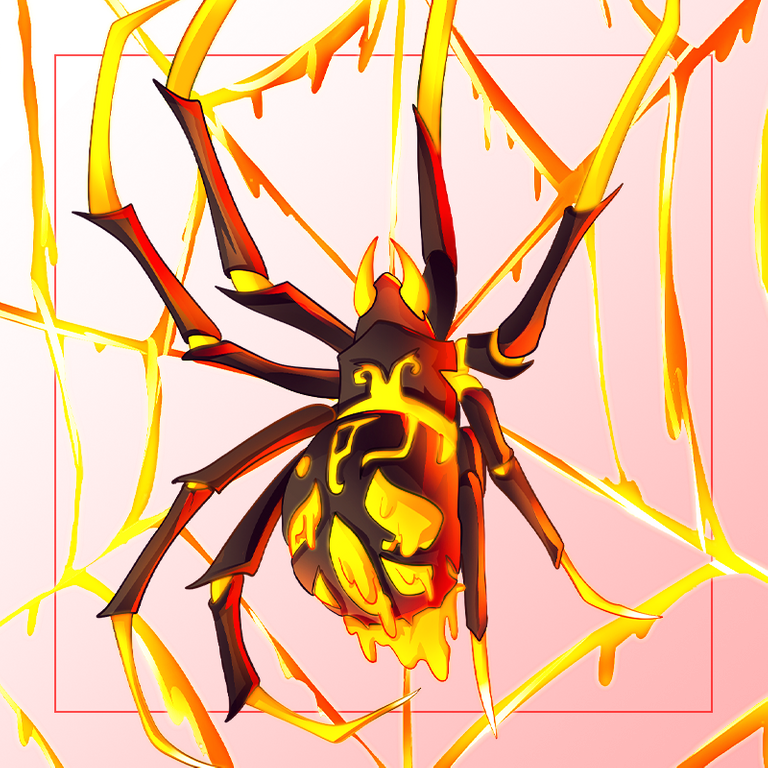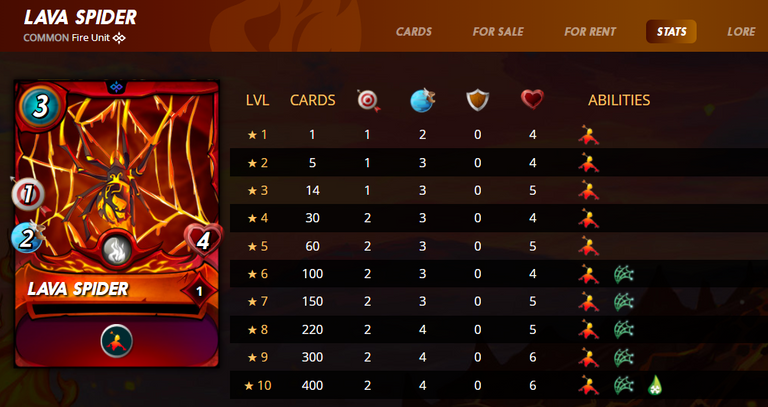 The first monster that I will showcase to you all is lava spider. We already have a handful of spiders in the Splinterlands But I think Lava spider gets the top place among all of them with its killer looks already. They live in the deepest part of volcanoes In the centre of Praetoria and weave threads of fire to trap their enemies in webs of flame. Lava spider is a common type card that belongs to the fire unit it costs three mana to use in the battlefield and its attack type is range. Let us now take care look at its details in below.
At level one, this card possesses one Range attack at two speed and four health along with sniper ability. Since its initial level, this card holds a decent amount of health and also getting the sniper ability from beginning Makes it even more special.
At level four, this card gets two Range attack at three speed and four health. The increased overall state makes this monster a good choice in silver tier matches.
At level six, while the stat remains same, it gets another ability Snare. monsters with snare ability when attack enemies with flying, removes the flying ability and cannot miss its attack. So at level six, these cards becomes anti flyer and if you use it wisely you can get more wins against those flying creatures.
At level 10, this card possesses two range attack at four speed with four health and also gets another ability poison. At max level, this card surely looks overpowered respecting its health and a combo of three abilities together.
You can also use this card at middle Where are the enemy snipers will attack first As its high health and we are multiple attacks before going down. Not to mention that this monster will be required to make sniper line ups as well.
DEEPLURKER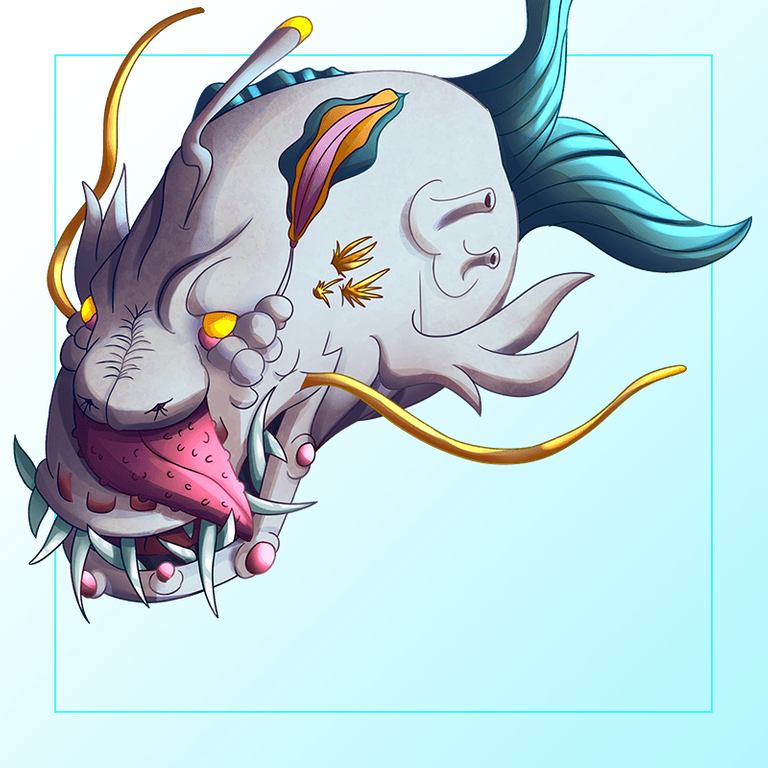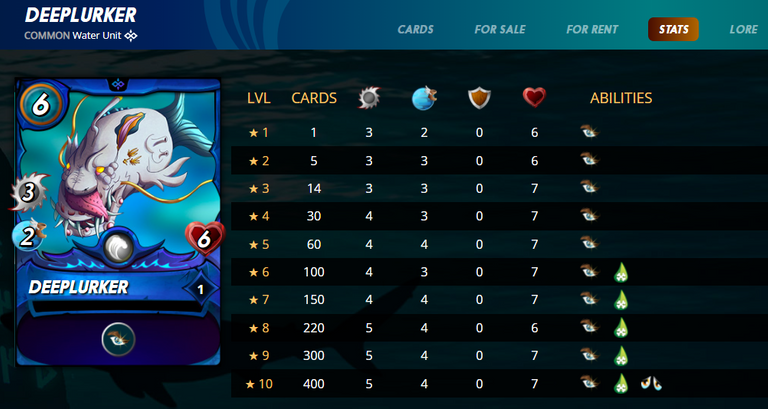 The second monster that I'll be showcasing you his deeplurker. I never saw anything my life With a tongue coming out of it's Nose While having a big Mouth present. Is it really a monster or an alien from outer world? But legends say they are here living under the ocean for a really long time while balancing the elemental water magic.
Deeplurkur is a common type card And it belongs to the water unit. it costs six Mana to use in the battlefield and its attack type is melee. But To know more about it now we also have to drive into the bottom of the ocean. So are you ready?
At its initial level, this card holds 3 melee attack at two speed with six health along with the opportunity ability. It preys on the weak With its opportunity ability and because of having three attack, Even at level one this monster can kill down small health enemies even with one blow.
At level four, this monster gets 4 melee attack at three speed with seven health. the increased status will help him to stand out multiple attacks in silver level while doing large damages on opponent.
At level six, while having the same start as of level four, this card gets another ability poison. thus, whenever this card attacks, it has a chance to apply poison on the target enemy making it lose health at the beginning of each round after the poison is applied.
At max level, this card gets 5 melee attack at four speed and seven health and also gets another ability demoralize. The demoralize ability will reduce the Melee attack of all enemy monsters so that's a very cool addition at max level.
Deeplurker will be your best friend if you are making a melee Lineup. Also the longer you protect this monster from enemy cards the longer it will demoralise all enemy Melee attackers with -1 melee attack so that's very important to keep in mind. This monster can do well in mini and medium mana matches because the combo of opportunity plus poison will kill even decent health monsters Within one round if you are lucky enough to apply the poison.
DOCTOR BLIGHT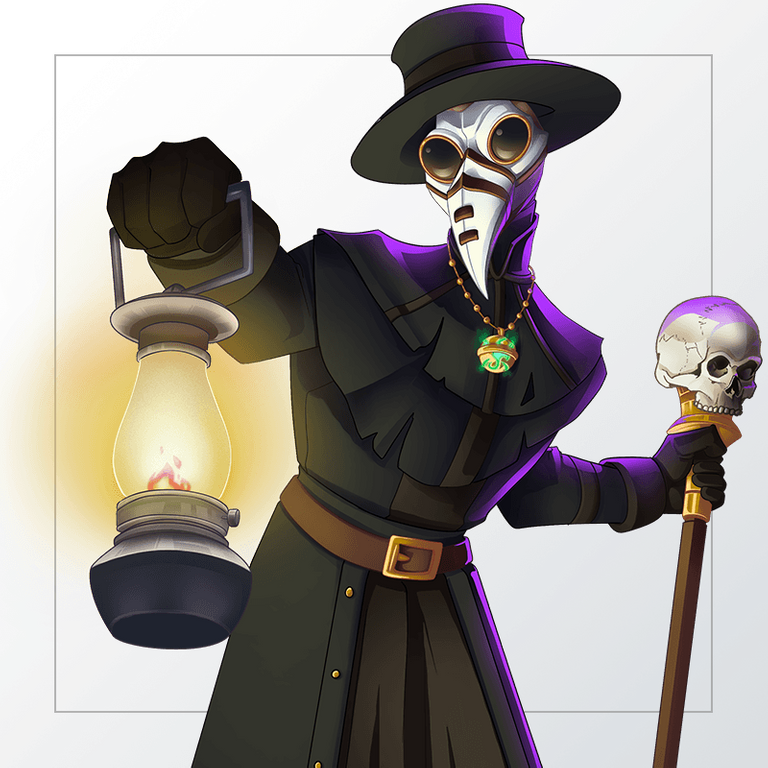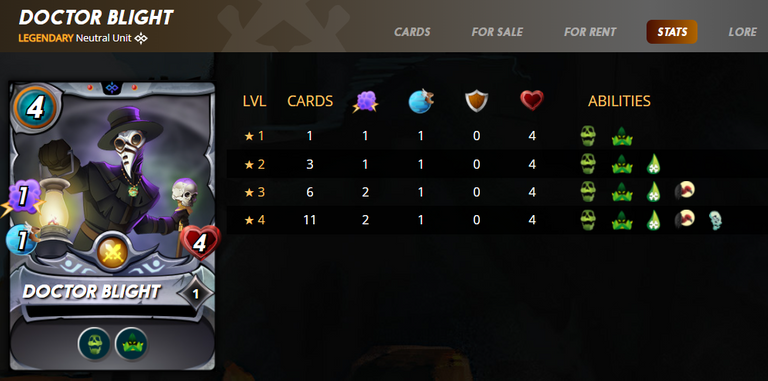 The last monster that I will be talking about his None other than Dr blight. The doctor is already pretty famous for it's poison plus affliction combo which proved to be devastating against healing lineups. The weaken ability reduces health of all enemy monsters while the scavenger ability will help you increase the doctor's health every time a monster dies on the battlefield. Do not get impressed yet because it also possesses the camouflage ability and those impossible to target directly until it's in the first position.
The doctor blight is a legendary type card which belongs to the neutral unit it costs four mana to use in the battlefield And its attack type is Magic. Let us find out more about it in below.
Dr. Blight even powerful in level one with one magic attack at one speed and four health along with two abilities - affliction and camouflage. while this monster is anti healer even in the beginning, it's camouflage ability on top of that will provide a great defence If the placement is right.
At level 2, this card gets another ability poison and hence completes My favourite combo affliction plus poison in its early second level.
At level three, its magic attack gets increased to 2 and also gets another ability - scavenger. monsters with scavenger ability will increase one Max health each time a Card gets killed down in the battle. So, as the battle goes this monster will become more and more powerful in terms of health.
At max level, this card gets another ability Weekend with which it reduces all the enemy monsters health by one. Don't you think that's too much power for a 4 mana card?
At max level this card holds as big as five abilities and each of them are important to have in the battle. most of us use the doctor blight in the last position to get maximum out of its scavenger ability but it can also be wise sometimes to place it Where the enemy snipers will attack to transfer their attacks to your next monster. I already bought myself a max level Dr blight when it was being sold for around 100$ to 110 $ per BCX.
I hope you liked all of the above monsters and also loved this post. Have you used any of those above monster in the real battle if yes then what's your experience with them let me know in the comments below. Let me know your experiences if you already have them and using them in battles and I will be seen you in my next post.
Wish you all best of luck on your Splinterlands journey.
---
Thanks for visiting my post.
Stay well and keep playing Splinterlands.
Want to start playing splinterlands? Click here
---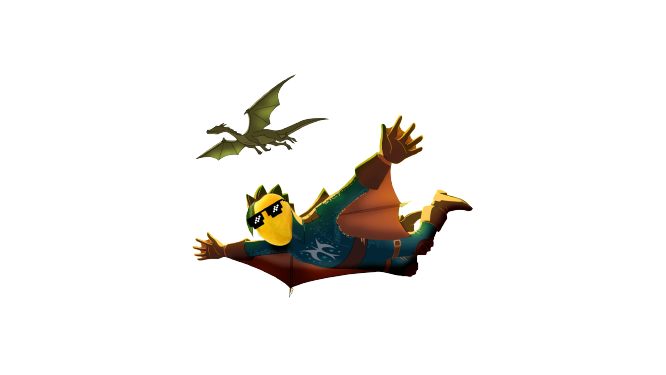 Posted Using LeoFinance Beta
---
---