The Splinterlands Tower Defence game will amaze us all!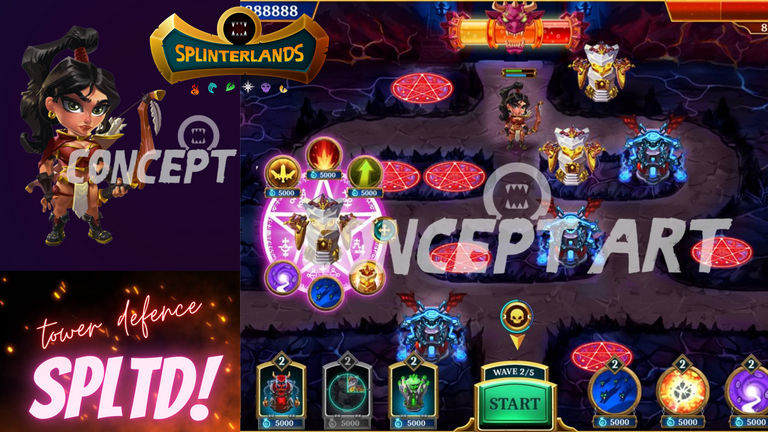 Hello my fellow splinterlands lovers!
I hope all of you have spent an awesome weekend with your family and friends and also playing and completing your Daily Job in Splinterlands as well! Recently the official splinterlands team has announced back to back 2 blog posts about 2 major upcoming updates which has clearly shaken the hive ecosystem as well as the outer crypto world. The first one is obviously the upcoming mini card set of Riftwatchers about which I have published a blog link. And the second big news is that the long awaited Splinterlands Tower Defence game is finally coming into splinter verse! So in today's post, I thought to grasp and share all the juicy Intel from the official post and share with you all!
Well, since it's launch, splinterlands got loved by it's players for it's beautiful, versatile and strategic gameplay while the investors loved it's beautifully crafted efficient eco system and balance. Its been 4 years since the game has launched and unlike many other so called NFT games which promised their users insane returns but failed within days or months, splinterlands has become successful to hold it's players and investors long term with it's fast and amazing game updates and sustainable monetary eco system on the other hand.
But, change is the only constant as they say, splinterlands was planning to release a brand new game with a different and unique gameplay style, as they thought not to stick with only the core splinterlands play style but something brand new to amaze us once again.
---
---
Gameplay
If you are a casual gamers and try to explore new games from different genres, most probably you have played at least one or 2 Tower Defence games. The basic strategy in these types of games is to build and upgrade defence towers, heroes and spells and use them properly to hold enemy waves to reach the finish line. If you have played Plant vs. Zombies game (either in pc or mobile), then you has a taste about these types of games and there are some other popular tower defence games there too like - Defenders 2 : Tower Defence CCG, Defence Zone 3, Grow Castle etc. but I doubt if there's any good tower defence right now in the #Play2earn world, if anyone reading knows any other tower defence NFT game, please let me know as I haven't found any still now. But looks like our splinterlands will fill that void too!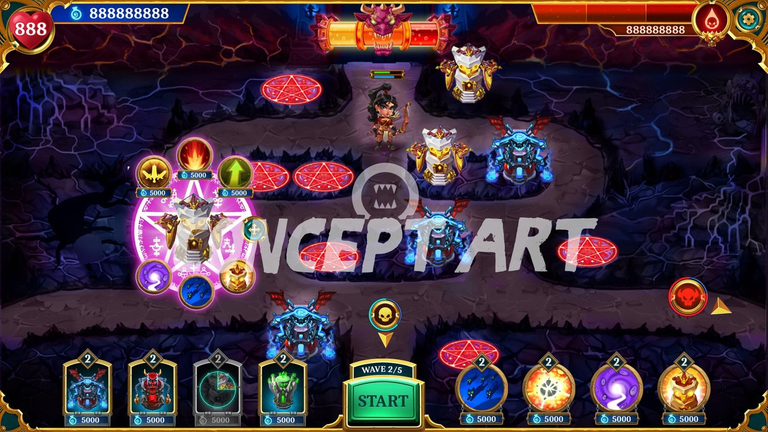 Aa they said in the official post of the splinterlands tower defence game, it will be a similar case like those games I mentioned above but at some point as we play and level up in the game, we will meet with endless horde of enemies and the real challenge would be how much time we can fight and hold our enemies. We will have variety of resources to build a defence before the game starts - with mighty defence towers, magical spells and brave heroes to hold those evil forces back as long as we can! This indeed sounds so interesting and I guess most of the splinterlands dans are eagerly waiting to play this brand new game! Let us now know about the defence resources that will be our astras for this game to play.
Towers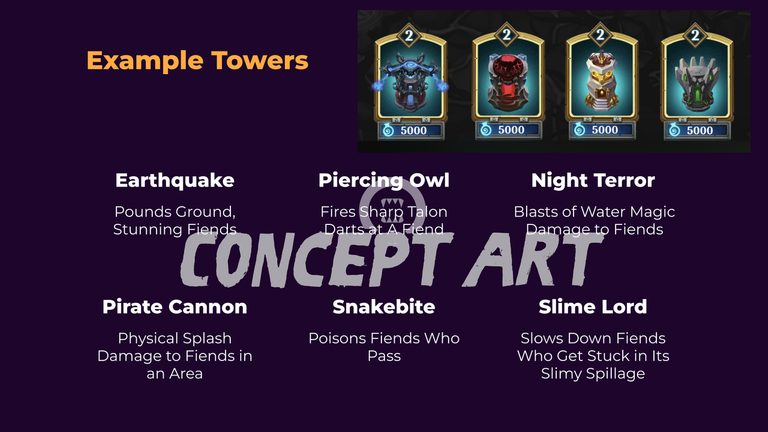 Just like any other tower defence game, here also we will have different types of tower that we have to place strategically near the path to damage and destroy enemy troops. Different towers will act differently, some towers will slow down the horde, some towers will do magic or poison damage, some targets flying enemies etc which brings versatility in the game and each of our moves over time will produce different outcomes, making it more random. As they have published the concept art for towers, we may see 6 different types of towers as below.
Earthquake

Piercing Owl

Night Terror

Pirate Cannon

Snakebite

Slime Lord
Spells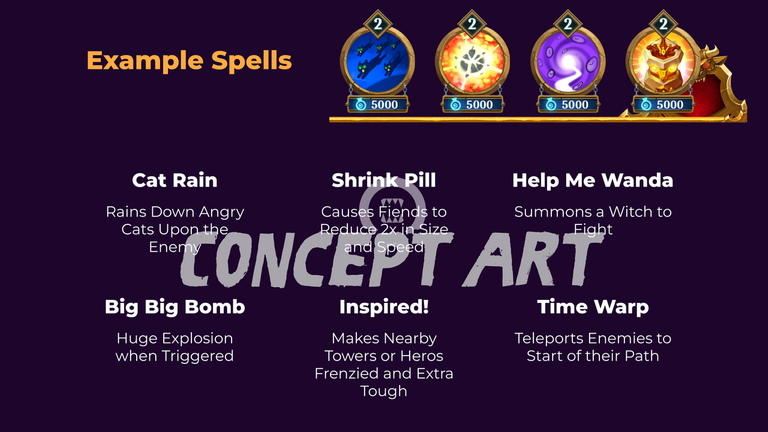 Spells will be our second types of resource in this game and we may use them to further boost our tower's powers and bring harm to enemy hordes. In the battle, they will add as an extra element and we can make combos with towers to bring more damage onto the enemy horde and they can be upgraded like tower and if carefully and efficiently overlapped, they may create an insane 'punch-packing' combinations into the gameplay. As of their concept art released for spells, there may be a total 6 spells available in the gameplay as showed below.
Cat Rain
Shrink Pill
Help me Wanda
Big Big Bomb
Inspired!
Time Wrap
Heros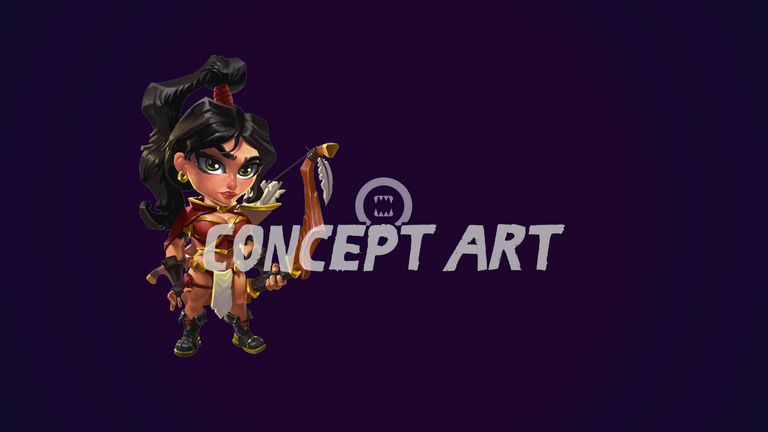 Heros will be our third and last resource to be used in the Splinterlands tower defence gameplay. As I played some other Tower Defence games, there also you lay see different heros protecting the path by killing enemy horde while passing through it and giving us thus an extra layer of protection. While in the gameplay, it really looks cool to see your hero fighting hard to kill that last enemy that your towers couldn't killed down. I hope heros in the upcoming splinterlands Tower Defence gameplay also behave like the same and believe me, that would be fantastic. However as they said, in here the heros will come with a health bar and will take damage as he/she fights with enemy horde and once their health bar touches zero, they will get withdrawn from the battlefield. So be careful and choose & place them wisely.
Some other facts about SPLTD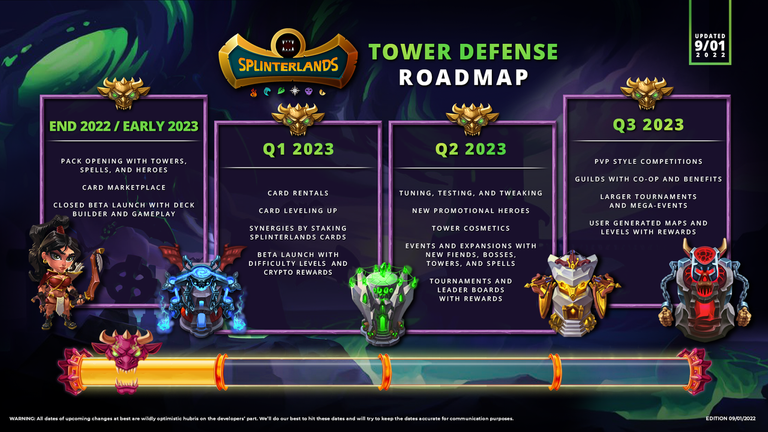 Account based Progression
It will be an account-bound progression and I think the approach will be similar to brawls where you have to continue playing with one account to level up there and most probably these cant be transferred to another accounts. This will surely make the time and effort of playing on a single account more valuable and also discourage farming.
Risk your win for more win!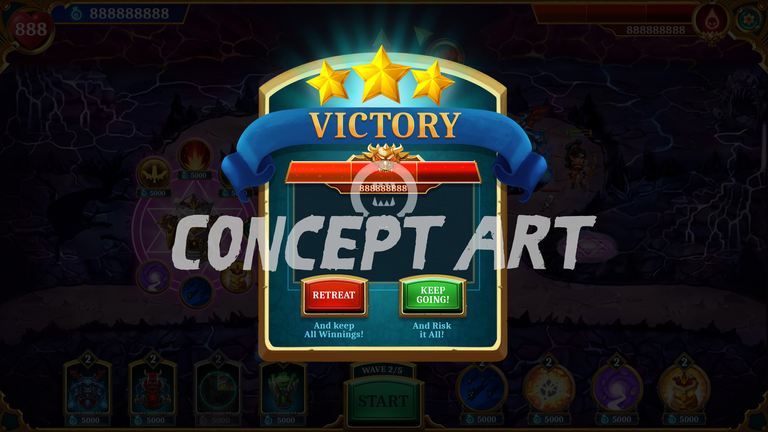 It will be a unique but quite attractive style of playing that they are about to introduce in the Tower defence game. Following this concept, after completing each web in this tower defence game, We will be offered with a choice of either retreat and keep all winnings or keep going and risk our existing winning amount. Each of the enemy wave that we get to defend every round will steal some of our rewards and we can even lose them all. Each time we choose the press your luck mechanism, the reward gets bigger but the risk gets more intense as well. Will You risk your existing rewards to play the next level and try to win more or you will retreat after a time and maintain a safe play? This Will indeed Be mind-boggling for sure!
Dec and Voucher utility
Finally, the Splinterlands team has announced excitedly that they will use DEC and vouchers tokens as payment currencies for this tower defence game and while buying SPLTD packs using DEC, a fixed rate of a thousand DEC value equals to one dollar USD will be maintained, while vouchers on the other hand will give a discount on pack purchase.
recharge
They also introduced the recharge mechanism for towers, spells and heroes and we would have to spend DEC token to recharge these NFTs and use them in the battle and again, the vouchers will offer a discount on these recharge purchases.
ingredients
Lastly, for a limited time a new ingredients store that will offer ingredients that we may purchase via DEC along with vouchers for discount, which will allow us to progress in the game forward faster. The amount and availability of these ingredients will be limited in each rotation and also can be earned through gameplay.
AVAILABILITY & COST
There will be total 2 million packs available for the first edition and each SPLTD pack will cost eight dollar while treating a thousand DEC equals to one dollar and you can use one voucher per pack to get 3$ off. That means you can buy each SPLTD pack for 5000 DEC + 1 voucher. The pre-sale of SPLTD Pack will be limited to 250K packs and is planned to start on 20th September of this year Which is pretty pretty near. Every Pack has a 0.2% chance to receive the Promo Hero and there will also be benefits for large buys as shared below.
All purchasers of at least 500 pre-sale packs will have the following benefits:
Guaranteed Promo Hero
Limited Edition Title
Limited Edition Avatar
Closed Beta Access
---
I hope you liked reading this post and also eagerly waiting for the upcoming SPLTD game! Please let know your feelings about this brand new game in the comments below and I will be seeing you all in my next post!
---
---
Wish you all good luck on all of your future Splinterlands matches and upcoming SPLTD game.
Thanks for visiting my post. Please come again!
Stay well and keep playing Splinterlands.
Want to start playing splinterlands? Click here
Posted using Neoxian City
---
---