This VAMPIRIC BLOSSOM is really good against no attack monsters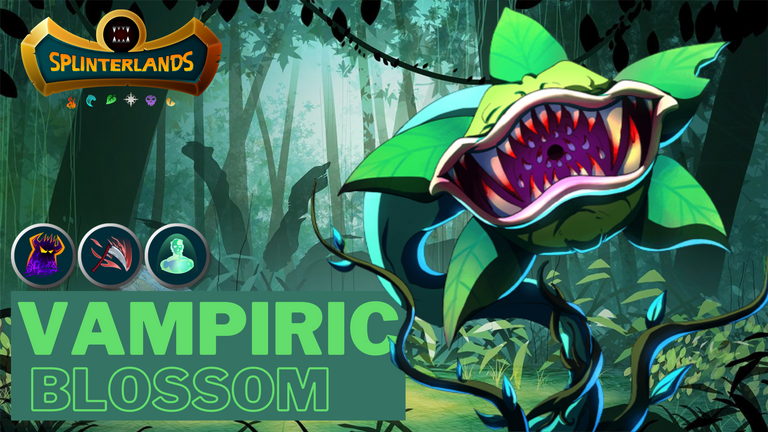 What's up my fellow splinterlands folks!
I hope all of you are spending a nice and shine day with your loved ones and also enjoying this game in meantime. Well, it feels that the season has just started but actually we have come already near the middle and only 10 days left for this current season to end. So give your best in the battlefield and reach your gold tier / Place before the season timer ends.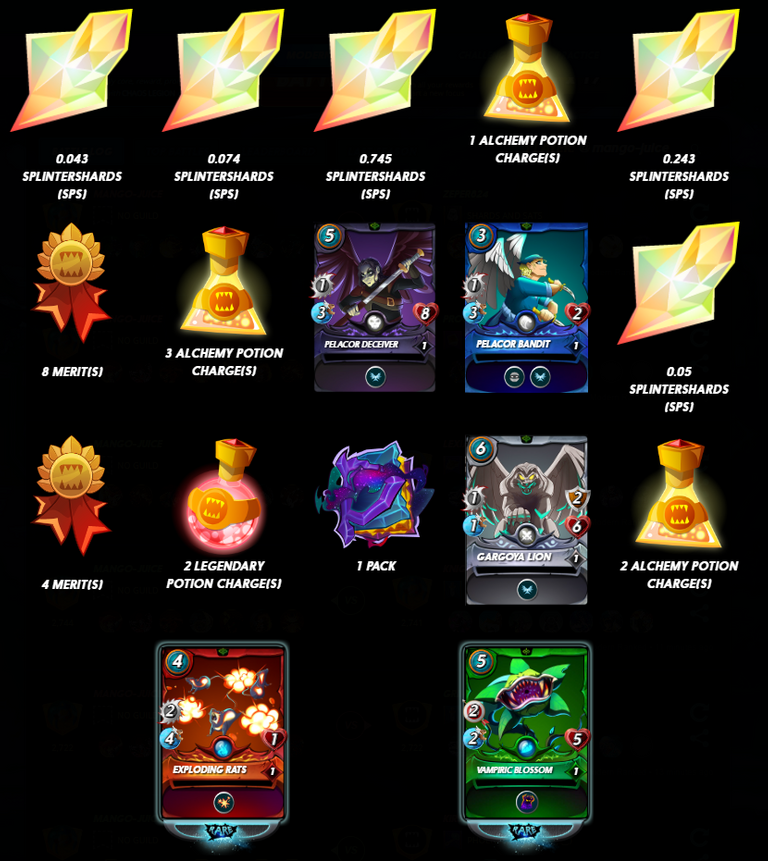 I have already reached Gold I tier but finding it very hard to touch the Diamond III tier from here. As am writing this post, my current trophy count is 2721 and I need only 79 more trophies to reach the Diamond league. I hope I reach the next tier as soon as possible so that I get to use my max level cards and also for better rewards. As you can see from the screenshots above, I opened a total of 17 daily focus loot chests while in Gold I but haven't got any lucrative asset out of it, apart from the chaos pack. So, I badly need to enter diamond in order to get better rewards.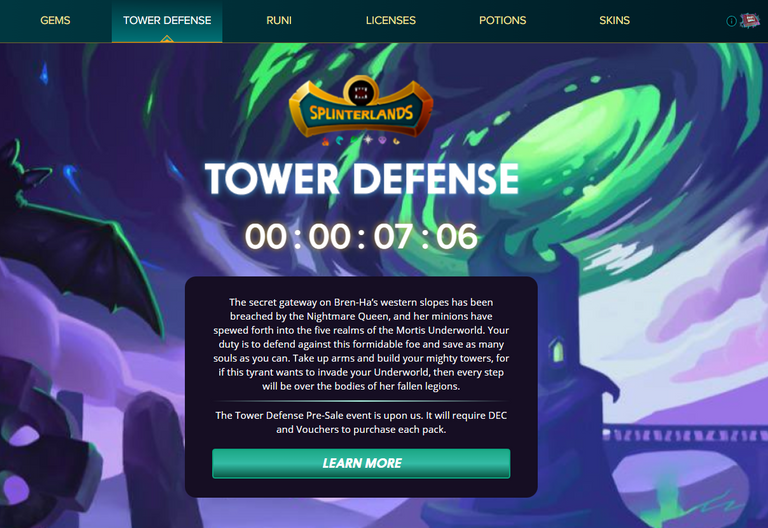 On another note, finally today the long awaited Splinterlands Tower Defence game pack pre sale will go live just a few minutes after. There will be a total of 250k packs available for the pre-sale. For every TD pack, the buyer would have to spend 5000 dec + 1 voucher and also 1 vouchers for every bonus pack he is getting. To get the guaranteed Hero character in the game, one must minimum 500 packs. All the best for those who are preparing or waiting for the upcoming sale and I hope the sale brings out similar result to what we just saw with the riftwatchers pre-sale.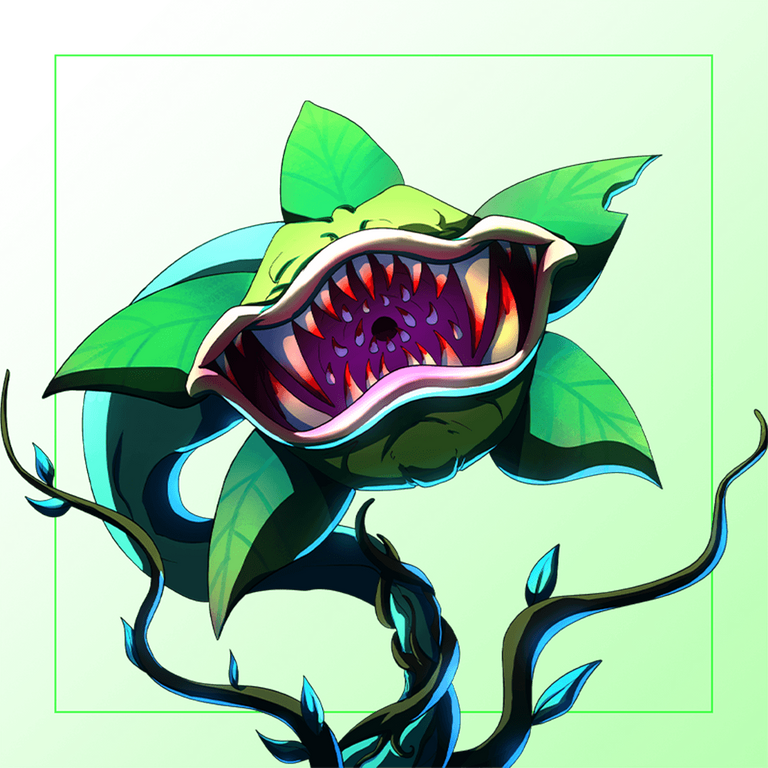 VAMPIRIC BLOSSOM
This is a Rare type Ranged monster that falls under the Reward edition. This monster belongs to the Earth unit and it needs 5 mana to join any battle. This monster also has 2 ranged attack at 2 speed and 5 health along with Oppress, Deathblow and Immunity ability on the beginning stage.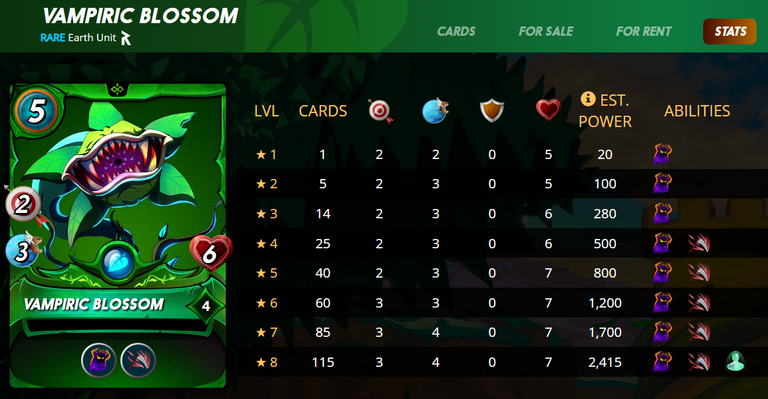 BRONZE
On this tier of upgradation, this monster has 2 ranged attack at 3 speed and 5 health along with the Oppress ability. The oppress ability in bronze tier makes this monster a good choice to kill down attack less defensive monsters faster.
SILVER
This Monster needs a total of 25 cards to reach into this stage of upgradation. On this stage, this monster increases it's health from 5 to 6 with 2 ranged attack at 3 speed along with the Oppress and Deathblow ability. The deathblow ability will be useful in certain matches where your opponent is having one one active monster on battle.
GOLD
This Monster needs a total of 60 Rare cards to reach in the gold tier. On this stage, this monster increases it's health 6 to 7 and it's Ranged power from 2 to 3 and 3 speed along with Oppress and Deathblow ability. The increased overall stat buff will surely help it to kill down enemy cards faster.
DIAMOND / CHAMP
This monster needs a total of 115 cards to reach into this final stage of upgradation. On this max stage, this monster equips another ability of Immunity along with Oppress and Deathblow ability along with 3 ranged attack at 4 speed and 7 health. The high range attack with good amount of health makes it a good choice even for bug mana limit matches.
MOST IMPORTANT POINTS ABOUT VAMPIRIC BLOSSOM
It's a mid-mana range monster and can be easily used in medium to high mana limit Battles.
This monster has 3 abilities with itself as below..
OPPRESS :- Using this ability, this monster does double damage when Attacking an enemy that has no attacks.
DEATHBLOW :- This monster does 2× Damage if their target is the only Monster left on the enemy team.
IMMUNITY :- This monster is immune to all negative status effects.
This monster also has a huge health box to defend itself from attackers and it will stay alive longer and down also consume multiple attacks before going down which makes it a reliable choice for attack.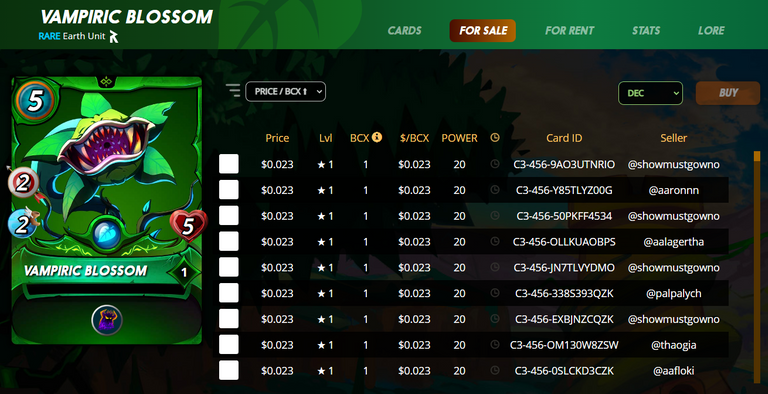 MARKET STATS
This rare edition ranged monster's current price is around $0.023/bcx and the max level of this card is around $2.75 only. On the other side, the gold foil monster price is around $1.15 for level 2 monster and around $30 for full gold foil pack.
Battle Line-up
---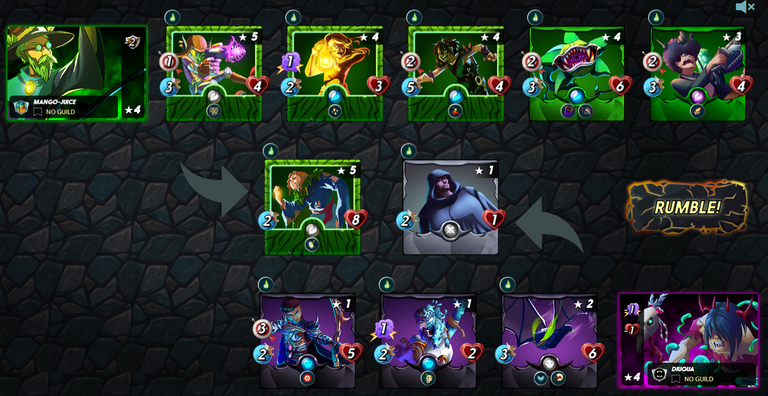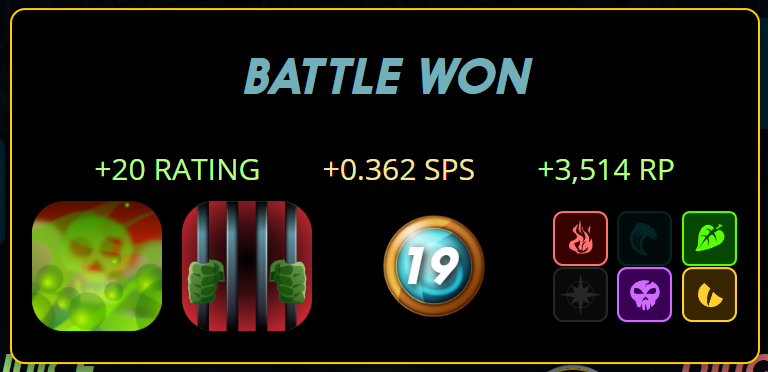 ---
mana Cap: 19
Splinters allowed: Fire, Earth, Death and Dragon.
Ruleset:
Noxious Fumes - Every monster get poisoned in the beginning of this battle.
No Melee - No melee monsters can be used in this battle.
---
---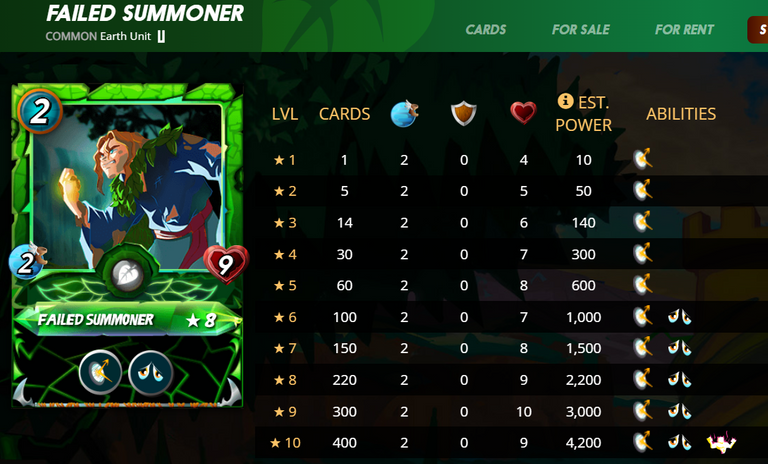 FAILED SUMMONER
On the very first position of my lineup, I placed this non-attacker defensive monster which needs only 2 mana to be used in battle and has 2 speed and 8 health along with magic reflect ability.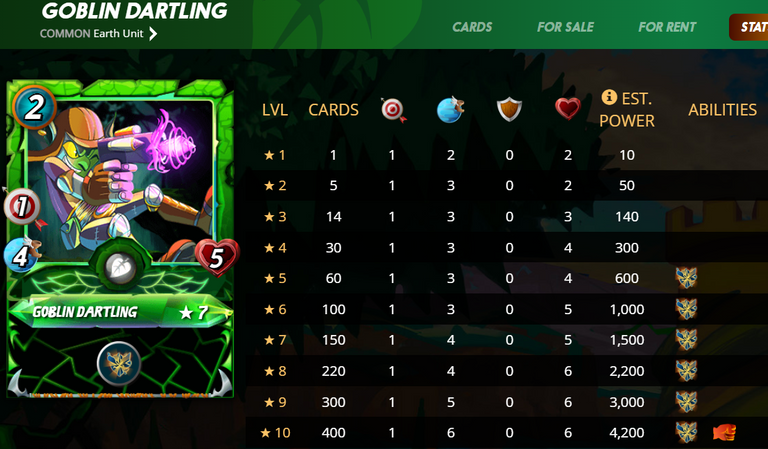 GOBLIN DARTLING
On the second place, I placed this decent looking Ranged attack monster which has 1 ranged attack power at 3 speed and 4 health along with Shatter ability. The shatter ability will break any shield onto the enemy its attacking.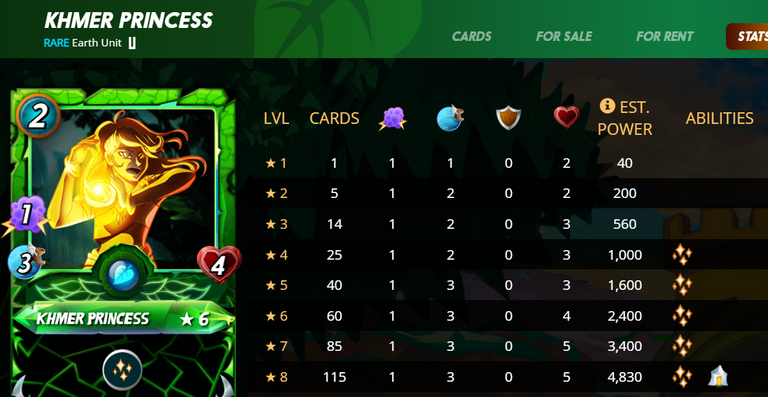 KHMER PRINCESS
On the third position, I placed this legendary magic monster. This monster has 1 magic attack at 2 speed and 3 health along with the Tank heal ability which will heal my failed card and help him stay alive for longer in this battle.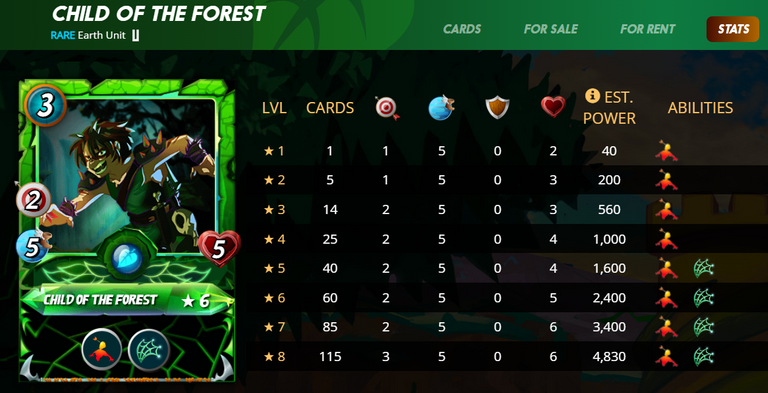 CHILD OF THE FOREST
I placed this awesome Ranged monster On the fourth position in my lineup mainly because of it's high power sniper attack. This monster has 2 ranged attack at 5 speed and 4 health along with the Snipe ability.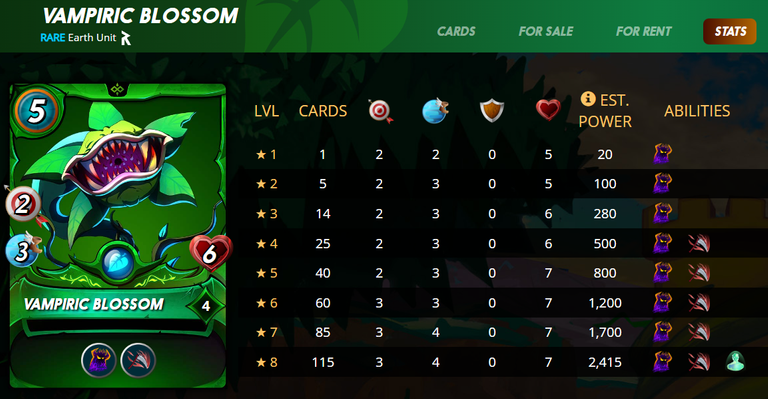 VAMPIRIC BLOSSOM
On the Fifth position of my lineup, I placed my Main Ranged + defensive monster to keep it protected for longer time. As I have already discussed about this card, let's move forward.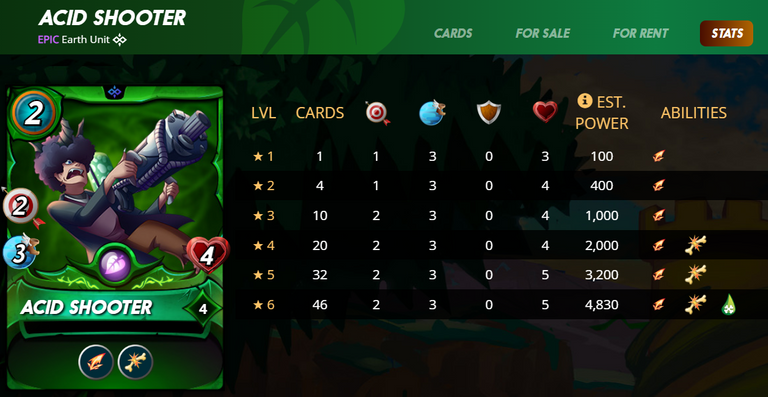 ACID SHOOTER
On the very last position of this lineup, I placed this deadly mini Ranged monster. This monster has 2 ranged attack at 3 speed and 4 health along with Scattershot which will randomly hit any enemy monster per round.
BATTLE BEGINS
ROUND 1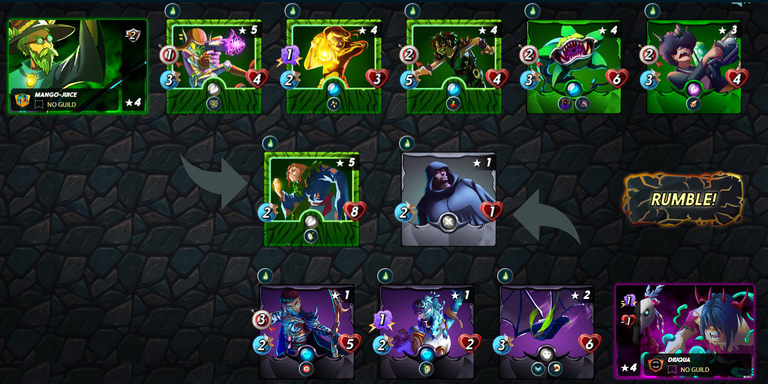 On the very first round, when all the monsters on both side got all their abilities and disabilities applied, my Child of the forest attacked first and Damaged the enemy Riftwing monster. After that, my Acid Shooter damaged the Enemy Riftwing and my Main monster Vampiric Blossom destroyed the enemy monster Chaos Agent. Next, My Goblin Dartling missed it's attack towards the enemy Riftwing monster and my Khmer princess damaged enemy Riftwing monster. Then, Enemy monster Life sapper damaged my non-attacker Failed summoner and got return damaged, followed by the Enemy Dhampir monster which then damaged my Failed summoner and the first round ended here.
ROUND 2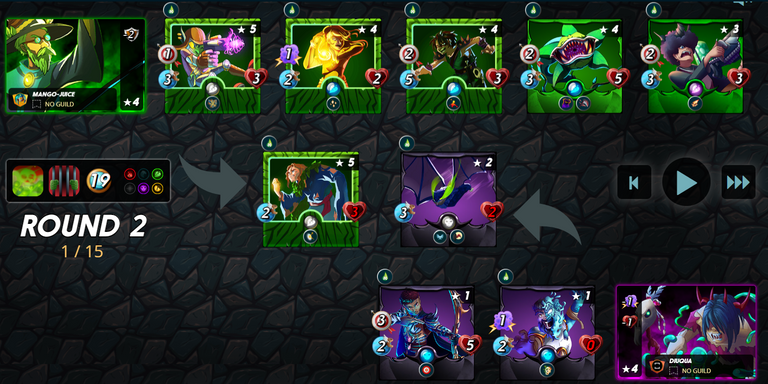 As the round round begins and After Poison effect completed, on the enemy side, all the affected monsters lost their health and died in the battle expect his Dhampir ranged monster. And on the other side, I loose only Khmer princess because of Poison. After that, my Acid Shooter and Main monster Vampiric Blossom attacked together back to back and finally destroyed the enemy last monster Dhampir monster and thus I win another ranked match again.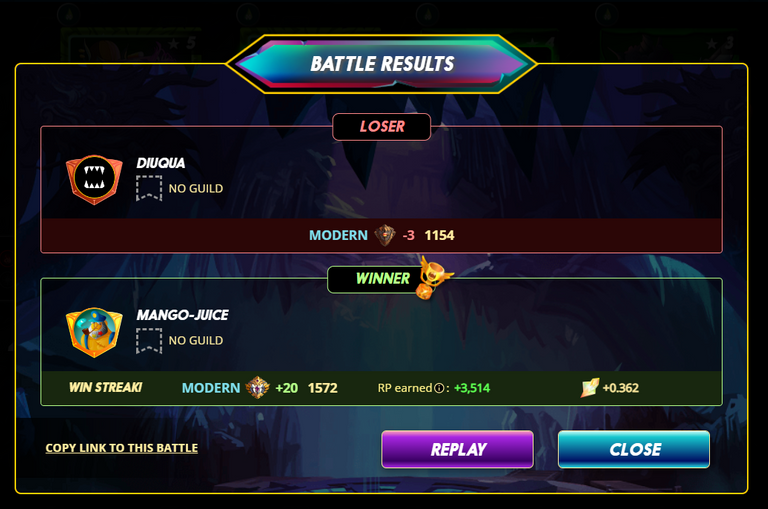 As you can see from the battle above, in spite of being a rare reward card which is very cheap on market, it really performed well in the battlefield and helped me achieved another sweet win. I also liked it's Oppress ability because in this match, both of us players would have to use an attack less card at the front and this monster does 2x damage to attack less cards. So overall, I think this monster carries a good value and is worth of having in your collection. Do you also like this monster as your battle companion or you choose others over it? Let me know in the comments below and I will be seeing you all in my next post.
---
---
Wish you all good luck on all of your future Splinterlands matches.
Thanks for visiting my post. Please come again!
Stay well and keep playing Splinterlands.
Want to start playing splinterlands? Click here
Posted Using LeoFinance Beta
---
---