Tusk the Wide - This monster is very useful in some cases!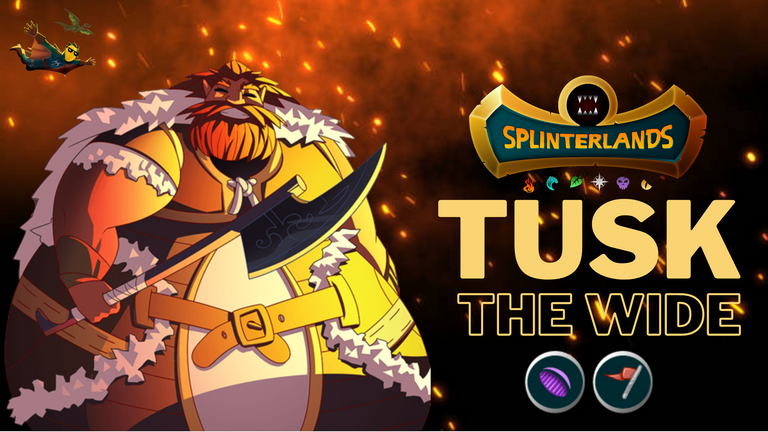 Hello Friends!
I hope all of you have enjoyed a splendid weekend with your friends and loved ones. But hope this weekend didn't snatch away your time from playing the most popular blockchain NFT game of crypto, Splinterlands! The new season has already started and only 9 days left for this current one to end. So the clock is ticking and we have to work fast.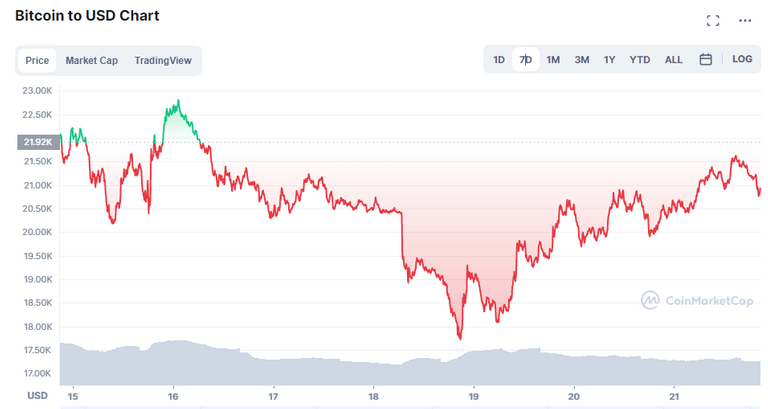 But first of all, let's take a quick peak at the current crypto market get ourselves updated with the current prices. The main dominator BTC is seems to recovering from it's recent lowest price point below 18,000$ and currently being sold for 20,864$ per unit with a +5.71% price change in last 24 hours. The ETH is also following this new uptrend with a +4.1% price rise in last 24 hours and currently being traded for 1.124$ per unit. Our hive is also doing pretty well with a whooping +9.3% pump in last 1 day and right now selling for 0.403$ per unit.
TUSK THE WIDE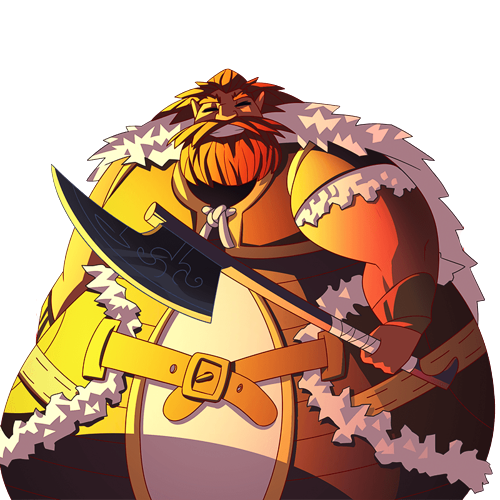 As you guys already have seen in my thumbnail picture, today I have chosen Tusk The Wide as my feature monster fir today's post. Tusk is an epic type monster Which belongs to the fire unit. It first got released into splinterlands with the latest chaos Legion edition. This monster needs six mana to join any battle. Since its beginning, it carries high health but only with 1 speed - along with Void Ability which will reduce damaged from magic attackers.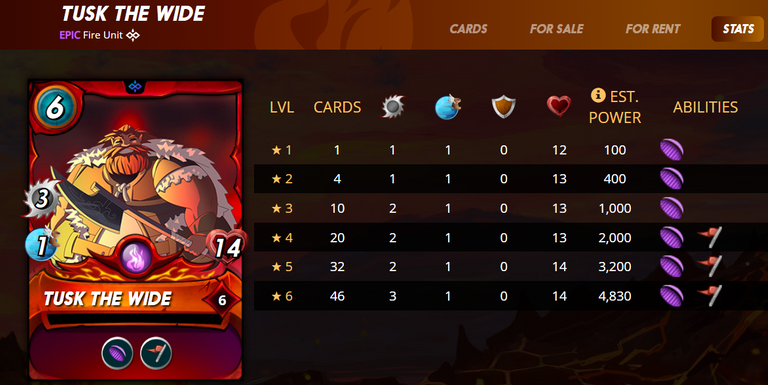 Let us now take a deeper look into into its card and find out it's stats and abilities tier-wise.
BRONZE
At level 2, this monster updates itself to 13 Health along with 1 Melee and 1 speed.
And also gets the Void ability since it's beginning stage. At this level., this monster carries Health that is enough to protect itself from enemy attackers expect magic attackers.
SILVER
After bronze stage, this is the next tier and at this stage, this monster upgrades itself from level 2 to 3 and in this level monster increases the melee from 1 to 2 but the other stuffs stay the same. At this stage monster has the more power to damage opponent's monster.
GOLD
This is the third tier of this monster upgradation and at this level which is 5, this monster Equips another Ability Inspire that Helps to gave extra 1 melee attack to all friendly melee monsters. But Wait a minute as this is not the end, because at this level, this monster also increases its health again to 14, That means on this stage, this monster not only stay protected by using its large amount of health, but also gains 1 attack by the help of its Inspire Ability.
DIAMOND/CHAMP
At the maximum tier, or I would say it's maximum level of upgradation journey closed at the level 6 and on this maximum level monster gains another melee power from 2 to 3.
IMPORTANT POINTS ABOUT TUSK THE WIDE
First of all, Though the monster needs 6 mana to join battle but it also possesses a huge amount of health along with Void ability which will help you playing it as a good defence at the front position.
The second good point of this monster is that thou it's 1 speed will disable him attacking fast in normal matches, it sill become super useful and will attack the first at reverse speed ruleset matches.
The last and Most loveable point is that this monster boosts your all friendly monster's melee attack with Inspire ability so I try to use him with reach, opportunity or sneak monster with it.
MARKET STAT
This monster stands on a value of 0.89$ per BCX And will cost you approx. 1,237.2 dec per unit and increasing. If you insist, you may buy some high level available on the marketplace right now as well.
Battle Line-up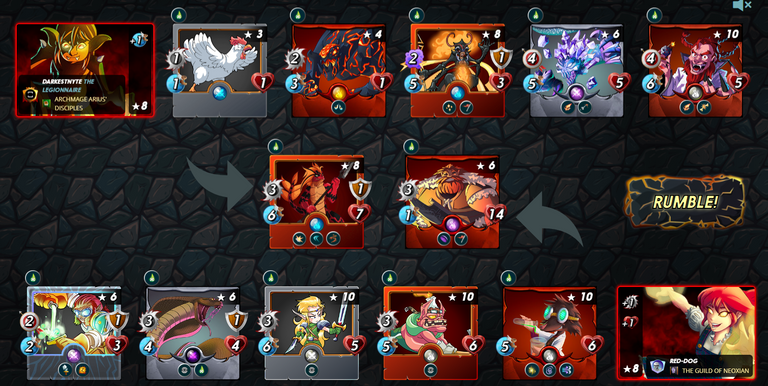 mana Cap: 22
Splinters allowed: Fire, Life and Dragon.
Ruleset:
Noxious Fumes - All monster start battling with getting poisoned in this battle.
---
---
TUSK THE WIDE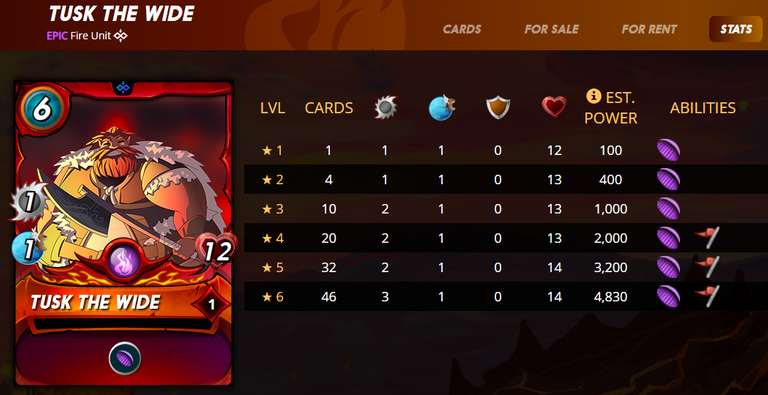 As I already wrote about this monster above, I am using it as my front defence card. I am using a max level monster so it has 3 melee attack at 1 speed with 14 health which helps me in this battle.
SCAVO CHEMIST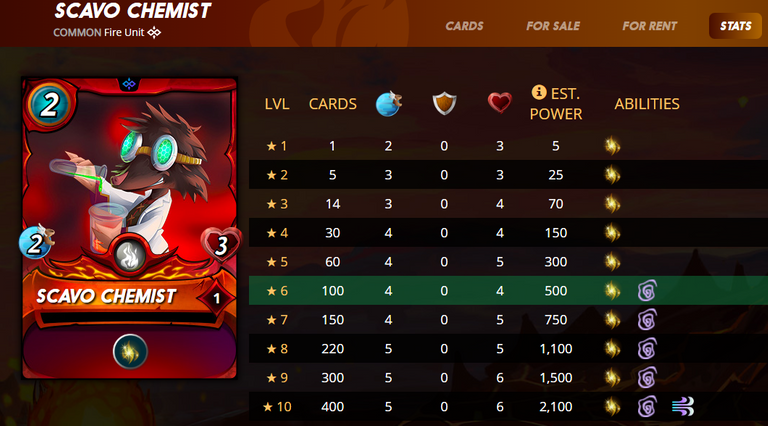 At the second position, I placed this monster and it has 3 Epic abilities which are Cleanse, Slow and Headwinds.
KOBOLD MINER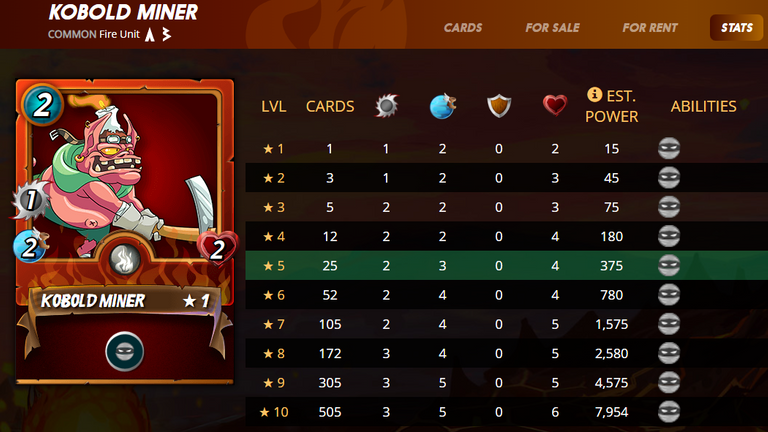 At the third position, I placed this sneaky monster and it has 3 melee attack and five speed with six health.
ELVEN CUTTHROAT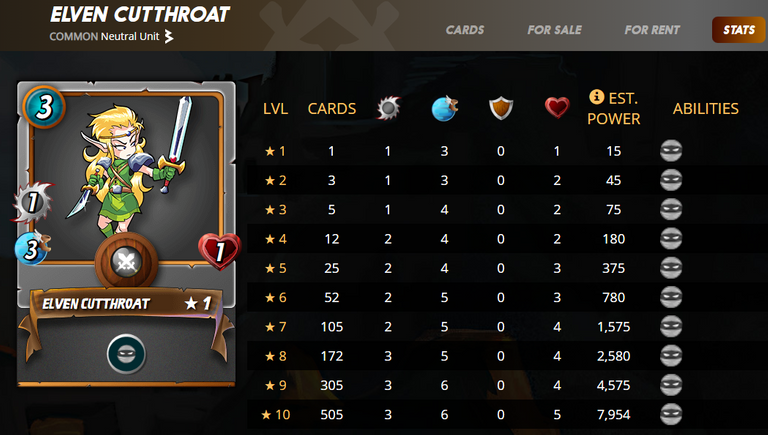 At the fourth position, I placed this monster and it needs only 3 mana to join the battle and has 3 melee attack, six speed and five health along with the sneak ability.
URAEUS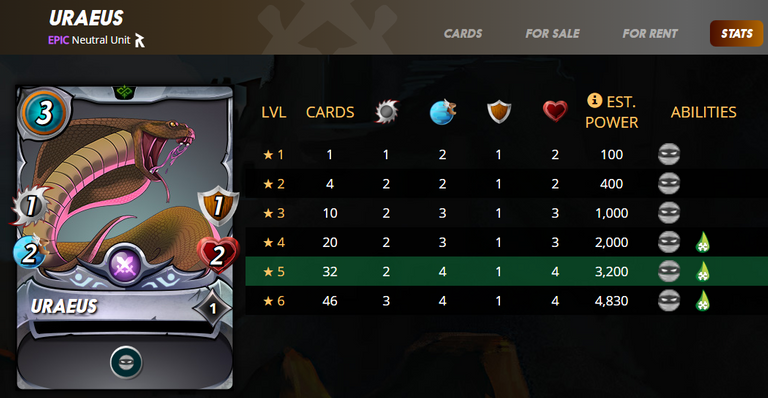 At the Fifth position, I placed this epic Reward monster which costed only 3 mana and has 3 melee attack, four speed, one shield and 4 health along with poison and sneak ability.
HALFLING ALCHEMIST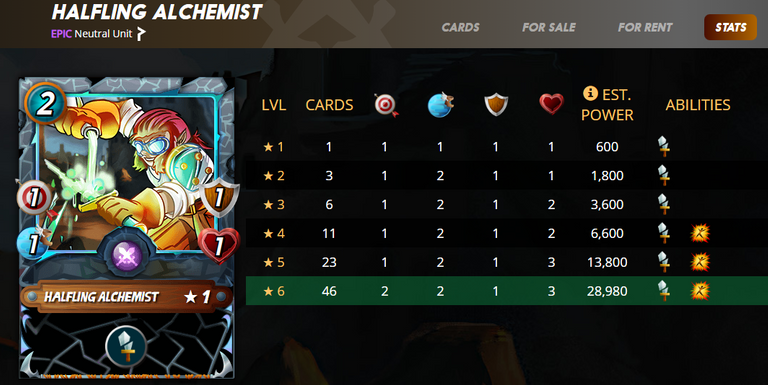 At the last position, I placed this monster for only has 2 mana cost. It possesses 2 range attack, 1 shield, 3 health and 2 speed. This monster also has Halving and redemption ability with itself which really helps to weak the enemies.
BATTLE BEGINS
In this battle, me and my opponent both choose fire summoner but I choose Tersa while my opponent went for the pyre summoner for him. As the opponent's deck, he/she choose Serpentine Soldier as the front defence, followed by furious chicken,Scorch Fiend, Beetle Queen, Gem Meteor and Blood Maker at the last position.
ROUND 1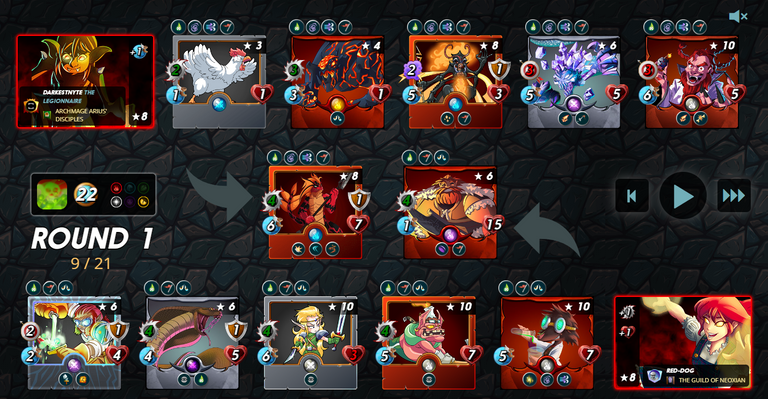 At the very first round after all the monsters got all their abilities and buffs/ debuffs on themselves, the First attack came from Blood Maker to my Elven monster, and opponent serpentine also damaged my main monster. On the other side, my Elven damaged opponent Blood maker and it had only 1 health remaining. After that, opponent Beetle and Meteor Gem damaged my First position defending main monster. At the last moment of this round, my Halfling monster destroyed the front enemy shield and the round ended here.
ROUND 2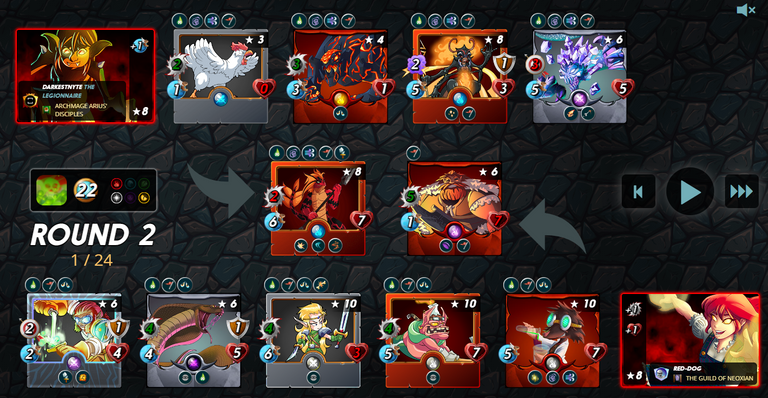 At this round, my opponent loose his/her two monster because of poison effect and on the enemy team, there were only 3 monster left now. After getting damaged from enemy monsters, my Elven destroyed enemy Gem Meteor. After that, the front monster recover the damaged health and the other monster damaged my Main monster. On the other side, my Kobold and Uraeus destroyed enemy Beetle Queen.
ROUND 3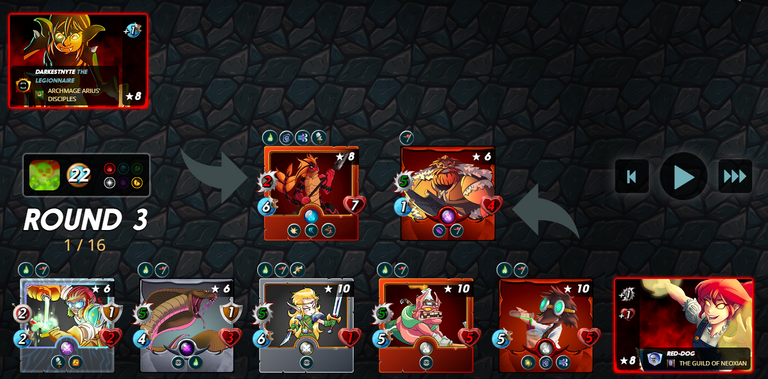 On this level, two of my monsters were destroyed by poison effect and also damaged the front enemy who had only 5 health remaining. After getting damaged from enemy my both Kobold And Uraeus tried to damage that monster but got missed on the other-side. my Tusk monster damage this time to the enemy and also destroyed by it thorns ability while the enemy monster had only 2 health left.
ROUND 4
On this last level, my Uraeus monster got destroyed by poison effect and on the other side, the enemy monster Serpentine Soldier also got destroyed by the same poison effect and I won the match without hitting a single damage in this round.
Well, it was a great match with poison and these types of matches don't go go long in general. I chose the Scavo Chemist to cleanse the Tusk from the poison. As the tusk already carries a lot of health and without the poison, chances are that he will live longer while other get 2 damage every round. but thanks to my Sneak gang who really helped me clearing the enemy cards one by one and thus making the enemy lineup weaker.
---
Wish you all good luck on all of your future Splinterlands matches.
Thanks for visiting my post.
Stay well and keep playing Splinterlands.
Want to start playing splinterlands? Click here
Posted Using LeoFinance Beta
---
---