SHARE YOUR BATTLE Weekly Challenge! TENYII STRIKER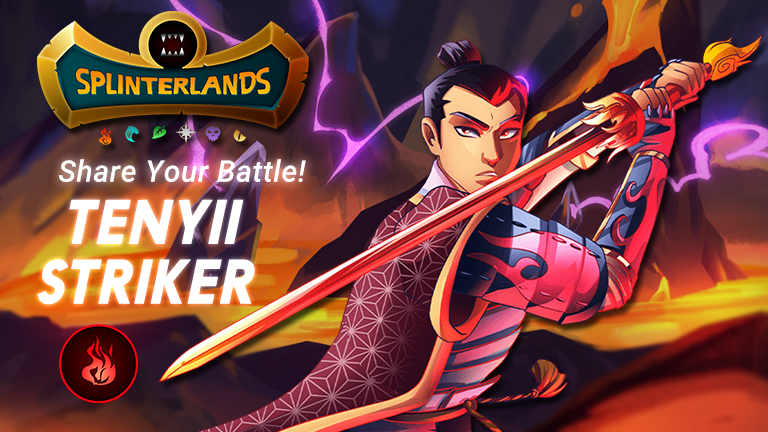 Hasnain is here. Everyone loves sneak cards because they attack in the last and sometime they wanted to maximize their attack so they trying different summoners. Honestly speaking I am not the owner of this card because I am still growing in this platform and soon I will have some decent cards here. know it's not easy but I am trying my best to do. Thank you team for organizing this special challenge for us. Tenyll is great monster and I use it in every battle of fire because it is like main card of fire series. I am really excited to write about the monster that I used most of the time. By the way I don't want to bother you more, let's get started the battle post...
Team setup with VENARI SPELLSMITH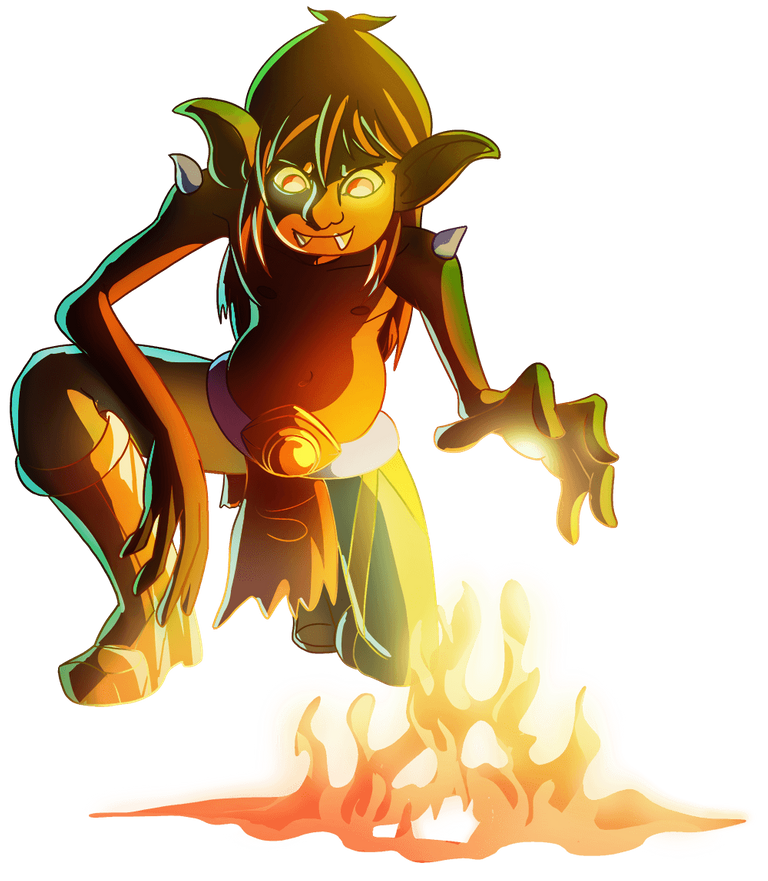 Greatest summoner because it adds +1speed to every friendly monster also it has less mana than tarsa so better to use it instead of tarsa but tarsa has it's own value and pyre has it's own value so let's not compare them.
FIRST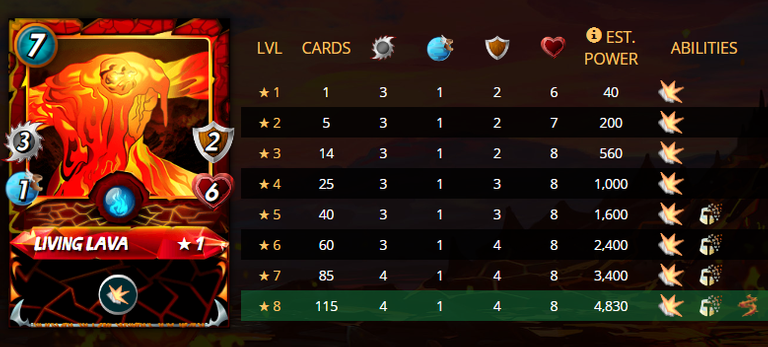 Stats are great but this one is very expensive so it is almost impossible to level up this specific card for me even renting is expensive because this specific card has very good value in the market and gameplay also and that is the reason that I prefer to use it front instead of other cards. Shield ability is great to protect from melee and ranged attack. Only negative point is it has low speed.
---
SECOND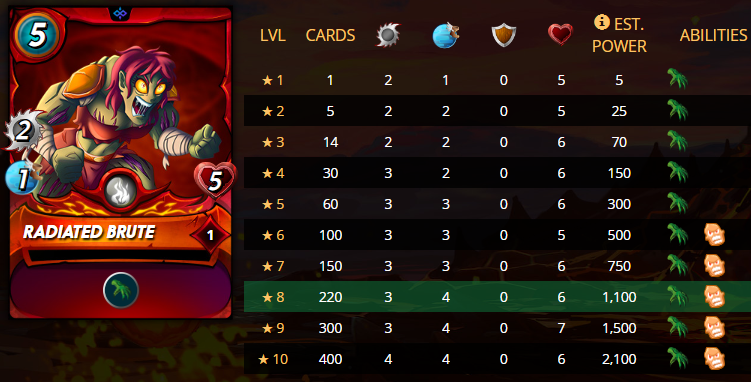 Reach ability so you can't use it in other position otherwise it will becomes a useless card. So if you want that this monster will not become a useless then use it in second position. It has two attacks which is really great and one of the best monster to use it in second along with this it has 5 lives so it's not easily beatable.
---
THIRD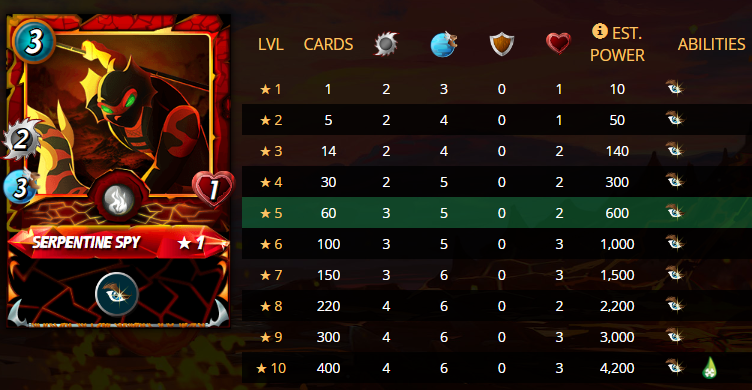 Powerful cards comes with low mana cap such as healing card and if you want to kill low mana cards fist then the opportunity ability card is the greater option for you and when it comes to opportunity card then serpentine spy is the one of the major cards. You can level it up for more solid power.
---
FOURTH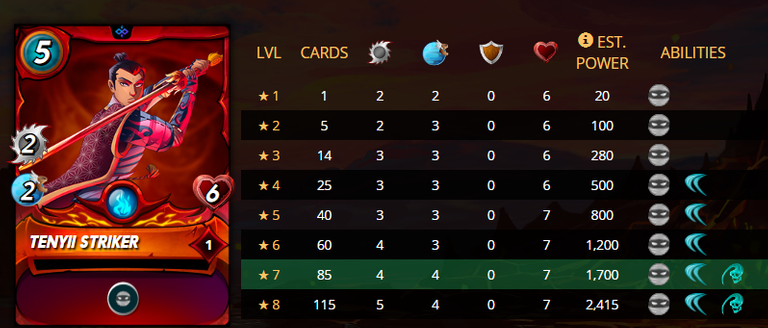 Tenyll striker is the featured card of this battle. This is my favr8 sneak attack card in the fire because of higher attacks and higher mana. This particular monster is the decent monster in terms of mas attacking on the enemy. And because it is new card and still in print, it is cheap than others. You can't ignore it when you are playing with fire splinters. That's why placed it fourth.
---
FIFTH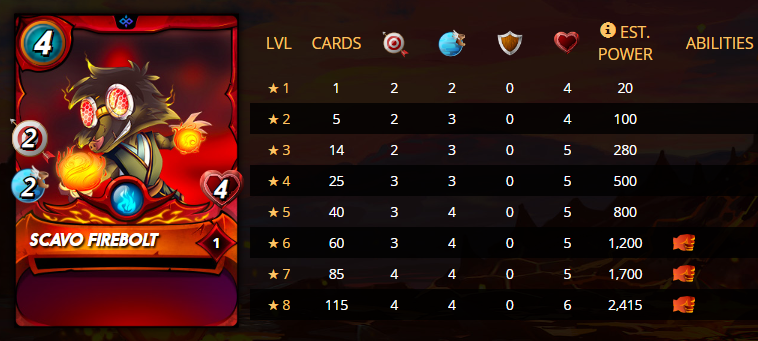 Just 4 mana left so I was not have any other option though I have taken the SCAVO FIREBOLT. This is the better alternative and in just 4 mana I am getting 2 attack so that's not a bad thing instead it is perfect. You can suggest me your choice for 4 mana cap last position. May be you can have better options for me.
Battle against fire splinter
Below is link and above is video so whatever you prefer just click and enjoy. This specific battle is the featured battle of this week. First I thought that I will not win this battle because I already lost 3 battles with the same team but thanks that the battle you are seeing is the winning battle.
The battle - https://splinterlands.com?p=battle&id=sl_30777f44c4a412bc93c897150e96c02f&ref=maniyarhasnain
Round 1 : Opponent's serpentine spy killed Serpentine spy and My tenyll striker killed spark pixies.
Round 2 : My tenyll striker killed fire elemental then enemy's living lava killed my living lava monster.
Round 3 : My scavo firebolt killed living lava and my tenyll striker killed serpentine spy then I lost radiated brute by kobold bruiser's attack
Round 4 : My tenyll striker killed kobold bruiser and then my scavo firebolt killed goblin fireballer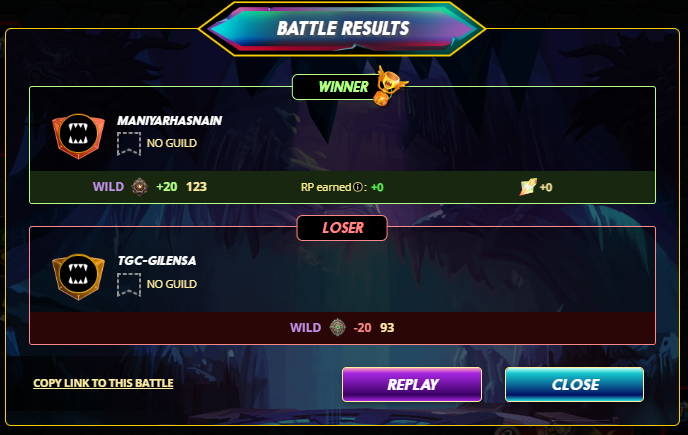 Did your strategy work? What will you try differently next time?
Glad to say that my strategy worked very fine and even if tenyll striker is not featured card, I would have taken this monster because I like it. Next time in fire splinter I would love to try only opportunity cards in the battle and I don't have magic attack cards otherwise I will try them too.
Do you like TENYII STRIKER? Why or why not?
As I told above this is my favorite card in sneak cards. Because of high health and high attack this specific monster is the favorite monster of many users including me. My first favorite monster is sand worm but it is now out of prints but tenyll striker is still available so whenever the supply will end, this monster will boom. It's time to gather more tenyl strikers and save them. Anyway now it is your turn guys, What should I change in my team next time? what is your recommendation, I would like to know about that so must share your view point.
_________________________________________________________
My Splinterlands ref link | My twitter profile link | My discord : Maniyaar hasu#5269
_________________________________________________________
---
---