Nearly WON and ...the Game broke xE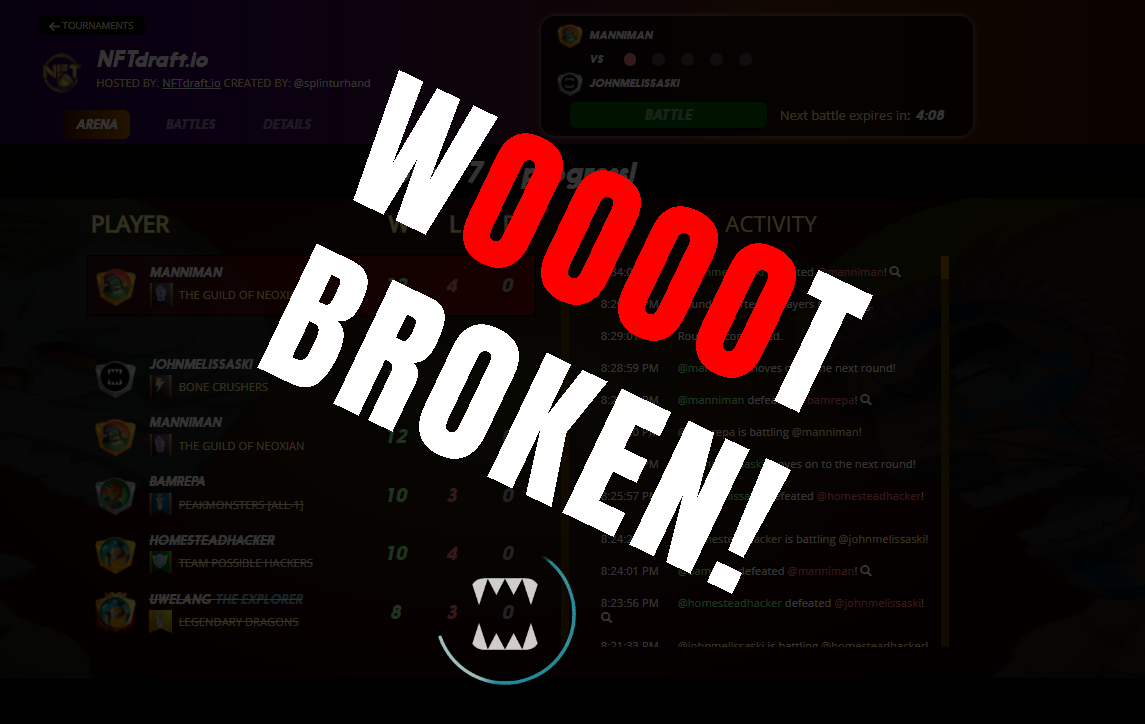 Some Tournaments
I've played a few Splinterlands Tournaments lately, every now and then I try to enter spontainious. It's not like I really believe to have a shot at winning in the end. I just like to have some matches from time to time, while competing for a small amount of DEC. That way I can keep myself improving, playing these tournaments makes me mostly earn further game knowledge and a deeper understanding of all the cards and effects. At 'Ranked' ladder, people are just building good teams or whatever their active Quest requires them to play. That is very different in tournaments, contestants try to out-counter each other all the time, it's really fun to play competitive Splinterlands.
My collection's Power level is currently 403035, which enables me to play all Diamond Leagues for ladder ranking. The actual cards in detail are rather fitting for good Gold League competition, while the fierce competition around tournaments does degrade me to the silver level, speaking out of my personal experiences of course - you might be better :))
Solid second place incoming!
Checking the Event list around 5 pm, I found 3 upcoming tournaments that looked interesting to me. One of them being the NFTdraft.io by @splinturhand.
silver level cap
all edition cards allowed
starting in 150Min
DEC prices and entry fee
have additional NFT prices on WAX
---
As soon as the games started, I checked the competition and saw @uwelang, #feelsBatman - to me at that point the clear winner already. The games started and I have to say, a lot of extremely close calls went in my favor and pulled me through the early rounds. Let's just not call it luck, because it's a game and having a fair amount of luck is always part of the plan :P
Meanwhile, Uwe made his way up the grind himself and we would have met in the Top 4, when suddenly he lost? Did he lose or go afk,... checking.. no HE LOST? That meant I had a good chance to win this now. It could be my first tournament win ever! Only two more Battles to win now, I felt great!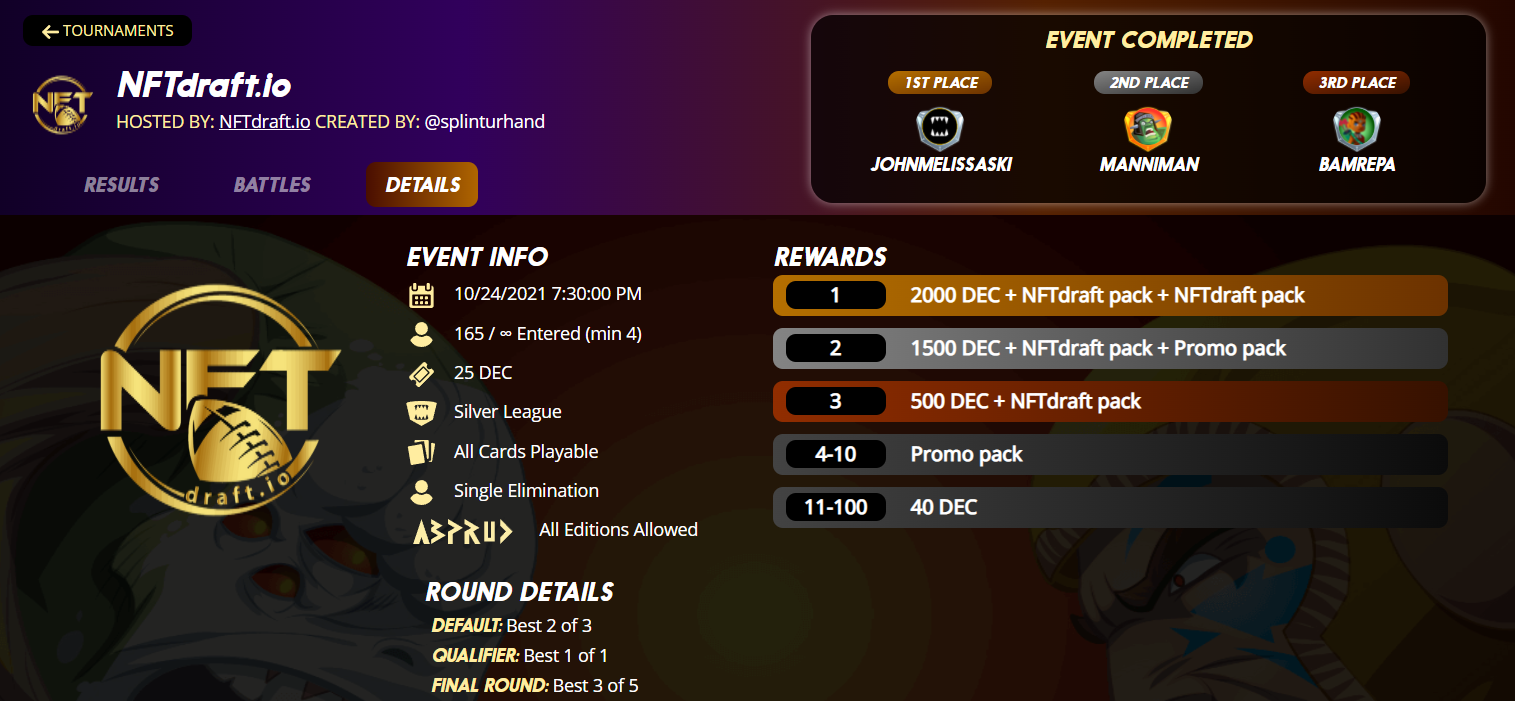 Following that discovery, I was able to win over @bamrepa with a decisive 3:0 in the Semifinals and proceeded into the final round. Fantastic, my energy level was great, I'll win this.
Little did I know..
when the final round started, my brave tab would just not finish refreshing. I could see the matchmaking time ticking down, while the page kept being foggy and the loading sign would not disappear... How did that just happen? Why? I waited a minute, refresh, reloaded... closed the tab, closed the browser... Nothing worked. Jeez, that's too bad.
Around five minutes after this problem occurred, the Splinterlands page finished loading finally. At that point, I was 0:1 behind and the time ticker for the second match was close to 0 -_-#
Well, I didn't turn it around and also lost the third match fair and square.
GG @Johnmelissaski, we'll meet again some other day.
Just wanted to share this with you guys out there, maybe it wasn't just me having these types of problems, but maybe it was just me. Can't really tell at this point, cheers.
---
---