We add DEC rewards in NGR Fun Fair event!
NFT Gaming Rewards Event update

NFT Gaming Rewards is discord server where we organize plenty events and giveaways rewarding participants with NFT or cryptocurrency. If you want to join us click here
---
What's new?
After long discussion and brainstorming we decided that our event is too popular to just card rewards. Many people are grinding coins taking part in events or gambling reaching incredible amounts so we want to reward them even more! After first week of playing ladderboard looks like this: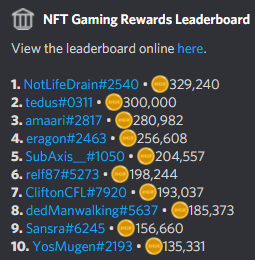 From 1000 starting amount of coins or 5000 when it comes to diamond members top 2 people manage to reach over 300,000 coins so far that is amazing achievement.
---
Changes
So let's go back to changes. First the most important in my opinion is cutting in half passing income for Diamond members. 3000 coins every 3 hours was to much boost to ignore it specially with early stage of event so we decided to cut it in half. Being Diamond member shouldn't be automatic win in our opinion but it should grant few more opportunities so for those we have exclusive events that have cards as rewards if you want to join that circle it will cost 50 million FISH currency, if you want to read more about our meme coin read this article
We are adding scheduled events in second part of the event. No worries random events will still appear during day so stay tuned for them, but we are making 2 main events that will occur everyday in the same hours to give same opportunity for everyone. Rewards from those will be far greater than from random events during day. Events will be hosted:
UTC +8
UTC - 8
What will cover both sides of the globe.
The highlight of the show dec in rewards. So we decide to make 6 steps for every one to earn our loved dark energy crystals. Players who holds the following amount of coins by the end of this season will get the following:
2 million coins and above - 1k dec + 50 million fish coins
1 million coins - 500 dec+30 million fish coins
500, 000 coins - 100dec+10 million fish coins
300,000 coins - 50 dec+5 million fish coins
100,000 coins - 25 dec+ 1 million fish coins
20,000 coins - 10 dec
Players can only get which ever is the highest reward they are eligible. It is not to late for you to join the fun sometimes it will take just one good gamble to change tables. Good example is here: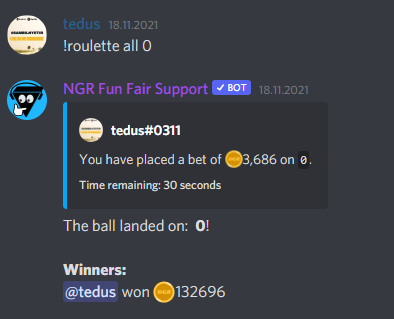 If the luck is on your side and you will take a risk putting 10k in roulette gives you 360k of winning thats automatically 1st place right now! So just come and join the fun our community is really kind and open and those shiny DEC are waiting for you.
---
Rising Star Game
We created section in our discord about this amazing free to play NFT game where build your music career from scratch and earn real money as you do! We are planning to host events and giveaways if you don't play that game yet and you want to join it click this link. There will soon be some juicy NFT's and starbits to win for everyone and for sure we will add those rewards into NGR Fun Fair Event in future.
---
---