[EN/PT] The god of the seven seas
Hello Splinterlands community. How are you?
My Name is Marcos and I will be starting post here on Peakd platform aimed at Nft games.
My focus will be on Splinterlands, as it's what I'm playing the most at the moment, although I'm a very beginner lol.
In this first post, I'm going to talk about an overwhelming card I won this season finale which was Djinn Oshannus.
With him in hand I knew I couldn't make a combo, so I went looking for one of the best rare cards from this new pack to match him which was Venari Wavesmith.
Below I show the combo I used in a battle: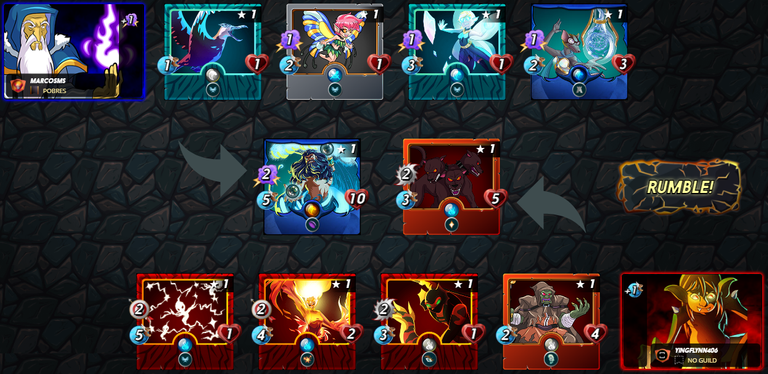 With the Venari Wavesmith skill buff of +2 in defense, it made the Djinn Oshannus able to hold back many attacks, giving time for the other cards to finish off the enemy !!
But of course each deck has its disadvantages and in this battle I show one of these disadvantages: (note: it wasn't ranked it was a test with a friend)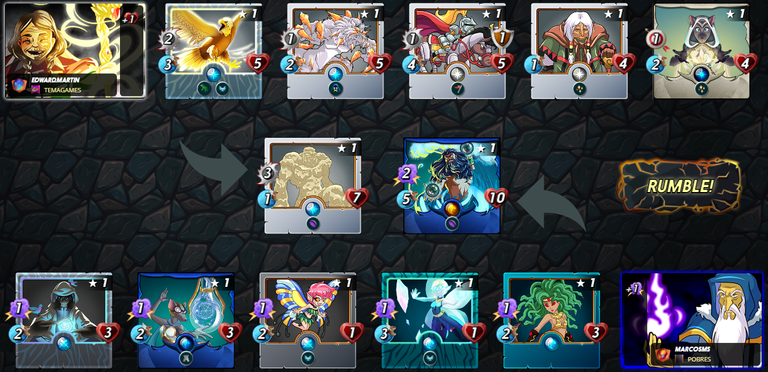 In Replay, the deck's disadvantage is evident when removing the +1 magical attack buff provided by Alric and together with a monster with the void ability makes the entire team behind Djinn Oshannus be unusable, and even with Djinn Oshannus managing to deal damage, the opponent's healing cards make the tank's health always return to normal health.
sorry case have error orthographic, i use google translator.

Olá comunidade Splinterlands. Como vai?
Meu Nome é Marcos e estarei iniciando post aqui na plataforma Peakd voltado para jogos Nft.
Meu foco será no Splinterlands, pois é o que estou mais jogando atualmente, apesar que sou bem iniciante rs.
Nesse primeiro Post Irei falar sobre uma carta avassaladora que ganhei nesse final de Season que foi o Djinn Oshannus.
Com ele em mãos eu sabia que não conseguiria fazer um combo, então fui atrás de uma das melhores cartas raras desse novo pack para combinar com ele que foi o Venari Wavesmith.
Abaixo mostro o combo que eu utilizei em uma batalha: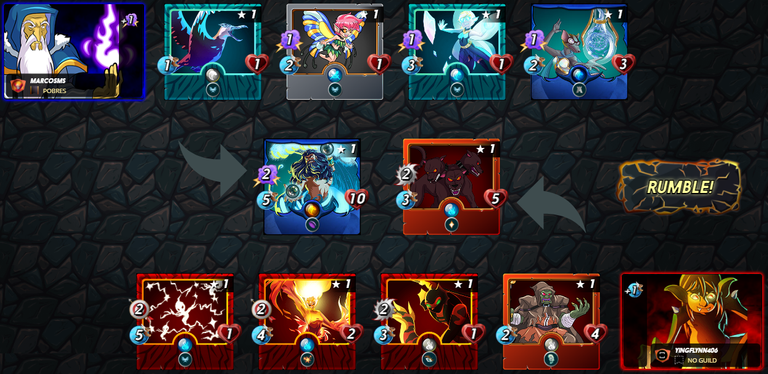 Com o buff da habilidade do Venari Wavesmith, de +2 na defesa, fez com que o Djinn Oshannus conseguisse segurar muitos ataques, dando tempo para que as outras cartas conseguissem acabar com o inimigo!!
Mas é claro que cada baralho tem suas desvantagens e nesse batalha mostro uma dessas desvantagens:(obs: não estava na ranked,foi um teste com um amigo)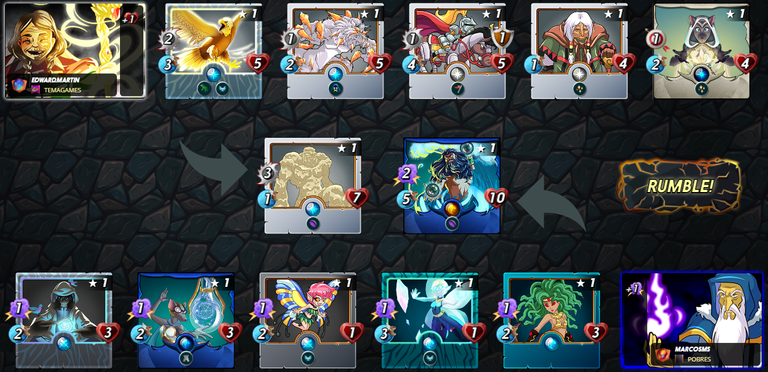 No Replay a desvantagem do deck fica evidente ao ser retirado o buff de +1 de ataque mágico proporcionado pelo Alric e juntamente com um monstro com a habilidade void faz com que toda a equipe atrás do Djinn Oshannus seja inutilizável, e mesmo com o Djinn Oshannus conseguindo causar dano, as cartas de cura do adversário fazem com que a vida do tank volte sempre à vida normal.

---
---