Splinterlands Pick Your Chaos Legion Prediction! What to expect...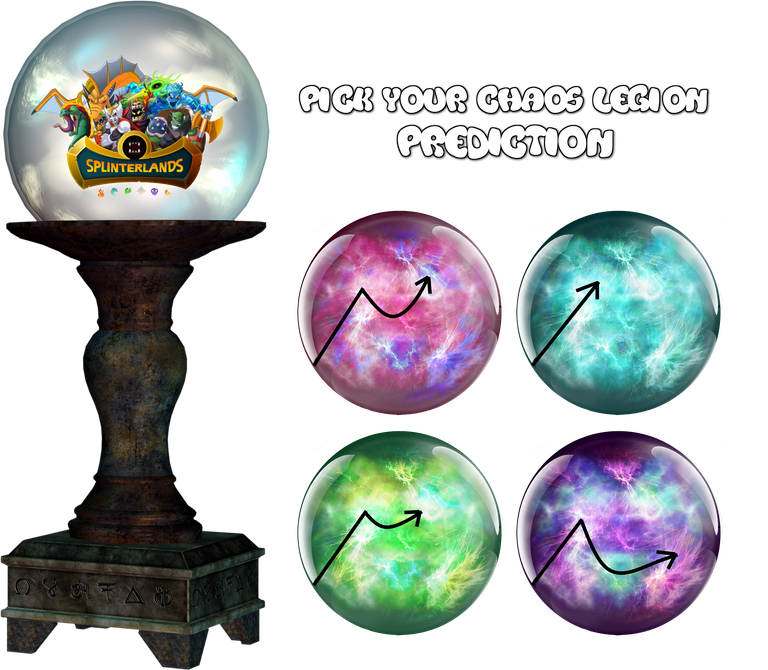 Come grab some Free DEC at 3pm Central Daily and tell me your prediction!
History usually repeats itself. My prediction is that prices will rise as the rich buy the cards they need (this group of people doesn't really care much about price). Supply will continue to come in and I think we will see a dip in price that will eventually head back in the upward direction in respect to long term use case of game play and collectibles. I really want to touch on why the dip here is really a healthy sign.
The Aqua Green Ball Graph:
If demand increases so rapidly (a huge player base surge) that there is no price retraction it's great, but interestingly, I don't think that is what Splinterlands is shooting for.
If the packs sell out way faster than anticipated then this means Splinterlands could have charged more for their packs. This is a big deal for game economy strength and company. Splinterlands has a staff to pay and it needs to bring in dec and sps to itself to protect it's value.
https://i.ibb.co/wJYFpp9/sldivider.webp
What I think will happen is actually the target of the Splinterlands Owners
The Pink and Purple Ball Graph:
My prediction
Splinterlands will produce a large enough supply to eventually come to the price retraction in card market sales and then after that price will experience long term growth. I just think that the owners have probably analyzed the numbers enough to see that they are charging the right amount and releasing the right number of packs.
Some things to think about as Pro's for holding SPS and DEC:
1. SPS use case has become more and more defined and will continue to see more use case in the future
2. DEC has been going up in price and holding it is producing an airdrop of SPS
SPS APR is 83.31% in staking
Interested in more sps dec talk click here.
What you need to know about chaos legion news
Update News: I've now heard that the SPS vouchers will be needed to purchase packs after the presale is over. That's pretty important to SPS and voucher(vouchers can be transferred therefore they can be sold) value.
When a snowball is large enough and it's coming down the mountain there is very little that can stop it's momentum. Get ready...
Why own just a Mona Lisa when you can own a Mona Lisa that has a use case?
This discussion is my opinion.
DISCLAIMER: Not a financial advisor.
https://i.ibb.co/wJYFpp9/sldivider.webp
Resources for Splinterlands Players:
Absolutely awesome for new players and advanced!
Splinterlands Beginner's Guide
Find an explanation of all splinterlands abilities
Building Your First Deck I
How to Build Your Splinterlands Collection and Be on the Way to Winning
What is power and how to get more in splinterlands
Bronze Strategy
Climbing the Season End Rewards Ladder on a Budget
Top Secret Advanced Players:
Card Usage and Win Rates
Reward Cards Data
The Math Behind Hits and Misses
More Useful Splinterlands Info
Turning DEC into USD
How to quickly and easily use WAX
The Colosseum Calls You Splinterlands $1,150.00 in Prizes
Why go to the Colosseum?
What are Colosseum Coins?
The Story of the Colosseum Coins
Making Splinterlands Posts:
Making Your Own Splinterlands Posts
Guilds:
Looking for a Guild?
How to Reach Me
Twitter
Discord
Twitch
Facebook
Youtube
Instagram Marcuswahl1
P.S. Mythicportal, a New Hive Blockchain NFT Game, now has it's discord open to the public! Come join us!
MythicPortal Design, Card Design, Videos
Great News! If you're buying splinterlands cards to play or to rent out you can save by using cardauctionz.com to get the maximum cashback/discount in the industry.


How to Login
Use and Frequently Asked Questions for Cardauctionz
---
---