Splinterlands Amazing Battles – Darkening Silver Wild Battle

Welcome, Splinter people! I am pleased to present another fabulous battle!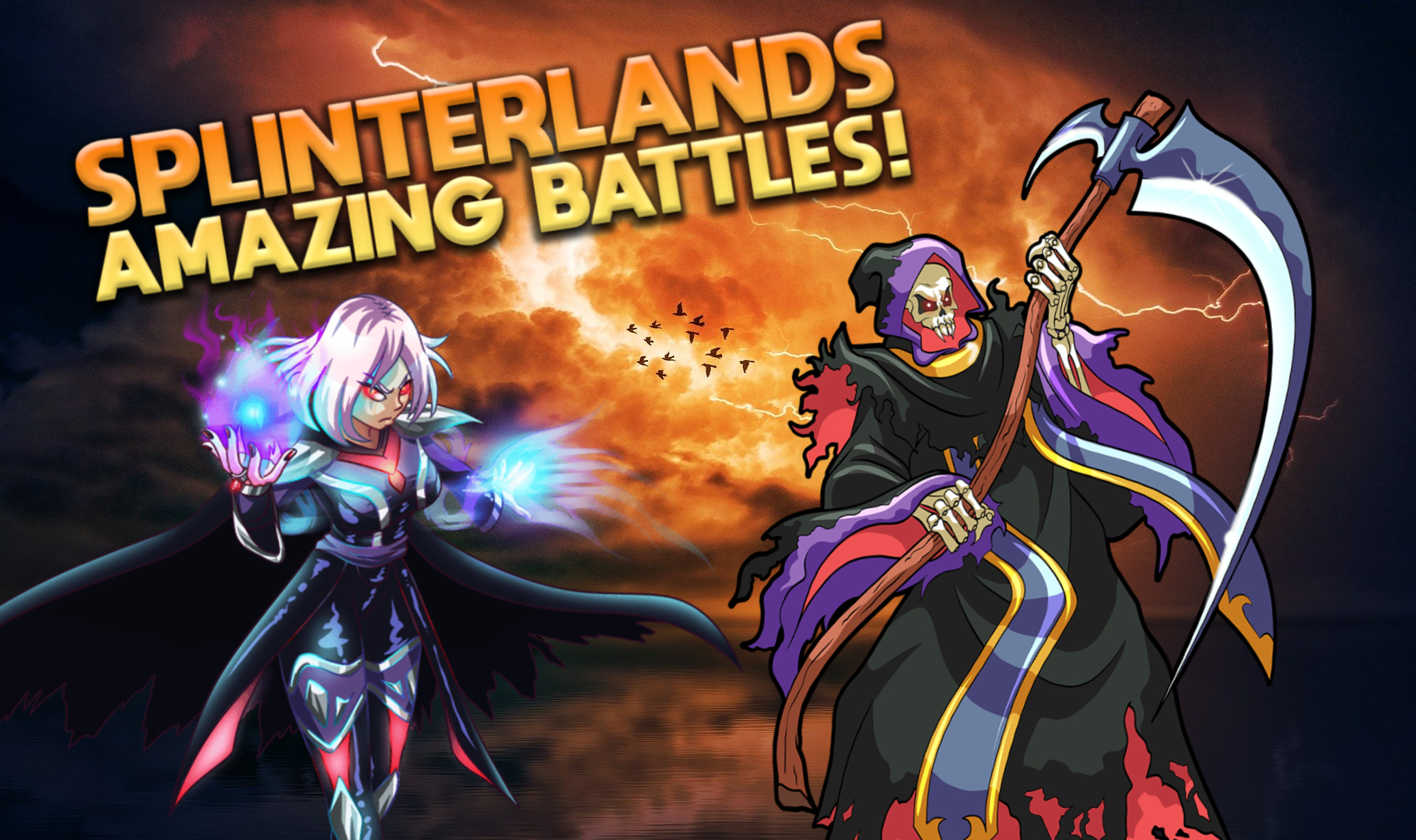 This episode's battle was darkening

Click on the image to watch the fight:
Teams
My team
Death Splinter

Summoner: Mimosa Nightshade

Prismatic Energy
Cornealus
Phantom Soldier
Octopider
Dhampir Stalker
Grim Reaper
Their team
Dragon Splinter + Death Element

Summoner: Byzantine Kitty

Almo Cambio
Prismatic Energy
Cthulhu
Phantom Soldier
Supply Runner
Lira the Dark
---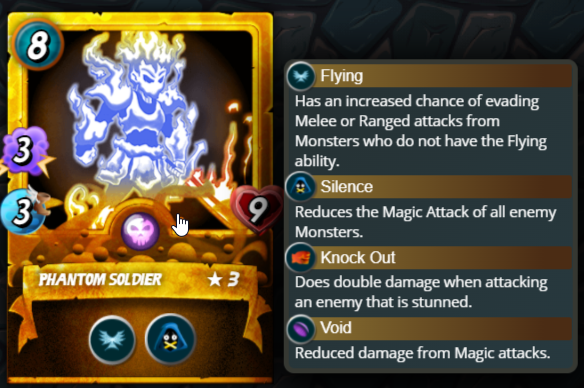 Battle outcome
Today's match caps at 54 Mana. The only splinters available are the Earth, Life, Death and Dragon splinters.

Extra rules were Heavy Hitters and Keep your Distance. In Heavy Hitters, all Monsters have the Knock Out ability. In Keep your Distance, Monsters with Melee attack may not be used in battles.
My defense was made of Prismatic Energy, Cornealus and Phantom Soldier.
Prismatic Energy was my first line of defense. Its high health and Magic Reflect makes it a highly efficient frontliner. Prismatic Energy is arguably the best position 1 Monster in Keep Your Distance matches.
Together with Cornealus, it and Prismatic Energy defend for a long time. Phantom Soldier helps them tank because of its Silence ability, reducing what little incoming magic damage might be dealt from the opposing team.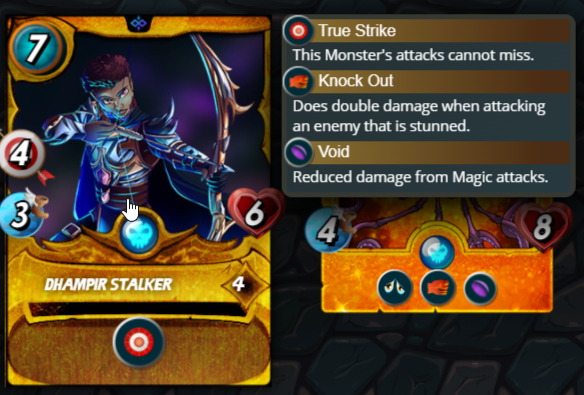 But what makes this defense truly wonderful is my Mimosa Nightshade summoner, which is amazing in Keep Your Distance battles. Diminishing Ranged damage and adding the Void ability to all my monsters mean the entire enemy composition is that much weaker.
Mimosa Nightshade also counters Bizantine Kitty completely, because Bizantine Kitty's main advantage is healing their frontliner, but they can't. All of their monsters enter the battle with the Affliction debuff, preventing incoming heals.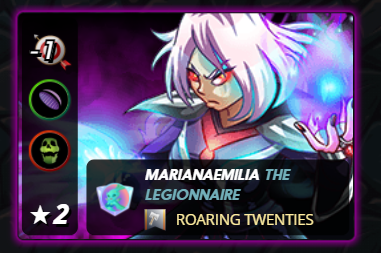 My offense consisted of Phantom Soldier, Octopider, Dhampir Stalker and Grim Reaper.
Phantom Soldier provides a lot of magic damage, so that's self-explanatory. I don't consider Cornealus an offensive monster because I expect it'll enter position 1 very early.
You might notice Octopider occupies position 4. You wonder why it's even there at all. It doesn't bring any true offensive stats besides its 3 ranged damage.
Its Demorize ability doesn't do anything in this battle. However, Octopider has a lot of health, so placing it before Dhampir Staker and Grim Reaper allow it to deal damage but still stall. I wouldn't have picked it if didn't deal 3 damage, so it does still classify as a damage dealer.
Dhampir Stalker was really handy in this battle. It doesn't have a lot of health and doesn't bring any strategic advantage, but he's going to connect his strike no matter what.
That's exactly what I needed against Almo Cambio, a Monster that's meant to dodge as many attacks as possible. Dhampir Stalker ensured my team would never have too much of a problem against a single monster.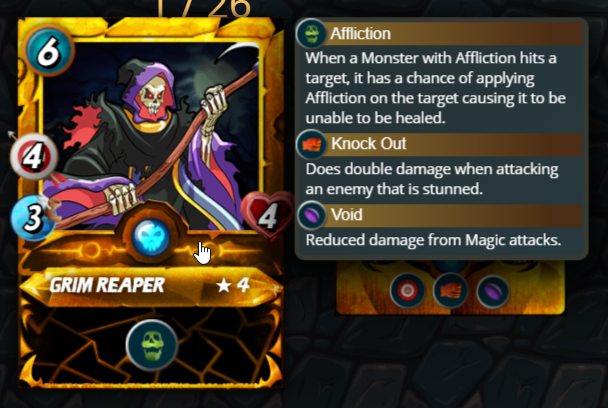 Last comes Grim Reaper, dealing a fantastic 4 Ranged damage for as low as 6 Mana. Unfortunately, it couldn't attack many times, as it had the lowest health.
My opponent's Lira the Dark marked him as a target for her Opportunity ability. Grim Reaper did quite well for the time it was alive, so I get my Mana's worth.
My support monsters were non-existent. Mimosa Nightshade provided everything I needed in this battle, as expected of a well-chosen Legendary Summoner.
---
See this amazing battle again: @marianaemilia versus @nitekichi
---

---
Follow me on Twitter
Join the fun now: Sign up here
---
Images: @splinterlands
---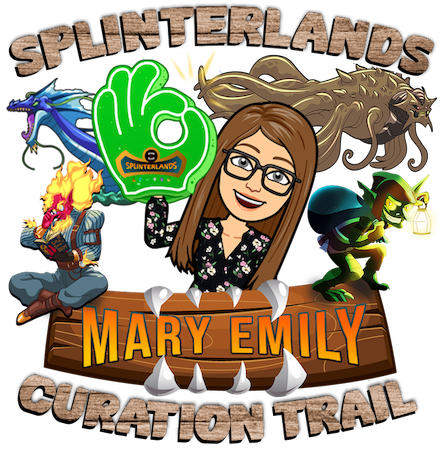 Follow my Curation Trail on HiveVote; Join the widest and most profitable trail about Splinterlands and help reward the best content creators. Learn more here.
You can also delegate Hive Power and/or SPT to me; Learn how
Thank you very much!
---
---
---