Splinterlands Amazing Battles – Didactic Analysis #4
Welcome, Splinter people! I am pleased to present yet another battle you should study in a didactic way to get better at playing to earn!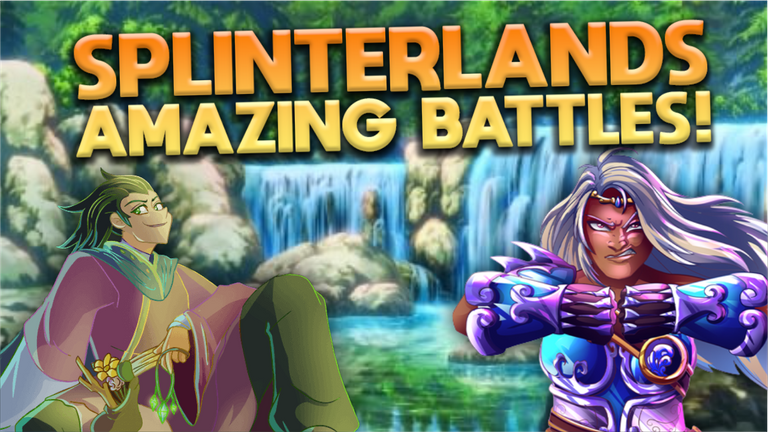 We have here a Gold League battle with rulesets:
– Explosive Weaponry: All Monsters have the Blast ability.
– Up Close & Personal: Only Monsters with Melee attack may be used in battles.
There are only three splinters available: Water, Earth, and Death.
At first, it looks like the most obvious choice is playing Mylor because of Thorns, but the Explosive Weaponry ruleset changes a lot. Receiving two damage from Thorns is not a big deal if the opponent gets much more from Blast.
Click on the image below to watch the fight: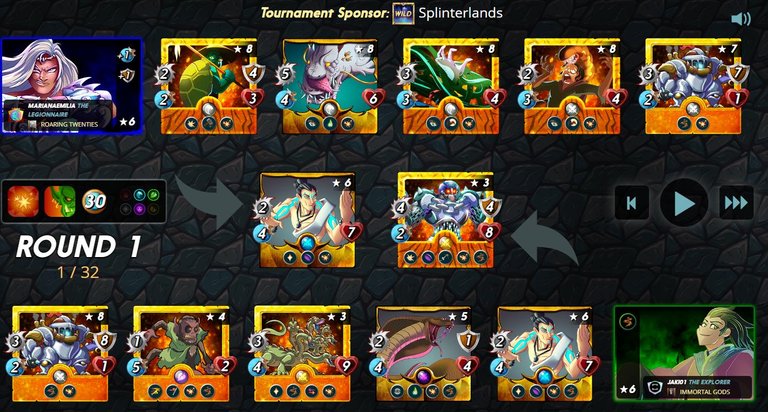 @marianaemilia played:
Kelya Frendul: summoner, +1 Speed, and +1 Armor, both are great because speed boost means we can eliminate enemy monsters faster, and +1 Armor lets our monsters survive longer, especially if the opponent plays summoner with Thorns.
Xenith Monk: 4 mana tank with Tank Heal.
Tortisian Fighter: Shield that will help to survive longer against Blast + Repair is instrumental here.
Deeplurker: strong opportunity monster with 5 Melee attack and Poison.
Feasting Seaweed: opportunity monster with 3 Melee attack and Scavenger (+1 HP after any kill in a battle).
Parasitic Growth: opportunity monster with 2 attack and Opportunity.
Enchanted Defender: a monster with 1 HP and a lot of armor, so he will be targeted by all opportunity monsters (and sneak monsters too).

This team looks solid:
+1 Speed, +1 Armor from the Summoner.
Repair.
Three opportunity monsters, 2 of them with Scavenger ability.
Enchanted Defender that will absorb a couple of attacks.


@jaki01 played:
Mylor: summoner with Thorn's ability.
Chain Golem: solid tank with Shield and a lot of HP + armor.
Xenith Monk: Tank Heal.
Uraeus: a monster with Sneak and Poison.
Hydra: a powerful monster with Tank Heal, Thorns, and Retaliate.
Brownie: +1 Speed, +1 Melee attack.
Enchanted Defender: a monster with 1 HP and a lot of Armor, so he will be targeted by all opportunity monsters (and sneak monsters too).

There are a couple of problems with this team. The first problem - only two monsters are actively attacking when the Battle starts (Chain Golem and Uraeus).
The second problem - Brownie is located in an awful position because he will die fast from Blast.
It would have been much better to swap Hydra with Brownie or to use Venator Kinjo instead of Brownie. Because of Reflection Shield, Venator Kinjo is not affected by Blast and Thorns.
He also has Camouflage, so he can't be targeted if he is in the second line and Slow, which is lovely here.
Let's see what happened in the Battle: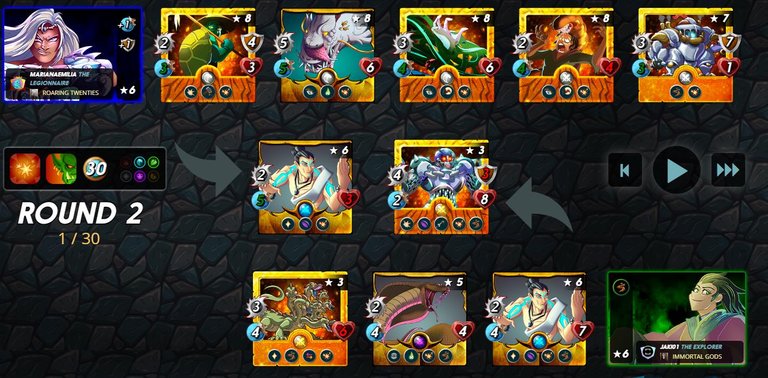 Enchanted Defender and Brownie died in the first round, which doesn't look good for the Earth team.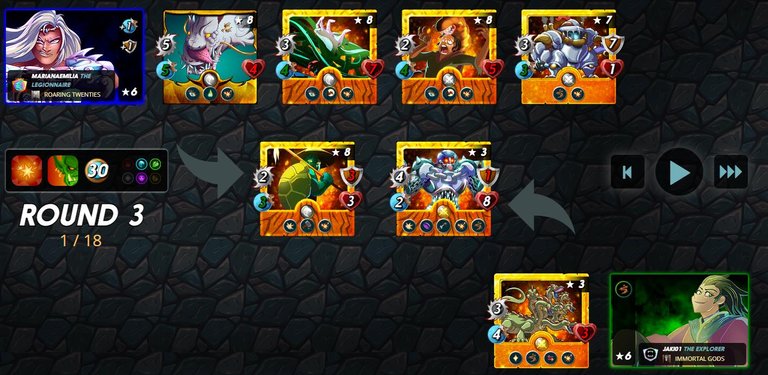 Earth team lost Uraeus and Xenith Monk in the second round.
Also, the Water team lost Xenith Monk. It looks like the Battle is over.
What is also interesting here is that Hydra looks like an excellent monster because it can retaliate and do a lot of damage.
It's much easier to kill it because Hydra also gets damage from Blast (which is safe because Hydra is not attacked directly, so any chance of Retaliate).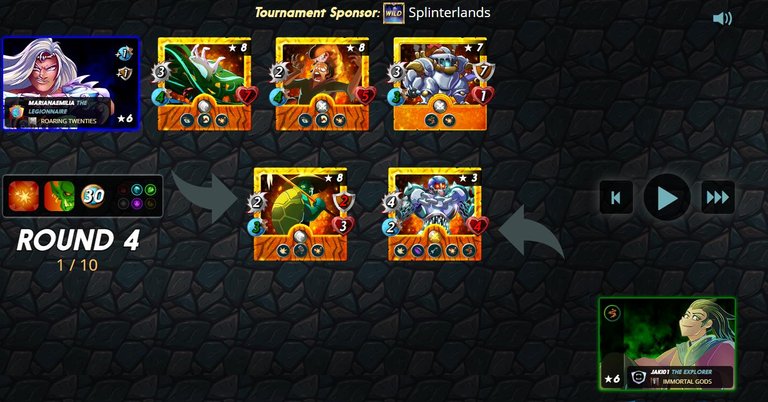 Hydra and Deeplurker were killed in the third round.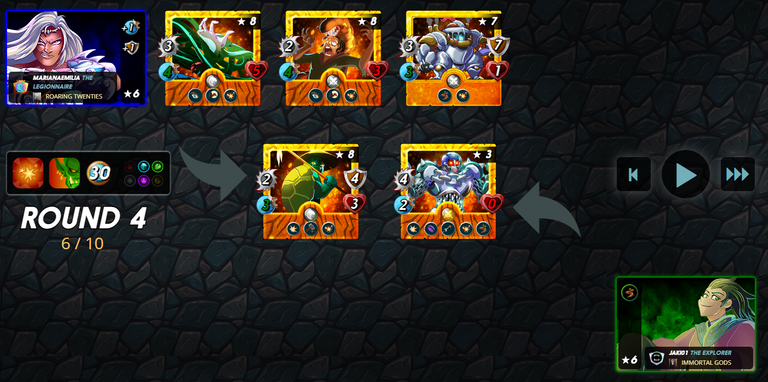 The Battle ended in the 4th round.
Now let's think about how we could modify both teams, trying to improve them.
I am playing Venator Kinjo close to Enchanted Defender to protect from Blast (because of Reflection Shield). Also, Slow + Camouflage is helpful here.
Venator Kinjo also gets Amplify at max level, but unfortunately, it was a gold level battle.
Swap Deeplurker with Feasting Seaweed; Deeplurker has a higher attack, so better to protect him, and Feasting Seaweed has Scavenger so he can survive longer.
An attractive but risky option would be to play Naga Warrior (Enrage, Retaliate) or Diemonshark (Trample, Enrage) in the first position. The tank could cause a lot of damage.
Also, playing Tide Biter was an option here because it's immune to both Thorns and Blast.
The most significant problem here was using only two monsters that actively attack, so it was a somewhat defensive team that wanted to take advantage of Thorns.
Still, it was not a good idea because of the Explosive Weaponry ruleset. You can make much more damage attacking (because of Blast) than from Thorns.
Chain Golem as a tank and Venator Kinjo + Enchanted Defender at the back would be a good start, and then there are 13 mana left for some sneak or opportunity monsters. Sandworm (a lot of damage) + Screeching Vulture (Scavenger) + Brownie (+1 Speed, +1 Melee attack) would be a much better approach to play this Battle.
See this fantastic Battle again: @marianaemilia versus @jaki01
---

---
Follow me on Twitter
Join the fun now: Sign up here
---
Images: @splinterlands & cover image design by @legalizabrazil
---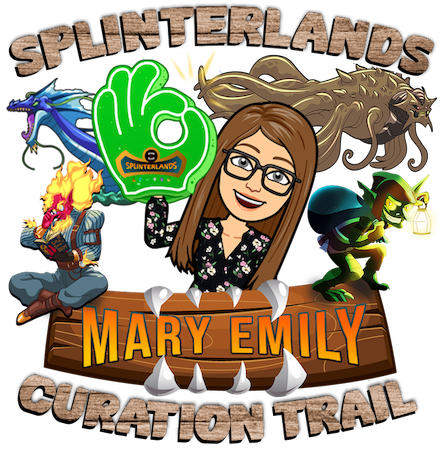 Follow my Curation Trail on HiveVote; Join the widest and most profitable trail about Splinterlands and help reward the best content creators. Learn more here.
You can also delegate Hive Power and/or SPT to me; Learn how
Thank you very much!
---
---
---