Splinterlands Amazing Battles – Valuable Wild Silver Battle
Welcome, Splinter people! I am pleased to present yet another fiery battle you should study so you can get better at playing to earn!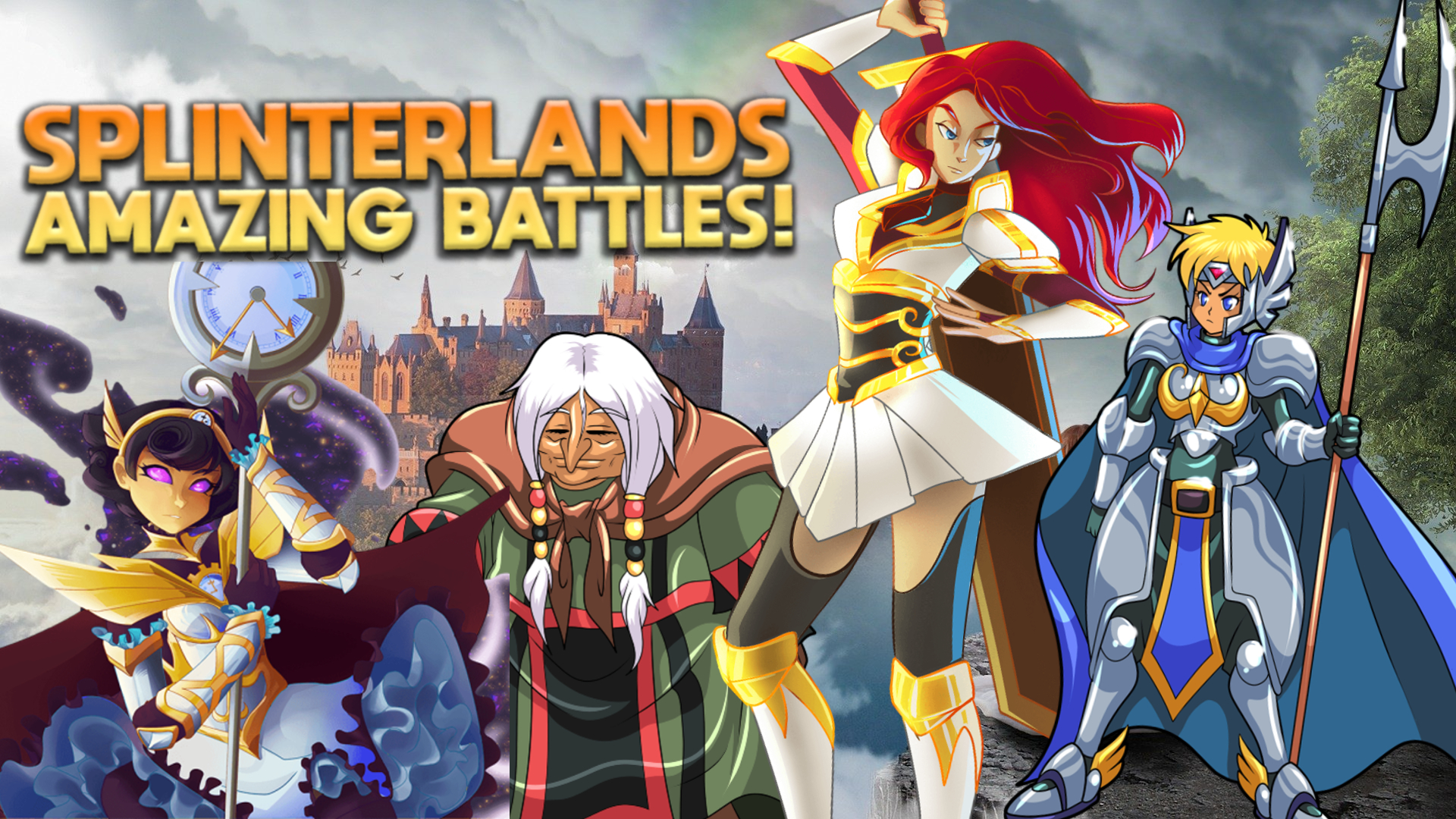 This episode's battle was valuable

Click on the image below to watch the fight: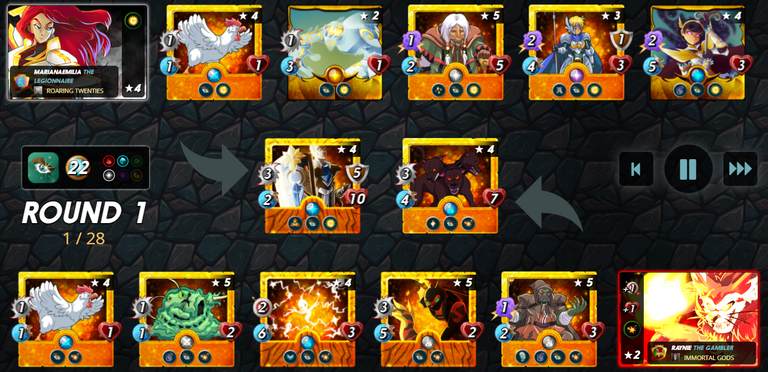 Teams
My team
Life Splinter
Summoner: Lorna Shine
Shieldbreaker
Furious Chicken
Soul Fiend
Divine Healer
Defender of Truth
Time Mage
Their team
Fire Splinter
Summoner: Yodin Zaku
Cerberus
Goblin Shaman
Serpentine Spy
Spark Pixies
Creeping Ooze
Furious Chicken
---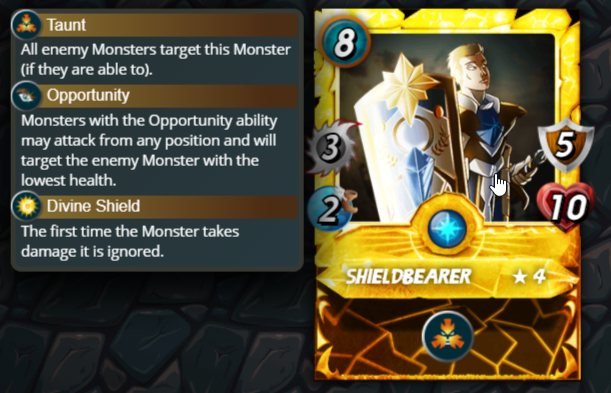 Battle outcome
Today's match caps at 22 Mana. The only Splinters available are the Fire, Life and Water Splinters.

Extra rule was Equal Opportunity. In Equal Opportunity, all Monsters have the Opportunity ability.
My defense was made of Shieldbreaker, Furious Chicken and Soul Fiend.
This match should be a lot easier if I can control the enemy's strategy to my advantage.
Doing this when my opponent doesn't gives me a head start, because, if he doesn't, then I'm screwing up their strategy.
I have to use a Monster with the Taunt ability and consider my opponent is also using this tactic.
Shieldbreaker is the perfect choice when I'm backing him up so fiercely. Lots of armor and extra heals sustain him for a really long time in a low Mana match.
In case of splash damage from Blast attacks, I also use Furious Chicken and Soul Fiend so my backline doesn't get seriously injured from that type of attack.
Furious Chicken and Soul Fiend can double as attackers in case they don't die from splash damage, which is a nice bonus.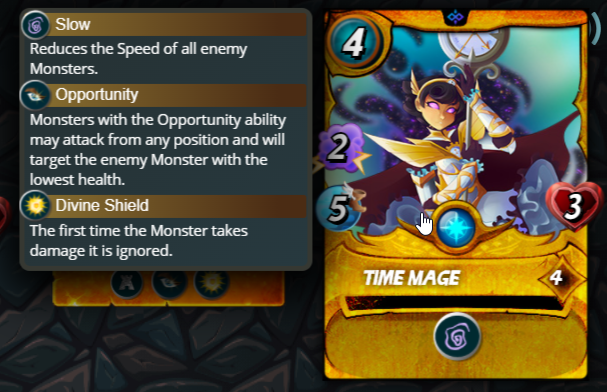 My offense consisted of Divine Healer, Defender of Truth and Time Mage.
Since Shieldbreaker is already doing plenty of physical damage, I need my backline to deal Magic damage or use Ranged attacks instead. Because Magic is strong in Silver, I chose to focus on Magic only.
I consider Divine Healer as an attacker in this match up because of the Equal Opportunity rule. Enemies have low enough Health for even a single extra point of damage to efficiently plow through their armor.
Besides, I don't want to risk losing against high speed Monsters, and I already have Shieldbreaker doing tons of damage to low Speed targets.
Defender of Truth and Time Mage both do 2 points of damage, killing every enemy unity they target in a single turn - all of them have 4 Health or less.
This enables my offensive to overcome the enemy Spark Pixies when they have to, nailing this battle at the very end.
My support monsters were Divine Healer, Defender of Truth and Time Mage.
Unless my opponent uses Magic splash damage, which is unlikely since I don't see that many Valnamor and Ruler of the Sea being used nowadays, I'm going to need to armor up.
Luckily, that was the perfect choice against Yodin Zaku. Defender of Truth protected my Furious Chicken and Soul Fiend for plenty of extra turns, adding a lot of value to these 0 Mana Monsters.
Strike first to kill enemies before they can ever attack you. Time Mage helps me do this by debuffing Monsters on the enemy team, reducing their Speed by 1 point. Slowing Cerberus down also helps Shieldbreaker connect attacks against him.
Of course, Divine Healer's Tank Heal was essential to Shieldbreaker's Survival. Every tank needs a healer to ensure victory.
---
See this amazing battle again: @marianaemilia versus @raynie
---

---
Follow me on Twitter
Join the fun now: Sign up here
---
Images: @splinterlands
---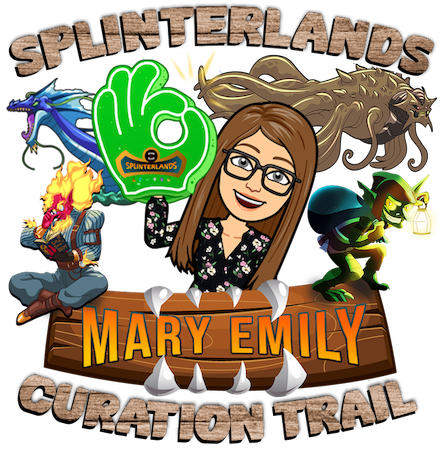 Follow my Curation Trail on HiveVote; Join the widest and most profitable trail about Splinterlands and help reward the best content creators. Learn more here.
You can also delegate Hive Power and/or SPT to me; Learn how
Thank you very much!
---
---
---