My Hive & Splinterlands Financial Report #4 - May 2022 (GER/ENG)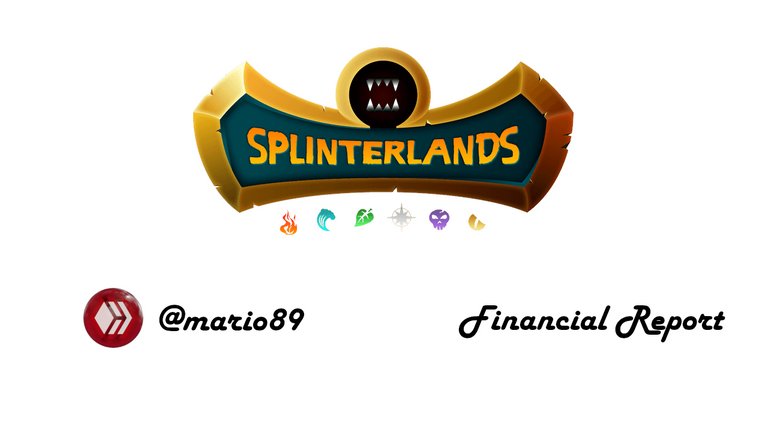 Intro
Es ist schon wieder ein Monat vorbei und Zeit für einen weiteren Finanzreport. Alle Zahlen und Kurse sind vom 31.05.2022 um ca. 16:50 Uhr.
It's been another month and time for another financial report. All figures and rates are from 05/31/2022 at about 16:50.
---
My Portfolio 31.05.2022- 16:50 p.m.
Assets Splinterlands
Amount
Price $
Value $
SPS Staked
2,955.00
0.094914
280.47
SPS Liquid
2.22
0.094914
0.21
DEC
2432,947
0.001069
2.60
Packs
0
2.909772
0.00
Voucher
20.39
1.196221
24.39
Credits
338.20
0.001
0.34
Legendary Potion
49
0.04
1.96
Alchemy Potion
38
0.05
1.90
Card Value mario89
55,635 CP
-
941.41
Card Value maw89
645CP
-
3.05
Assets Muterra
Amount
Price $
Value $
MUT
0.00
0.00
0.00
Maldives
0.00
5.00
0.00
Mutees
90.00
1.00
90.00
Tamer
2.00
---
5.06
Assets Hive
Amount
Price $
Value $
Hive
10.018
0.54
5.41
HP
307.645
0.54
166.13
HBD
15.000
0.91
13.76
Assets Hive-Engine & Others
Amount
Price $
Value $
SPT
8,041.544/td>
0.001295
10.41
LEO
55.343
0.084937
4.70
BXT
1.635
2.384101
3.90
ONEUP
168.244
0.002947
0.50
Workerbee
2.000
1.473261
2.95
BEE
23.808
0.358955
8.55
SWAP.HIVE
0.151
0.54
0.08
Assets Diesel Pools
Amount
Price $
Value $
SWAP.HIVE
9.874
0.54
5.33
DEC
4,958.316
0.001069
5.30
SWAP.HIVE
14.231
0.54
7.68
SPS
79.931
0.094914
7.59
SPS
20.191
0.094914
3.52
SPT
1,324.237
0.001295
3.17
PKM
265.577
0.020508
5.45
SPS
56.687
0.094914
5.38
HIQS
12.200
0.28998
3.54
BEE
8.661
0.358955
3.11
SWAP.HIVE
12.180
0.54
6.58
PLN
12.847
0.482178
6.19
FLOWER
2.111
0.271825
0.57
PLN
1.879
0.482178
0.91

| Summary | Value |
| --- | --- |
| Overall $ | 1,610.23 |
| Invested Capital $ | 1,632.08 |
| Profit/Loss $ | 21.85 |
| Profit/Loss in percent | 1.36 |

---

Biggest Changes

Splinterlands

In meinem Hauptaccount in Splinterlands erhöhte ich durch einige Kartenkäufe die CP um 19.055 auf nun 55.635. erhöhen. Somit kann ich trotz der 5.000 CP, die ich an meinen Zweitaccount delegiere, aus eigener Kraft Silber 2 spielen.

Mittlerweile baue ich mein Deck langsam Richtung Silber aus. Dafür habe ich Quix auf Level 2 gebracht und Thaddius Brodd auf Level 3.

Weitere Käufe habe ich in meinem kürzlichen Update beschrieben:

https://peakd.com/hive-151698/@mario89/splinterlands-update-brawls-and-account-progress-2-gereng

In my main account in Splinterlands I increased the CP by 19,055 to now 55,635. through some card purchases. Thus, despite the 5,000 CP I delegate to my secondary account, I can play Silver 2 on my own.

In the meantime, I'm slowly building my deck towards silver. For this I have brought Quix to level 2 and Thaddius Brodd to level 3.

I described other purchases in my recent update:

https://peakd.com/hive-151698/@mario89/splinterlands-update-brawls-and-account-progress-2-gereng

---

Pools

Hier gab es kaum Änderungen. Ich werfe immer mal wieder das, was ich aus Rewards bekomme, in die Pools rein.

There were hardly any changes here. Every now and then I throw what I get from rewards into the pools..

---

Conclusion and Goals

Ich habe im Mai ca. 253,20$ neu investiert. Der Gesamtwert erhöhte sich in der Zeit um ca. 161,89$. Der Buchgewinn von 113,16$ letzten Monat schrumpfte auf nun nur noch 21,85$ 😀.

Dafür, dass der gesamte Kryptomarkt die letzten Wochen gut unter die Räder gekommen ist, hielt sich mein Portfolio recht gut.

Morgen ist übrigens wieder der erste des Monats, d.h. HPUD! Ich werde auch wieder mitmachen und ein paar Hive aufpowern.

I reinvested about $253.20 in May. The total value increased by about 161.89$ in the time. The book profit of 113.16$ last month shrunk to now only 21.85$ 😀.

For the fact that the entire crypto market has taken a good beating the last few weeks, my portfolio held up quite well.

By the way, tomorrow is again the first of the month, that is HPUD! I will also participate again and power up a few Hive.

Du spielst noch kein Splinterlands? - Mit dem folgenden Link kannst du das Spiel kostenlos ausprobieren:

https://splinterlands.com?ref=mario89

Falls du Spaß am Spiel findest und das Spellbook kaufst, bekomme ich einen kleinen Betrag von Splinterlands als Belohnung. Für dich entstehen dadurch keine Nachteile. Melde dich danach bei mir und du bekommst von mir Unterstützung bei deinen ersten Schritten im Spiel.

You don't play Splinterlands yet? - With the following link you can try the game for free:

https://splinterlands.com?ref=mario89

If you enjoy the game and buy the Spellbook, I will get a small amount from Splinterlands as a reward. There will be no disadvantages for you. Contact me afterwards and you will get support from me for your first steps in the game.

---

Alle Bilder in diesem Blog mit Spielinhalten sind von splinterlands.com
Keine Anlageberatung - keine Verkaufs- oder Kaufempfehlung.

All pictures with gaming content in this blog are from splinterlands.com
No investment advice - no sale or purchase recommendation
Mostly translated with www.DeepL.com/Translator (free version)
---
---