Splinterlands Update - brawls & account progress #3 (GER/ENG)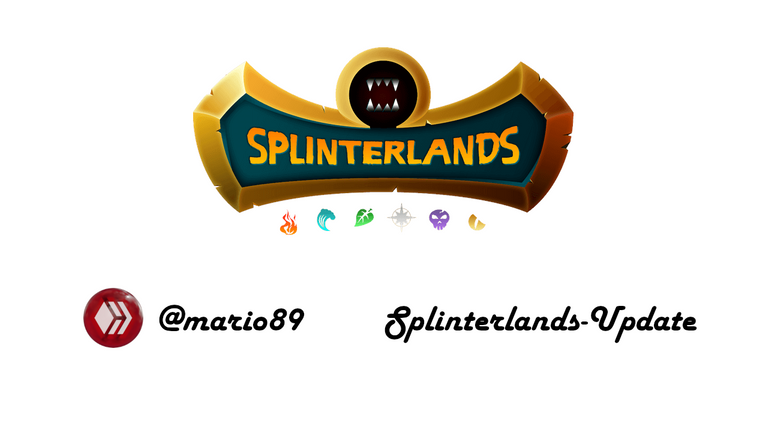 Intro
Es gibt mal wieder ein kleines Update zwischendurch, indem ich auf die letzten Brawls und meinen Accountfortschritt eingehe.
There is a little update in between, where I talk about the last brawls and my account progress.

Brawls
Overview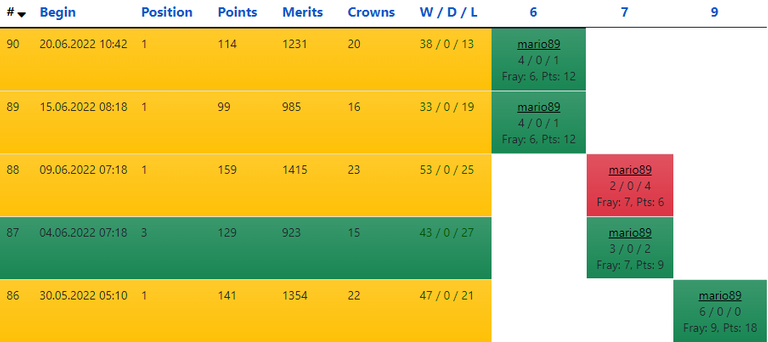 Bis zu Brawl 85 spielte ich immer Fray 1, was sich ab Brawl 86 änderte. Dort gab es direkt einen großen Sprung und ich besetzte aus Spielermangel Fray 9 (Silber), was erstaunlich gut lief = alle 6 Spiele gewonnen 🙂.

Danach besetzte ich 2x Fray 6 (Bronze) und 2x Fray 7 (Bronze CL) und bis auf einmal habe ich auch alle Brawls mit pos. W/L geschafft. Nur im CL-Fray, welcher mir auch überhaupt nicht liegt, hatte ich ein negatives Ergebnis.
Until Brawl 85 I always played Fray 1, which changed from Brawl 86 on. There was directly a big jump and I occupied Fray 9 (silver) due to lack of players, which went amazingly well = won all 6 games 🙂.

After that I occupied 2x Fray 6 (bronze) and 2x Fray 7 (bronze CL) and except for once I also managed all brawls with pos. W/L. Only in the CL-Fray, which I also do not like at all, I had a negative result.
---
Matches
Nachfolgend die Links zu den Battles des letzten Brawls.
Below are the links to the battles of the last Brawl.
Battle 1:
https://splinterlands.com?p=battle&id=sm_NJvil6I1ZHvvUeSHQ083&ref=mario89
Battle 2:
https://splinterlands.com?p=battle&id=sm_KAnZpMzGGkn6L4nMKeWp&ref=mario89
Battle 3:
https://splinterlands.com?p=battle&id=sm_jkPQHptz4IlzNMBXkjHy&ref=mario89
Battle 4:
https://splinterlands.com?p=battle&id=sm_o9xJiK0F08XrXZLM4H2t&ref=mario89
Battle 5:
https://splinterlands.com?p=battle&id=sm_CHRltbJhF3k6E2hxwlxq&ref=mario89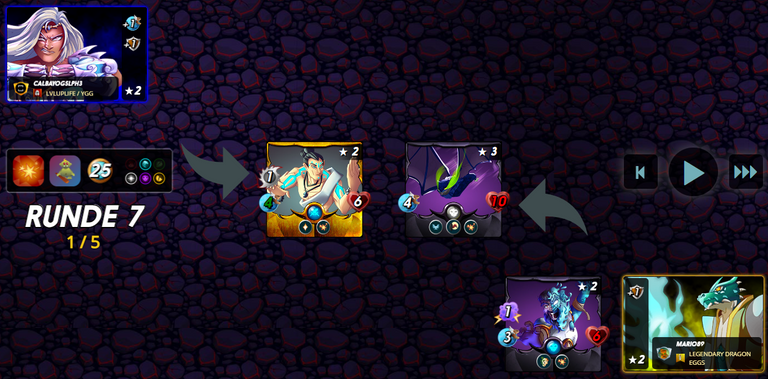 Dass das letzte Battle in einer Niederlage endet ist... naja.
The fact that the last battle ends in defeat is... well.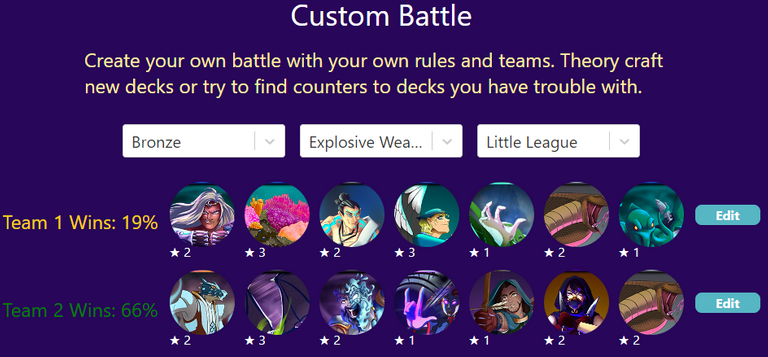 Nur eine Karte Unterschied, hätte mir ggf. den Sieg gebracht. Der Screenshot ist übrigens von
https://splintertools.io/custom-battle
. Dort könnt ihr Battles eingeben und nach Möglichkeiten suchen, wie ihr sie gewinnen könnt.
Danke
@wrrrri
Kannte die Seite bis gestern nicht und habe das im Legendary Discord aufgeschnappt.
Only one card difference would have brought me the victory. By the way, the screenshot is from
https://splintertools.io/custom-battle
. There you can enter battles and look for ways to win them.
Thanks
@wrrrri
Didn't know the site until yesterday and picked this up in Legendary Discord.
--------------------------------------------------------
New Gladiators

Leider hat es für ein weiteres Gladipack auf meinem Mainaccount ganz knapp nicht gereicht.

Dafür konnte ich auf meinem Zweitaccount ein Pack kaufen mit folgendem Ergebnis:
Unfortunately, it was not enough for another Gladius Case on my main account.


For this I was able to buy a pack on my secondary account with the following result:

---
My Fraycompleteness

Das Bild oben zeigt die Frayvollständigkeit vor ca. einem Monat und das Bild unten die aktuelle Vollständigkeit.
The picture above shows the fray completeness about a month ago and the picture below shows the current completeness.

---
New Cards

Anfang bis Mitte Juni habe ich kaum Karten gekauft. Erst in den letzten Tagen als die Preise wieder zum Teil attraktiver waren, baute ich mein Deck weiter aus:
At the beginning to the middle of June, I hardly bought any cards. Only in the last days, when the prices were partly more attractive again, I built my deck further:

Summoner:
Drake of Arnak - LVL 2
Kelya Frendul - LVL 2
Legendary Monsters:
Jared Scar - LVL 2
Countess Sinash - LVL 1
Epic Monsters:
Tide Biter - LVL 3
Revealer - LVL 2

Den Drake of Arnak auf Bronzelevel kaufte ich, weil ich bei den Bronzeturnieren oft gerne Drache spielen würde aber Quix gesperrt ist.

Kelya hatte ich ja schon 2x auf LVL 2. Einmal für den Main, einmal für den Zweitaccount und jetzt ein drittes Mal aktuell vermietet, bis ich die noch fehlenden 4 BCX für LVL 3 habe.

Zudem habe ich noch einige Rare und Common in Richtung oder auf das Silbermaxlevel gebracht, auch wenn ich diese aktuell nur mit meinem Quix spielen kann. Alle anderen Summoner haben noch nicht das Level dafür.

I bought the Drake of Arnak at bronze level because I would often like to play Dragon in the bronze tournaments but Quix is locked.

Kelya I had already 2x on LVL 2. Once for the main, once for the second account and now a third time currently rented, until I have the still missing 4 BCX for LVL 3.

I have also brought some rares and commons up to or towards the silver max level, even though I can currently only play them with my Quix. All other summoners do not have the level for it yet.
---
CP mario89: 64,105 (-5,020 Delegations)
CP maw89: 1,000 (+5,020 Delegations)

---
Beneficiaries
Heute gibt es einen mehr, daher wurden die % etwas angepasst:
4%
@noctury
für die Legendary Stats
4%
@noko85
für die API-Unterstützung.
2%
@wrrrri
für den oben erwähnten Tipp.
Today there is one more, so the % has been adjusted a bit:
4%
@noctury
for Legendary Stats.
4%
@noko85
for the API support.
2%
@wrrrri
for the above tip.

Du spielst noch kein Splinterlands? - Mit dem folgenden Link kannst du das Spiel kostenlos ausprobieren:
https://splinterlands.com?ref=mario89
Falls du Spaß am Spiel findest und das Spellbook kaufst, bekomme ich einen kleinen Betrag von Splinterlands als Belohnung. Für dich entstehen dadurch keine Nachteile. Melde dich danach bei mir und du bekommst von mir Unterstützung bei deinen ersten Schritten im Spiel.
You don't play Splinterlands yet? - With the following link you can try the game for free:
https://splinterlands.com?ref=mario89
If you enjoy the game and buy the Spellbook, I will get a small amount from Splinterlands as a reward. There will be no disadvantages for you. Contact me afterwards and you will get support from me for your first steps in the game.
---
Alle Bilder in diesem Blog mit Spielinhalten sind von splinterlands.com. Weitere Bilder von legendary-stats.de, peakmonsters.com und splintertools.io.

Keine Anlageberatung!
All pictures with gaming content in this blog are from splinterlands.com. More images from legendary-stats.de, peakmonsters.com and splintertools.io.

No financial advise!

Translated with www.DeepL.com/Translator (free version)
---
---