SHARE YOUR BATTLE WEEKLY CHALLENGE: "TIME MAGE"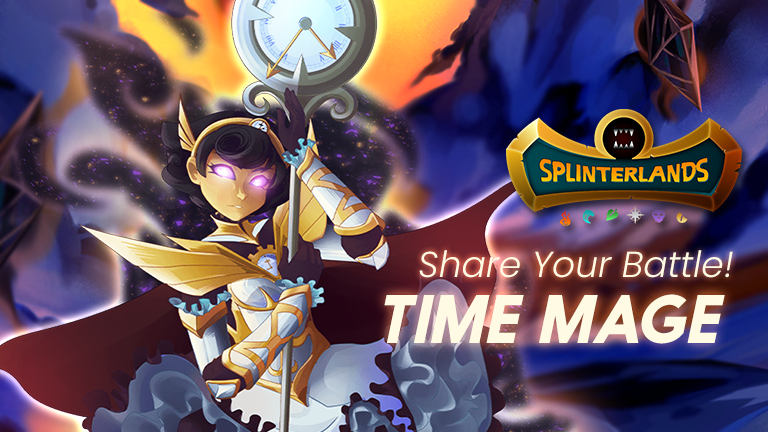 ---
Greetings and welcome to my blog. This week presents us the opportunity to discuss one of my favorite splinter-land monster "TIME MAGE". To participate in the challenge for this week, please refer to the original announcement post here
| TIME MAGE | |
| --- | --- |
| THEME CARD INFORMATION: TIME MAGE⏱ | |
| EDITION | CHAOS |
| ELEMENT | LIFE |
| RARITY | RARE |
| MANA CAP | 4 |
| LEVEL | 1 |
| ABILITY | MAGIC/SLOW |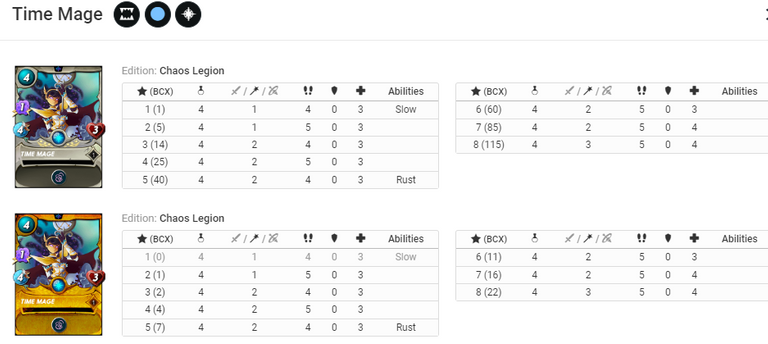 Time Mage is a magic attack monster with the ability of slowing down the opponents monster. It has a decent manner cap of 4, and ranges from level one to level 8. Notable changes are seen in different levels. Level 1, 3 & 5 has 4 speed, and 3 health. Level 2, 4, 6-8 has 5 speed. It developed the rust ability from level 5, with level 7&8 having 4 health.
---
THIS WEEK'S BATTLE
---
| GAME RULE | |
| --- | --- |
| SET RULE | |
| STANDARD | NO MODIFICATION TO STANDARD GAMEPLAY |
| MANA CAP | 26 |
| AVAILABLE ELEMENT | ALL |
It was a no limit game as the rule permits every element to be used with a decent mana cap of 26 enough for me to get up to 4 monster in the battle field. The battle was against the earth element which my side's Life element came out victorious.

---
TEAM LINEUP
---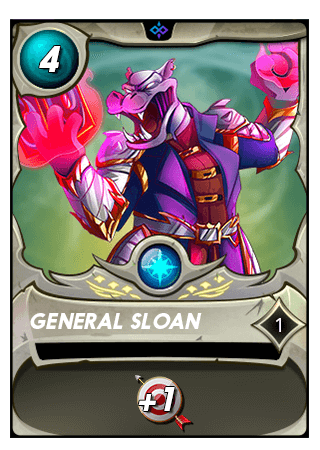 NAME: GENERAL SLOAN
ATTACK: SUMMONER
MANA CAP: 4
ABILITY: +1 HEALTH
---
STRATEGY
The choice of General Sloan is because it offers +1 damage to the range attack monster. It also has a decent mana cap of 4 which gives room for other monsters to fit in
---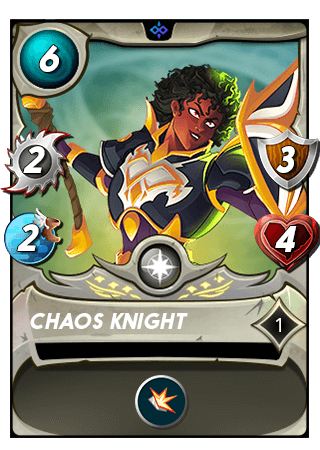 NAME: CHAOS KNIGHT
ATTACK: MELEE
MANA CAP: 6
ABILITY: DEFENSE
---
STRATEGY
Chaos knight
is a perfect match for defense. Most of the 1 damage melee attack monster does not have an effect on her. She has a mana cap of 6, 2 melee damage, 2 speed and 4 health. The idea of having chaos knight as my defense was for it to put up a good fight before being eliminated
---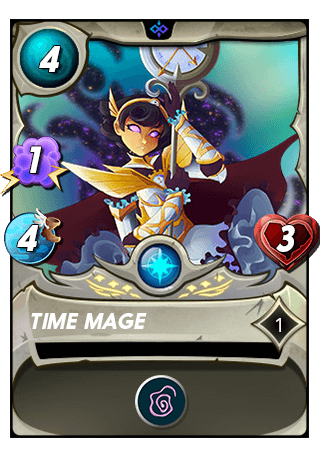 NAME: TIME MAGE
ATTACK: MAGIC
MANA CAP: 4
ABILITY: SLOW
---
STRATEGY
Time Mage, the reason for this week post is a magic attack monster. The way I uses her varies. Sometimes, I use her in-between while other times she comes behind but this selection involves range attack monster which can't attack from first position. So Time Mage was use in-between to make space for the range attack monster. Time Mage is very important because it gives her team the game advantage by slowing down the speed of the opposition monster and most fight, speed is essential because by the time the first side with higher speed takes turn, the damage will be too fatal for the other team to recover from
---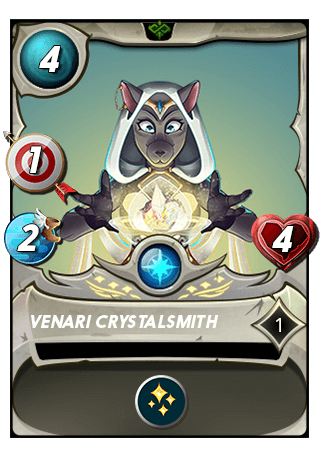 NAME: VENARI CRYSTALSMITH
ATTACK: RANGE
MANA CAP: 4
ABILITY: HEAL
---
STRATEGY
Another great monster and a good support for the Frontline monster. This monster has 4 mana cap, 4 Health and threatens the opposition monster with 1 range damage plus additional 1 range damage from the summoner making it 2 range damages. This monster also help heal the Frontline monster by refilling its health. This monster was a great help in winning this particular battle.
---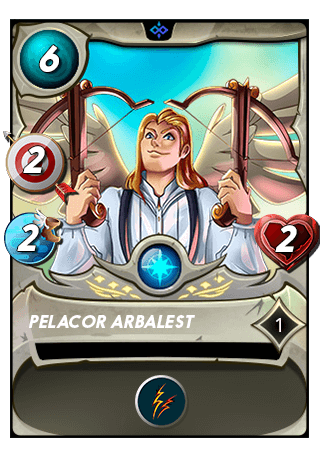 NAME: PELACOR ARBALEST
ATTACK: RANGE
MANA CAP: 6
ABILITY: DOUBLE STRIKE
---
STRATEGY
It take a very strong monster or a flying monster to survive the attack from PELACOR ARBALEST. By default it attacks the opposite monster with 2 range damages but here with the help of the summoner, it's damage capacity increased to 3 with a double strike ability, which means the opposite monster take 6 damages from him per round. I positioned the monster behind because unless the set rule says otherwise, most range attacks don't attack from Frontline. The monster also has 6 mana cap with 2 health.
---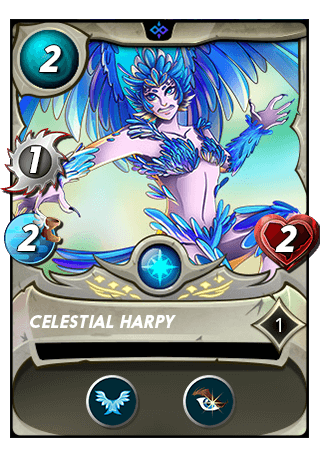 NAME: CELESTIAL HARPY
ATTACK: MELEE
MANA CAP: 2
ABILITY: FLYING/OPPORTUNITY
---
STRATEGY
Ordinarily, I do use this monster in-between but here I positioned it at the last space hoping for her to her evade attacks from sneak since sneak attack monster starts from behind. Harpy is a low cost mana monster with 2 mana and has the opportunity ability which makes it attack the weakest link on the opposite team. Being a flying monster, she can dodge attack from melee attack monsters.

ROUNDS ANALYSIS
---
ROUND ONE
---
The round started with my summoner offering all the range attack monsters +1 range damage and Time Mage slowing down the speed of the opposition monsters. Unfortunately, the round ended with the elimination of the defenders from both sides.
---
ROUND TWO
---
This was the determining round and the ugliest for the opposition team as they saw 3 out of 4 of their monsters eliminated with causing any damage to my Life side. After Time Mage eliminated the second inline, PELACOR Arbalest used his double strike to take away two of the opponent's monsters. This left the opposition with only one monster advancing to the third round.
---
ROUND THREE
---
It costed each of my side monsters one turn to eliminate the opposition one remaining monster. Because it was a flying monster, there were many misses but at the end, the team won with only one monster lost.
In total, the match lasted for only three rounds which saw my Life side lose only one monster with the opponent losing its whole team.
As a matter of fact, it was an easy win for the Life side.

DO I LIKE THIS MONSTER AND WHAT WOULD I HAVE DONE DIFFERENTLY?
---
For me, "Time Mage" happens to be one of my favorite monster in the Life element. Though it's not a defense monster, it's very perfect when used in the middle while allowing the range monsters take the back role. As a magic monster, it has the advantage of being able to attack from any position which is very great. Honestly, I think the match was perfect, I wouldn't do anything differently if given the opportunity to face the same team again.

DID MY STRATEGY WORK?
---
Haha. It couldn't have gone any better. My strategy did work perfectly. Time Mage is really an incredible card but is not of great use when used against some monsters like UNICORN MUSTANG & DJINN OSHANNUS, I will shop for more better summoners that can enhance her skills in the future.
For now, I have to draw the curtain here for this week
---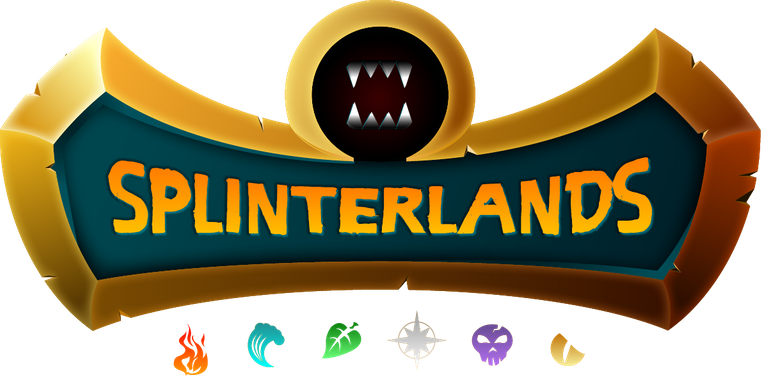 ---
Thanks for reading
Keep visiting my page for more intriguing posts

---
Contact & Support
Discord: martinlazizi#2242
Twitter:https://twitter.com/martin_1900s
---

---
---
---