SHARE YOUR BATTLE Weekly Challenge! MYCELIC MORPHOID (EN - PT/BR)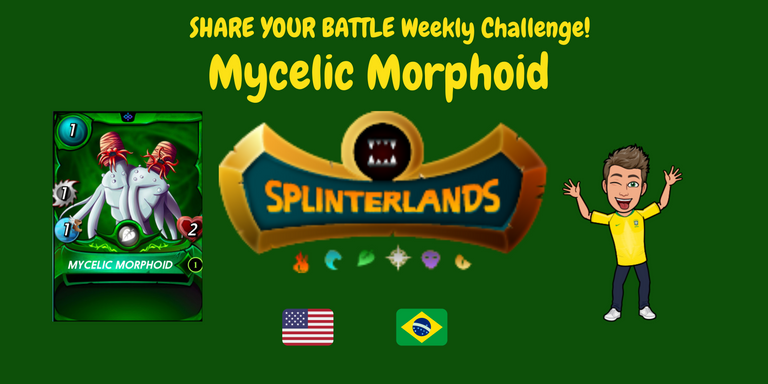 Hello Splinterlands community! All right with you? I hope so!
This post is intended to participate in the Splinterlands Weekly Battle Challenge. If you want to join the challenge here is the Link.
Today's weekly challenge is with MYCELIC MORPHOID, a card that I use a lot because it only costs 1 mana and can be very useful especially in the first and last position to serve as a shield for the other cards. Let's meet our main character of the week.
CARD DETAILS (Level 1)
Mana cost: 1
Splinter: EARTH🍃
Editing: CHAOS LEGION
Rarity: COMMON
Stats: 1 ⚙️ Melee Attack | 2 ❤️ Health | 1💨 Speed ​​| 0 🛡 Shield
The image below shows all the stats of the card at different levels.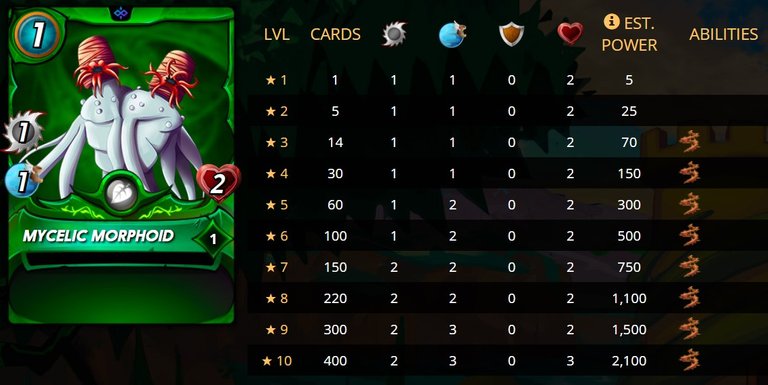 Skills:
No skills at level 1
Battle Rules
Like this battle for this battle there were 12 mana rules and there was no rule change or summoner choice restriction.

Team Choice
My choices were:
Summoner - Obsidian
1 - Myclic Morphoid
2 - Real Perton
3 - Princess Khmer
4 - xxx
5 - xxx
6 - xxx
The opponent's choices were:
Summoner - Kelya Frendul
1 - Resistant stonefish
2 - Albatross
3 - Ice Goblin
4 - River Nymph
5 - xxx
6 - xxx
Battle Link
If you want to follow how the battle with Mycelic Morphoid went here is the link.
The battle
The arrangement of the cards before the buffs looked like this: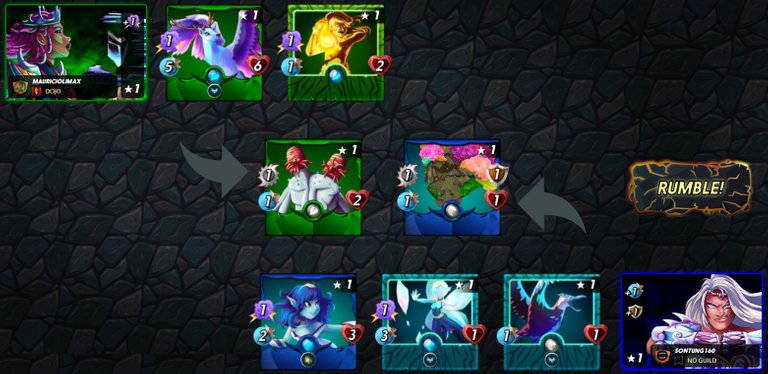 After the Summoners Buff and other cards: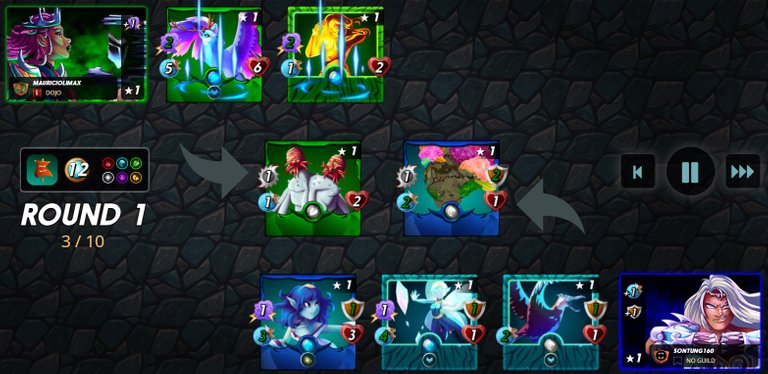 In the first round the Mycelic Morphoid has already accomplished its mission (protecting its companions from the initial attacks in battle). To fulfill his objective our main character sacrificed his own existence. On the enemy side, there were two deaths, Hardy Stonefish and Albatross. After the first round, the battlefield was as shown in the image below: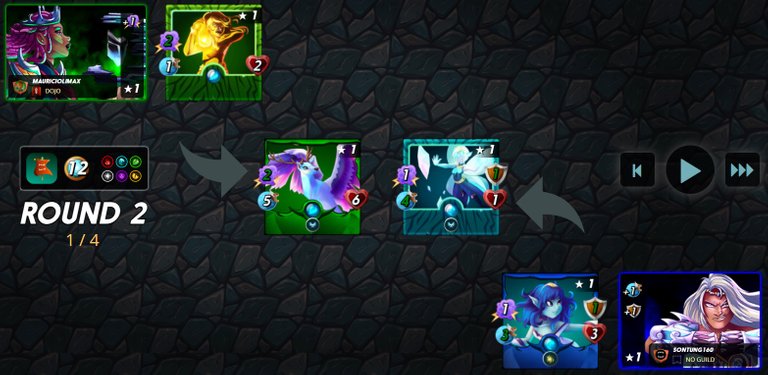 In the second round, the enemy lost the Ice Pixie and still took damage from his River Nimph which was left with only 1 health. The enemy still managed to attack my Regal Peryton this round dealing 1 damage, but as he has 6 health the attack didn't make much difference to the outcome of the battle. After the second round, the battlefield was as shown in the image below: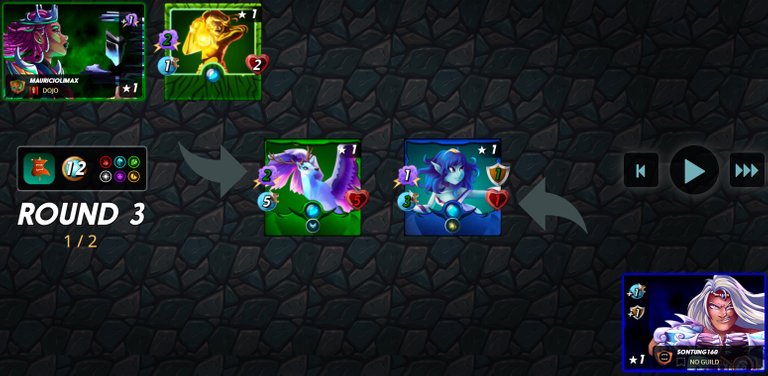 The third and final round ended with Regal Peryton's attack on River Nimph, thus ending the battle.
Did My Strategy Work?
We can say that the strategy of this battle was very simple, the Mycelic Morphoid had the mission to avoid damage to his companions and managed to complete the mission successfully. In higher league battles I intend to use Mycelic Morphoid along with Summoner Mylor, another possibility is to rent a level 2 Obsidian and a level 3 Mycelic Morphoid that already has the Thorns skill.
conclusions
My conclusion is that Mycelic Morphoid is a very interesting card and that I already used it a lot to protect my battle companions. A very positive point of this weekly battle challenge is that we can get to know the Splinterlands cards better. Although I use Mycelic Morphoid a lot, I had never noticed that he has the Thorns skill at level 3, as I only have the card at level 1. After this challenge, I have one more possibility of strategy made possible by knowing the cards better and that is great!
Hugs, and good game to all!
POSTAGEM PORTUGUÊS DO BRASIL
Olá comunidade Splinterlands! Tudo bem com vocês? Espero que sim!
Este post tem o objetivo de participar do Desafio de Batalha Semanal do Splinterlands. Se você quer participar do desafio aqui esta o Link.
O desafio semanal de hoje é com o MYCELIC MORPHOID uma carta que eu uso muito pois custa apenas 1 de mana e pode ser muito útil principalmente na primeira e na última posição para servir de escudo para as outras cartas. Vamos conhecer então o nosso personagem principal da semana.
CARD DETAILS (Level 1)
Mana Cost: 1
Splinter: EARTH🍃
Edition: CHAOS LEGION
Rarity: COMMON
Stats: 1 ⚙️ Melee Attack | 2 ❤️ Health | 1💨 Speed | 0 🛡 Shield
A imagem abaixo mostra todos os stats da carta em diferentes níveis.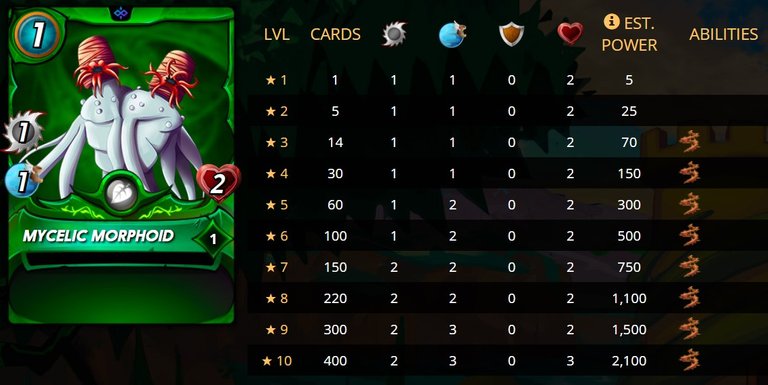 Abilities:
Sem habilidades no nível 1
Regras da Batalha
As regras para esta batalha foram 12 de mana e não houve alteração nas regras nem restrição a escolha de summoners.

Escolha do Time
Minhas escolhas foram:
Summoner - Obsidian
1 - Mycelic Morphoid
2 - Regal Peryton
3 - Khmer Princess
4 - xxx
5 - xxx
6 - xxx
As escolhas do oponente foram:
Summoner - Kelya Frendul
1 - Hardy Stonefish
2 - Albatross
3 - Ice Pixie
4 - River Nimph
5 - xxx
6 - xxx
Link da Batalha
Se você quiser acompanhar como foi a batalha com o Mycelic Morphoid aqui está o link.
A Batalha
A disposição das cartas antes dos buffs ficou assim: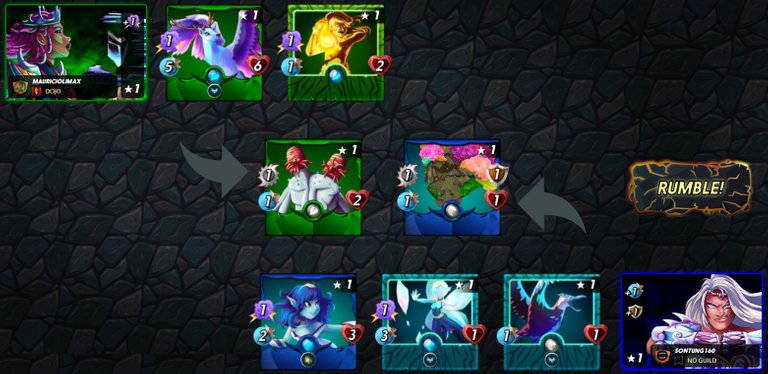 Após o Buff dos summoners e demais cartas: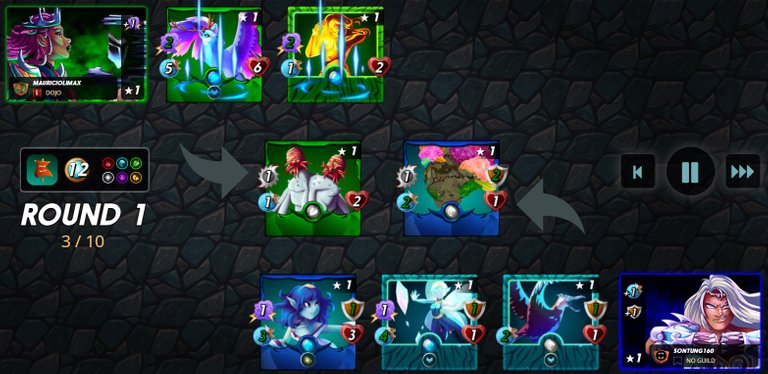 Na primeira rodada o Mycelic Morphoid já cumpriu a sua missão (proteger seus companheiros dos ataques iniciais na batalha). Para cumprir seu objetivo nosso personagem principal sacrificou sua própria existência. Do lado inimigo, foram duas baixas, Hardy Stonefish e Albatross. Após a primeira rodada o campo de batalha ficou conforme a imagem abaixo: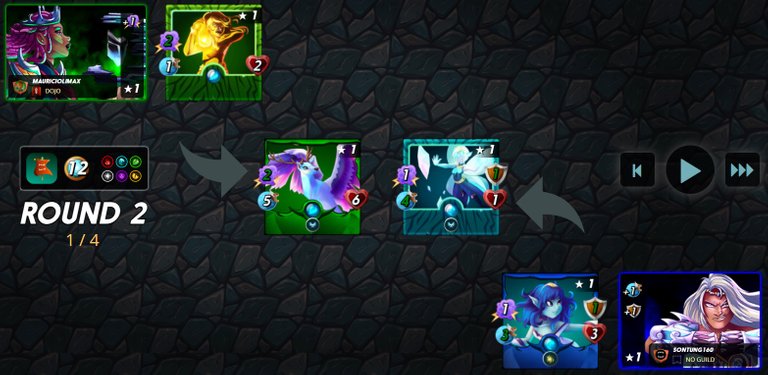 Na segunda rodada, o inimigo perdeu a Ice Pixie e ainda sofreu dano na sua River Nimph que ficou com apenas 1 de saúde. O inimigo ainda conseguiu atacar meu Regal Peryton nesta rodada causando 1 de dano, mas como ele possui 6 de saúde o ataque não fez muita diferença para o resultado da batalha. Após a segunda rodada o campo de batalha ficou conforme a imagem abaixo: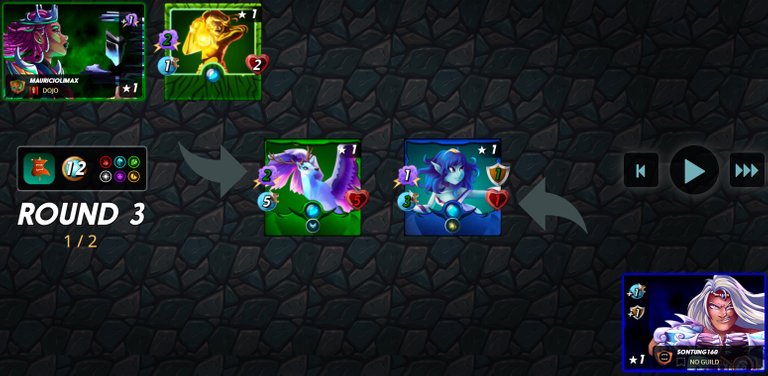 A terceira e última rodada foi finalizada com o ataque do Regal Peryton na River Nimph, finalizando assim a batalha.
Minha Estratégia Funcionou?
Podemos dizer que a estratégia desta batalha foi muito simples, o Mycelic Morphoid tinha a missão de evitar danos aos seus companheiros e conseguiu concluir a missão com êxito. Em batalhas de ligas mais altas pretendo utilizar o Mycelic Morphoid juntamente com o Summoner Mylor, outra possibilidade é alugar um Obsidian nível 2 e um Mycelic Morphoid nível 3 que já possui a habilidade Thorns.
Conclusões
Minha conclusão é que o Mycelic Morphoid é uma carta muito interessante e que eu já utilizava bastante para proteger os companheiros de batalha. Um ponto muito positivo deste desafio de batalha semanal é que podemos conhecer melhor as cartas do Splinterlands. Apesar de eu usar muito o Mycelic Morphoid, nunca tinha notado que ele possui a habilidade Thorns no nível 3, pois eu tenho apenas a carta no nível 1. Após este desafio, eu tenho mais uma possibilidade de estratégia possibilitada por conhecer melhor as cartas e isso é muito bom!
Abraço, e bom jogo a todos!
Se você ainda não joga Splinterlands é hora de começar, use o meu link de referência para iniciar a sua jornada https://splinterlands.com?ref=mauriciolimax
---
---