Splinterlands - A Review of New Chaos Legions Reward Cards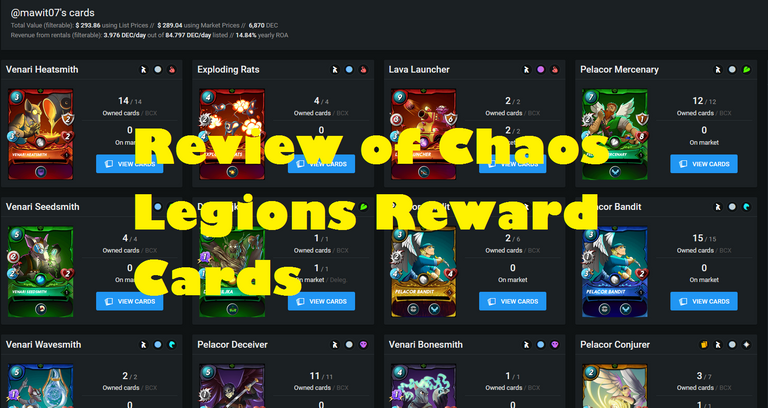 With less than a day to go before Chaos Legions pre sales begins I would like to look at the current Chao Legions Reward Cards and see how those cards are performing value wise.
Reward Cards Printed
https://kiokizz.github.io/Splinterlands/rewardCards.html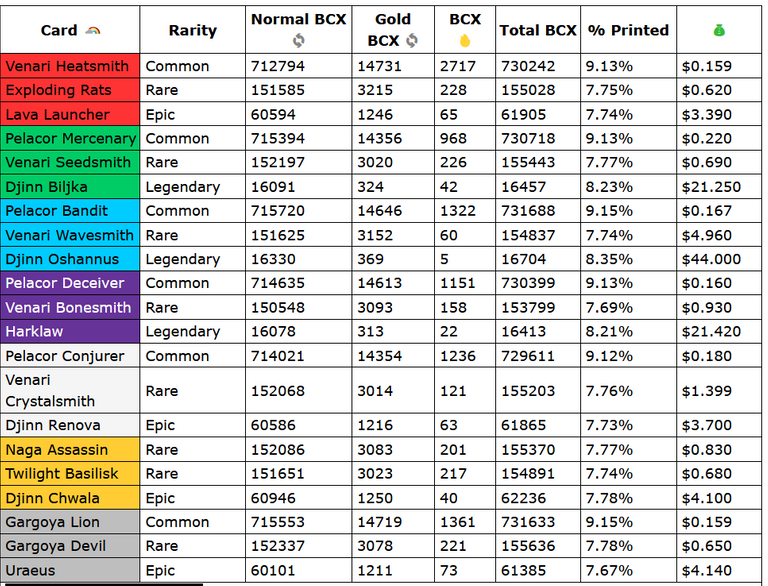 21 cards were officially released in the reward cards series. As of now most cards are close or a little higher than 8% printed. The cards at lowest price exceeds $0.1 / bcx which I have not seen ever in a new release of reward cards. The demand for cards is real. Even the most expensive cards of this new series, the legendaries, are all close to $20 / bcx. Djinn Osahannus is currently over $40 / bcx.

Venari Wavesmith which is just a rare is fetching close to $5 / bcx.

All these stats straight out of splintercards.com
Demand for New Cards High
The new reward cards had only arrived for a little over a month but already some have prices that exceed even past prior reward cards. On top of that almost 1/10 of the entire set of reward cards have already printed. At this rate it will be 9-10 months before these cards become out of print. Considering the new accounts arriving into the game it will only accelerate the cards printing.
These data points of $ / bcx and % cards printed is leading me to believe that there is definitely demand for new cards. Even though the new cards technically have a base value much less than prior series, DEC burn rate on new reward cards, are 1/4 of that of the original reward cards. This would mean players who are purchasing new cards are paying as much as 10x the DEC burn rate of a card.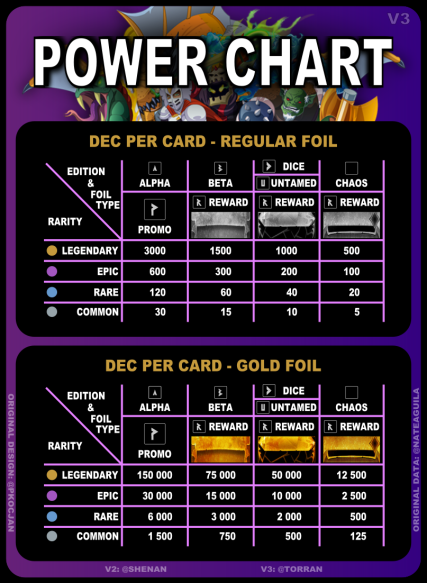 Chart above is for referencing latest Chaos reward cards DEC burn rates compared to other series cards. Again base value these cards are worth only 1/4 of that of previous series of reward cards.
Conclusions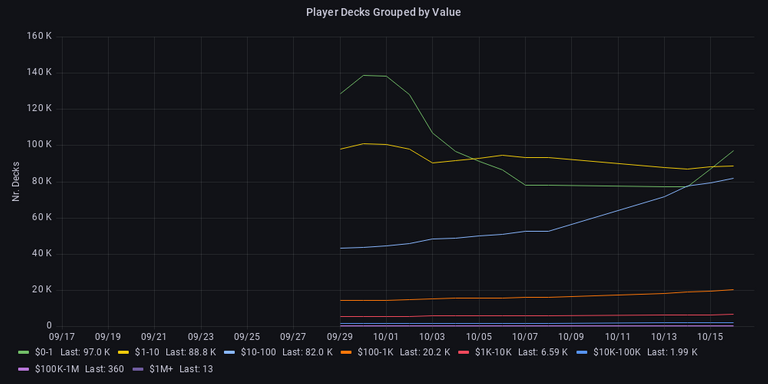 There is a new data chart in Splinterlands discord regarding to amount of value per player. Interesting to see decks worth $10 - $100 continue to rise and has over 80k users within this category. This is a sign of proof new players continue to play the game and grow their splinterlands accounts.
This in turn would mean more active players in the game making demand for cards ever greater. The $100 - $1000 range of deck collections is starting to rise as well ever so slightly.
What I have my eyes set on now is the $100k - $1 million category where there is currently only 360 accounts within this range. My deck by Splinterland's estimate is close to $82k.

I am personally hoping to earn a lot of Chao Legions rewards cards to get me through the $100k marker. Also any gains in the future release of Chao Legions too.
Until next time thanks for reading!!!
If you are interested to learn more about Splinterlands please go through some of my other posts. Order is from newest to oldest posts:
All You Want To Know About Reward Chests
Helpful Links for New and Veteran Players
Splinterlands Good Cards To Own
Splinterlands Rentals from a Lender Perspective
I have plenty of other cards for rent! Just go on peakmonsters and check out the market place and if you are curious what I offer here is a link:
If You have yet to take part in playing this great game called Splinterlands please click on my referral link. It is free but in order to earn real assets such as cards and token you would have to invest in a starter deck or purchase game cards. Join the discord to learn more. Good luck!

THANKS FOR READING! CONTINUE TO PLAY SPLINTERLANDS!

---
---