Splinterlands - Am I Playing Against Bots?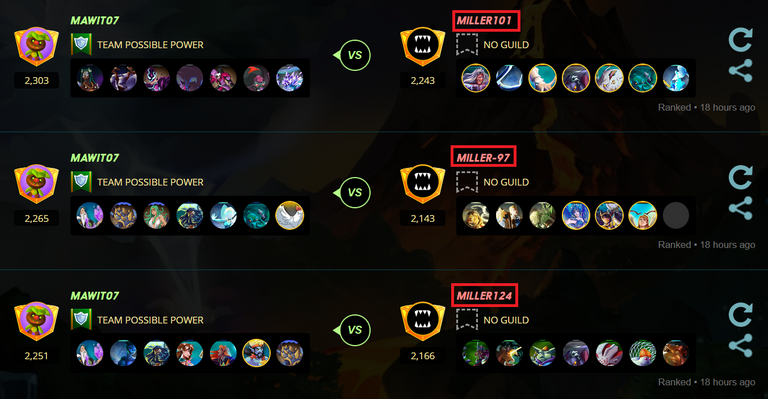 I been in Gold III/II league for the past week or so and recently have been facing some opponents that have the same first name. This "MILLER" has multiple accounts.

There were many more other "MILLER" accounts I had faced. In the beginning I was losing these accounts but did not take too long to learn the patterns of monsters selected and I gained the upper hand to win more often than not.
My Opinions On Bots
Splinterlands developers have said multiple times that bots are not banned in the game but it is watched over to make sure they would not take advantage to anything that would benefit bots over real players.
Over time I have gotten use to hearing about bots and having to seen some here and there when it came to playing rank battles. However recently just this season it appears I am facing more bots then ever. It is not necessarily a turn off but just knowing I am more likely playing against a bot than a real player is not as fun anymore.
The reality is people will get involved in the game when we all share experiences with each other. Playing with other fellow gamers brings interest and in turn money into buying assets. The demand will not be there if bots are cornering the markets. I hope this season for me is just a one off. I don't want to think that the current experience on Splinterlands is mostly me versus bots.
Until next time thanks for reading!!!
https://images.ecency.com/p/HNWT6DgoBc1692QWn5trsLBYecSp3jKD1kzdmSDR4FGzPSXomkgLtisN5TzrwHTsD1D4ocqDPHpFztKzeH4ibh1vQVU3d3dSaB6VYJ1U3RdsSDi5spmdafX25ph.webp?format=webp&mode=fit
If you want to play splinterlands then SignUp Here
I have plenty of other cards for rent! Just go on peakmonsters and check out the market place and if you are curious what I offer here is a link:
If You have yet to take part in playing this great game called Splinterlands please click on my referral link. It is free but in order to earn real assets such as cards and token you would have to invest in a starter deck or purchase game cards. Join the discord to learn more. Good luck!

THANKS FOR READING! CONTINUE TO PLAY SPLINTERLANDS!

---
---