Splinterlands - Chaos to Beta Cross Over Cards Fire Splinter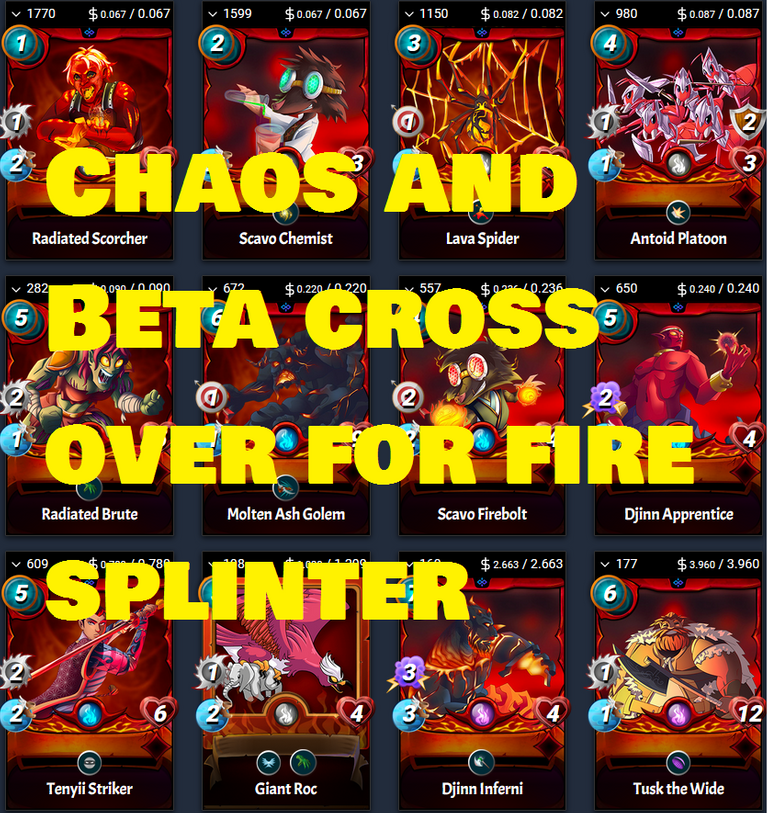 A few days ago I went over the Chaos and Beta version cards that look very similar together in life splinter here. Today I briefly look over fire splinter chaos versus beta. Upfront I do not feel fire cards came any where as close as life splinter but then again some may think differently. Lets look at the differences and similarities.
Let us start with an easy can't miss comparison between Lava Spider and Fire Beetle. Both bugs and both have snipe ability at base level. They even match in stats at base level!


At max level Lava Spider stands out with three abilities while Beetle only has one. On the flip side the stats are pretty close to each other with Beetle having a higher melee and has toughness. While Spider has higher speed and matching health with Beetle. I am wondering if Splinterlands developers thought it through with this as I would lean toward Spider at max level with the additional Snare and Poison all the while only 400 bcx to max.
A card that I love for low mana battles is Kobold Miner but there is a similar card in Chaos with Radiated Scorcher. The main reason I love Kobold Miner is with its default sneak ability.


Radiated Scorcher on the other hand does not have this and even at max level only the shatter ability. The stats overall has Radiated Scorcher slightly lower than Kobold Miner so not surprise considering its 1 mana compare to Miner at 2 mana.
While we are looking at Radiated monsters might as well look at Radiated Brute and compare it to Beta's Giant Roc.
Both monsters are 5 mana and by default have reach ability. Giant Roc has also flying but a lower melee while Radiated Brute has higher melee but slower speed.


By level 6 Radiated Brute includes Enrage while Giant Roc has Trample. The stats at max levels between the two are similar but more melee with Radiated Brute and more health with Giant Roc. In rule sets one maybe better than the other. For instance in earthquake Giant Roc takes the cake.
This next pair up is somewhat unfair due to difference in rarity but to me the stats make them comparable.
The Antoid Platoon is slow but in reverse speed rule set it would rain supreme over Serpentine Soldier and many other rare monsters. Besides speed the stats of Antoid Platoon is very comparable with Serpentine Soldier. In fact at max level Antoid still reasonable against Serpentine Soldier in relation to stats.


However for abilities Serpentine Soldier has Dodge and Thorns while Antoid Platoon has Scavenger. Again worth the reminder we are comparing common versus rare so of course max level of a rare should have more benefits right?
To round out the Chaos commons there is Scavo Chemist. No attack but has cleanse ability it reminds me of promo card Silvershield Bard, except Bard when level up will include melee attack while Scavo Chemist even at max level has no attack. It is worth noting Scavo Chemist at max level has three abilities, a rarity for common cards.

Let me be upfront of my opinion from here on for the fire splinter cards. I feel the rares, epics and legends are more different than similar and we will look through as to why.
A pair of range monsters it would appear Scavo Firebolt is worth while but Fire Demon offers one of the best abilities in the game Blast. Still an epic card it will be more expensive than that of Scavo Firebolt per bcx.


If we look at stats for stats Scavo Firebolt is relatively decent comparison to Fire Demon. Rule sets like back to basic would help here. However with Fire Demon's blast ability from level 3 and higher makes it stand out.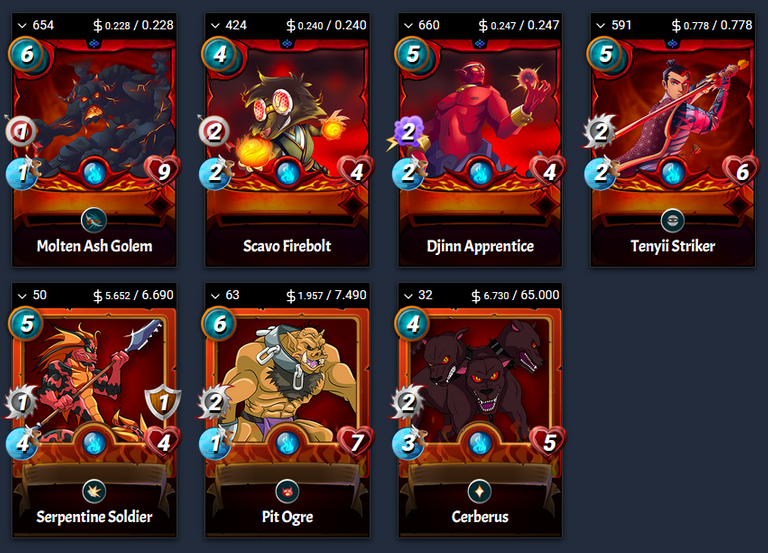 An overview of rares between Chaos and Beta left leads to very few similarities. Molten Ash Golem, Djinn Apperentice, and Tenyii Striker with range, magic, and melee attacks respectively. The counter parties in Beta are Pit Orge and Cerberus. It almost feels like these cards are more likely to compliment each other rather than decent replacements between Chaos rares and Beta rares.
Epics are no different. Besides a limited amount of monsters with 3 in Chaos and 2 in Beta. The epics on both series look good for use in particular rule sets and hence again they compliment each other more than having similarities.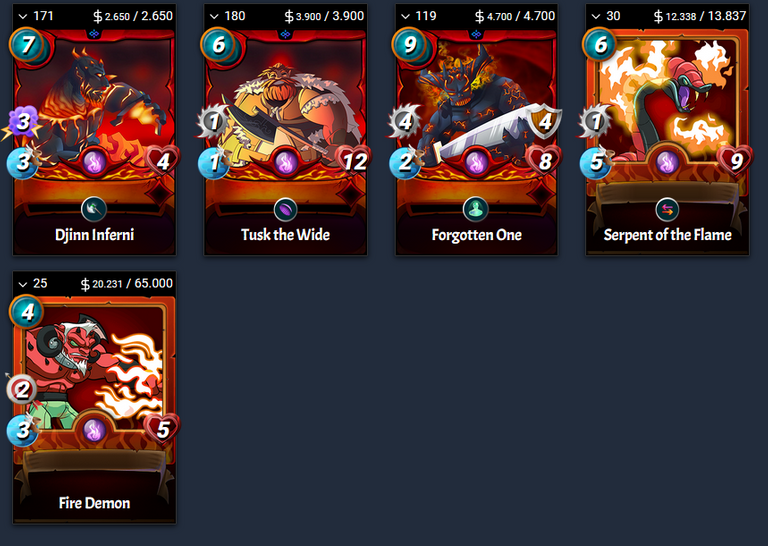 All the epics are heavy in mana from 4 to 7 with only Fire Demon at 4 while the remainder at 6 or 7 mana.
We looked at legendaries with magic attack to end the fire splinter comparisons. Ifrit Rising although higher in mana at 8 has the new Chaos ability Recharge. It seems to be more of a handicap than benefit as Ifrit needs to await three turns before it can attack. Of course a magic attack of 6 is pretty devastating to take on but head to head with Elemental Phoenix it seems the latter would take the win.


There is also a zero legendary on the Chaos series in Scorch Fiend.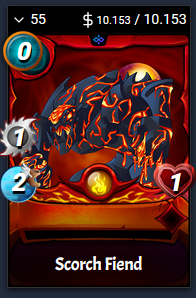 The monster seems particular useful with demoralize to limit melee monsters of opponent. Ideal for fire against fire.
Conclusions
A first look it may appear Chaos have very similar cards as Beta when it comes to the fire splinter. However deeper look it is more different than similar when it comes to rare and epic cards. This is good because it means the beta cards can still have potential use in the future if playing with Chaos when it comes to fire splinter.
On the flip side many of the new Chaos fire cards can do well on its own without the Beta cards. This would be a cost saving for those who can not afford the limited Alpha and Beta series.
Until next time thanks for reading!!!
If you are interested to learn more about Splinterlands please go through some of my other posts. Order is from newest to oldest posts:
Splinterlands - Securing Your Cards From Hackers
All You Want To Know About Reward Chests
Helpful Links for New and Veteran Players
I have plenty of other cards for rent! Just go on peakmonsters and check out the market place and if you are curious what I offer here is a link:
If You have yet to take part in playing this great game called Splinterlands please click on my referral link. It is free but in order to earn real assets such as cards and token you would have to invest in a starter deck or purchase game cards. Join the discord to learn more. Good luck!

THANKS FOR READING! CONTINUE TO PLAY SPLINTERLANDS!

---
---