Splinterlands - Dual Attacking Monsters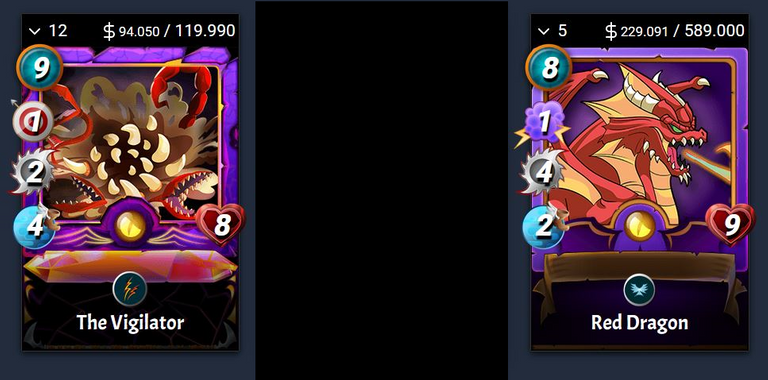 Same say the best way to win is to have the best offense. Today we look at a couple of cards that have multiple attacks. The Vigilator with range and melee and the Red Dragon with magic and melee. Both cards are legendary and Vigilator is from the Untamed series while the Red Dragon is from the Promo SEED series.
The Vigilator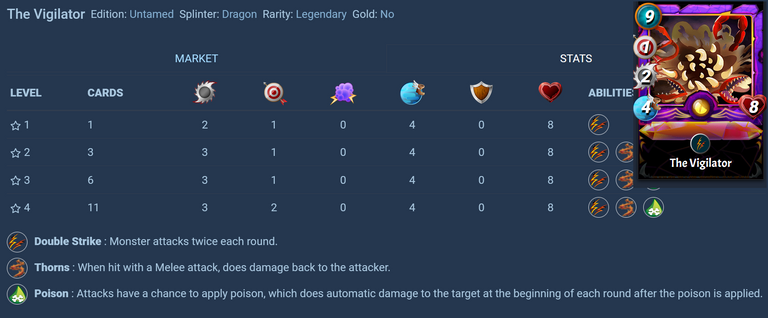 At max level the Vigilator has melee at 3 and range at 2. On top of that it has double strike, spike and poison. What an insane amount of abilities and attack for just one monster. So within a match the Vigilator can attack up to 10 points, due to double strike. In addition it can inflict poison on its opponents.
With heavy stats comes high mana count. A mana count of 9 definitely is a drawback, but worth it for the kind of damage it can perform. The speed and health are not to be ignored. A speed of 4 is decent for a monster while health is up there at 8.
In order to double stack the melee and range attack user would need either opportunity, sneak, or close range to allow Vigilator to perform both attacks. This lies somewhat of a weakness in the card. Clearly without any rule set it will not be able to perform both melee and range in the same turn no matter what position it is placed in formation.
Red Dragon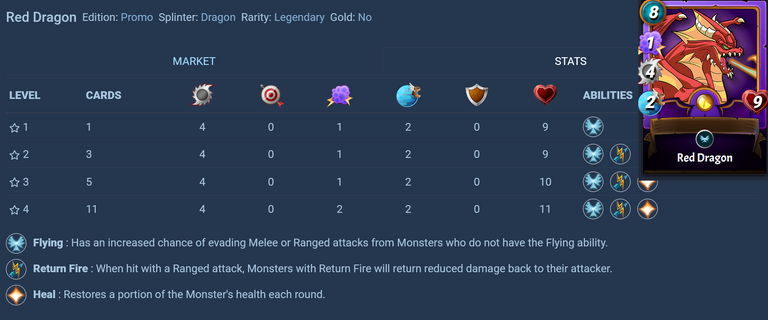 Another monster with two attacks that can potentially be used at the same turn if it was placed at the front of formation is none other than the Red Dragon. A card that was only printing during a pre-sale it is very limited in circulation. Therefore to see this card in action will be a rare occasion compare to that of the Vigilator.
The Red Dragon at max has melee at 4 and magic at 2. Although it does not have double strike it does have heal ability. In addition it has flying and return fire making it somewhat a passive aggressive monster. In addition to its combo attack it has a decent health of 11. Although speed is nothing to brag about, at 2, it is not as bad as if it was 1. Reverse speed rule set would be advantageous to use Red Dragon.
Red dragon looks good to be a front formation tank monster since it has self heal. Its high health of 11 will allow itself to heal up to 3 health in every turn. This is because the higher health at the start of the match the more it can self heal.

Conclusions
Often when we think strong we think high numbers. Well ones that have high numbers in multiple categories are these cards. Its really cool to see monsters that have multiple ways to attack making them very unique. In addition to attack they have solid health at a very high mana count. In 99 mana battles it is clear if player uses dragon splinter one or both of these monsters will see itself on the battlefield.
This post was really to look at the monsters in their stats as to not many are in circulation. If you do see them in battle hopefully its because you put them there ;)
Until next time thanks for reading!!!
If you are interested to learn more about Splinterlands please go through some of my other posts. Order is from newest to oldest posts:
Splinterlands - Securing Your Cards From Hackers
All You Want To Know About Reward Chests
Helpful Links for New and Veteran Players
I have plenty of other cards for rent! Just go on peakmonsters and check out the market place and if you are curious what I offer here is a link:
If You have yet to take part in playing this great game called Splinterlands please click on my referral link. It is free but in order to earn real assets such as cards and token you would have to invest in a starter deck or purchase game cards. Join the discord to learn more. Good luck!

THANKS FOR READING! CONTINUE TO PLAY SPLINTERLANDS!

---
---