Splinterlands - I Keep Forgetting Splinterlands Challenges, You Should Not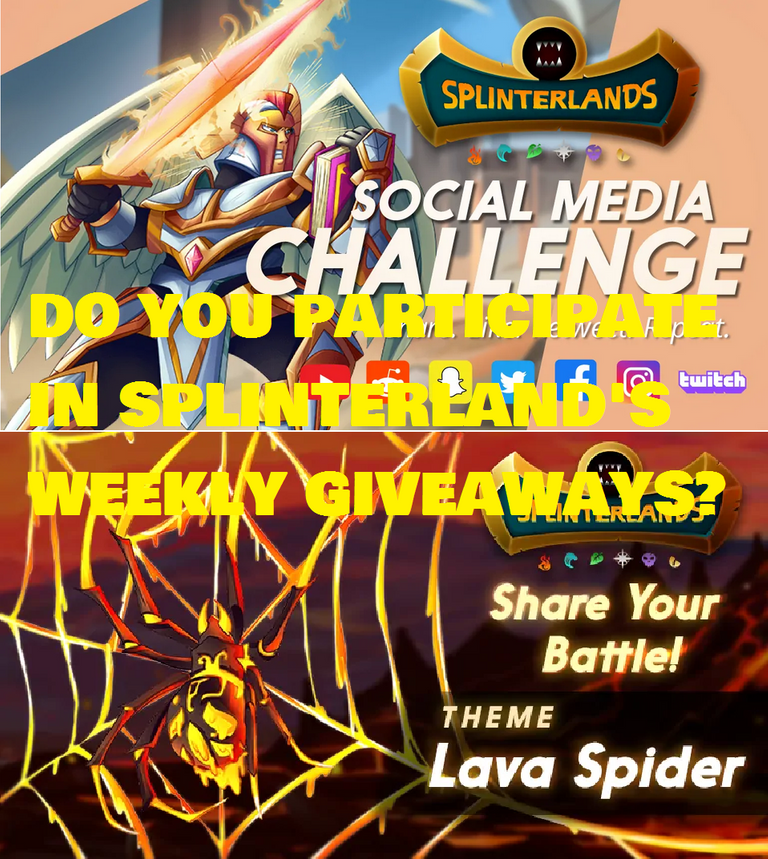 I know I am starting to get a bit more viewership in my blog posts.

My monthly stats shows a majority of my Splinterlands daily posts are being read or at least looked at. With that in today's post I like to bring attention to something Splinterlands offers outside the game for players to earn. A lot of players are already aware that Hive blockchain has a social media aspect. On there they can blog post their experiences and stories related to Splinterlands such as on splintertalk.io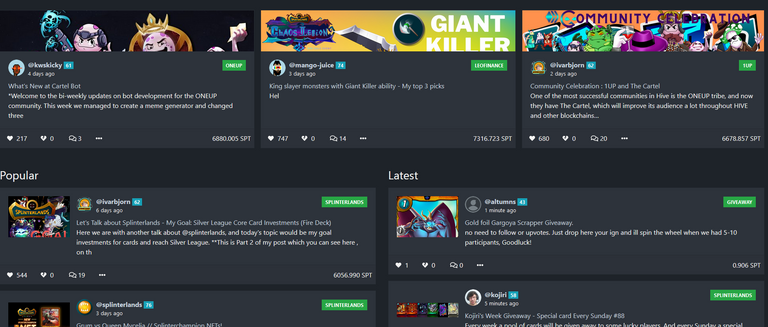 In addition @splinterlands offers weekly giveaways to players who post specific content requested weekly by the game's developers. Hopefully many of you who read this already know about it but if not this is a good start to try out the giveaways.
Giveaway - Share Your Battle
Every week @splinterlands will post a giveaway where the goal is to entice players to write about their experiences in Splinterlands on the hive.blog platform. In turn once the player has done the proper steps to participating in the giveaway they earn a @steemmonsters upvote given out by the curation team representing Splinterlands.

Currently a full upvote from @steemmonsters is worth close to $200 and depending on how well your post is written and presented the curator would provide a certain % upvote on your post. The post will payout in Hive rewards after seven days of post. Those rewards are cryptocurrency that can be used to exchange for more DEC and SPS if you choose to do so.
Step 1. - Write the Post
How to participate? Just check back to hive.blog over at @splinterlands posts to see for a post related to "Share Your Battle". A new post is produced every seventh day and users write about the specific monster the post is requesting.
This week is focus on the Lava Spider. You can write about a battle you had using the card. If the card of the week is one you do not have you can use any other alternate card of your choice. The goal is for you to write about your experiences playing the cards in the game.
Step 2. - Spread the Word
Next you have to provide a link of your hive.blog post to any of the social media contents such as Twitter, Facebook, Telegram, Twitch, Reddit, Instagram, and others related sites to spread your post to those other platforms. This helps spread the word of Splinterlands and Hive to other media outlets.
Then you need to post a comment in the @splinterlands weekly share your battle post with the minimum:
A. Your hive.blog post link
B. Snap shot or link proving you have spread your blog post to any other social media platform.
That will be it and you are now qualified for a upvote given by @steemmonsters. The upvote % varies but try to put as much effort you can into the post and it will likely yield higher rewards.
Last but not least you need to submit your comment to @splinterlands before the end of the 7th day of their post as they will start off with another giveaway afterwards.
Giveaway - Social Media Challenge
In the exact same way as the "Share Your Battle" challenge users have to write a post with content related to Splinterlands. Then provide a social media link on a different platform besides Hive to spread the word. Lastly provide @splinterlands a comment with link of your post and proof that you distributed your post outside of Hive.
I will be doing this week's social media challenge with this post. Here are the snapshot of my twitter account linking to the hive post.
And then my post link in the comment section of splinterland's giveaway post.

By doing all this I qualify for a giveaway upvote generously from @steemmonsters.
Conclusions
There is a limit of 2 entries a week in the splinterlands giveaways. 1 for the social media challenge and another for share your battle. Over the years I have done countless of them and have missed a few here and there. Yet overall I found that by participating in these giveaways it has rewarded me greatly. In fact in my earlier stages of splinterlands I was earning the most with the upvote rewards I got from the weekly post giveaways. Those rewards I put into investing in splinterlands cards. This allow me to build a strong enough deck to compete and earn more.
If you have to take only one thing away from this post it is to make sure to participate in the splinterlands weekly giveaways. They will be worth the effort if you consistently do them every week. Keep stacking your crypto and splinterlands assets. Best of luck.
Until next time thanks for reading!!!
https://images.ecency.com/p/HNWT6DgoBc1692QWn5trsLBYecSp3jKD1kzdmSDR4FGzPSXomkgLtisN5TzrwHTsD1D4ocqDPHpFztKzeH4ibh1vQVU3d3dSaB6VYJ1U3RdsSDi5spmdafX25ph.webp?format=webp&mode=fit
If you want to play splinterlands then SignUp Here
I have plenty of other cards for rent! Just go on peakmonsters and check out the market place and if you are curious what I offer here is a link:
If You have yet to take part in playing this great game called Splinterlands please click on my referral link. It is free but in order to earn real assets such as cards and token you would have to invest in a starter deck or purchase game cards. Join the discord to learn more. Good luck!

THANKS FOR READING! CONTINUE TO PLAY SPLINTERLANDS!

---
---