Splinterlands - In Game Accepts Many Cryptos For Purchases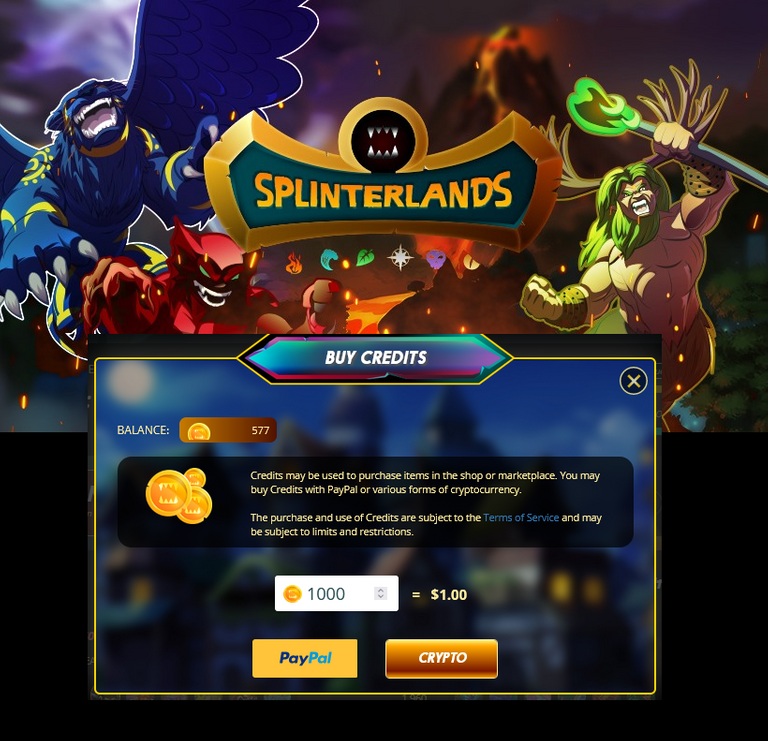 Did you know Splinterlands is well known for its ease of onboarding when it comes to purchasing in game assets? For those who started playing Splinterlands directly in game they know that they can purchase assets with credits. Credits is internal only to Splinterlands and is set at a fix parity of 1,000 credit = $1. What is so great about Credits?
Splinterlands Credits
When a new player begins Splinterlands and wishes to purchase in game items the first item of purchase is the spell book.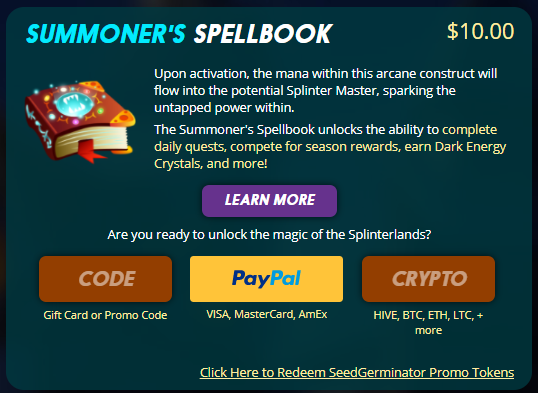 When looking at purchasing the spell book users are quick to realize they have several options of payment. Whether with fiat through PayPal or with other cryptos the spell book costs $10. What is interesting is the fact that Splinterlands assets can be bought with many options of currency of choice. A lot of times when I look to purchase in game assets the game itself tends to redirect players to trading exchanges to convert crypto into an their in game tokens. Splinterlands takes that extra step away and allows users to directly purchase goods with many cryptos of choice.
After purchase of the spell book if a player wants to continue purchasing other in game assets such as cards or packs they can do the same and spend other cryptos to make the purchases. One way to simplify the transactions is inside Splinterlands players can purchase Credits. Credit is in game currency that once purchased can not be exchanged to another account and can only be used to purchase game assets.
Current cryptos accepted by Splinterlands that can convert to Credits:
Ethereum - ETH
Bitcoin - BTC
Litecoin - LTC
Worldwide Asset Exchange - WAX
EOS
Tron - TRX
Hive - HIVE
Hive Dollars - HBD
Steem - STEEM
Steem Dollars - SBD
Bitcoin Cash - BCH
Electroneum - ETN
Game Credits - GAME
Basic Attention Token - BAT
Sandbox - SAND
Uniswap - UNI
Gala Games - GALA
Enjin - ENJ
DAI Stablecoin - DAI
Polyient Games Unity - PGU
Leo Finance - LEO
The flexibility to purchase in game cards with different cryptos help onboarding to Splinterlands much easier and smoother. It is worth noting that although players can use Credits for purchases that when they do sell or convert the assets into in game tokens the in game token is DEC - Dark Energy Crystal. DEC is designed to be pegged at $0.001 / DEC but recently due to its high demand it has more than 10x from its pegged. Cards and packs, when available, can also be purchased with DEC and are commonly used once players are familiarized with the game. This is because DEC is earn through playing the game by winning matches. While Credits are only earned through direct conversion of crypto to Credit or earned through referrals.
Recently a slight modification in rewards was implemented to curb farming rewards at low levels. In doing so some of of the modifications was allowing players at Bronze I and below leagues would earn Credits in reward chests. While higher leagues would earn DEC.
Until next time thanks for reading!!!
If you are interested to learn more about Splinterlands please go through some of my other posts. Order is from newest to oldest posts:
Splinterlands - Securing Your Cards From Hackers
All You Want To Know About Reward Chests
Helpful Links for New and Veteran Players
I have plenty of other cards for rent! Just go on peakmonsters and check out the market place and if you are curious what I offer here is a link:
If You have yet to take part in playing this great game called Splinterlands please click on my referral link. It is free but in order to earn real assets such as cards and token you would have to invest in a starter deck or purchase game cards. Join the discord to learn more. Good luck!

THANKS FOR READING! CONTINUE TO PLAY SPLINTERLANDS!

---
---